The Official Bear World Mag Provincetown Bear Week 2023 Recap (Part 2)
Well, another Provincetown Bear Week is behind us and as bears from all over the world return home from the magical bear-idise by the sea we are left with our memories, and the kennel cough!
As we mentioned in Part 1 of our Bear Week recap, we were in Provincetown to celebrate our 10th anniversary and attending the Wednesday pool party BEACH(ED), hosted by our friend Big Dipper, at the Crown & Anchor. We held a kissing booth where a scan of a QR code and an entry for giveaways from Cub and Bare, Den Loungewear and SWADE earned you as kiss from a bear (moi), a chaser (the gorgeous Sam Armstrong) or both! I am happy to say most participants chose both, to the delight of all involved. The kissing booth was a big success, and everyone had fun with it in the spirit that it was intended. Dipper did a fabulous job hosting, circulating amongst the crowd and keeping spirits high.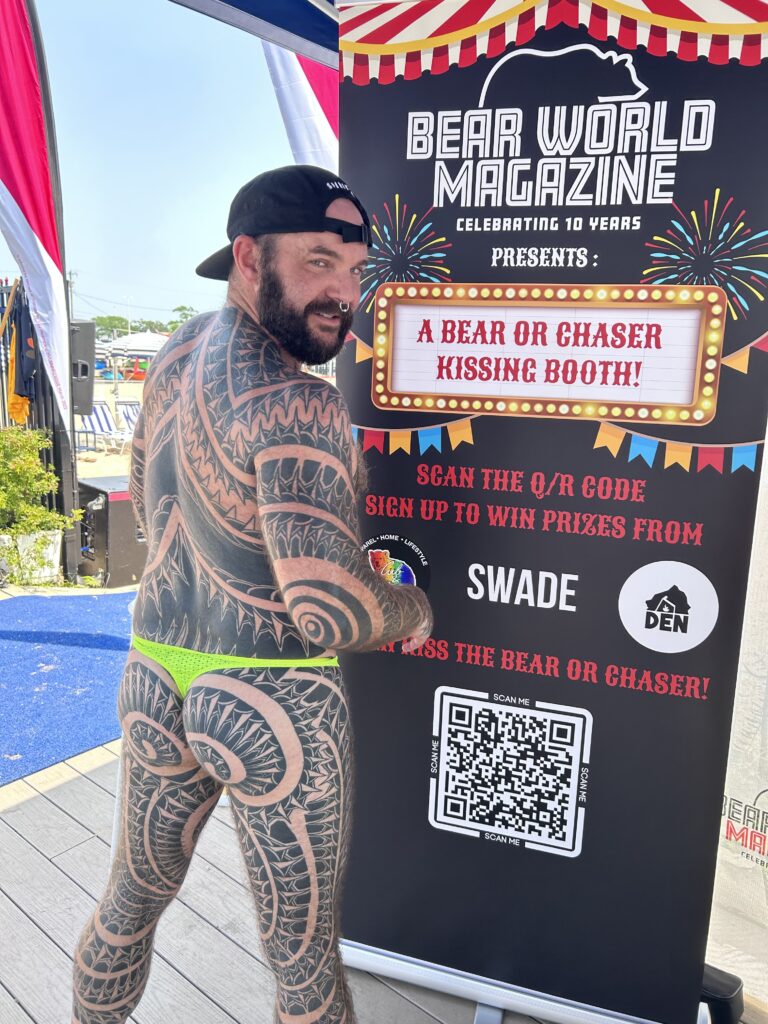 The night prior we took in The Golden Gays at the Redroom in: Hot Flashbacks! The Musical. In the show, Sophia has gone missing and Dorothy (Jason Bea Schmidt), Blanche (Christopher Eklund) and Rose (Gerry Mastrolia) take the audience back in time via hotflash flashbacks through some of the Golden Girls' most memorable moments, through song, in order to find their missing matriarch. It was absolutely hilarious, by far the best troupe of Golden Girls impersonators in the business!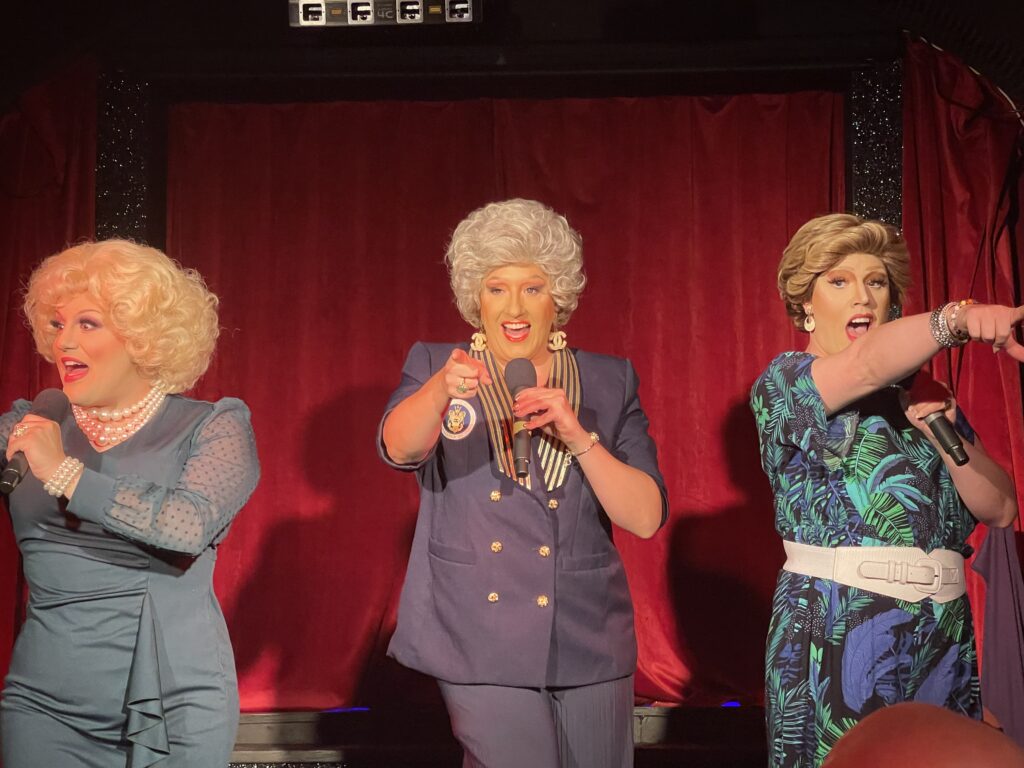 After that, I went to see the Illusions Drag Revue at the Post Office Café and Cabaret. Illusions is the longest running drag revue in Provincetown, and it stars the legend, Billie Jean, who was at the very first Ptown Illusions show some 30 years ago! Billie was showing the kids how it's done with flawless Dolly Parton and P!nk impersonations. Joining her was Lakia Mondale, another veteran of the scene who treated us to her Beyoncé and Whitney illusions. The multi-talented Payton St James, star of Death Drop Gorgeous, hosted the show and served up killer Shania Twain and Liza Minelli numbers. For anyone heading out to Ptown later this season, do yourself a favor and check these gals out – they are on every Monday and Tuesday night at 10 PM.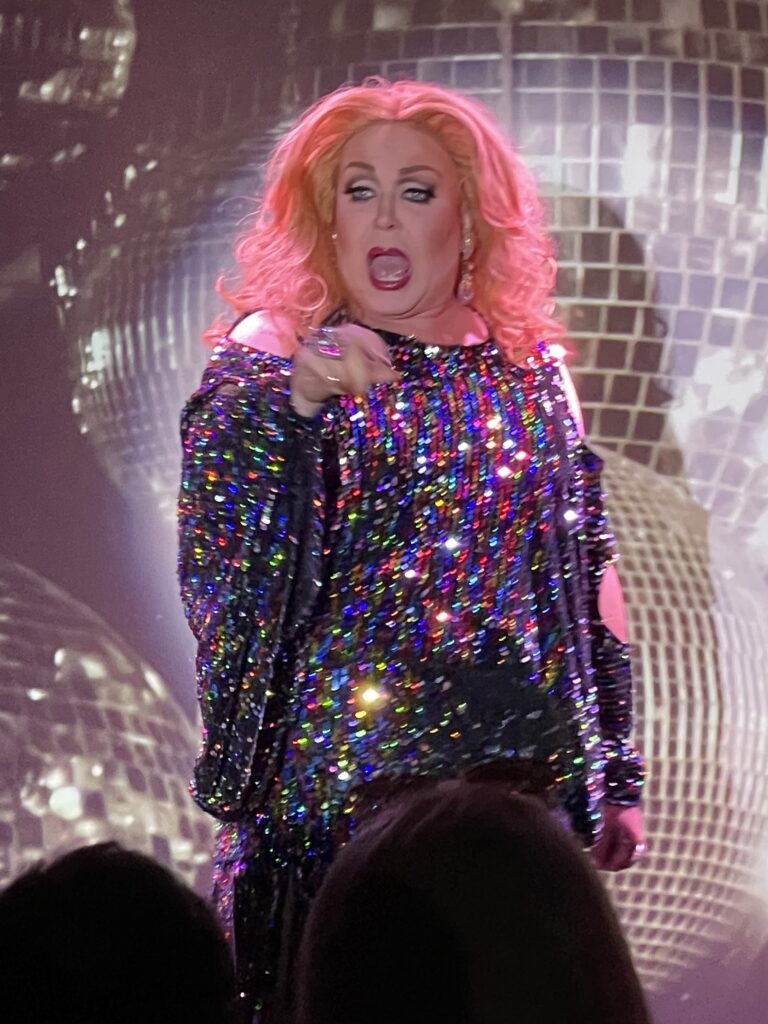 There were so many things going on and as much as we wanted to, we couldn't see everything, everywhere all at once, so at times the team split so we could cover more ground. BWM founding editor Richard Jones attended Kyle Motzinger's "The Bear Week Show" of which he said:
"Kyle created a sophisticated NY style cabaret night, showcasing his amazing talent of singing & songwriting, as well as a perfect cover of Kylie Minogue's "Confide in Me" – highlights were his fab and clubby song "RETRO" and "Dark Shadows". I won't spoil any surprises, but he throws some fab tales in there and a very revealing finale!"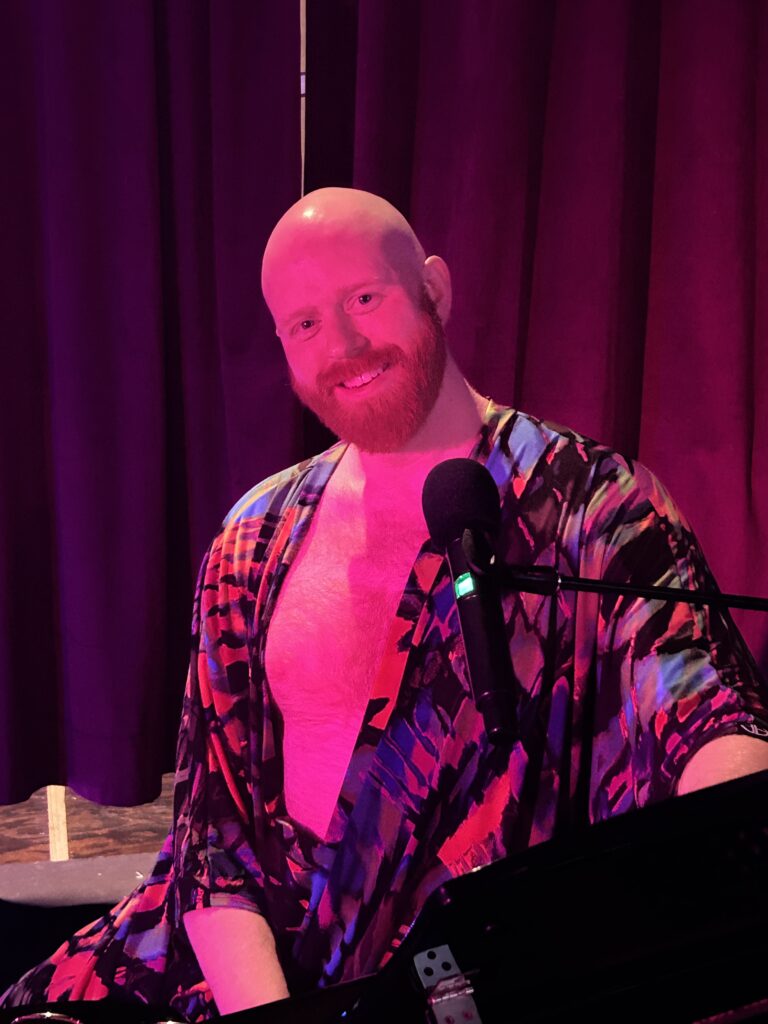 Similarly, our friends Sam Armstrong and Travis Green attended the Matt Alber show for us on Friday and had this to say:
"The show was captivating and intimate. He made sure to play hits like "Handsome Man", "End of the World", "I Wanna Dance With Somebody", and "Field Trip Buddy" while also including a number from his reimagined jazz album How High the Moon. In addition he covered Dua Lipa's "New Rules" in his own poignant way, which felt special.
In between songs he shared snippets from his life in Portland, his escapades in Ptown and even got emotional when talking about how happy he was in his current relationship. He finished his set with "Don't Worry, Be Happy" which felt perfect."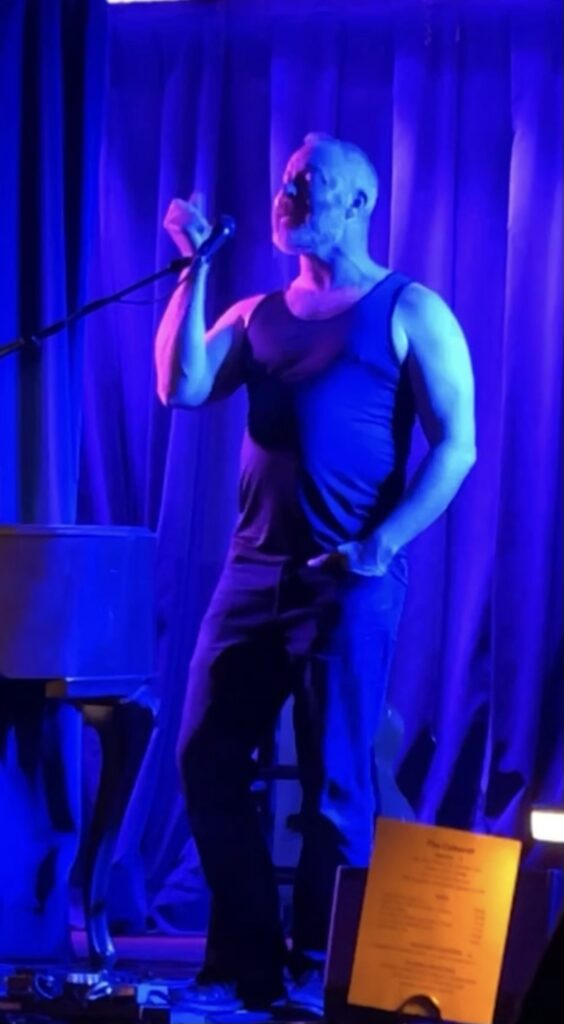 We of course made it our business to see cover star Varla Jean Merman in her new show "Stand By Your Drag". Now, I've seen Varla several times through the years and she is always amazing, but this year was even more exceptional than usual. Whether it's the politics around drag, her recovery from the 'tic-tac-cident', the scathing review the Provincetown Review gave her last year, or a combination thereof, she did what all great artists do and channeled it into the work. It was a masterclass in the standup cabaret format she excels at and showed critics once and for all why this is her 26th season in Ptown. Do not miss it!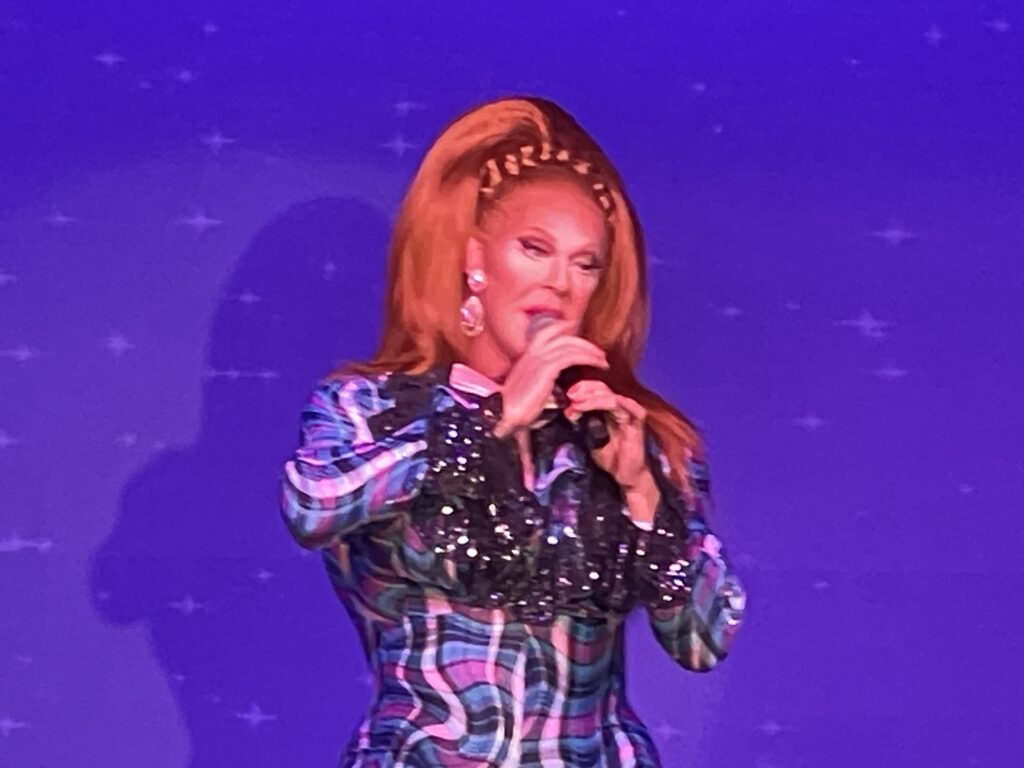 At this point I know you might be asking if we did anything else except attend shows and the answer is yes! We hit tea dance at Boatslip a few times, Solid Gold Disco, by far being my favorite. We also hit the Wave Bar at the Crown for showtunes and danced at the A-House a couple of nights. One of our favorite dance parties though was Red Room's Thursday night underwear party with DJ Tony T spinning. Not only was it a delight to see the crowd shaking it in their undies but DJ Tony really got the assignment with respect to playing danceable music you can sing along to. (No shade to deep house and circuit fans out there.) The party takes place every Thursday, all summer long.
We also got in a good bit of shopping and meals at all the usual places along Commercial Street with a special highlight being me eating my first lobster at the Lobster Pot! (It really did live up to its great reputation!) The pool parties were a delight. The men, the music, the men! We mainly went between the Crown and the Ptown Inn for the pool parties.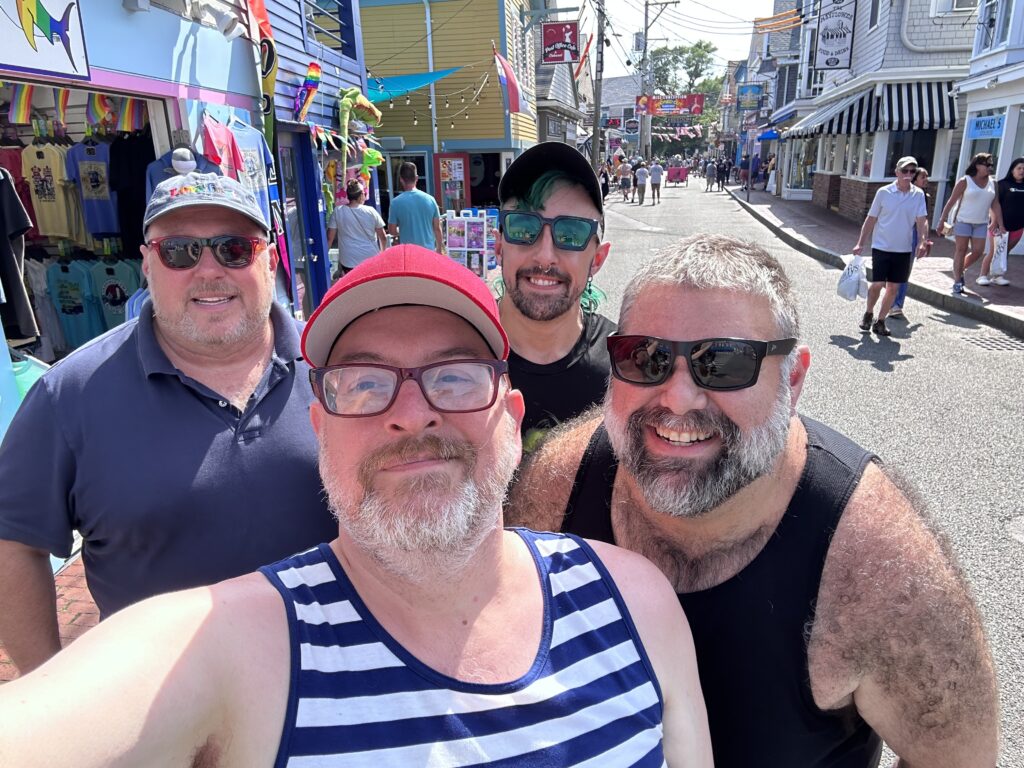 But of course, the most important aspect of the trip was all the people we met. We reconnected with old friends we hadn't seen in years. And we met new friends we've only talked to via email or on the phone for the magazine. What impressed me most was the increased level of diversity present this Bear Week. No, it's not perfect, but from what I heard this week changes are coming that will help remedy this going forward. Also, the diversity of body types on display was empowering and the noticeably present gender nonconformists were there representing too. It was glorious to see! Provincetown Bear Week is back baby, and it's better than ever! I can't wait to see what the future holds.
---
Provincetown Bear Week 2024 will take place July 13 -20. Stay up to date with the latest news on the Ptown Bears website.