Varla Jean Merman on P-Town, Bear Week and Standing By Her Drag
Legendary drag queen Varla Jean Merman sits down with us to talk about the state of drag, her residency at the Crown & Anchor and Bear Week!
July is the most important month of the calendar year to many bears because of P-Town Bear Week. All year long our bearish brethren dream of the resort town by the sea and the week that we take it over and live in a kind of suspended reality where everyone is friendly, furry and frisky!
There are many traditions we return to during Bear Week. There's the ever-popular tea dance at the Boatslip, tons of pool parties, meals at the Lobster Pot, and of course, taking in the new show by Varla Jean Merman. Well, boys, this year will be no different as Varla returns for her 26th season in Provincetown! Beginning on June 20th Varla will perform her new show Stand By Your Drag every Tuesday through Saturday at 9PM at The Crown & Anchor's Paramount Club, until September 9th.
Written by Jeffery Roberson, Jacques Lamarre, and Ricky Graham with Michael Schiralli as director and Gerald Goode serving as musical director; Stand By Your Drag takes place under the following premise:
"It's been a year since Varla Jean Merman's earth-shaking, knee-breaking "Tic-Taccident" found her flat on her back with her legs in the air. Since that time, our daffy diva has worked hard to get back on her feet, on the stage, and in your pants. Now with drag bans, anti-LGBTQ+ legislation and a skyrocketing bar tab, America is conspiring to knock Varla off her lucite heels AGAIN! Join this show-biz survivor as she takes a stand for life, liberty and the pursuit of non-skid breath mints."
We sat down with Jeffery Roberson, otherwise known as Varla Jean Merman, to get the scoop on the new show, find out about her favorite places in P-Town and see just whether Jeffery fancies himself as one of the bears.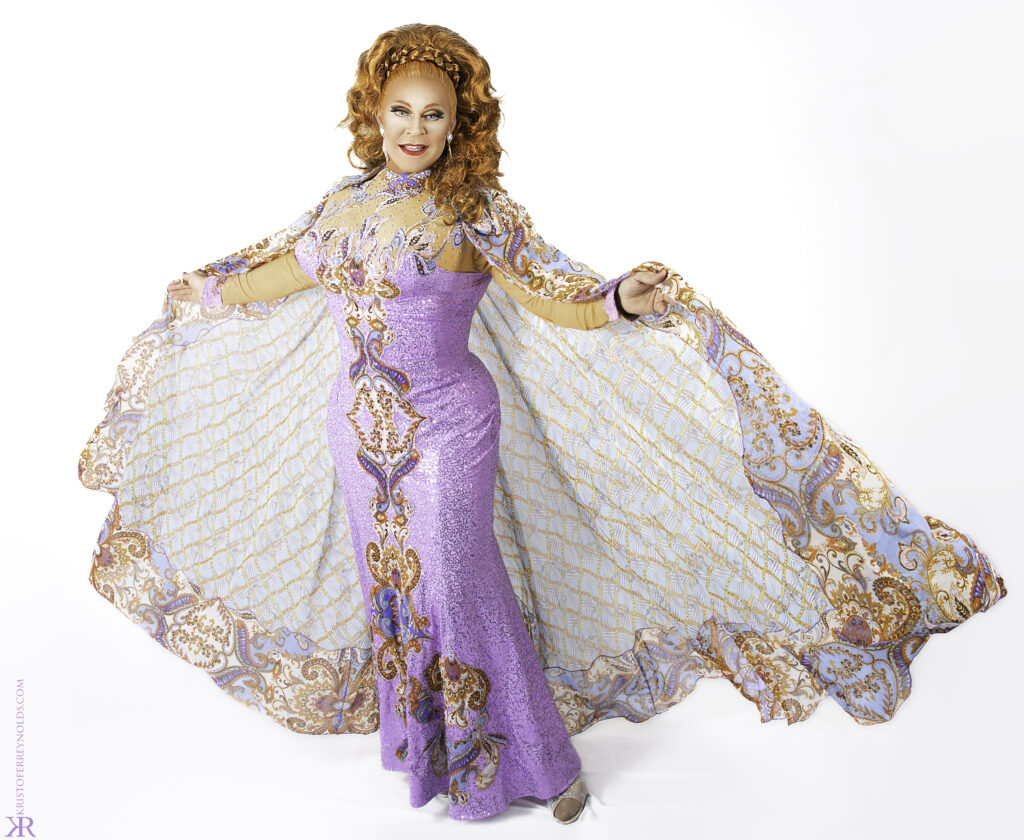 John Hernandez: Hi Varla!!! I'm so excited to be talking with you. We have a lot to discuss! Let's start with the big elephant in the room. Can you tell me, as one of America's preeminent drag superstars, what your thoughts are about the current anti-drag/anti-trans legislation being passed throughout the United States?
Varla Jean Merman: I live in Florida where drag is just being attacked and villainized. In Florida if you are performing in drag, the law now states that the performer is first given a misdemeanor and a $1000 fine. A second encounter with law enforcement would mean the performer could be charged with a felony, which is crazy!
Unfortunately, it would seem that drag is not for everyone, and given the current climate it has now become the responsibility of drag queens to have a moral compass. There is no Motion Picture Society telling us 'this show is rated PG', it's up to the drag queens. And frankly, a performer will know whether their material is not right for children, and if there are in fact children in your audience, performers need to either take that up with the club owner or they need to not do the material. That's where we are right now.
I personally will not allow kids in my show. Period. Throughout my career in Provincetown, people would have teenage girls or boys with them and they'd ask me "Do you think it's OK if I bring them?" Now back then, I would tell them what was in the show, that I didn't really curse, but that there was lots of innuendo and so I'd usually say it was ultimately up to the parents. But now? No.
Despite all this, I do think we're on the edge of a golden era. I think all of this nonsense is the death rattle of these conservatives trying to hold onto a dam that is ready to burst.
John: I know that's right! I have heard a lot of discourse over queer people boycotting Florida as a way to get at DeSantis. What are your thoughts on this?
Varla: That's not going to help. That's what DeSantis wants. Where does gay money go? It goes to the gay businesses. It is more important now than ever to visit Florida. Believe me, no queer person in Florida is loving what's going on, but we have to remember that people live in places not because they choose to, but because their families are there, they grew up there or they bought a house there. People can't just move when they don't like the government. That sounds so entitled. We have to stick with it. So no, I do not think people should boycott Florida.
John: Very well said. Changing gears a bit, I know you have been very busy getting ready for and performing at your summer residency in Provincetown! Your new show at the Crown & Anchor is called Stand By Your Drag. What can audiences expect from the show?
Varla: Well, I originally started to do a show about survival because last year during my show Ready to Blow, I slipped on a pile of Tic Tacs and ruptured my quad tendon, broke my leg, and fractured my kneecap on stage during the dance break of Anything Goes, right in front of everyone!! So, I thought I would do a show about that and finally/literally standing in drag again, since I did my last week of shows last year in a wheelchair. But now, I also metaphorically have to stand up for my drag because it's being attacked, and not just by the conservative politicians!
To riff on one of RuPaul's most famous sayings: If you can't stand up for yourself, how can you stand up for anybody else? Right?! Well, I had this critic last year who just took me down. He was this 20-year-old kid and I'm just not gonna stand for that shit anymore. I mean, he attacked my looks, my weight; he fat shamed me. He said my beauty had faded. I mean it made me so fucking furious! Injuries and all I've never responded to a critic.. until now. He said I was up to my old tricks, and I thought, you wanna see my old tricks, baby?? Well, I'll give you 2 1/2 minutes of every old trick I've ever done in my fucking life! And that's what I do in the show. I pull out every gag I have ever done in my career: the cheese, the Lysol, the fake leg, the Quasimodo, everything. And, it's funny!!
Besides that, the biggest point I try to make in the show is that LGBTQ community has been worrying so much about our particular flag that we let the most important flag go, the American flag. If you have a gay flag, if you have a bear flag, if you have a leather flag, you need to fly an American flag next to it because the American flag is now becoming a symbol of something that is not good. I mean nowadays if you see a giant American flag on the back of a pickup truck, you cringe. And we can't let that symbol be taken from us. We are gay Americans. Without that American flag, we'd have nowhere to fly the Pride flag.
Of course, I also have some great songs in the show that are super funny, and I literally do splits! If those young girls can do it, grandma can go down and do a split too, let me tell you! (Laughs)
John: The cheese bit might just be my all-time favorite! I am so excited to see it again!! (Laughs) What keeps you going back to Ptown year after year, and how has it been working at the Crown?
Varla: This is my 26th year! I started back in 1998. I've been at several clubs, but I went over to the Crown & Anchor during the pandemic because they were able to do outdoor shows. I think me and Miss Richfield were the only drag queens performing in the entire country that summer. I mean there was no one else at the time and the Crown set up a beautiful little theatre in the back. We were only allowed to have fifty people. I did two shows. I jumped in the pool at the end of both shows – I mean if you got a pool you might as well use it, right? (Laughs) I'd jump in the pool and then we'd put my stuff on the spin cycle and then I'd wear it again 30 minutes later. And that's how I ended up moving over there.
I really liked performing at The Crown; and I love the audiences; and it's in the center of town. And the new owners, they're wonderful! Paolo's a scientist and Jonathan is an artist, but Paolo is also a huge supporter of the arts; and they're very community oriented. I mean they could have hired all famous drag queens to work there, but they are really supporting the community and the local drag artists as well.
John: Given that you spend a good part of your year in P Town, I was wondering if you have any recommendations in terms of things to do or places to eat?
Varla: The great thing about Ptown is it can be a total party city, or it can be a total nature city, and there's very few places like that. There's obviously all of the nightlife which, thank goodness only goes to 1:00 – you can't get in too much trouble in Ptown. But also, there's trails and beaches that are just so beautiful. There are no buildings or any businesses around because of Jackie Kennedy, she protected the seashore along the Cape. It's just all-natural beauty.
I love my nights off so I can go to Tea Dance. I mean, if I have a drink, I want to do it when the sun's up and watch the sun come down. That's my thing. I don't stay up. Foodwise, I love the boneless chicken wings at Fanizzi's; they're the best ever. I mean, they are the best ever. Oh, my God. I dream of them; I get them like three times a week!
John: I don't think I've tried the boneless wings at Fanizzi's. I'll have to try it when I'm in town for Bear Week. Speaking of, I was wondering, do you identify as a bear outside of drag?
Varla: I shaved my body for so long and then when I was about 43, I was like, you know what? This is a young girl's game. It was just growing in thicker and thicker and thicker. And then I let my hair grow out. And I thought, you know I'm just gonna wear clothes up to the neck so that the only thing that shows are really my hands and my face. Everything else is covered because I'm really really really really really hairy. I definitely am bearish and my husband's a big giant bear. I have always loved bears. Always. Even before there was a bear week. They are the best audiences. It's the week we all look forward to. I have a million jokes prepared for Bear Week. Everybody loves Bear Week. Well, I mean, the pedicab people aren't thrilled about it… but everyone else is!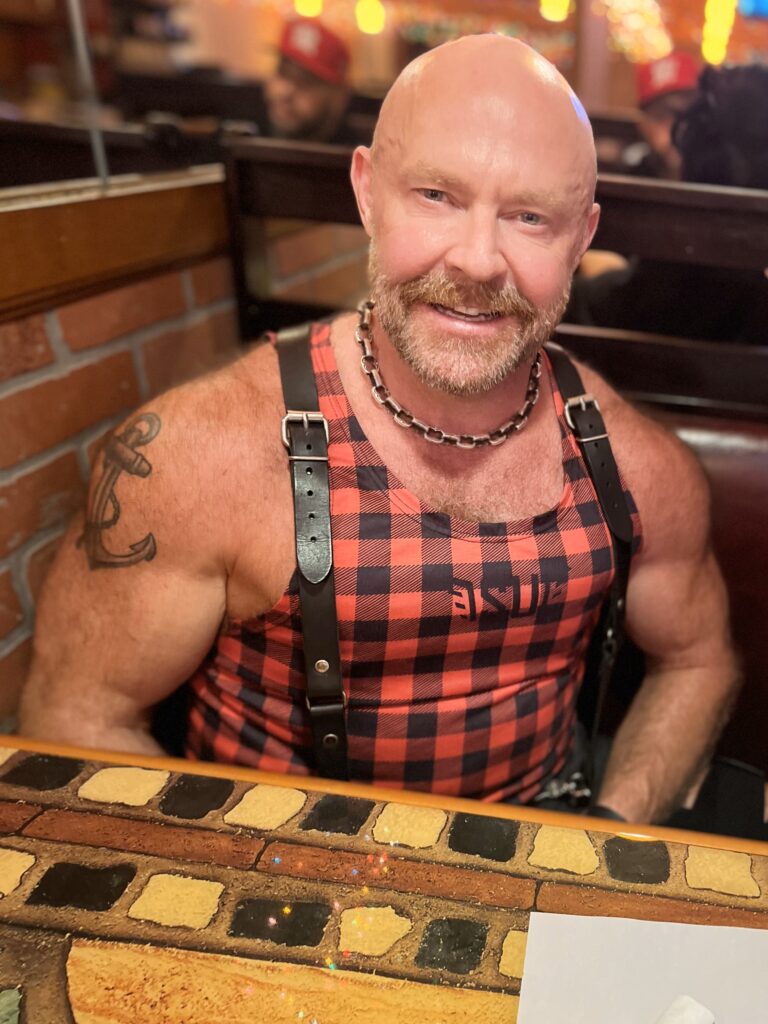 John: (Laughs) I've heard that from a lot of Provincetown performers and business owners. They all seem to love Bear Week.
Varla: Yes, Bear Week is definitely more laid back. They love to eat. They love to drink. That's always good. I have to say, there are some other weeks where the gay guys don't eat and they just drink water, which is not nearly as fun. So, it's always the best week. People are nicer and it's a more diverse group of people.
John: I love hearing that. In terms of Varla Jean Merman herself, tell me, how did you create her and who were you inspired by?
Varla: I was always a huge fan of Ann Margaret. I just thought she was the best. And when I was younger, I was really heavy, and then I lost a lot of weight, and then I just kind of looked like her in drag. So that's kind of where I got a lot of my look. Even though she got older and cut her hair, I still do the young Ann Margaret, even though I'm old now. (Laughs)
And with respect to the act. I'll tell you a story. When I started drag, I was still in New Orleans, and it was very Divine-inspired at that point. My roommate from high school had moved to New York (I went to boarding school), and he called me. I'll never forget it. He said: "Oh my God, I just saw this drag queen last night do a monologue to an Eva Marton Viognier aria." I was like 'Whaaaaat?!' I was a big opera fan, and I would NEVER think to do something like that. New Orleans drag was more about comedy and lip syncing. I knew right then I had to go to New York, and I did, in 1993. I didn't even know the name of the queen he was telling me about and do you know who it ended up being?
John: Who??
Varla: Miss Coco Peru! I found her and went to see her in Westchester, and I learned first-hand that her monologues had the power to make you laugh, and cry, and most importantly… think. I remember thinking her act was not just for drag lovers but that it was for anyone that was human. She truly inspired me to do whatever the fuck I wanted to in drag; and that is one of the greatest things about starting drag before Drag Race. We weren't caught up in any sort of boundaries or qualifications. We were just having fun. I never dreamed it would turn into a career but here I am doing drag now for over 30 years!
John: That's incredible! And then to think you and Miss Coco would become close friends and costar in Girls Will Be Girls. Any updates on the sequel by the way?
Varla: All I can tell you is that we filmed the entire thing and then I'm not really sure what happened. It's been very vague. There's been different rumors about what might have happened from a hard drive being destroyed to health issues. But no matter what, it was a great experience to work with Miss Coco and Jack (Plotnick) again.
John: Well, I'm gonna keep hope alive for the sequel! (Laughs) And is it true that you are BenDelaCreme's mom?
Varla: Oh yes. We've been friends for a long, long time. He'll tell the story. But he saw me in Boston doing a Christmas show ages ago and it was a real turn for him because he wanted to do drag. He's been wonderful.
In fact, I was in his Christmas special with Jinkx – The Jinkx and Dela Holiday Special on Hulu. My face wasn't in it, I guess I shouldn't take that personally (laughs), but I played a mean alcoholic glass of eggnog. It was an old lady Grandma Glass of Eggnog, and I was a puppet, and I was talking to Dela throughout the entire show. (Laughs) I just love his creativity and he is an absolute wonder.
John: Oh, I definitely recognized you as Grandma Eggnog! I can also see glimmers of you in Dela which is beautiful. So, my last question for you Varla, is there anything in your career that you haven't done yet that you still want to do?
Varla: You know, I am so happy. I mean, I spent a lot of time at the beginning wanting to be the world's most famous drag queen and, well, someone beat me to it. But actually, I love my life. I love performing at the level I'm in. I love that I can take a lot of time off and I love creating new shows every year. I've done Broadway shows, I've done movies, but the most satisfying thing is doing my own show and working with people I admire. I don't do it on my own. I have friends that write with me, and video artists and costumers. I definitely hire a lot of people. When you're young, you have this possessive quality over your work where you have to do everything – written by, starring, directed by….. But when you get older, you just want it to be funnier and sometimes, let's face it, other people have funnier ideas than you, and know what you look better wearing.
I'm so fortunate to have worked with so many amazing, creative people, and I've actually used the same director, Michael Schiralli, since 2000. He's just incredible, and every year we come up with something fun and new.
John: Well, I have seen you many times over the years and you never disappoint Varla. I'm so looking forward to seeing you during Bear Week. Thank you so much for taking the time to chat with me! Break a leg at the show!! Actually…wait…don't! Umm….Knock 'em dead Varla!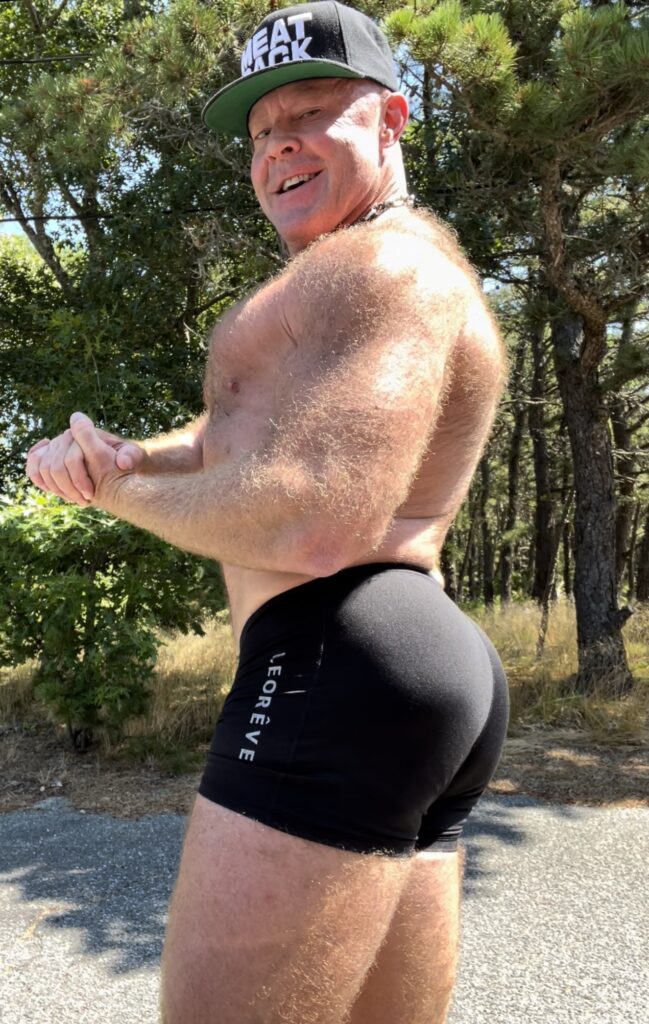 Get your tickets for Stand By Your Drag HERE.
Keep up with Varla Jean Merman on Facebook, Instagram and her website.