Bear World House Party: Artists Spotlight Part 3
We are gearing up for the July edition of Digital Bear Weekend! It all starts this Friday, July 24 and goes through Sunday, July 26! Our big Bear World House Party is this Saturday, July 25 starting at 5PM EST on Twitch!
In preparation for this weekend, we will be highlighting 4 of the 16 performers who are appearing in the Bear World House Party every day this week. Today, it's Lucy Stoole, DJ Mateo Segade, Meatball and Mike MRF's turns!
---
Lucy Stoole
Born and raised in Kansas City, Kansas, Lucy Stoole now calls Chicago home, and is taking the drag scene by storm! Described as "one of the most glamorously dirty drag queens you'll ever meet", this bearded beauty perfectly mixes the elegance and comedy of Lucille Ball with the famous filth of Divine, creating a style that is both unique and entertaining.
Aside from being one of the most in-demand drag queens on the scene, Lucy's main focus is empowering Black people — especially Queer Black people and Black Trans people. A very sex positive person, she also contributes her time to empowering people to own their sexuality by helping to put an end to stigmas and discrimination surrounding HIV, and spreading knowledge about sexual health.
Aside from working to put an end to racism, transphobia and misogyny, Lucy is also looking to expand my sex toy line in the near future. She's currently working on her third collection, which will include new plugs, dildos and cock rings for trans men.
Check out some of Lucy's hot sex toys at www.lucystoole.com/shop!
Also, check out this month's interview and front cover featuring Lucy Stoole!
---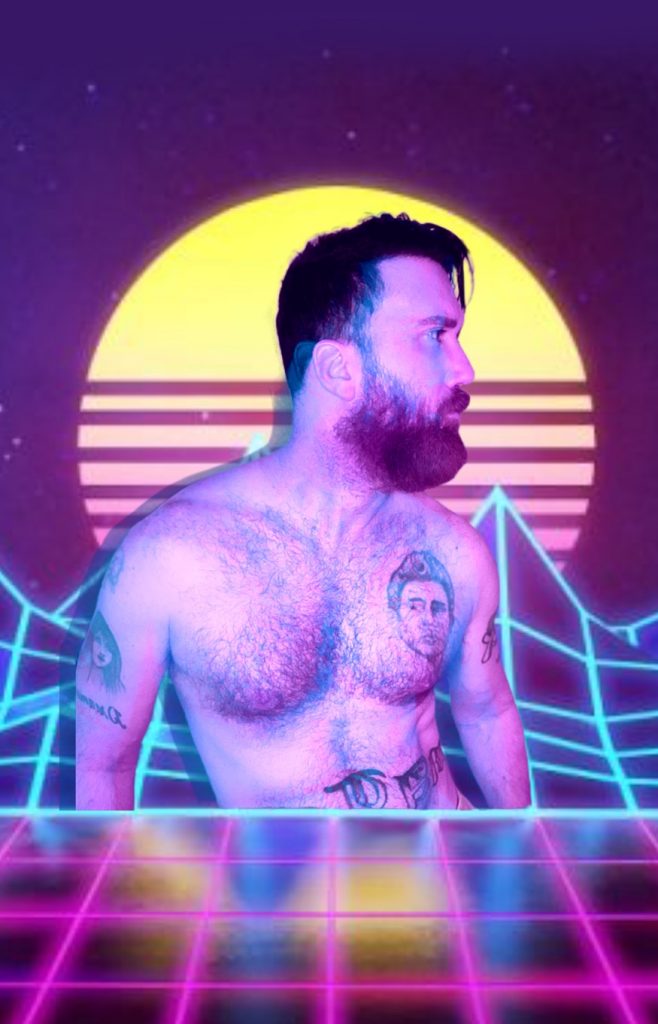 DJ Mateo Segade
Mateo Segade is an internationally touring DJ who routinely burns up dance floors wherever he goes. His outrageous sets for The Boulet Brothers' Queen Kong are an example as to why he's one of LA's most in-demand DJs.
A Dance music professor and "social introvert", Mateo Segade is also a resident DJ for influential artist collective The House of Avalon, spinning for SNAP! at Micky's West Hollywood and Sugar Tank at Precinct DTLA.
He's played his mischievous style at countless gigs across North America with Bearracuda Worldwide, toured throughout Europe (twice) with Boulet Brothers Events, and hopped from city to city with London-based club night, Daddy Issues. He was also added among the rotating cast of DJs for West Hollywood mega-event, Evita, and DTLA's parking lot festival, Summertramp.
Watch DJ Mateo Segade's DJ set from May's Digital Bear Weekend!
---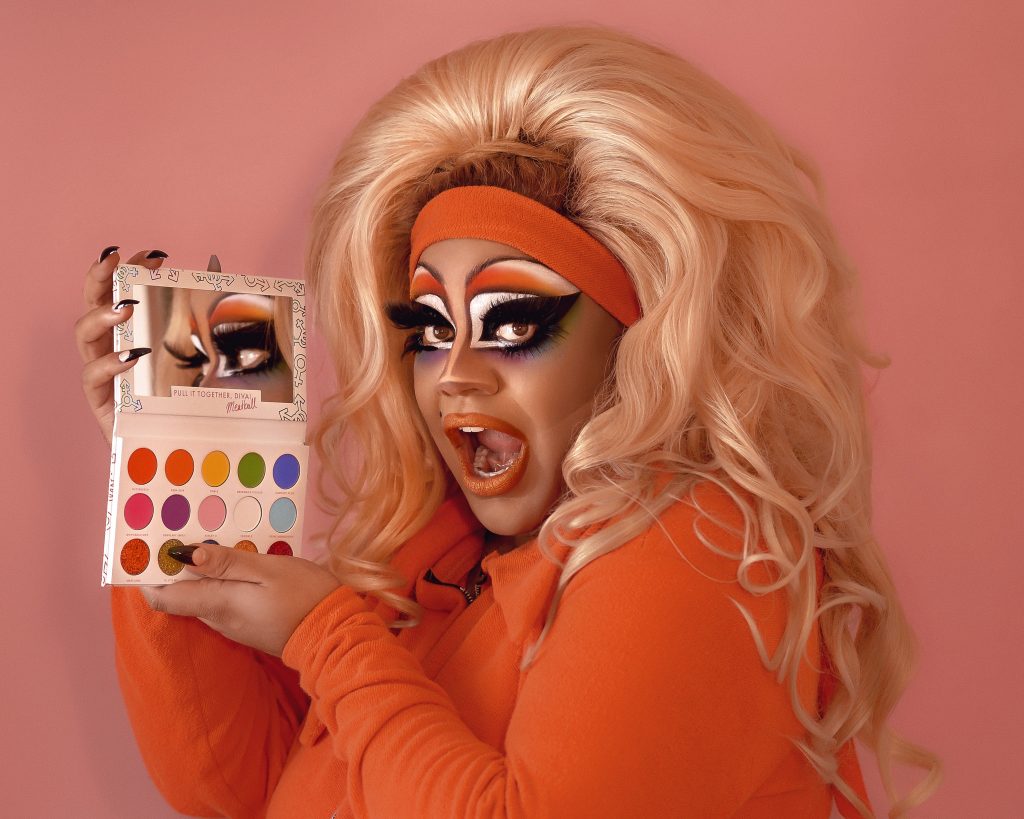 Meatball
Meatball is a Los Angeles-based drag queen who prides herself on her unique style and sloppy behavior. One of the funniest and in-demand queens around, she is a staple in the Los Angeles drag scene and has made a name for herself as an international performer.
She is most popular for her web series Welcome To Meatland on Youtube, and her Podcast Sloppy Seconds with Big Dipper and Meatball where she speaks unapologetically about food, her life and what makes her want to drink.
She was also won fan favorite on season one of The Boulets Brothers Dragula. She has recently joined forces with HipDot and launched the Diamond Diva makeup collection.
Check out our July 2019 interview with Meatball and Big Dipper!
---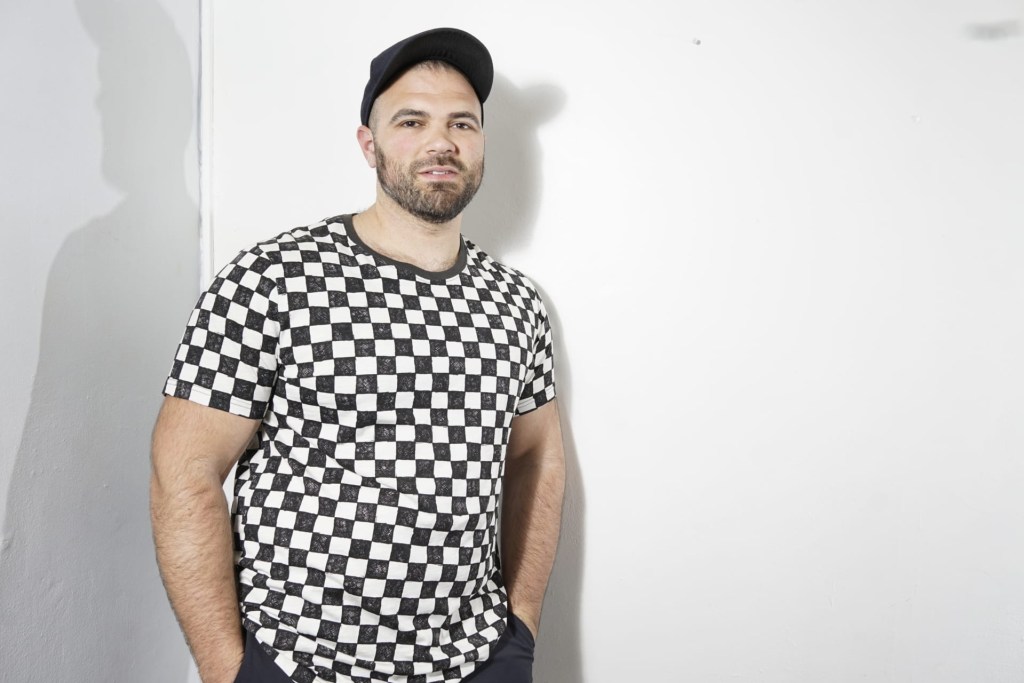 Mike MRF
Originally from Brockton, MA, MikeMRF splits his time between NYC and Provincetown, MA. He's become a regular keyboardist in the New York music scene, performing a weekly residency on Sundays at ReBar in Chelsea, as well as various other locations throughout Provincetown.
Mike has played keys for artists such as Ada Vox, Esera Tuaolo and Ruth Pointer. In addition to playing keyboard and piano, he is also a saxophonist, and has been featured as a sideman for Matt Alber and Tom Goss.
In 2014, Mike was the recipient of two OUTmusic Awards (with 5 nominations, the most that year), including the highly coveted Humanitarian Songwriter of the Year for his song "Be Strong (LGBT Youth)". Upon its release, "Be Strong (LGBT Youth)" was named the 2013 Boston Pride Flag-Raising Anthem at City Hall. Mike, Lisa Bello, Justin Waithe and Sheree Dunwell were invited to perform it at both Boston Pride and Rhode Island Pride, before winning the Humanitarian Songwriter of the Year award.
Mike's 2016 EP Yasko Sensei, dedicated to his mentor and collaborator Yasko Kubota, placed at #11 on the iTunes Jazz Albums Charts, while the radio single "Makes Me Wonder" placed #2 on Billboard's Most Added Chart. Aside from jazz, Mike was also introduced to various other forms of music, including R&B, Hip-Hop and Country, citing the influences of artists such as Lauryn Hill, D'Angelo and The Chicks.
He released his new album, Mob Music 2, on October 18, 2019, and has also recently released the music video for the lead single "Clean House." The album is a collaboration with two other musicians — singers Lisa Bello and Justin Waithe– who Mike has been working with for almost a decade.
Mob Music 2 hit #39 on the iTunes R&B Albums Chart and was featured on Apple Music. Album opener, "Tip Jar" landed in the Semi-Finals of the 2020 International Songwriting Competition and was featured in the Amazon Prime Show 30 The Series along with two other songs. Mike is also the winner of the 2017 John Lennon Songwriting Contest for his original song "Mob Music", the title-track off of his iTunes Chart-Topping sophomore album.
The first Mob Music album also placed on Billboard's Heatseekers Chart, and several songs from the album appear in television series (Off Season, Amazon) and films, including Bear City 2 and 3– both of which Mike has also acted in.
As for now, Mike is currently planning to begin playing some streamed shows for NYC music publishers Tin Pan Alley, as well as performing in both May and July's Digital Bear Weekends!
Check out our April BearWatch feature with Mike MRF!
Also, check out Mike MRF's May Digital Bear Weekend performance with friend and collaborator Marco Perfetti!
---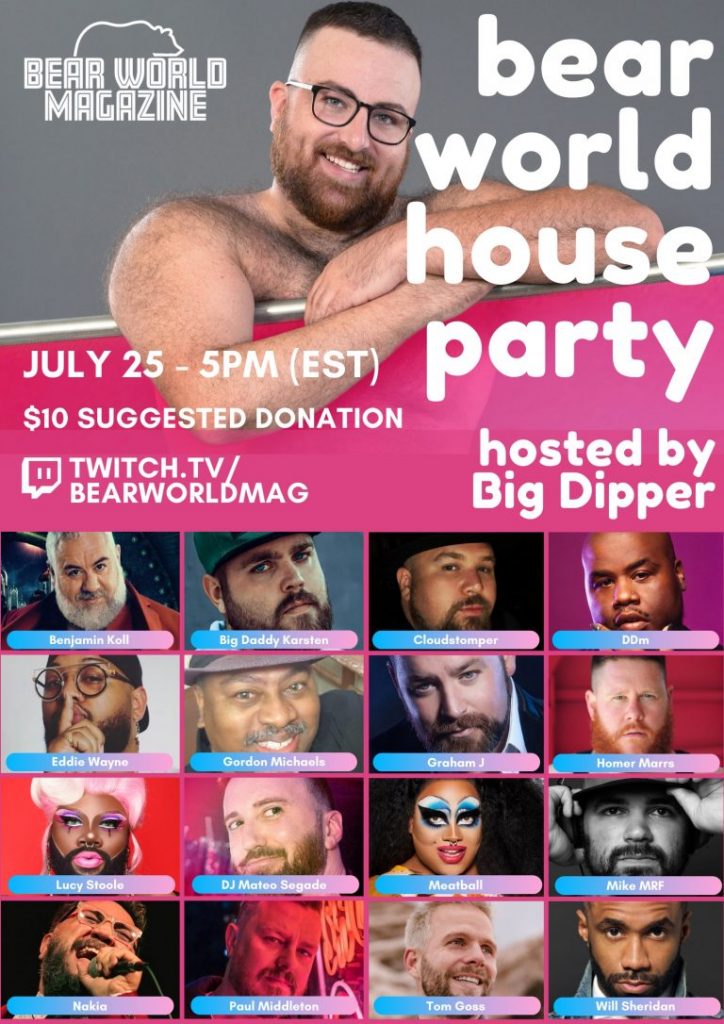 The Bear World House Party is being broadcast at 5pm EST (10pm UK) on the Bear World Magazine Twitch channel – twitch.tv/bearworldmag. Go to Twitch today to sign up!
Twitch streams can be viewed on the official Twitch website and via one of the many official Twitch apps which are available for iOS and Android, Xbox 360, Xbox One, Sony's PlayStation 3 and 4, Amazon's Fire TV, Apple TV, Google Chromecast and Roku.
Head to the app store on your preferred device to download the Twitch app. Once installed, search for 'BearWorldMag'. Watching broadcasts and videos on Twitch is completely free and doesn't require viewers to log in.