Kyle Meets… The bearded and glamorous Lucy Stoole
Who says a hairy queen can't be fabulous? Some of our favorite queens at Bear World Magazine are the ones who push boundaries and challenge conventional beauty standards, while also looking fabulous!
Bearded queen Lucy Stoole has travelled all over the world, spreading her very fabulous and hairy style of drag, and we love it so much that we invited her to perform in July's Digital Bear Weekend (24-26 July).
I had a chance to catch up with Lucy before the weekend to discuss her work, her background and what you can expect next from her!
Kyle Jackson: Hi Lucy! Where are you from? Can you give us a little bit about your drag background?
Lucy Stoole: Hi! Well, I was born and raised in Kansas (a true friend of Dorothy), and moved to Chicago 13 years ago after University. After spending one Halloween dressed as Diana Ross, I decided to continue my new found hobby! I've been doing drag as Lucy for about 8 years now.
KJ: Let's talk about your name. I love the name Lucy Stoole! How did you come up with it?
LS: It started as a joke between an old roommate! I had dressed up for the golden globes and thought I was looking FIERCE! But then he compared me to a loose stool. And thus, she was born! It stuck because it seemed to be that perfect mix of filth and glamour.
KJ: I love the beard! What made you decide to be a bearded queen?
LS: At first it was because I didn't want to shave! (laughs). Slowly it turned into a way for me to play with gender expression, and to force others to question what their ideal of beauty or womanhood could be.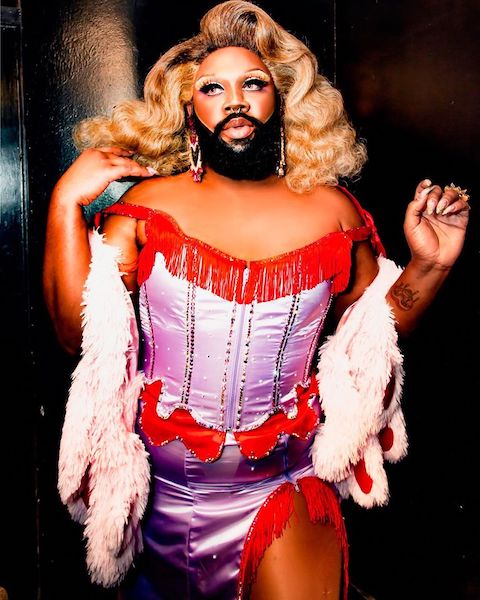 KJ: What are some of the causes you promote?
LS: There's a lot of causes I feel very passionate about, but my main focus is empowering Black people — especially Queer Black people and Black Trans people. I am also a very sex positive person who contributes my time and effort to empowering people to own their sexuality, stopping stigmas and discrimination surrounding HIV, and spreading some knowledge about sexual health!
KJ: Where are some of your favorite places/cities to perform?
LS: Well, number 1 is always going to be Chicago, but also Vancouver, L.A., Atlanta, London and Brooklyn are pretty high up on the list. I've honestly had a great time at just about every venue and city I've been all over this world. Some of my best moments have been in the smallest towns hanging out with the queer people who support my art.
KJ: What's next for Lucy Stoole?
LS: Well, after I deal with racism, transphobia and misogyny, I'd like to expand my sex toy line! I'm currently on my third collection and working on coming out with new plugs, dildos and cock rings for trans men! I believe that I'll be focusing most of my energy on this while taking a bit of a drag hiatus in the future.
Check out some of Lucy's hot plugs, dildos and cock rings at www.lucystoole.com/shop!
Follow Lucy Stoole on Instagram and Twitter!