The Troupe app from JetBlue makes travelling with your sleuth easier!
If you've had the misfortune of being the designated organizer for a 'Bear Crawl' with all your beary best Judys, then you know how terrible the experience can be. Getting a group of Bears to agree on a brunch spot is difficult enough, never mind having to come to a consensus on whether you're going to travel as a sleuth to Key West Bear Weekend, Sitges Bear Week, Bearrison Street Fair, World Bear Weekend, Fire island Bear Weekend, BeefDip, or one of the other many hot, hairy Bear events happening all year round. It's a HUGE decision (no pun intended), and a major task, but JetBlue might just have the solution we've been waiting for.
JetBlue Travel Products, a subsidiary of JetBlue Airways has announced the formation of Troupe, a free and collaborative group trip planning app. So whether you're headed to the West Coast of America for International Bear Convergence (IBC), planning a visit to Provincetown Bear Week on the East Coast, or sailing the seas with Bear Voyages, Troupe is here to relieve the stress that coordinating a group getaway can create.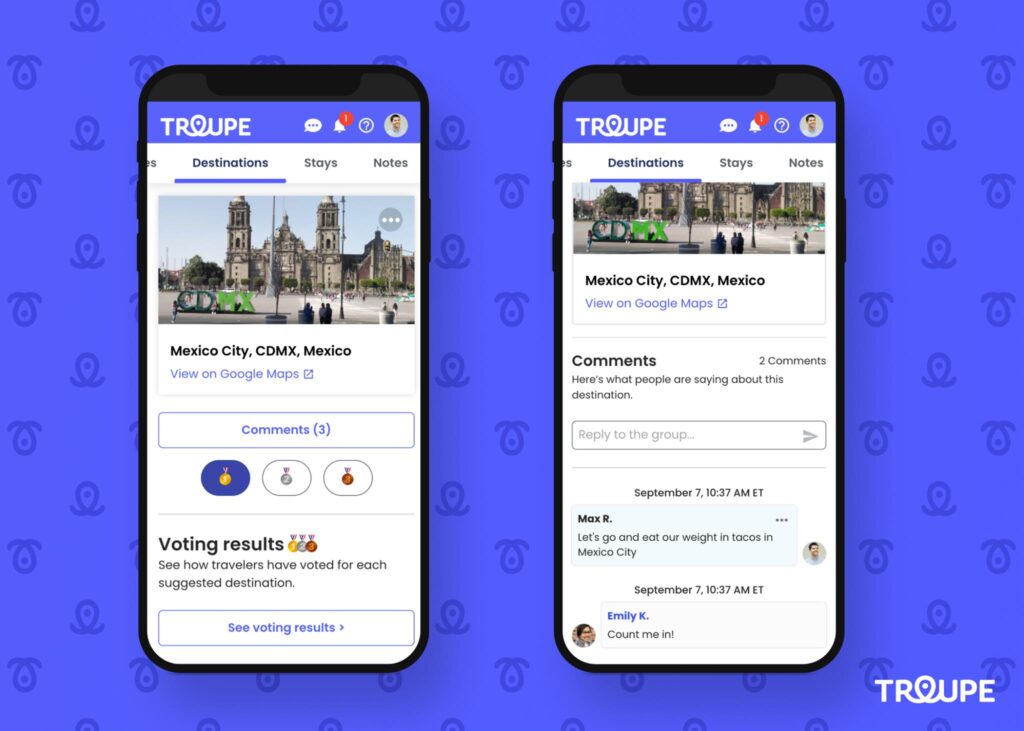 "Anyone who has organized a vacation with a group of friends or family knows that getting everyone to agree on details can take the fun out of travel planning," said Andres Barry, President, JetBlue Travel Products. "As we continue to look for fresh solutions to ease friction in travel and expand JetBlue's reputation for great service, the Troupe app aims to simplify group travel planning and perfectly aligns with our goal to build new travel offerings that transform how people travel."
A collection of ventures, JetBlue Travel Products continues to invest in new ideas and products as a service to bring humanity to all aspects of the travel journey. Following the successful relaunch of JetBlue Vacations in 2020 and the launch of Paisly in 2021, Troupe is the next step in creating unique and differentiated travel experiences for customers.
Aligned with JetBlue's efforts to make travel seamless for its customers, Troupe is a convenient app dedicated to taking as much work off planners' plates as possible. With Troupe, travelers can suggest, vote, and comment on dates, destinations, activities, and stays, so everyone gets a say in the trip planning process. The easy-to-use app allows travelers to seamlessly keep track of everything in one place. Users can manage RSVPs, create polls, share notes, add suggestions, and vote as a group to build consensus and lock in a plan before they book.

"There's no denying that planning a vacation for a large group can be overwhelming, especially when everyone's requirements are different," said Alexandra Zubko, CEO of Troupe. "Troupe was designed to make group trip planning fun, not stressful, and working with JetBlue Travel Products to bring this product to life was a no-brainer. We are proud to be the newest product to come out of JetBlue Travel Products and are thrilled to have the support of such a strong travel company whose mission aligns with our own: solving major pain points that travelers face."
Sound too good to be true? See for yourself. You can download the app here.
A version of this article was originally published on our sister site, Queer Forty.