Meet Cybersocket's Studs of the Month & VPL Underwear Party Hosts: The RRBears
So, in case you haven't noticed, our friends over at Fleshbot (powered by Cybersocket) have declared March 'Bear Month' and have further proclaimed the RRBears as their studs of the month! We sit down with the sexy duo to discuss all of it!
All month long, Fleshbot has been featuring some of the most gorgeous bears in the worlds of adult entertainment and nightlife, in addition to bears in the media like Daniel Franzese and little old me! Of course, we've been more than happy to help get the word out about Bear Month by republishing certain features here on Bear World, like the feature they did on Salem, the super-hot go-go dancer causing a scene at Club Chub in Los Angeles.
With just a few days to go for Bear Month, Fleshbot is getting ready to end their celebration in a big way with their Cybersocket Studs of the Month, the RRBears! Robert and Ravi may be familiar to you from their OnlyFans content and their super sexy Twitter account. Earlier in the month they were the headliners for St. Patrick's Day edition of the Fleshbot Powered by Cybersocket's VPL Underwear Party at Precinct in Downtown LA. Trust us, the fur and the booties were on FULL display and we have the pictures (below) to prove it!
At the VPL party, Fleshbot filmed the hunky RRBears, a real-life couple of 8 years (and counting), sensually stripping each other down for an episode their Slow Reveal series to be released on their site as part of their grand finale for the month.
However, before Robert & Ravi are released from their duties as the Cybersocket Studs of Bear Month we snagged them for a quick Q&A as detailed below.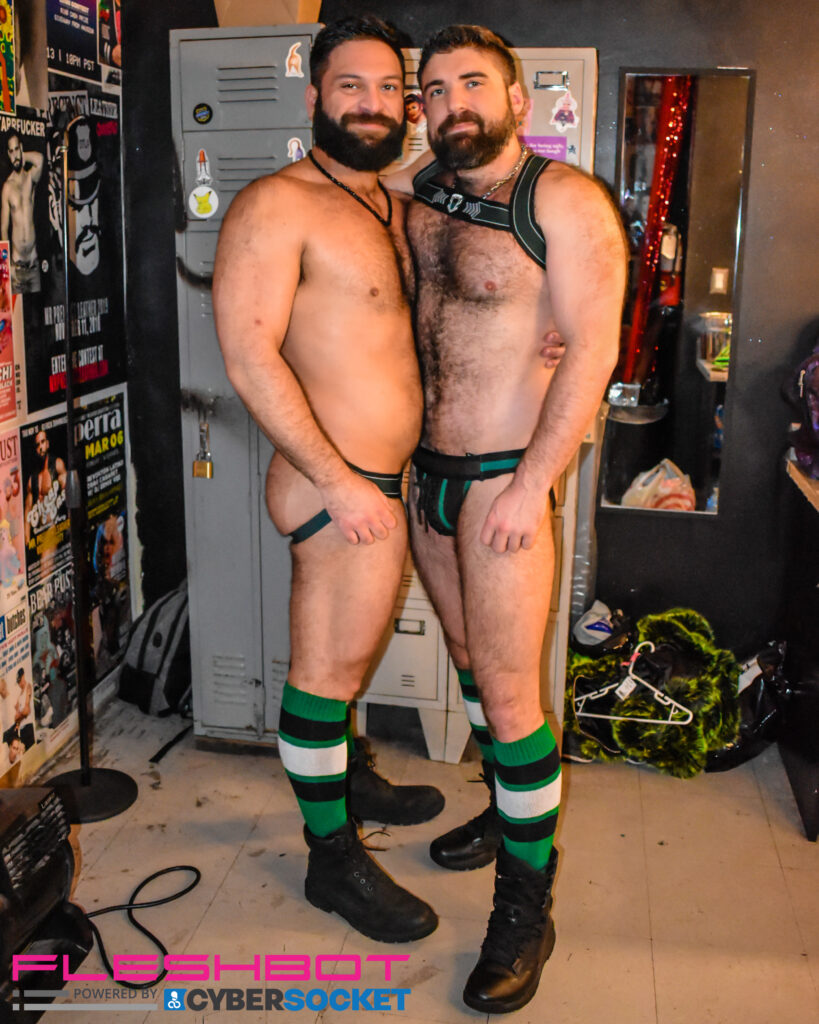 John Hernandez: Hello boys! Thanks for taking some time out of your duties over at Fleshbot to chat with us! What's it been like to be the Cybersocket Studs of the Month? What has the feedback been from your fans?
Ravi: It's always a little crazy to us to be recognized for anything, but any positive feedback and recognition is super appreciated by us. Our fans have always been kind and supportive, we have little to no stories regarding negative feedback and or any trolling online. We tend to keep out of debating or adding our personal opinions to anything on our Twitter so that keeps any vitriol to a bare minimum.
John: You headlined VPL's St Patrick's Day underwear party. What was that like?
Robert: We LOVED headlining VPL at Precinct DTLA. All of the people involved, dancers, photographers, bar staff, and sponsors are so nice and easy to work with. We would absolutely do it again.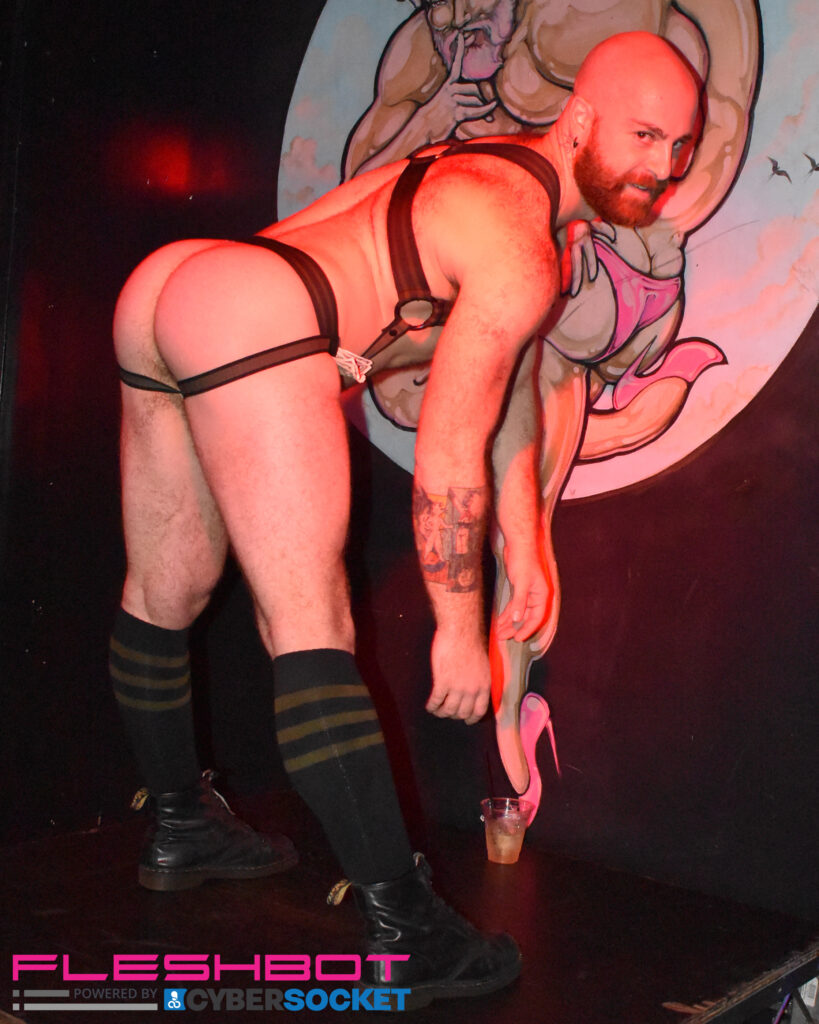 John: It looked like an absolute blast! So, since you are Fleshbot's ambassadors for Bear Month what do you think it means to be a bear?
Ravi: There's probably a lot of different answers to this question. (Laughs) There's the physical appearance side of it, being larger and hairier than most, and there's just the community aspect of it. I think overall there is a welcoming presence to the bear community because there's a good chunk of people that are included in the bear community that aren't necessarily bears. And we think that's a really great thing about it. We've probably toned down too much to be traditional bears now compared to when we began our Twitter, but in LA we're still very much considered bears. Read into that as you will! (Laughs)
John: I've always said being a bear is more of an attitude as opposed to a body type. There's room for all of us! Speaking of which, what are some of your favorite bear events and parties?
Robert: Our favorite bear events are Beef Dip in Puerto Vallarta, and IBC in Palm Springs.
John: Very good choices! So, a lot of people are impressed to hear that the two of you have been together for 8 years. How do you keep the spark alive in your relationship, both emotionally and sexually?
Ravi: Over 8 years later we still are just very into one another. We're a lot different than when we met but seeing one another grow into better versions of ourselves is and has been very attractive.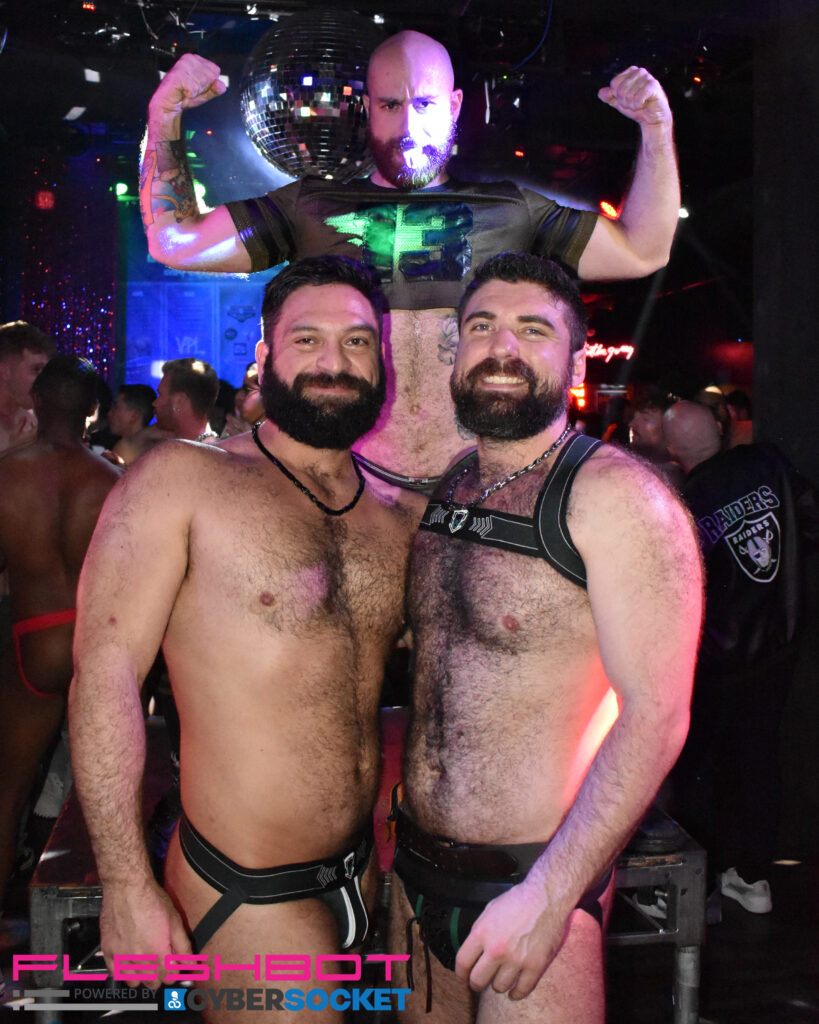 John: Great answer! And of course, you two have a very successful OnlyFans page. What type of men do you seek out to collaborate? Do you have any dream collaborators in mind or favorite scenes?
Robert: We seek out a wide variety of people to collab with for videos. It honestly just comes down to timing and scheduling. Can't think of any dream collaborations off the top of my head, but our favorite was definitely being able to film with Rocco Steele. Just one of those full circle pinch-me moments of being able to befriend and work with someone we've both found insanely hot for a long time.
John: Yes, Rocco Steele and BWM go way back. He's a really nice guy. So, with Bear Month ending, what's next for you boys?!
Robert: Next for us is working with a close group of friends to start a party here in Los Angeles and then hopefully around the country. Also, Ravi is looking to start taking on clients for his video editing services as that's what he got his degree for in college. And, as always, we hope to continue to grow our fan base and subscriptions by consistently creating more content and filming with different creators.
John: Sounds great! Looking forward to hearing about your new party! Best of luck with everything boys!
Follow RRBEARS on Twitter.
Follow Ravi on Instagram.
Follow Robert on Instagram.
And check out the boys in action by subscribing to their OnlyFans.