Fleshbot does a L.A. Leather Pride Q&A with actor/comedian Daniel Franzese!
Our friends at Fleshbot have been celebrating the bears this month, and rightfully so! WOOF! Last week, they did a Q&A with the beary funny and talented actor/comedian Daniel Franzese!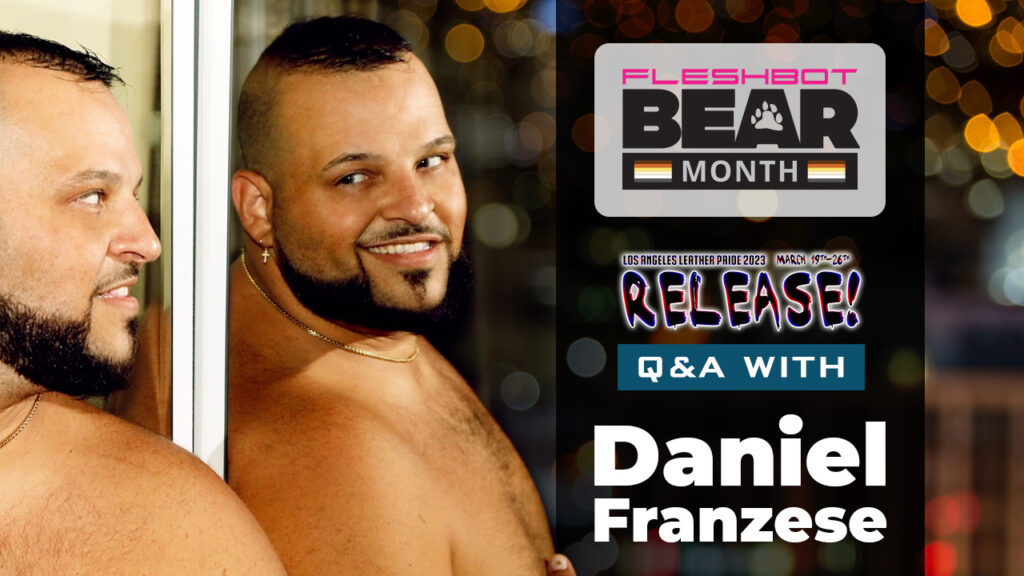 Everyone knows him from the hit 2004 teen comedy Mean Girls, in which he famously proclaims, "I WANT MY PINK SHIRT BACK!" But since then, Daniel Franzese has been become known for more than taking back pink shirts. Not only has he joined the growing list of young performers to come out since their breakthrough roles made them popular teen stars, but Franzese has made a mark for himself as a stand-up comedian and serious actor. He has been a spokeperson for the plus-size and body positive communities, and through his character Eddie on HBO's Looking, he brought awareness to HIV and AIDS issues affecting the nation, and became an ambassador for the Elizabeth Taylor AIDS Foundation.
Have you checked out his podcast, Yass, Jesus!? It is a faith and sexuality affirming comedy podcast that believes you don't have to pick between gay and God, co-hosted with his former televangelist bestie, Azariah Southworth (The Remix on TBN). Look for a special edition of his pod at LA Leather Pride!
Check out the awesome interview Fleshbot's Aj Sloan had with Daniel below!
---
Los Angeles Leather Pride is just around the dimly lit corner. Can you tell us what you're looking forward to the most?
Nothing like some good camaraderie with a bunch of gay men. I mean what more can you ask for?
What aspects of the LA Leather community make you smile?
I remember being intrigued by those Blue Oyster Leather Bar scenes in the Police Academy Movies when I was growing up. The meathead bad guys who always accidentally end up at a leather bar. the juxtaposition of how tough and manly they all looked with how tender they danced was the whole punchline and the guys were always tricked into going into the bar and ended up doing the tango with a dom Daddy and the police academy meatheads would get all SUB and let them lead them on the dance floor and whenever they left the bar in all of the movies you could always sense that they had a good time. I think about that scene often when I see a sea of burly, sexy hairy, leathered-up dudes hanging together and they are some of the sweetest most welcoming, and community-driven dudes ever. That part always makes me smile how they defy perception
You'll host a special edition of your podcast YASS JESUS with co-host Azariah Southworth. What is one thing about leather that has you screaming "Yass Jesus!"?
I love wearing a leather armband. There's something so satisfyingly masculine about being upfront with what you like and what you want that is a way to experience masculinity without it being toxic. Your leather can say a thousand words.
Your podcast Yass Jesus pairs together concepts of religious faith and LGBTQ matters. For those yet to tune in, can you spill the tea, or in this case, the water-to-wine?
The world forces queer people to choose between gay and God. I don't think they a mutually exclusive. Making me gay is one of the greatest gifts God has given me. We are multi-faceted human beings. Lots of so-called religious people in the world act one way Monday-Saturday then put a suit on or hat and go to church and act another way. We at Yass Jesus believe you can be a freak, wear whatever you want, fuck whomever you want consensually, drink, smoke, whoever you are and whatever you do and whatever you wear, and come to God that way. We also believe in questioning the validity of organized religion and holding people and organizations accountable. Meanwhile still having a respect and reverence for tradition and history but not just accepting everything without questions.
What makes this conversation one that is important both to you and our community?
The same people that want us erased and are making laws against us are the ones who are trying to gatekeep God from us. Like you think we just wanted to get married? No bitch we want our God back too. This reclaiming of a higher power fits right in with the leather community when you think about it. Aspects of tradition and worship, pain release and pleasure seeking? It's not an accident that sensuality and sexuality and spirituality are so similar. It's all energy exchange.
Do you have a religious past?
I grew up going to church every Sunday and in my teens was involved in a little more extreme religious missionary environments and lots of literature and media
Any Catholic school photos in your drawers? In your personal experience, how has whatever influence religion has played in your life shaped not only your queerness but also your kinks?
There is a lot of praise and worship in church and also in the bedroom.
LA Leather Pride serendipitously finds itself nestled right into Bear Month (I'd like to imagine right between two furry man tits). As with many kink communities, there is a clear crossover between these two. What is it about the leather scene that draws in the bears like a picnic blanket?
Bears come from a place of radical body acceptance and many come to that place through a long journey of media and community trauma. The straightforwardness of the leather community is appealing to me for that reason and I imagine other bears feel the same. If someone is into me, they walk straight up to me and say so. I can tell by how they present themselves what they want. I think that's a refreshing change from some of the more pretentious offerings in the gay community.
You recently made the claim that John the Baptist was the "lumber-sexual daddy bear that we all need." What boxes does the perfect daddy bear have to check off, and what was John the Baptist doing so right?
I meannn he is the first lumbersexual. Hairy, big, coat of camel hair and big leather belt wearing, older cousin of Jesus. Yass Daddy John. We love to find a hot queer spin on these old bible tales. Why shouldn't we have our own perspective? Joseph and the coat of many colors? Actually, genderqueer Joseph in a rainbow dress! in 46Ad the word in the bible wasn't "coat" it was Ketonet Passim which meant Princess dress. David and Jonathan's sexy gay love affair? Ruth and Naomi's lesbo energy? The real Soddom and Gomorra stories?! The word Homosexual was added to the bible in 1946 for the first time? We deserve perspectives that serve our lives. Especially when they are based on true translations or intentions. This information belongs to us and we are not letting them erase us from the narrative.
What is next for Daniel Franzese?
Azariah Southworth and I are hoping Yass Jesus wins the Glaad Award! So excited to be nominated in the category making its debut this year.
Any upcoming projects or plans that you'd like to share with us?
My show on HereTV 'Not So Straight In Silverlake' just got picked up for another season so that's fun. It's a cute, sexy little show that we love making so that's fun.
What does 2023 have in store for you?
I feel like I want to get more involved with the bear and leather community maybe try to title. Who knows?
---
Follow Daniel Franzese on Instagram and Twitter.
Follow Yass Jesus! on Instagram.