Club Chub is the body inclusive queer party that everyone should know about!
Club Chub is the body inclusive party everyone wants to be at, and you might be able to catch it in a city near you sooner than later.
Club Chub has been making a name for itself in 2022, with several successful nights already held in LA, Florida, and San Francisco. Now a monthly occurring event in a few cities, the body positive tea dance party is highly regarded among everyone who has attended thus far, with phenomenal reviews.
The story behind Club Chub really makes the party so much more special. I will let Gregg, the current owner of Club Chub tell you all about that and where the party currently takes place, as well upcoming cities the party is traveling to. Check it out below!
---
Bryce Quartz: How did Club Chub originally get started?
Gregg: Club Chub was started in 2002 by my late friend Alex Garcia and Frank Rosas. I came along the second event they had, and was everything from a DJ to doorman. It was started because there was a need for a safe space for gay men of size. This was in West Hollywood. One Sunday a month, the place was packed with big men just letting loose and having a blast. From there, we did the club in San Francisco, Long Beach and San Diego.
Before Alex passed, he and I had talked about bringing it back. Once I moved to Florida, he came to me in a dream and said do it! Club Chub started back up in September of 2019 in Tampa, FL.
BQ: Where are the Club Chub events now?
G: Ever since I restarted it in Tampa, I had people reach out to me to bring it to their city. This year, we had our first event in Los Angeles and San Francisco. We are now monthly at Precinct in DTLA and bi Monthly at Lone Star in SF.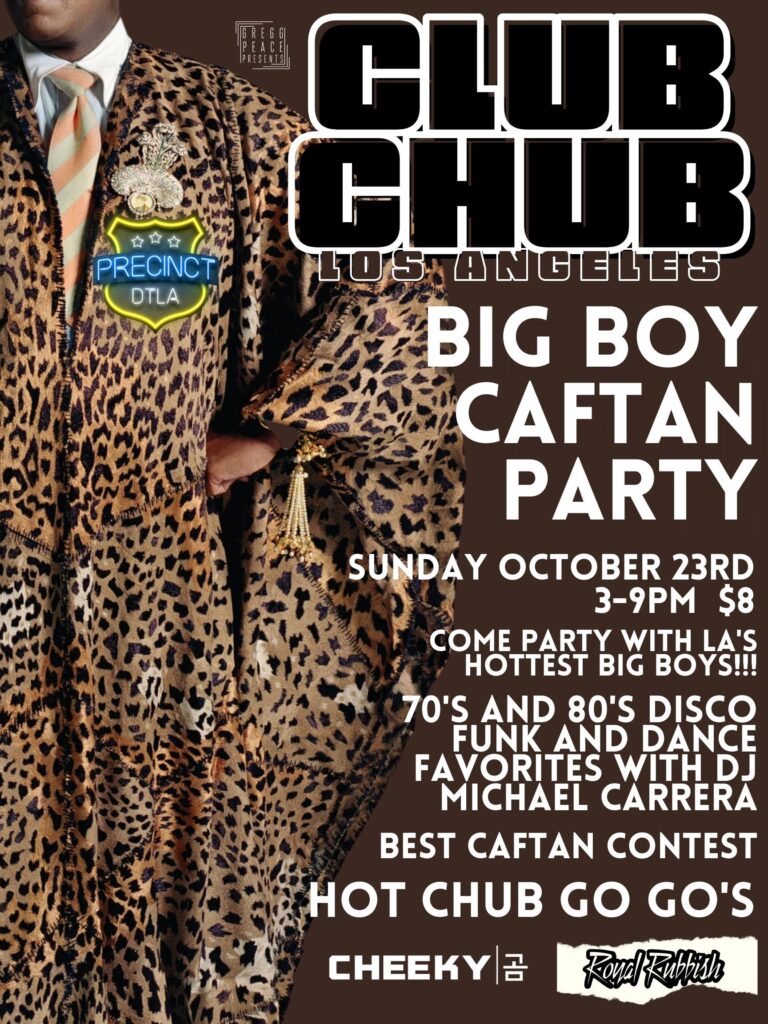 On November 13th, we are bringing the party to NYC! I'm super excited about that. Performances from Bryce Quartz and Zee Machine, hot Chub Go Go boys and NYC's hottest big Men! Get tickets today!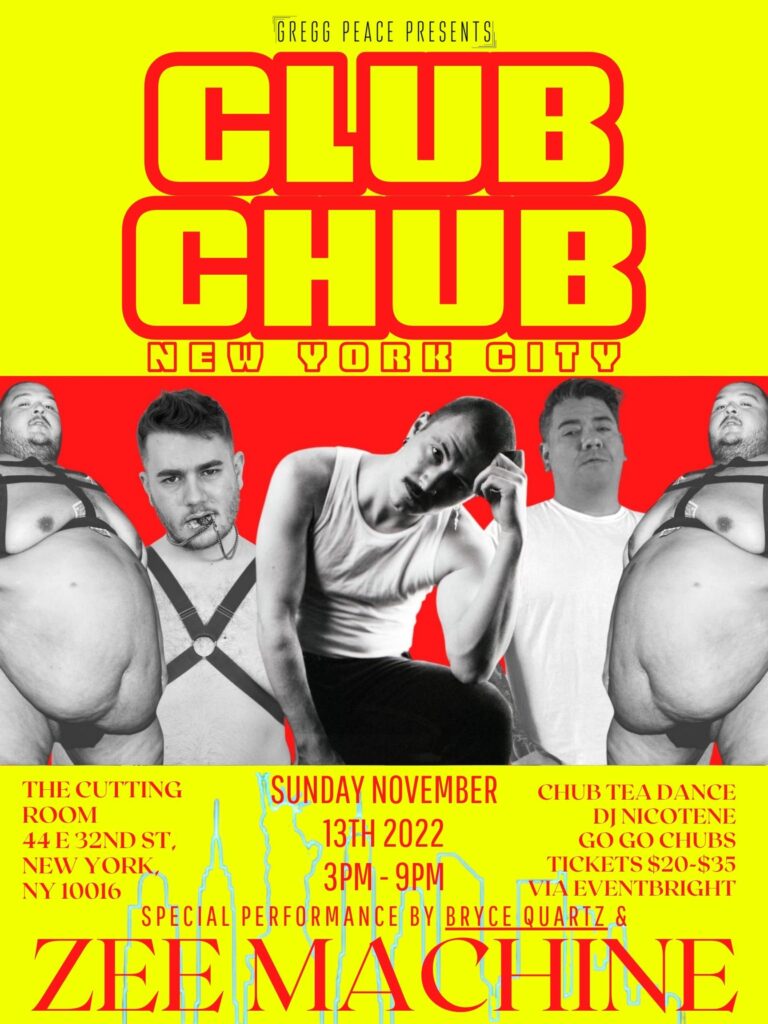 BQ: What's one of your favorite things about each event that you do?
G: I am often brought to tears when someone at an event pulls me aside and thanks me for doing this. Just standing back and watching men of all sizes (and some women, too) laughing and dancing like no one is watching makes me so happy!
BQ: I recently saw some of the Club Chub reviews you posted, and I just loved seeing all the love! What are some of the highlights among these reviews?
G: I love hearing from people. The best ones I get are from people that haven't even attended yet, or want it to come to their city. The fact that we are getting word of mouth all over the US is so special to me. If you want Club Chub to come to your town, message us on Instagram (@clubchubparty) and let us know what bar might be best to host!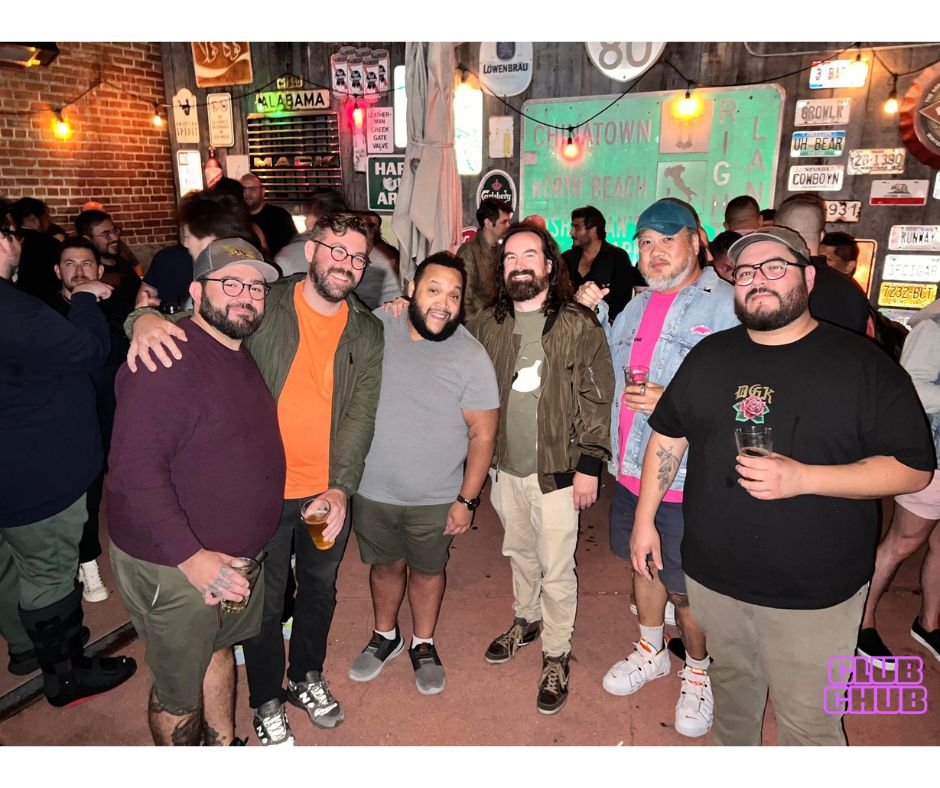 BQ: What are you most excited for next?
G: I am super excited for the NYC show, and to really spread the Club Chub love all over the U.S. What I am most excited for is just being able to see happy, chubby, smiling faces having fun in a safe space catered to them!
BQ: Thank you for taking the time to answer my questions, Gregg!
---
Be sure to follow Club Chub on Instagram and Twitter, and check their website for events coming to a city near you!