Gavan Knox talks Great Chocolate Showdown, gives us a unique ice cream recipe!
Selected from thousands across Canada and the US, Gavan Knox was recently one of 10 home bakers to go head-to-head in the indulgent world of chocolate, vying for the grand prize of $50,000 in a range of creative and exciting chocolate-based challenges on the Food Network Canada's Great Chocolate Showdown. Even though he didn't take home the grand prize, this beary talented baker definitely made an impression with his kind, charming personality and his talent for mixing sweet, delectable flavors with elevated twists!
We recently had a chat with this talented, hard-working dad and husband to get the scoop on his experience on Food Network Canada's Great Chocolate Showdown, how it has influenced his life and craft, and what he plans to do next. Oh, and speaking of SCOOP… He also has a little treat for those Bears who would like a unique ice cream treat to serve this summer with his Black Garlic Ice Cream (with Fennel and Orange Donuts) recipe!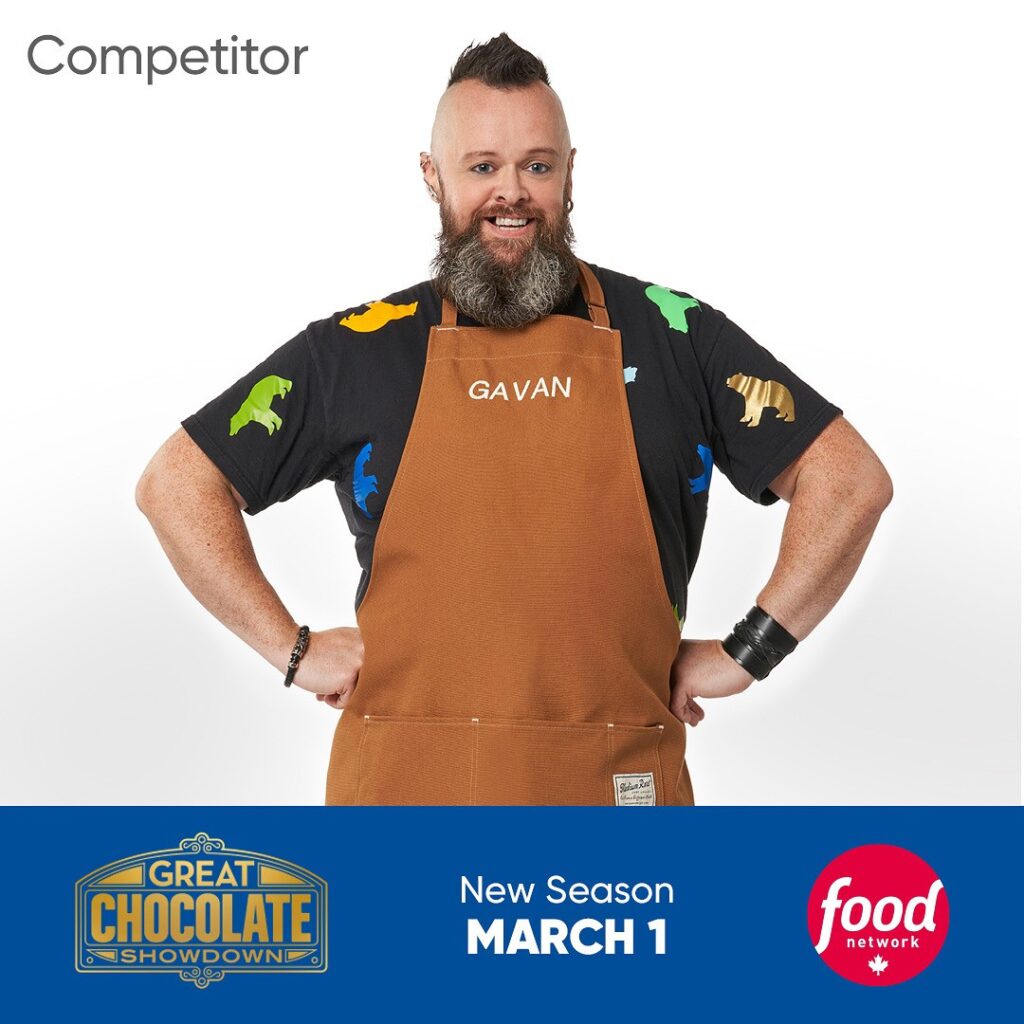 ---
Kyle Jackson: Can you tell us about your experience on the Food Network Canada's Great Chocolate Showdown?
Gavan Knox: Wow! What a rollercoaster– it certainly was an unforgettable! Like nothing I've ever done before. It gets to a point where it's all hard work, and the pressure is there to achieve, but you strangely end up thinking, "as hard as this is, I'm not leaving this party until I'm made to leave!" Being with my fellow competitors was an eye-opening experience in its own right. I went into the show with my own individual goals, not necessarily to make friends or network, but over the weeks, because you see each other at your highs and lows, you really do bond and get close to the other competitors.
Don't get me wrong, we didn't all become one happy family! You are 10 complete strangers thrown together in a high-pressure environment so, naturally, some will get along better together than others but, we all left with a few wonderful new friends and the utmost respect for our fellow competitors. As for competing under the eyes of the judges and the Big Blue Clock? That was an absolute mind-trip! Not only was my work going to be critiqued visually, but also tasted by three renowned industry experts at the top of their game. My experience on the show provided me with a lot of stories and memories that will stay with me for quite a while.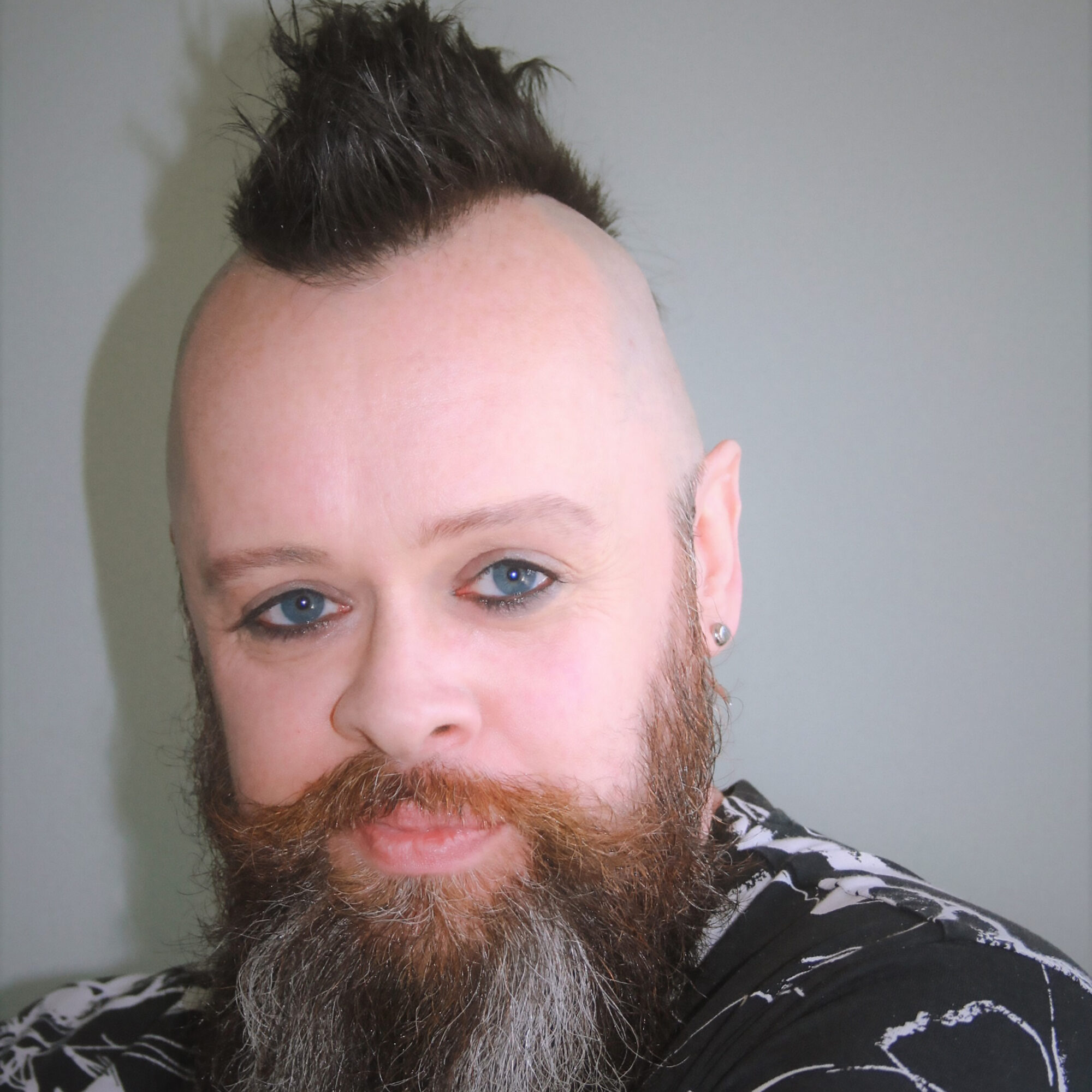 KJ: What do you think was the most rewarding and important thing you learned while competing on Food Network Canada's Great Chocolate Showdown?
GK: To fly my freak flag and to have faith in myself and my ability. I went into the show with an understanding that I was "good" at baking but, there was always that element of doubt. "Imposter syndrome," if you will. Having the positive feedback from the judges and reaching the point that I did in the competition really bolstered my confidence and spurred me on to embrace my flair for the unexpected, to constantly keep pushing the envelope and deliver unique takes on bakes.
It was also rewarding to "find myself again". Being a stay-at-home dad, it's so very easy to get wrapped up in moulding who you are day-to-day to become totally about your kids and about domestic life. By doing the show I was able to embrace and cultivate that creative side of me that sometimes has to be put on the back-burner. I learned that there's nothing wrong with some "me time."
KJ: What was the most rewarding and important thing you believe you brought to Food Network Canada's Great Chocolate Showdown?
GK: Appearing on Food Network Canada's The Great Chocolate Showdown ticked a lot of boxes for me. I was there as a competitor with a long burning passion for baking who wanted to share it with a wider audience. I wanted to represent the 'Bear' part of the LGBTQ2S+ community. I've learned that I'm not what people first imagine when they hear "home baker", and I wanted to use this as a talking point.
So much of society is still geared towards body-shaming both men and women. I wanted to show that I'm proud of my love of baking and the food space, and that it's not just that one-dimensional aspect of consuming it. You can love food for its complexities, how it relates to itself and how it can bring enjoyment to people. It's not about it being "dirty" or "clean"- why call something a "guilty pleasure" when there's nothing to feel guilty about?
I'd like to think that I bought a sense of representation to the show — for lovers of food; for parents who've pivoted into their roles; for the Bear community and for those who don't see different as wrong but rather something to be celebrated and shared.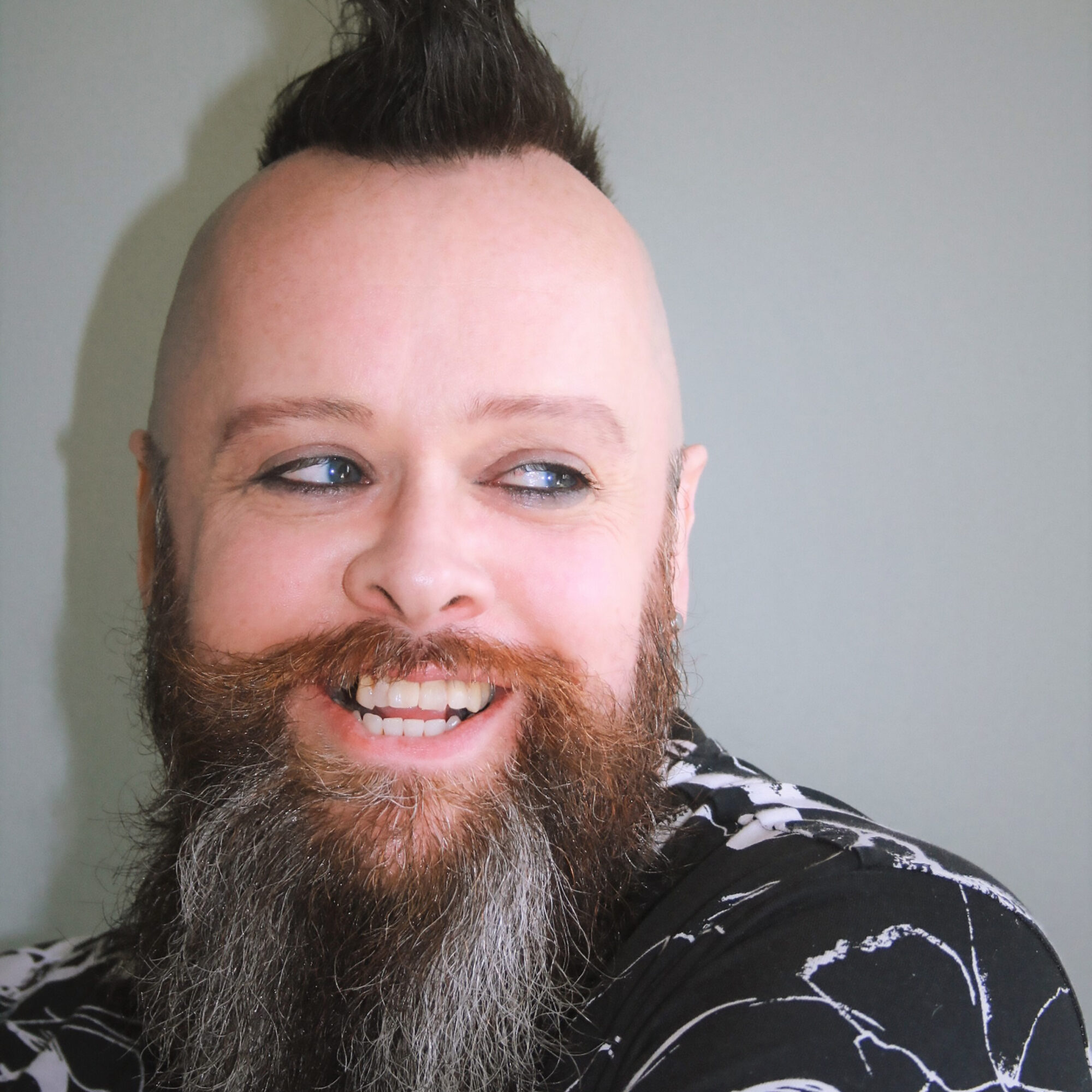 KJ: What's up next for Gavan Knox after Food Network Canada's Great Chocolate Showdown?
GK: As I mentioned on the show, I definitely have my sights set on writing a cookbook. It's been a dream of mine to create something special and unique that will appear right there on the shelves next to cookbooks authored by my culinary idols. To know that other people are sharing in my love of bakes and sweets would be an amazing feeling.
Since the show, I've been enjoying making cameo appearances on several morning television shows nationwide. Between these and my time on Food Network Canada's Great Chocolate Showdown, I've definitely gotten a taste for being in front of the camera! So stay tuned – you never know where you might see me pop up!
KJ: Speaking of recipes, what's one of your favorite summer cookout/Pride dessert recipe, and can you share it with us?
GK: My Black Garlic Ice Cream is definitely proving to be a hit this summer and a firm favourite of mine. It's a pretty tasty way of capturing the essence of what I do — bringing the unexpected to something as familiar as ice cream. A
s a no-churn ice cream is so much less demanding than your regular frozen dessert, it's a double hit of easing the burden on the host. Summer is the ideal time for something cool and delicious to round out all that tasty cookout food. And besides – everybody loves ice cream!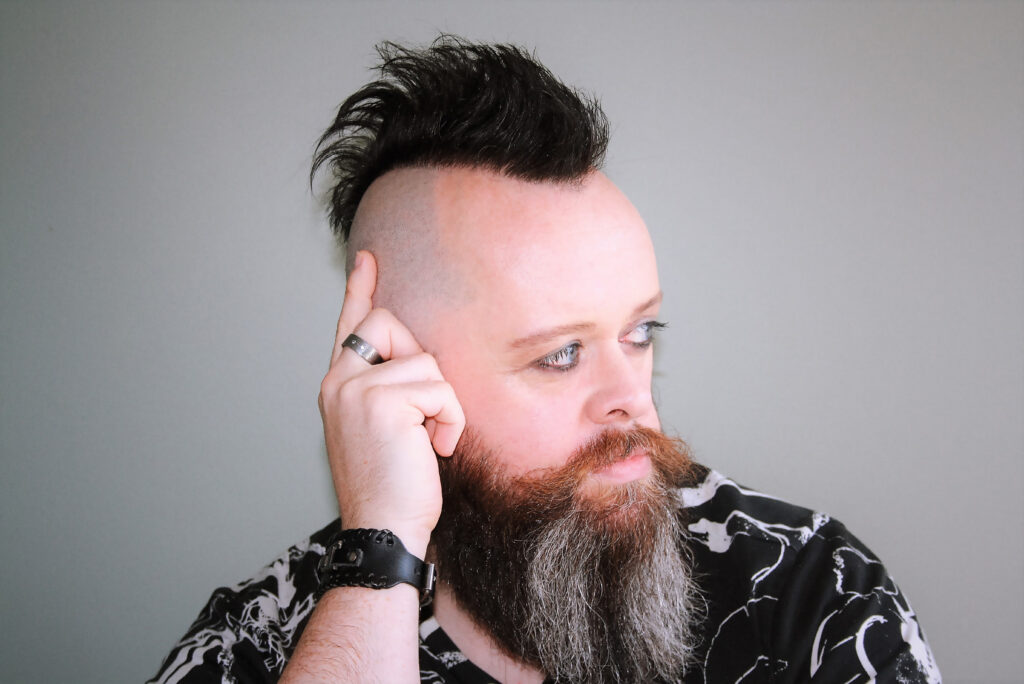 Check out the Black Garlic Ice Cream recipe below!
---
Black Garlic Ice Cream (with Fennel & Orange Donuts)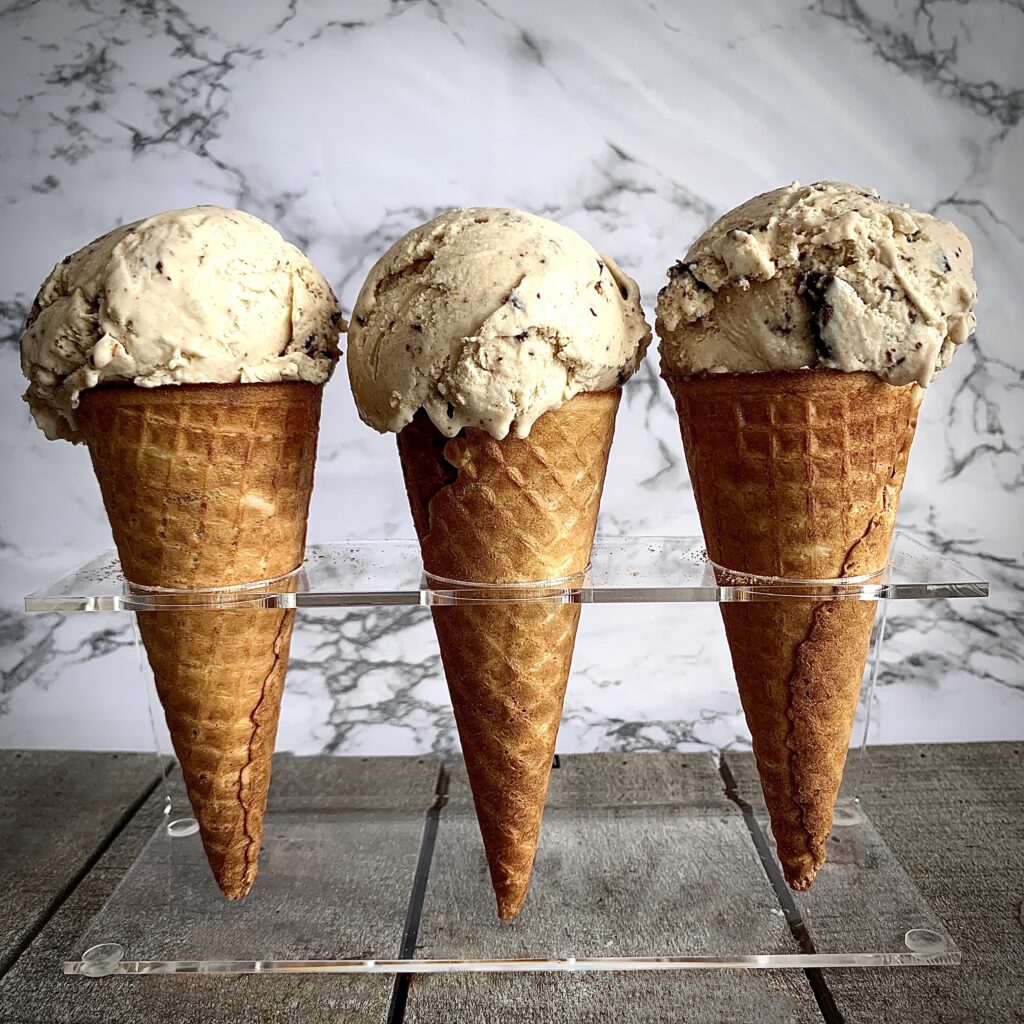 I can just bet your reaction upon reading the title of this recipe post. Furrowed brow, wrinkled nose…who knows…maybe even a snort of disbelief? "Garlic in a dessert? Well surely that CAN'T be right. He's pushed fooling around with flavors too far this time!" Well for those of you who have been on this weirdly, wonderful flavor train of mine for while you might remember I have long been an advocate of black garlic and it's uses in the sweeter side of things in the kitchen.
To give any newcomers a quick rundown–
Black garlic is fresh raw garlic that changes with time using low heat and humidity of about 70% in a process called the Maillard reaction. During this process, the cloves turn a distinct black color. The garlic's texture and flavor change as well. The flavor of black garlic has the slight tang of tamarind or balsamic vinegar and a mild sweetness that resembles rich molasses with the complexity and umami notes of soy sauce. Its cloves are much softer than fresh garlic, and stickier.
Thank you for coming to my TED talk.
Here I've initially paired the black garlic itself with some dark chocolate in an ice cream. The ice cream itself is left wholly unflavored save for a touch of sweetness from a little honey. This allows the flavor of the black garlic to shine through, and work really well with the bitter sharpness of the dark chocolate. for me it's a wonderfully decadent, almost avant-garde treatment of the humble stalwart dessert. I should point out that for me this recipe is all the more appealing as it's a "no churn" recipe, you just need to tale a bit more time in the planning of it.
As for the donuts (which are baked, not fried) the whole idea for this came from a quest to create an ice cream sandwich that was just "a little bit" different. Black Garlic was my "gimmick" in the ice cream and well off course something left of center was needed as the sandwich vessel itself. That's where the donuts come in. The flavors of orange and fennel aren't just a random selection for intrigue value. The fennel anise, citrus of orange and that molasses-like tang of black garlic work together in a combination that takes on a herbaceous-like quality that does indeed elevate this beyond your usual ice cream sandwich.
Be warned though- unique elevated flavors or not, this is still an ice cream sandwich- so be prepared to get messy!
Ingredients
Makes 12 donuts (6 sandwiches) and 1.25 litres ice cream
Black Garlic Ice Cream
2 cups and ½ cup heavy whipping cream, separated
2 cloves black garlic, squashed to a paste
1 ½ teaspoons honey
1 can (14oz) sweetened condensed milk
4oz dark chocolate, cut into chunks
Orange & Fennel Donuts
½ cup (1 stick) butter, softened at room temp
½ cup sugar
¼ cup light brown sugar
Zest of 2 large oranges
2 ½ cups AP flour
1 ½ teaspoon baking powder
¼ teaspoon bicarb of soda
¾ teaspoon salt
2 teaspoons ground fennel
2 eggs, room temperature
1 Tablespoon orange juice
1 teaspoon vanilla extract
1 cup whole milk, room temperature
To Decorate
6oz Dark chocolate, melted
Gold leaf, optional
Dragees, optional
Feuilletine, optional
Method
Black Garlic Ice Cream
In a large saucepan combine 2 cups of heavy whipping cream and the black garlic paste
Heat over a medium heat, stirring occasionally until small bubbles start to form at the edge of the milk
Reduce heat to low for 5 mins
After 5 mins remove from heat and leave to infuse for 15 mins. After this time strain the cream/ garlic mixture into a small bowl to remove the garlic pieces
Cover surface with plastic wrap to prevent skin and place in refrigerator to cool fully
Once the cream mixture has cooled fully, transfer to a large bowl, add in the 1/2 cup of whipping cream and whisk to soft peak stage
Fold in honey and condensed sweetened milk until fully incorporated
Pour the mixture into a freezer-proof container, cover the surface with plastic wrap and freeze for 2 hours
After 2 hours, remove ice cream from freezer and fold in chocolate chunks
Return to freezer and leave until fully frozen, minimum 6 hours
To serve ice-cream remove from freezer and leave at room temperature for 5 mins before scooping to serve
Orange & Fennel Donuts
Preheat oven to 425 degrees C. Prepare donut pans with butter, or baking spray
In stand mixer bowl with paddle attachment, cream the butter, sugars and orange zest until light and fluffy (apx 3 mins)
In a separate medium bowl combine the flour, baking powder, baking soda, salt, ground fennel and whisk together
Reduce mixer speed to medium, add eggs and vanilla extract and beat until combined, scraping the sides occasionally
Reduce speed to low and add in flour mixture in 2 batches, alternating with milk. Mix until just combined
Transfer batter to piping bag with an open nozzle (or just snip the end off) and pipe in donut pan. Bang to remove bubbles
Bake for 10- 12 minutes until springy, skewer test until clear
Leave to cool in pan for 5 minutes then remove to rack to cool fully
To finish the donuts dip in the melted chocolate and decorate to you liking
*Serve the ice cream and donuts however you like. Single scoop on a single donut and dusted with some feuilletine, adding some tasty textural crunch (I highly recommend this!); single scoop in an epic double donut sandwich or double scoop in a double donut extravaganza. The choice is yours — go WILD!