Western Xposure Wants You to Taste its 'Meaty Bits'
The organizers of Western Xposure are hosting their first ever Bear Variety Show, MEATY BITS at their Spring 2023 event on April 1 at 7:15 PM.
The show will feature live performances by comedian Chris Grace, singer/songwriter Nakia, comedian Joseph Schles, and an After Show Q&A hosted by Westcub. The night also includes a fantastic 3 course meal provided by the Runway.

Nakia is a semifinalist from The Voice, who can also be seen acting in the web series Skeleton Crew and Demon Doctor. When asked about the event he told us:
"Naked bears in the desert? Sign me up! Western Xposure is always a blast and I'm so thrilled West(cub) asked me to be a part of this year's entertainment. Meaty Bits should be more than a mouthful of fun seeing as I'll be singing, sandwiched between comedy sets from Chris and Joe, who are both hilarious and super cute."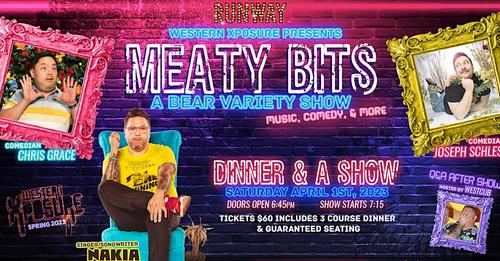 Chris Grace is best known for playing Jerry on NBC's Superstore and can also be seen in PEN15, Broad City, Atypical, and more. He performs stand-up all over the world, recently winning Best of Fest at Big Pine Comedy Festival, Burbank Comedy Festival, Comedy Chateau Comedy Festival, and Laugh After Dark. This fall he will debut his solo comedy show "Chris Grace: As Scarlett Johansson" at the Edinburgh Fringe.

Joseph Schles won 1st place at the L.A. Pride Comedy Festival, he's on season 3 of Laugh After Dark on Amazon Prime, his comedy has millions of views on Tiktok and Instagram and he has a comedy album called Soliciting Dick Pics available to stream everywhere!

Westcub is the co-creator of Western Xposure and is being forced to wear clothes to do this…
Tickets are Available for purchase here. They are $60 in advance of the show so grab 'em now!
For additional info go to www.XposureEvents.com