Thotyssey is the perfect queer nightlife blog to help you navigate NYC!
Thotyssey NYC has been listing daily queer nightlife events in New York City, New Jersey, Long Island, Fire Island and Westchester since 2016. In addition to guest or specialty columns, the site also features in depth "On Point" interviews with people in the nightlife scene here (drag performers, DJs, venue owners, party promoters and producers, gogo dancers, burlesquers, etc.), or visiting here from out of town. 
Thotyssey was created and is curated by Jim Silvestri, a New York native with a variety of mysterious ties to City's queer nightlife.
Jim has taken on quite the task curating a list of events from the multitude of gay venues across New York City, but honestly, he makes it look easy. When I first moved to NYC last summer, I was using Thotyssey.com left and right to see what was happening across. Whenever I have friends visiting the city who ask me what's going on in the city, I send them straight to Thotyssey.
It has easily become an essential part of New York City nightlife, giving the city an amazing tool to navigate queer spaces around town.
I had the opportunity to interview Jim, check it out below!
---
Bryce Quartz: How did you come up with the idea to create Thotyssey?
Jim Silvestri: I came out later in life, like in my late 20s, and when I finally worked up the liquid courage to start exploring the Gay Life I quickly settled on the old Boots & Saddle, which was just a cruisy dive on Christopher Street back then. Eventually drag queens started to show up, and at first they scared me… but soon I was hooked!
After a few years of just going to Boots, I worked up the courage and curiosity to explore the many other venues in NYC. But before I could do that, my crazy ass needed to thoroughly research what was happening at every bar in every borough on every night, with a little help from the then-young Facebook. It took my months to compile this crazy thorough list, and it was all just for me and my decision making!
Eventually I came to realize it might be useful to others as well. There were a few "rag" magazines like Next and Get Out and Odyssey who published nightlife highlights and partial schedules and maps of all the venues, so I thought I'd just do an online version of all that. I put it all on a Tumblr and called it Thotyssey to poke fun at Odyssey, but coincidentally Odyssey disappeared almost immediately after, along with Next. So I was left with this dumb name that was no longer referencing anything and that I have to explain in long paragraphs like this one for the rest of my life, lol!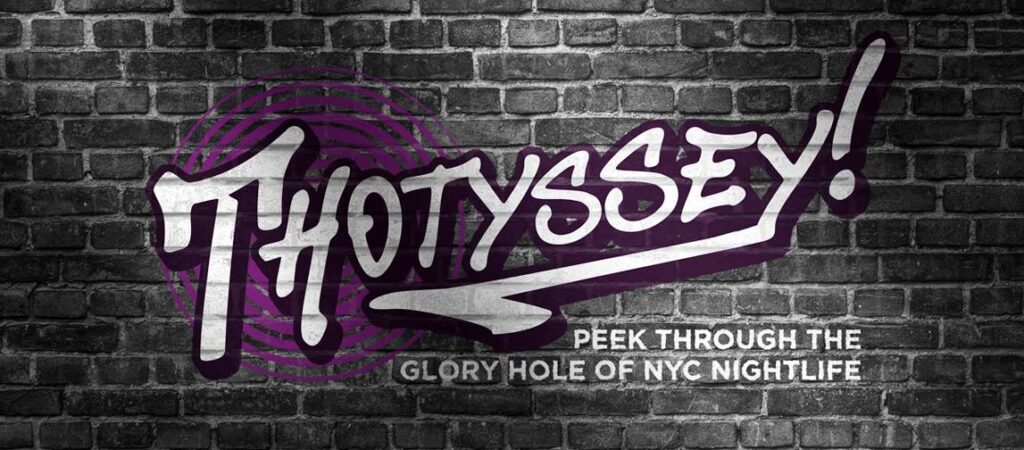 BQ: How long have you been running the site?
JS: Since 2016. I started with just listing a few key parties from each night, but gradually started adding more things and finally just put up the whole list of daily events every night. It took forever the first time, but today I'm just writing over templates.
Eventually Tumblr became terrible and homophobic, so I moved my home base to WordPress and that's where I remain. I also started doing On Point interviews with people in the biz in late 2016 starting with the lovely Erika Klash, and I will surpass 1,000 unique interviews in 2022.
BQ: What's it like running a staple website guide to LGBTQ+ nightlife in NYC?
JS: Thotyssey caught on VERY slowly, mostly by word of mouth. But I just kind of stuck with it, because it was a great distraction from the real world. Now tourists from Germany and Australia come to my events and tell me how useful the site is to help them plan what they're gonna see. And some people in the biz have told me that the interviews I've done with them really helped them get their first shot of publicity, and that's always nice to hear.
BQ: What would you say to a younger version of yourself to motivate him?
JS: Wait, was I ever young? I'd tell me to start exploring myself and the world around me a lot earlier, stop getting lost in fantasy and self-doubt… and stop eating so much White Castle, lol.
BQ: I have seen you judge at shows like Lady Liberty and even helped create other events. What are some of your favorite events you've worked on so far? 
JS: Lady Liberty was a great experience; I judged that for a number of years and met SO many people in the biz. It played a big role in helping Thotyssey get its name out there and build a readership, and gave me a rep for being a serious voice and observer in this frequently unserious business.
I'm very grateful to that competition's producer Vincent Cooper and host Brita Filter for the opportunities they gave me. I also really loved running my own Thot Mess party at Rebar for a few years where I got to showcase a lot of talent in the scene that I admired, and where I started to build my little Thotyssey family of collaborators.
I produced a bunch of one-offs on Pride week too, which were all a lot of fun. These days I'm running a super chill and geeky weekly Tuesday game night called Level Up with Shane Cherry at Atlas Social Club in HK. There's a lot of other stuff coming up too… let's just wait for this horrible month of August to end first!
BQ: Are there any upcoming Thotyssey connected events or things that we should know about?
JS: Freddie Cosmo and I are recording a podcast called "Thotlight" where we interview local nightlife folks and share news and gossip from the scene… you can hear it now on Spotify! Soon it will be recorded in front of a live audience at a new venue, Red Eye, starting October-ish! I'm terrified, but also very excited. Lots of other new live events in the works as well. Someday I'd like to write a book loosely based on this crazy scene, and open my own venue… or run someone else's, at least. Make it all happen, Goddesses!
BQ: Thank you for taking the time to answer those questions for us, Jim! 
---
Be sure to follow Thotyssey on social media and check out the website whenever you're in New York City for all your queer nightlife navigating news! Instagram Twitter Website