Shane Tate talks about Fire Island Bear Weekend's ninth year
Fire Island Bear Weekend, one of the hottest events of the summer, is returning for a ninth year!
From June 8th – 11th, New York's queer paradise will be full of hot, sexy Bears. And not only will the island be full of Bears, but the weekend will feature tons of fun events that you won't want to miss!
Recently, we spoke to our friend, event promoter extraordinaire and multiple-time NYC Glam Award nominee, Shane Tate. Shane tells us what to expect and how it feels for him to be in Fire Island Bear Weekend's ninth year!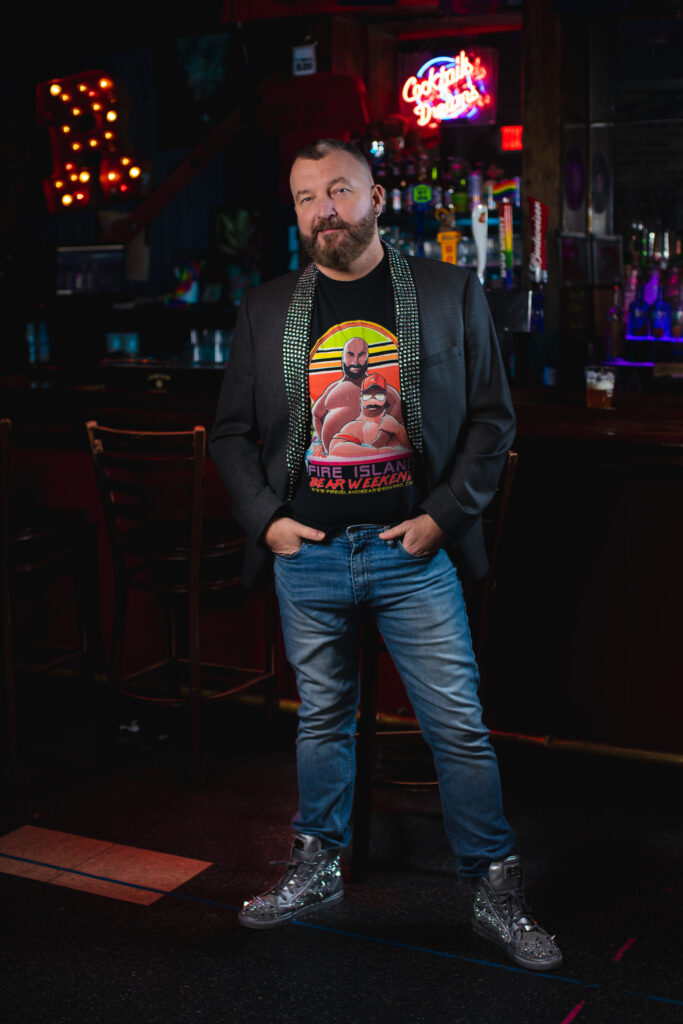 ---
Kyle Jackson: Fire Island Bear Weekend is 9 this year! What thoughts do you have when you reflect back on when the event started to where it is now?
Shane Tate: Hi Kyle, I can't believe Fire Island Bear Weekend has been around for nearly a decade. Our beautiful bear community has grown so much in this time and flourished despite the challenges of the last few years.
However, we still have many challenges ahead and now more than ever we need to come together to support not only the bear community but our beautiful trans family as well. No one is free until we are all free. Fire Island Bear Weekend has become a symbol of inclusivity thanks to the amazing people who attend and help me organize this event. I feel so blessed to have these wonderful people in my life.
KJ: What do the Bears have to look forward to at Fire Island Bear Weekend this year?
ST: We have a great line up of pool parties, dance parties and of course there is always time to get lost in the "Meat Rack". (laughs)
In addition to the usual parties, we have teamed up the infamous Daniel Nardicio and the well-known Joe Fiore to produce FURBALL, the FIBW Edition, as our main event at the Ice Palace. This year I am co-producing the event with the amazing Danny J. Danny has been a part of most of my events and has been a part of Fire Island Bear Weekend since year 1. I will be passing the torch and the event to Danny when I retire later this year.
KJ: Are there any location restrictions on Mr Fire Island Bear applicants, or can anyone apply regardless of location?
ST: Great question! We are looking for people who want to make a difference in our community, not just in Cherry Grove but to all LGBTQIA+ communities everywhere. As long as you can make it to the competition you can compete.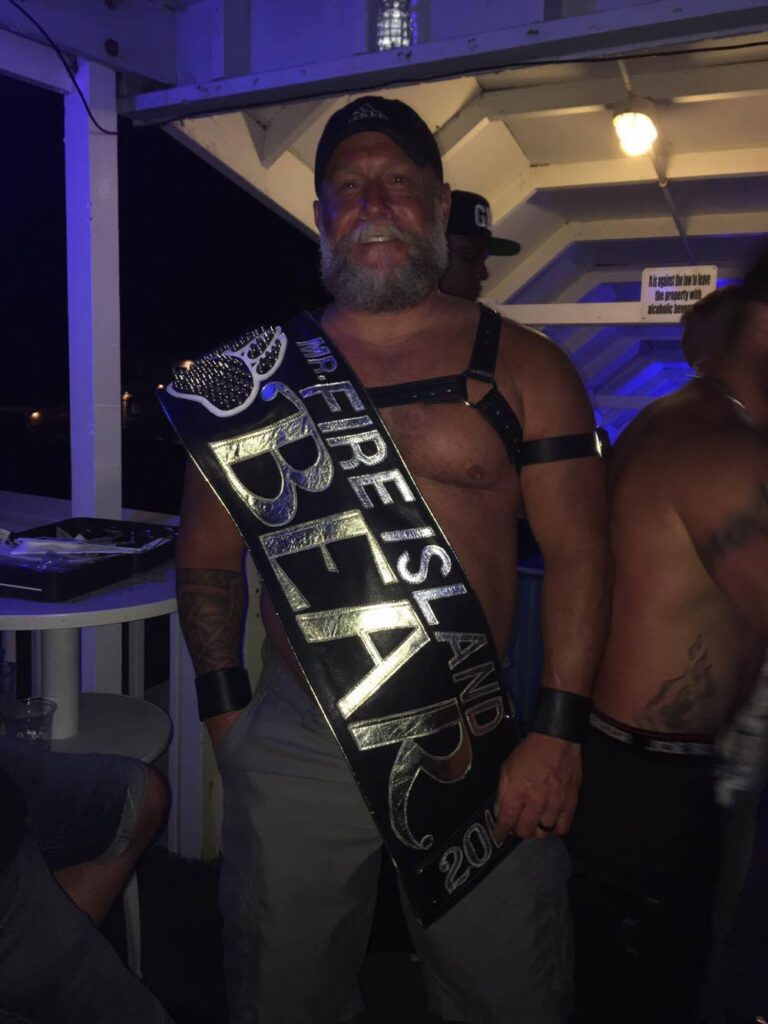 KJ: For those who have never been to Fire Island before (Yes, they do exist), what advice would you give them for making sure they have a blast on Fire Island and at Fire Island Bear Weekend?
ST: Just unapologetically be yourself and come with an open mind. This is a judgment free zone, and we all want to see your sexy side. Let your titties hang out and enjoy the sun! Also, drink responsibly. Falling off the boardwalk is not cute.
KJ: I love this year's graphic! Was there a particular theme you were going for with the design?
ST: That is the brilliant artistry of my sexy friend SYLUSS! I never tell SYLUSS what I want. He just seems to know, and always produces the perfect illustration that sets the tone for that year's event.
You can see more of his work and purchase FIBW T-Shirts and designs at https://www.redbubble.com/people/sylussfortay/shop.
Syluss' website: https://www.syluss.com/timelapse.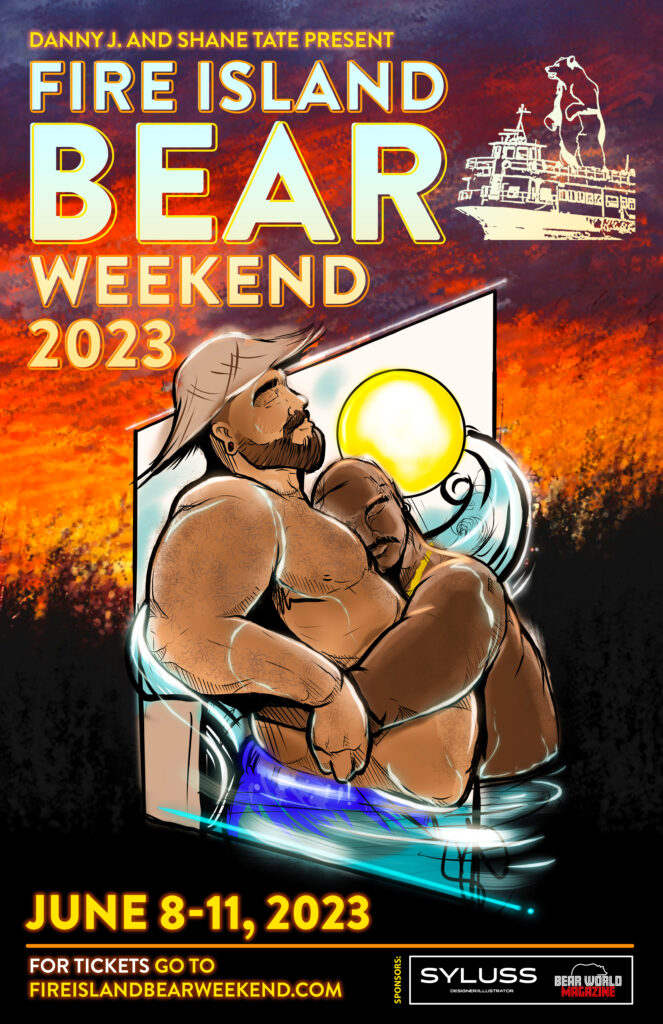 KJ: What have been some of your favorite things about hosting Fire Island Bear Weekend?
ST: Getting to meet so many fun people. I've learned so much about myself through the people I meet at my events.
KJ: Where can people find you (website, social media, etc.) to find out more info, including how to get tickets for Fire Island bear Weekend?
ST: WWW.FIREISLANDBEARWEEKEND.COM | Facebook, Instagram and YouTube: ShaneTatePresents