Queer rapper Shilow dropped a video for 'Cheesin" and it's a must-see!
This new video by Shilow is an absolute MUST-SEE for multiple reasons… and I think we can all agree once you see it.
Shilow (he/him/they) is a queer rap artist from Kansas City, Mo. He has been making music for over 10 years, has appeared on Billboard.com, and performed across the globe.
With a mixture of elite lyricism and a number of different musical genre inspirations, Shilow is the next true hip hop pioneer, challenging what it means to be a successful MC in the ever changing rap arena. Proudly claiming the title of a queer hip hop artist, Chance Parsons donned the 'Shilow' persona in order to share his unique experiences with the world in an attempt to help bring queer art into the mainstream.
Slick wordplay and pop inspired choruses combine to show that there is truly no style that Shilow can't master in order to paint a vivid picture for listeners. It's a sound that is turning heads and forcing audiences to pay attention.
The song itself gives you exactly what you want from a catchy rap song. An instrumental with a dope bassline, a catchy hook that easily gets stuck in your head, and memorable bars in the verses that pack a punch every time you hear them. Did I mention there's even a Tik Tok dance you can do to that catchy hook I was talking about? It's super easy to learn! Check out one of the dance videos below.
Now, for what I brought you all here for… The music video!
Directed by Ian Pittman, the video stars Shilow as a teacher, Shilow as a dietitian video doctor, and Shilow as a few classmates in what looks like after school detention. There's a Shilow for everyone!
The video starts with "Martin," a businessman looking guy played by Shilow, entering the room where there's already three other versions of Shilow, including "Jimmy," the stoner, and two other versions of Shilow who we will call "Bro Shilow" and "iPhone Shilow."
Coach Parsons enters the room, played by none other than Shilow, to welcome them to Saturday Detention. He calls out Jimmy for looking so sleepy, and Martin for drinking wine in the parking lot without him. He then proceeds to tell them to pay attention to the dietitian video he's about to show them.
During the dietitian video, we are welcomed by a bright and smiley "Dr. Shilow," who gives us animated gestures and facial reactions while showing us the food chart, various foods, and more.
Jimmy also appears in the dietitian video breaking up broccoli in a rolling tray, with the words "Vegetables are for eating, NOT SMOKING." next to him. The SCU (Shilow Cinematic Universe) is getting really crazy at this point, but we love to see it.
Martin also makes an appearance in the dietitian video to tell us "Grapes can be made into wine… Wine gets you f***** up!!!" In the classroom as he's watching the video, he seems a little embarrassed to have made this drunken appearance.
One of my favorite secret Shilow's in the video is Ninja Baguette D*** Shilow, who appears only to dance around and tell us "Grains turn into bread… Bread can be a MOUTHFUL!!"
There's also "Dairy Shilow", dressed as a cow, who appears in the video to tell us "Milk and Cheese are both forms of Dairy!" while being covered in milk! Love that for us.
About ⅔ of the way into the video, we finally get to our personal favorite part; Oil Shilow. Yes, you heard that correctly. Oil Shilow. And he loves to cover himself in oil while shirtless. If you're not even into hip hop, this part of the video makes it worth watching alone.
And, well… that's all, folks! But seriously, go watch the video now for the storyline, the acting, the production, and the song. Hop on into the Shilow Cinematic Universe and enjoy the ride!
I had the privilege of interviewing Shilow about the track and the video, check it out below!
---
Bryce Quartz: How did you come up with the concept for the song? What about the music video?
Shilow: The song is all about letting people doubt you with a smile on your face. I've always been super humble but for once I was encouraged to just talk shit. So I did it!
As for the music video…. I have weird thoughts sometimes. I always remember being in class and the video cart rolling in. Those days were the best because I knew we wouldn't be doing shit.
I wanted to take that idea and combine it with a goofy Bill Nye-inspired video, but instead of learning it was basically a fever dream.
BQ: What was your favorite part about creating this music video?
S: Honestly, my favorite part was just going for it. I got out of my comfort zone for like 8 hours that day and I'm grateful for it. Plus after that oil scene my skin was soft for days lol.
BQ: What were the vibes like when you made this song?
S: My engineer/producer Code Red is super straight forward in what is going to sound the best. When we get in the studio together we start from scratch and throw all the ideas out there. If it sticks then we use it, if it doesn't stick then We either put that idea on the back burner or laugh at how terrible it is.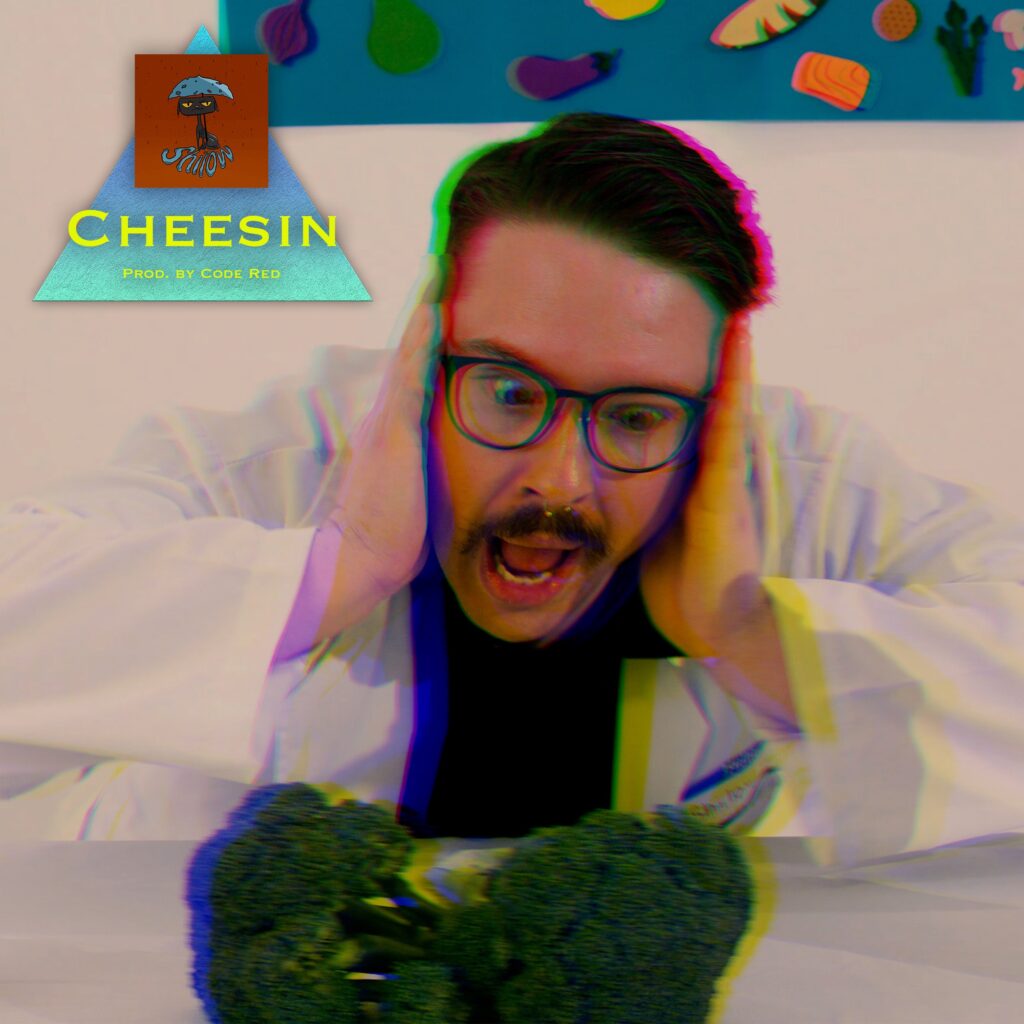 BQ: Are you performing anywhere this summer?
S: I'm performing all over Missouri for Pride season!
BQ: What can we expect next from you?
S: My EP Aquarius 3-0 just dropped everywhere June 1st! The EP is fire and full of some new ideas and sounds from me.
BQ: Thank you for taking the time to answer those questions for us, Shilow!
Be sure to stream "Cheesin'" by Shilow on Spotify, Apple Music and all platforms now!
Video link