Meet Ali Lopez, Recipient of the First Bear World Magazine Icon Award
Angel Luis Alicea Lopez, better known in the community as Ali Lopez, was recently announced as the first recipient of the Bear World Magazine Icon Award. He will receive the honor at the Bear World Magazine Awards to be held in New York City this coming fall. However, before we get to the ceremony, we wanted to take the time to properly introduce you guys to him and let you know just why he is and always will be an Icon to us at BWM.
Ali Lopez, who is both a bear and a leather man, is a 30-year member of the Centaur Motorcycle Club of Washington DC. Throughout that time, he has spent countless hours in service of our community and the people of the greater DC/ Baltimore area. He is also a title holder, many times over. He has reigned as Mr. Bear Cub 1993 at the DC Eagle, Mr. Muscle Bear 1996 at the Chesapeake Bay Bears, Mr. International Bear Rendezvous Daddy Bear 2006, and International Mr. LeatherBear 2019-23.
Throughout his tenure as a competitor in the bear and leather title events and through his good works, he has been absolutely tireless in his effort to give visibility to bears of color and has done so much to amplify their voices. On many occasions Ali has consulted with the editors of Bear World Magazine to help ensure that our coverage was balanced and providing proper visibility to our entire community.
It was an honor to sit down with this generous and kindhearted activist in order to get to know him better. The below is but part of the wonderful conversation we had.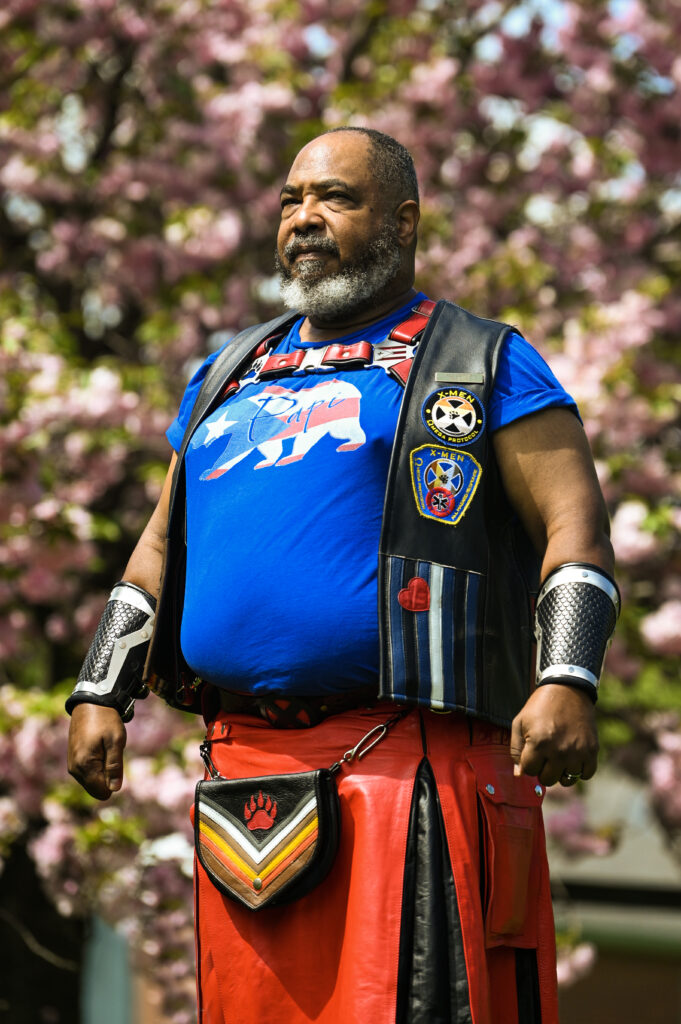 John Hernandez: Hi Ali! Thanks for joining me and congratulations on being named the first Bear World Icon! Tell me, when did you first know that you were bear and what drew you into the bear community?
Ali Lopez: Well, the funny thing is I was on active duty in the military when I figured out my sexuality and because of that I decided to get out of there, even though I loved what I was doing. I was an explosives expert, and my unit was very aggressive about getting anybody that even showed a hint of homosexuality out of their ranks. So, I decided that the thing that I needed to do was to get out before I was forced out. This was before 'Don't Ask Don't Tell'. Once I got out, it took me a few years to actually start going to the bars. I loved to dance so when I did finally start going, I used to go to the Hippo here in Baltimore.
One night, while my friends went away and I was on my own, I met this guy, a red headed guy, and I was teaching him how to dance and he was like,' Oh, you're such a cute bear!' And I was like, 'A what??' So he goes and pulls an issue of Bear out of his pocket and he showed me the magazine and I said 'oh my God -this is what I am.' And I never turned back. A few months later, I met two of my closest friends, Roger and his husband Bob. They became my mentors, and they taught me about the Bear community and then about Leather.
John Hernandez: And how was your experience in those early days of the bear scene as a person of color?
Ali Lopez: Well, soon after getting to know Roger and Bob, they invited me to join the Chesapeake Bay Bears. My first meeting with the group was kind of unfortunate because I was met with rejection. The president of the club at the time, and I'm not going to mention his name because he doesn't deserve the recognition, pulled me aside and he told me that he didn't think I'd be a good fit for the group because there was 'no such thing as a black bear.'
John Hernandez: Wow. And what year was this?
Ali Lopez: 1991. And the thing was, I wanted to lash out at him because us Puerto Ricans can have a fiery temper. (Laughs)
John Hernandez: Don't I know it! (Laughs)
Ali Lopez: But the first thing that I thought was 'I don't want to be the angry black guy here'. So, I left, without telling my friends what happened. On my way home, in my truck, I started crying but then I had an epiphany and realized that the moment you back down, they win. And from that moment on I decided that I was going to be the most visible member of the Chesapeake Bay Bears ever. And I was. From then on, I was at every event I could attend, meeting new people and making friends.
John Hernandez: And how did you move into title competitions?
Ali Lopez: In 1991 or maybe 92 I met a member of the Centaur Motorcycle Club here in DC named Steve Kenney. He was this gorgeous bear but was also another mentor who ultimately taught me that I could do anything.
He asked me one time to enter the Mid-Atlantic Leather Weekend contest and I was like – 'What is that?' I had no idea. I had only just recently started in my leather journey with my friends Bob and Roger, and this was another huge step into it. I had no idea what I was getting into, but Steve told me: 'All you have to do is just be yourself. It's not about winning. It's not about anything else. It's about representation because you have a lot to offer. If you don't win, who cares?! The main thing is, they need to see someone like you on stage.'
He said that because at this point in time, there were no bears of color competing in the leather world, at least not that I could see. So, I went into the contest without expecting to win but determined to give the best show that I could, and I had a wonderful time. I met wonderful people that expanded my knowledge and experience of leather. From that moment on, I knew that I was a leather bear because I am a combination of both things. I'm not one or the other, but both. That's what started my journey into the competitions.
Later on in 1996, in a sort of full circle moment, I entered the Mr. Chesapeake Bay Contest in the Muscle Bear category and competed against the very same guy who only a few years earlier told me that there was no such thing as black bears, and I ended up beating him and taking the sash! So sometimes, you know, patience is a virtue. (Laughs) I don't believe in revenge, but I believe in karma. And Karma was quite a bitch that night.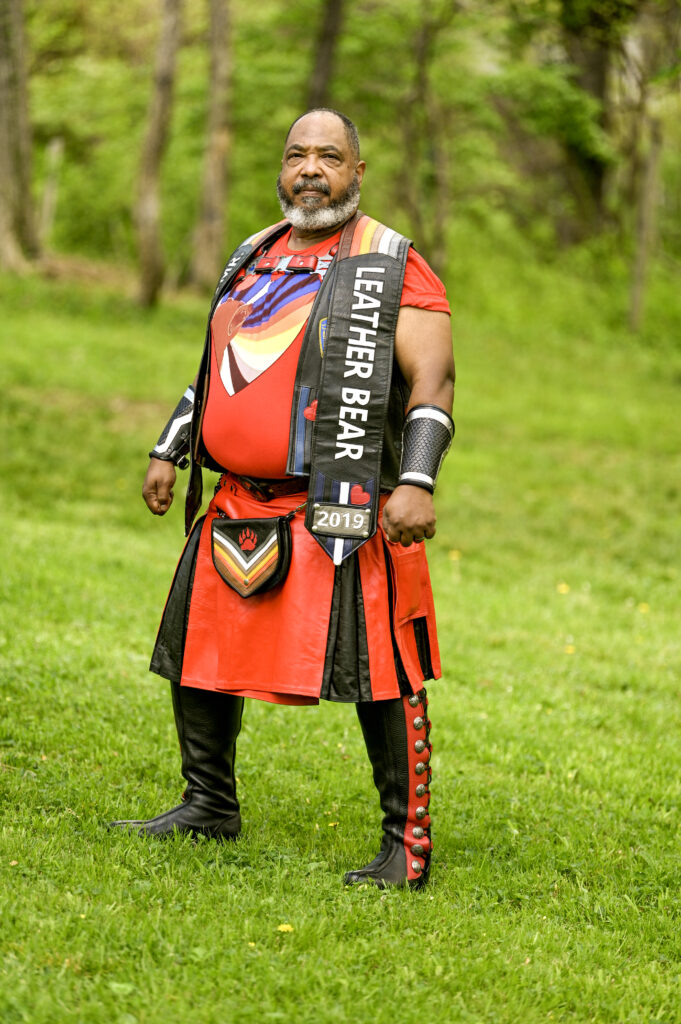 John Hernandez: I love that and I love that you started competing for these different titles as a way to give visibility to bears of color. It was dare I say Icon-ic behavior! You also do tons of charity work. Tell us about some of your favorite events and organizations.
Ali Lopez: After Hurricane Katrina I participated in a fundraiser called Superheroes for Katrina where we raised money for the victims. I had been in New Orleans about six months before the storm hit and fell in love with the people and culture there, so I was ready to help. Plus, I have a thing for superheroes too! (Laughs)
Then, in 2006, the San Francisco Bears decided that the theme of International Bear Rendezvous that year would be Mardi Gras, with money raised going to help the city. So, I ended up participating and also entering the contest and lo and behold, I was selected as Mr. International Daddy Bear 2006, which was my first international title.
I later helped in the relief efforts for Hurricane Maria when it hit Puerto Rico. I am from Dorado, Puerto Rico, so I knew I had to do something. Working on Hurricane Maria relief was actually my platform when I was competing for International Mr. LeatherBear and I've been continuing to try and help Puerto Rico ever since because they are still recovering.
But even before all that, I had been trying to help communities and do a lot of outreach through the Centaurs. That's one of the reasons why I gravitated towards them. Besides being great people and great brothers, they also do a lot of charity work and host a lot of amazing charity events, most recently Lip Sync Battle Xtra which was a lot of fun!
However, my most favorite thing to work on came about through a chance meeting.
I was in a car accident some years ago and at the time I didn't realize how bad I was hurt until a few months later when I couldn't move my legs. It was an issue with my back and while I was going through treatment with a chiropractor, we became friends.
Eventually, she told me that she was thinking about starting a charity to help children in the area and I told her that if she started it, I'd help her. That's how Helping Orphans Prosper Everywhere became a part of my life. In 2004 I started working with them as a volunteer just, you know, picking up toys, getting bags and supplies for the kids, food, and so on. But soon after the organization came to need a Santa Claus for the holiday season.
For the job, I recommended a friend of mine who happened to be a professional Santa and he did it for the charity for a couple of years; but then came along Megan Kelly who opened her mouth to say something about there being no such thing as a 'black Santa'. So, naturally, I asked that same friend to lend me his Santa suit that year and the next thing you knew, I was Santa! The kids loved it and I've been doing it ever since.
It has been something that I never knew that I needed in my life. To be honest it is the most rewarding thing that I do. To dress up as Santa and see the kids get so excited because they see someone that looks just like them is just amazing. I also speak five languages. So, between Spanish, Brazilian Portuguese, and Italian, the kids really lose their minds when I speak to them in their native languages.
One of the most rewarding things to ever happen to me… I went to a school to deliver toys one year, and one of the older, teenage girls -and I'm sorry if I become emotional talking about this because it really filled my heart -she walked in and yelled to her friends "See I told you Santa was black!" And they took selfies with me, and it was the most amazing thing that I have ever done. Being able to help kids and talk to them, educate them, give them hope – that's what I love about being Santa.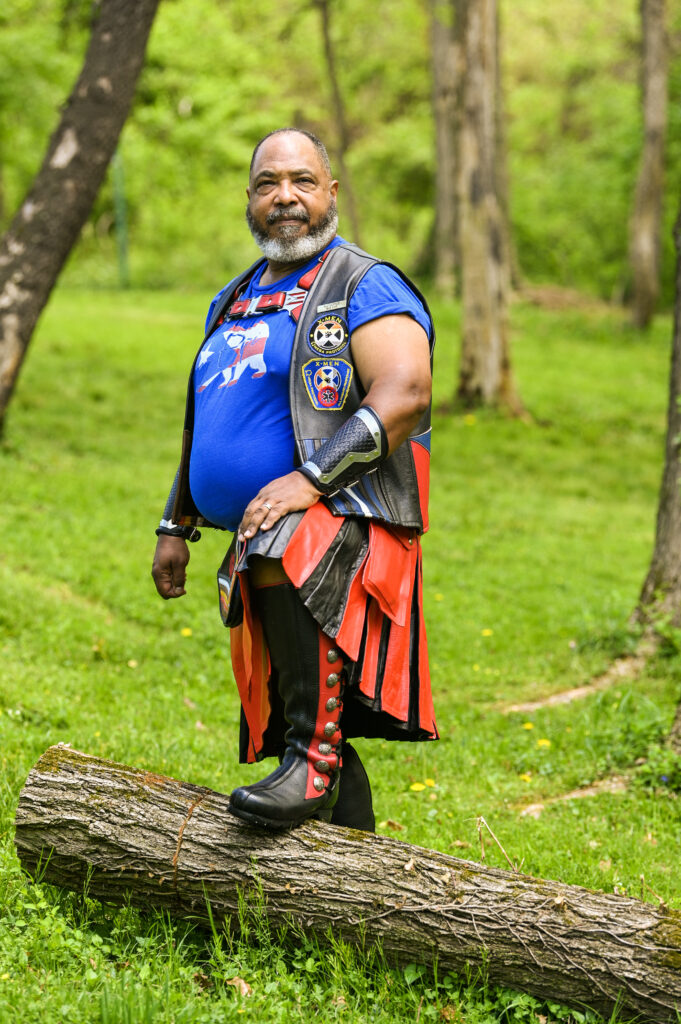 John Hernandez: That's beautiful Ali. And don't be sorry for getting emotional – representation is SO important. And I can imagine what seeing a black Santa was like for that young girl. Amazing.
So, who inspired you to devote so much time and effort to charity?
Ali Lopez: One of my biggest heroes, Roberto Clemente. He was an Afro-Latino like me, and he knew that it was important to make sure that you help others. As he said, and I'm not quoting exactly, but he said something like "If you're not helping someone, you're wasting your time on Earth." And that has always stuck with me.
John Hernandez: Then, in your estimation, what help is still needed out there? What more work is there left to do?
Ali Lopez: We need we need to keep our trans kids safe. We need to be able to continue to make political strides towards equality. We cannot let our guard down because I don't want anyone taking my marriage away. I don't want anybody taking your marriage away. I don't want anyone to suffer.
We don't want our rights eroding. We need our rights restored! Unfortunately, we have legislation right now that is trying to keep drag queens from performing, some legislation is so strict that they're talking about canceling certain pride events and that's ridiculous!
We need to fight. We need to vote. It's the only way you can stop these legislators from taking our rights away. We have to be political. I know that a lot of people hate that, but we have to be.
John Hernandez: Absolutely. We've come a long way but we're starting to take steps backwards and as a community we just cannot allow that.
Bringing things back to the bear community specifically, what would you say are your favorite things about it? And what can be improved?
Ali Lopez: I love the brotherhood. I love the playfulness. And I love the camaraderie.
In terms of things that we need to improve on, I would still say visibility for bears of color. But not just in magazines because even though magazines are great, we need to be better featured in all of the media, like in films or even in art and comic books.
One of the things that that I'm very proud of doing is getting together with different artists throughout the community and commissioning them for their original work to use in charity campaigns, health campaigns or just to add to my collection. I try to use artists of color or artists that know how to draw bears of color, because not everybody can get the complexion correct and that's very important to me. That's why I love the art of people like TerrAtlus, Mark Wulfgard, Hakujin and Luciano Vecchio.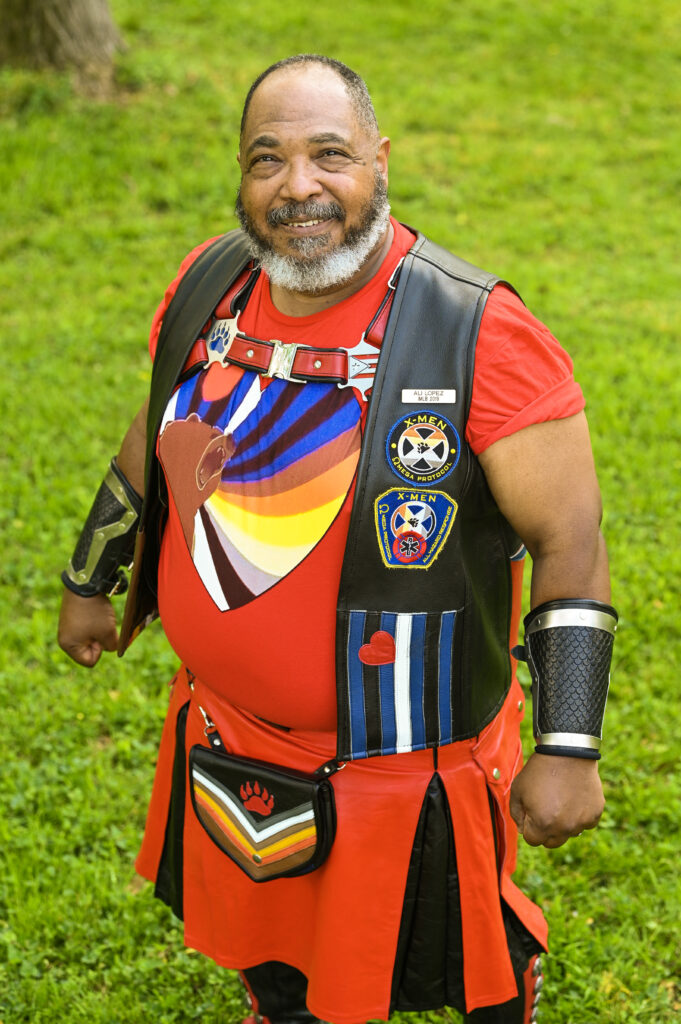 John Hernandez: That's lovely and I totally agree with you on that. For my last question, what advice would you give to a young person entering the bear scene now?
Ali Lopez: Be aware that others need your help. That they need visibility and need to be loved. Sometimes we get so involved with ourselves that we forget that there's a community out there that needs us. Service is a great thing.
Like Batman said to the Flash in Justice League: "Save one. Save one person." That's all it takes. Just try to save one.
John Hernandez: I love that. Thank you so much for chatting with me Ali. I cannot wait to see you at the Awards this October.
Ali Lopez: Thank you. I am humbled and so honored. I don't do this for notoriety. I never did. It's so nice to be recognized.
John Hernandez: Of course my friend, you've done what we all wish we could do – you've made a difference in our community. So really, thank YOU. Big hugs!