Lukasz Majcher on the Continuing Saga of Power Bear!
Lukasz Majcher is continuing the adventures of Power Bear! Now is your chance to contribute to the Kickstarter and own a piece of comic book and bear history!
Power Bear follows the adventures of Max Meinheld, a mild-mannered clerk suffering from depression who suddenly attains telepathic and telekinetic abilities which he will need to use to battle homophobia, evil aliens and prevent the oncoming apocalypse. In this universe gay people in particular are imbued with superpowers which of course has led to widespread protest and persecution against us.
So far in the series we have learned why Max specifically got his powers and he's also learned how to use them. Now, in Power Bear #3 he is off to confront the leader of the conservative party in Germany who is calling for the destruction of all gay people; but is the leader really who he seems to be???
We talk with the creator of Power Bear, Berlin based author and writer Lukasz Majcher to get all the exciting details!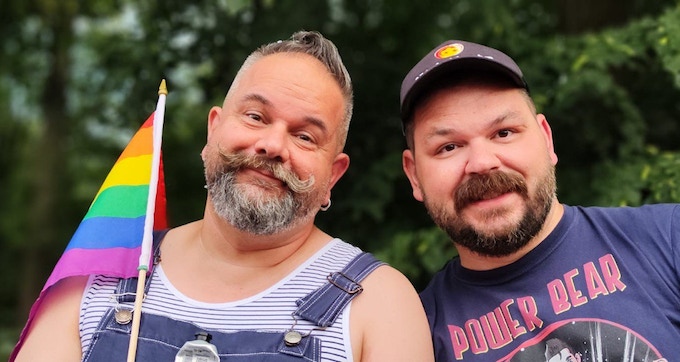 John: Hi Lukasz, thanks for taking the time to talk with me! What can you tell us about the storyline of Power Bear #3?

Lukasz: In the last issue, Max only wore his costume for a little while, meaning he wasn't a fully formed hero yet. That's why this time I wanted to show him much more in his superhero role. Max under the alias of Power Bear appears throughout almost the entire issue. I wanted to show off the higher limits of his skills and how he works in the face of danger.

Plus, we learn more about the main villain's plans. The question is, is he the only one behind all the evil? You'll find out in the third issue.

John: Do you already have other storylines in mind for Power Bear unrelated to B, Q and the aliens?

Lukasz: I am currently focused on finishing the Alien Saga. It will end in the fourth issue, and I promise it's gonna be an epic finale! I'm a huge sci-fi fan, so I'd like to send Max on a journey on the scale of 2001: A Space Odyssey. However, that doesn't mean I don't have any loose ideas for the next issues. But first I would like to focus on other comic projects. I love Power Bear and I owe him a lot, but I want to try my hand at other genres.

John: You have said Max was based on your boyfriend Stefan – does this mean Hubert is based on you?

Lukasz: Totally. I have many things in common with Hubert. We are both Polish and we love comics. He's a total nerd and has a completely different approach to dealing with aliens than Max. Also, this time he gets a much bigger role to play. My goal is to show that the partner plays an important role in the life of a person with depression. A relationship isn't just about being happy 24/7. When we have a loved one by our side, it is much easier to overcome adversity. Of course, that doesn't mean single people can't be happy. It's just about being around the ones who care about you. It can be your best friend, parent or pet.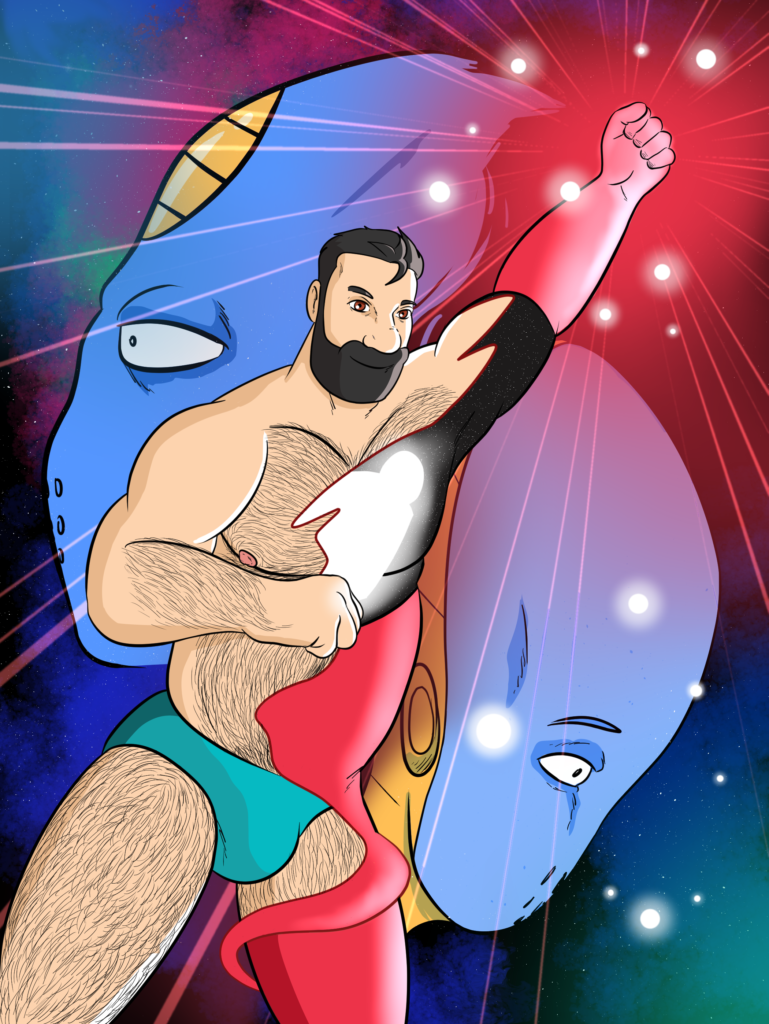 John: In the Power Bear universe, B is responsible for the creation of man and the evolution of Earth. Why was it important to you to include that in your story?

Lukasz: As I mentioned before, I'm a huge geek. Even though I was always bad at science in school, I'm very interested in astrophysics, where we come from and our role in the universe. Besides, I've always liked the theme of alien interference in the fate of the Earth. Erich von Däniken's books may not be the most scientifically based works, but as a kid I used to read them passionately. No wonder one of my favorite movies is Stargate. I've watched it like thousand times.

John: What has been the most memorable letter or interaction with a Power Bear fan for you?

Lukasz: I have very fond memories of a letter from the mother of an autistic boy. He had a very hard time, and his mom was very worried about him. She hoped that Power Bear would bring him comfort. It was then that I realized that my comics could have some impact on the lives of others. Another great experience is getting letters from bears who have always wanted to see a hero like Power Bear – bearded, slightly overweight and with lots of fur! I can totally relate on this (laughs). It's also always nice to see a stranger in a Power Bear T-shirt. It feels so unreal.
John: Will we be meeting any new characters in Power Bear 3?
Lukasz: A few. However, I don't want to reveal too much because I love surprises and plot twists. And such appear in the context of two new characters. I would also like to add that the aliens we saw for a while in the first installment of Power Bear's adventures return in the new issue. Including the wombat Bubu, who is so cute that he deserves his own solo adventures!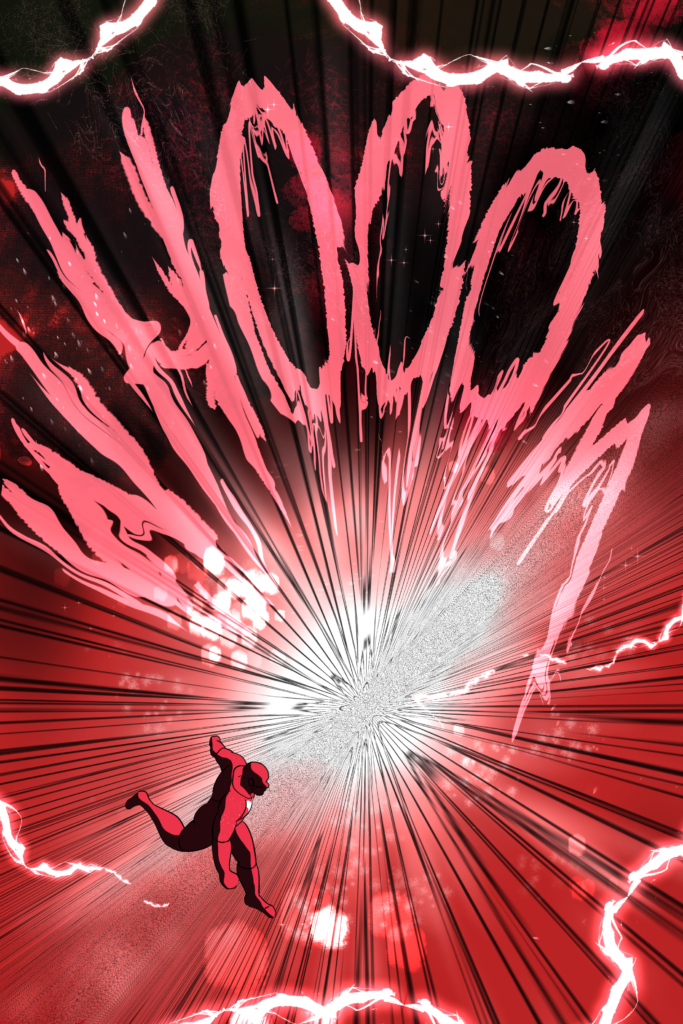 John: Where did you learn to draw? Are you self-taught?
Lukasz: I owe my passion for drawing to my mum. I always wanted to finish art school, but I never managed to fulfill this dream. I'm learning to draw by myself, and I am convinced that I will never be able to master this to perfection. When you do any form of art, your style is constantly changing and developing. Learning is an inseparable process of development. You can't imagine how much work is involved in creating a comic book. You have to consider and prepare so many things like storyboard, photo materials, sketches, character designs, script, color palette and many more. It's like you're making your own movie, but you're all on your own. Fortunately, Stefan helps me a lot with my work. But what I want to say is that with so much evolving, my next comics will always be on a different level than the previous ones. Jumping your own bars is part of the fun too.
John: The Kickstarter mentions that Power Bear 3 will include 8 covers from guest comic book artists. How did you choose them and why did you want to include them?  
Lukasz: It was important to choose people with different styles. They are also artists whom I have admired or am friends with for a long time. I thought it would be fun to do something together with others. It is also an opportunity to help each other in promotion. Our community must be a place of mutual support. This is where our strength lies. I would also like to mention that we will see some fan art in Power Bear 3. It's really interesting to see how other people see my superhero.
John: That's awesome! Any other projects you'd like to mention?

Lukasz: I started a comic book publishing house "Moom Comics" a few months ago. It will be entirely focused on queer topics. One of the most interesting projects I'm working on is a comic anthology about LGBTQ people in their fifties. With this title, I would like to show their lives to younger people and reduce the generation gap.
Another project I'm really looking forward to is my first horror comic. Its action will take place in the Bavarian Forest in Germany. It will be spooky and a little romantic. I hope you will like it!
John: I have no doubt we will! Thanks so much Lukasz. I can't wait to get my hands on Power Bear 3!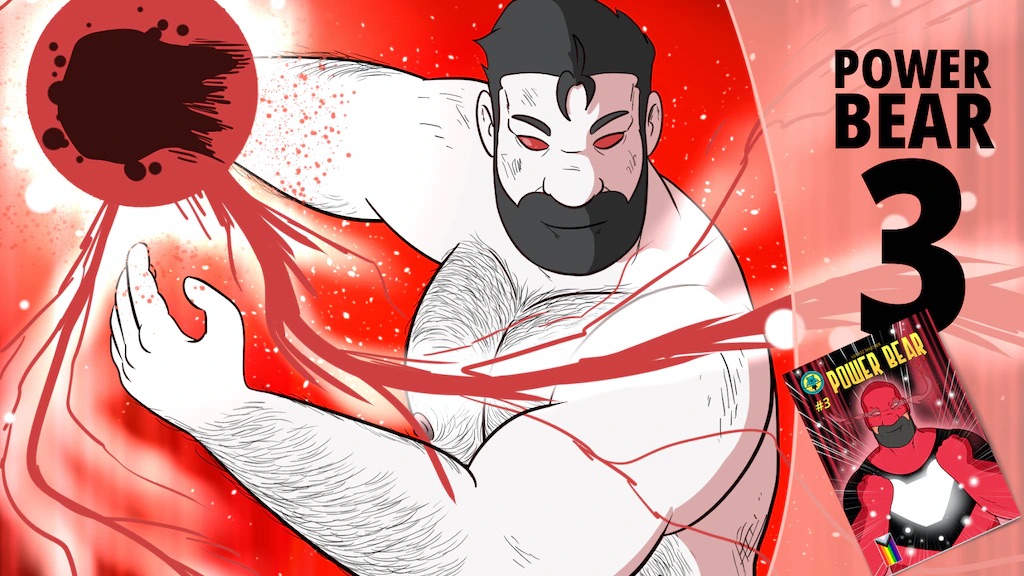 If you want to ensure you get a copy of Power Bear #3 or any back issues be sure to support Lukasz's Kickstarter which will be active until September 6.