Honolulu Pride – Celebrate in paradise with the Aloha Bears!
Bears, your  Hawaiian Roller Coast Ride with  Lilo and Stitch and tons of fun-loving bears awaits!
The Aloha Bears are just who you would expect to find when looking for Bears in Paradise.
Many of them were born and raised in the Hawaiian islands, living up to the Hawaiian tradition of welcoming their fellow men and brothers from all over the world, while many Aloha Bears were relocated to Hawaii for work or, in some cases, because of love. I met one couple who decided,  What the heck, let's just move here and try our luck.   And they never left!
If you have never been to the Hawaiian Islands, it is indeed an experience like no other.   To say it is magical doesn't even began to describe it.  The food, the weather, the music, the people – and the men! Throw in some incredibly gorgeous bears (as evidenced by these photos) and you really do have paradise.  It awaits.   Indeed, Hawaii Calls.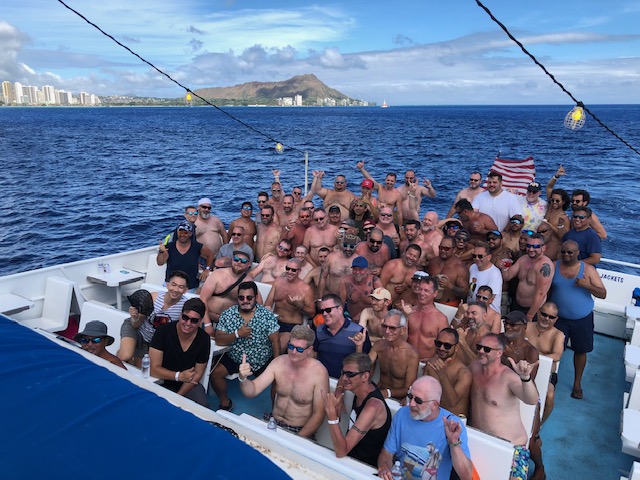 If you are looking for men who celebrate the ideal of masculinity, virility and versatility, take one of those new Southwest Airlines cheapo flights to the islands today.    But first…..
There is an ugly story of how the United States of America came to acquire the Hawaiian Islands.   Here's a link to a brief history that I feel is important you know before you go so you can appreciate everything and everyone while there. 
For starters, the city of Lahaina on the island of Maui used to be the capital for centuries, but strategically, the Americans felt Honolulu would be better so they moved it (look at a map and you can see how ideal Pearl Harbor is as a world location).   More specifically, Waikiki ('Wai' means water, and 'kiki' means fresh or sprouting, so indeed, Let's Have a Kiki), started life as a swamp, and now it is one of the most popular tourist destinations in the world. 
Now back to the Bears…..
The Aloha Bears just finished their annual Lei Bear Day Weekend bear run, which happens every year over Labor Day (US, which is the first Monday in September). It was a huge success that included several parties, shows, sailing and time on the beach.  All those teenagers in all those bikini beach movies from the 1960s can't hold a candle to what the Aloha Bears can do in one long weekend.
One of the host bars and bear magnets is  Bacchus Waikiki, a cozy, intimate LGBTQ+ space right in the heart of Waikiki where every night all the really fun people of Waikiki get together to raise a Mai Tai, dance the Hula, sing along with Don Ho and The Chainsmokers and enjoy the Aloha Spirit to its fullest.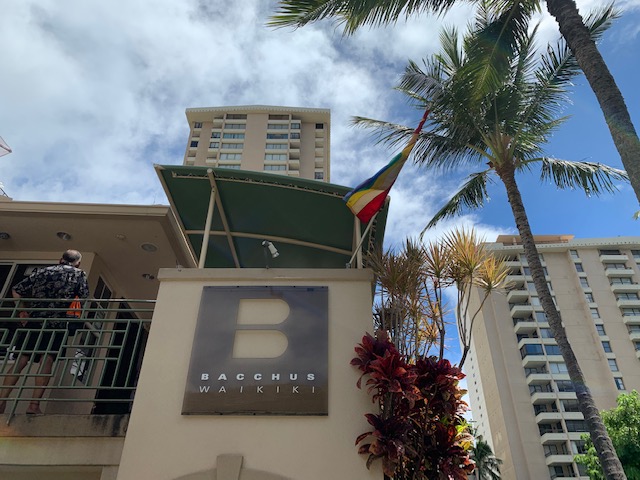 Owner Dave Barker used to be the general manager at the 440 Castro, right at Castro and Market Streets in the heart of gay central San Francisco USA, so he knows a thing or two about the gay AND the aloha spirit. He has brought his skill over the ocean and has recreated an intimate and sultry yet inviting atmosphere for Bacchus that everyone (emphasis on the '+') can enjoy. This is one the main Aloha Bears' hangouts, operating as a hub during Lei Bear Day Weekend, and it is nice and centrally located to everything in Waikiki. Great drinks and great guys too. Dave also works with the Lazy Bear Fund, a non-profit arm of Lazy Bear Weekend every summer in Guerneville, California.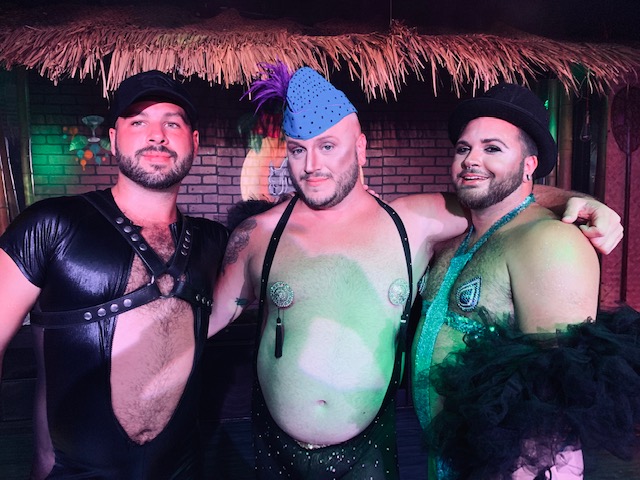 Throughout the year, the Aloha Bears also have a variety of events, to include sailings throughout the islands (usually three-hour tours or all-day sails) and plenty of hikes that are of varying levels of difficulty –  nah, they are all for those of average physical agility. The Aloha Bears are a very inviting group of friendly men who all get along well and all embrace the Aloha Spirit everywhere they go.   Plan your next Hawaiian getaway around one of the many events they have going on throughout the year, but keep in mind, these boys work full-time for a living too, so it may take few days to get a response, but it will be well worth it. 
I've had to great pleasure to get know many beautiful men who are transplants to Hawaii AND who are native Hawaiian, and I am so fortunate to have learned from all of them. When you go, do yourself a favor and don't just hang out with all your Caucasian friends.   Learn from the people who know the islands intuitively.   Not only will you become a better person, there will come a time on the islands when your new island brothers may just save you ass some drunken night on the beaches of Waikiki.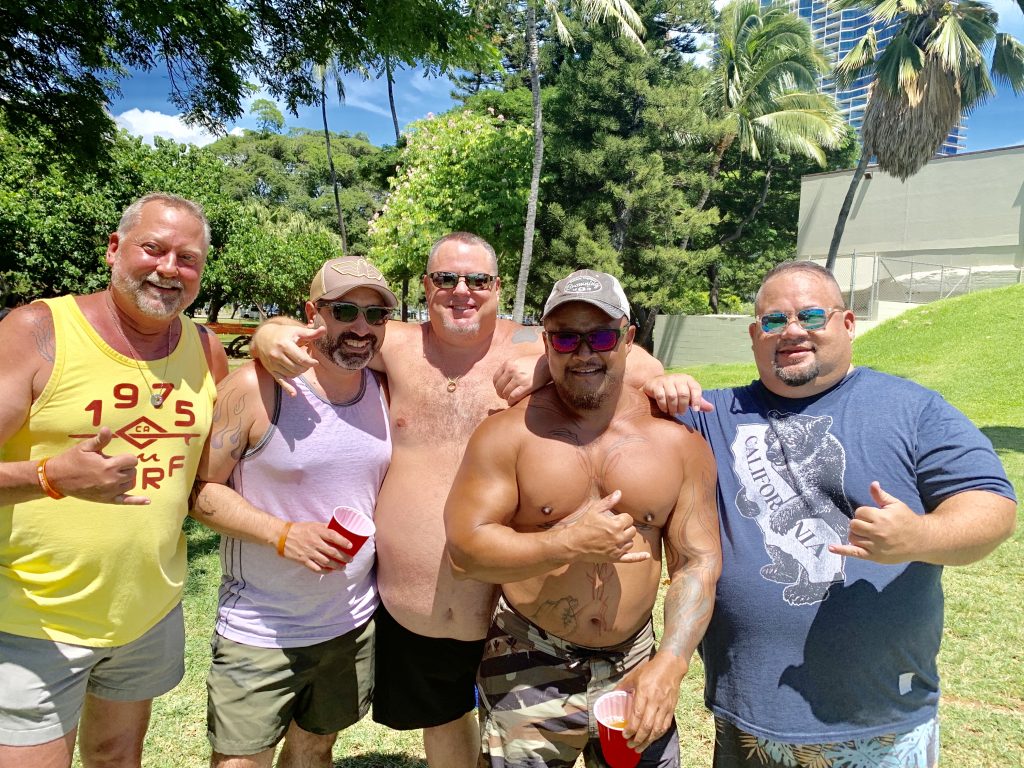 Rest assured, the beauty of the islands isn't just skin deep. But that ain't bad either….
Aloha.   Mahalo.   And don't be a Mertle (those of you who are  Lilo and Stitch fans will get that reference).
Honolulu Pride will be held on Saturday, October 19, 2019.   For more information,  click here.
For more information on the Aloha Bears, check out their  Facebook page or  The Aloha Bears Webpage here.