Gogo Bear Spotlight: Danny J
It has long been my belief that the unsung hero of any club night or bear event is the gogo bear. Who else can hype the crowd up and keep the energy going while giving the horned-up onlookers something to feast their eyes on?
Who amongst us doesn't love admiring these gorgeous bears as they writhe and gyrate to the beat, enticing us onto the dance floor with their siren song of sex appeal and body movement? With a smile and a wiggle, a gogo bear can melt all your troubles away while quite literally getting you into the groove.
So, in honor of these bear party mainstays, we here at Bear World Magazine have decided to feature prominent bear gogos from around the world, starting with New York City's Danny J!
If you've gone dancing at a New York City bear event, chances are you've seen Danny J on the box. The epitome of booked and blessed, this talented gogo bear is as sweet as he is sexy. He always has a smile on his face and a kind word for everyone. He is the true embodiment of the spirit of inclusion and friendliness we champion in the bear community, which is why we are so proud to have Danny J as a Bear World Magazine ambassador.
We sat down for a chat with Danny, fresh off a whirlwind weekend dancing for Megawoof America at the Eagle NYC and for Bears Night Out at Rockbar NYC. Our conversation is presented below.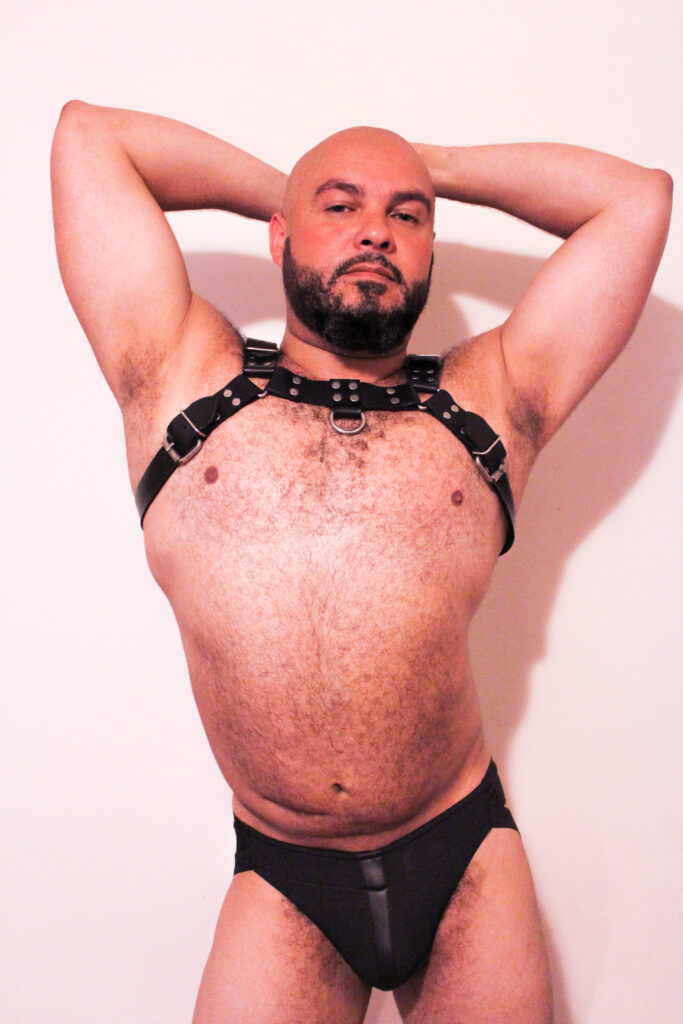 John: Hi Danny J! Long time no see! Tell me, when did you start gogo dancing and why?
Danny J: I started gogo dancing in 2016. It had been a longtime bucket list thing I wanted to do. I had been inspired for years with movies like Flashdance and Showgirls and I felt I could do the same.
John: Showgirls is my favorite!! What is your dancing style? Do you have a signature move? Favorite music to dance to?
Danny J: I don't have a specific dancing style, however, I know how to dance everything, from hip hop to salsa and a few other genres in between and I like to mix it all and create my own style. One of my signature moves is my bulge bounce, people ask me to do it often. My music taste varies, but for gogo dancing I prefer house music or circuit party music.
John: Do you have a gogo persona?
Danny J: I wouldn't call this my "gogo persona" but I adopted "Bearnnifer Lopez" ever since someone called me that a few years back when I expressed my admiration for Jennifer Lopez, and it kind of stuck. But my gogo name is my real name – Danny J. And I gogo for multiple parties and events anywhere from New York to Florida and anywhere gogo bears are admired.
John: (Laughs) Yaaas!! C'mon Bearnnifer Lopez! Can you tell us a memorable event from one of your gigs?
Danny J: One of my memorable moments (because I have several) is a gig I did in Orlando. It was an outdoor pool party weekend type of event (that unfortunately no longer happens). I was dancing on the stage and the sky opened up and it started pouring rain. I continued to dance in the rain and the DJ continued to play; we fed off each other's energy and he gave me the beats I needed to carry on. I had my "Pussycat Dolls" moment dancing in the rain!! It lasted for a good 10 minutes when the party producer said we had to get off stage to avoid an accident, but I was ready to keep going and the crowd was loving it!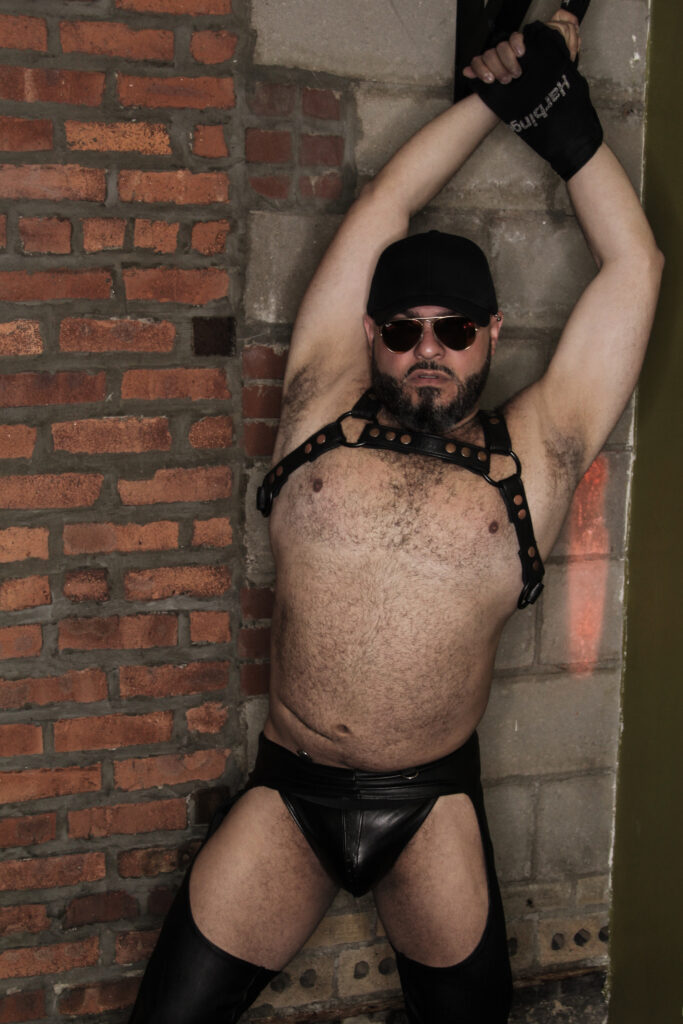 John: Have you had any weird or creepy moments while dancing?
Danny J: The only weird/creepy moment I can recall was in New York. I was dancing and an admirer tipped me, complimented me and said he had been following me for years on Instagram. He was so excited to meet me that he literally grabbed my leg, hugged it and wouldn't let go. Initially I thought I could handle it, but he wouldn't budge, so luckily security asked if I needed assistance in which I said yes and they pried him off me and escorted him out.
John: That sounds really scary and uncomfortable. Glad you had back up in that case. Do you personally identify with the bear community? When/ how did you find it?
Danny J: I absolutely identify with the bear community. I showed me that I had a place to exist where I could be myself and be accepted. I knew of the community in my early 20s when a friend of mine mentioned it, but I wasn't really interested in exploring at the time. It wasn't until I was in my 30s that I realized this is who I am, that this is my community, and I am so happy for the epiphany.
John: I love that. And why do you dance specifically at bear events and parties?
Danny J: I feel at home when I dance for bear events, it all goes back to feeling accepted. I do, however, dance for non-bear events here and there and it can be a hit or miss. Sometimes people will admire, and some people will look at me and either laugh or wonder why I'm up there. On rare occasions it has happened during a bear event, but 99% of the time it's not the same experience and is welcoming.
John: Eww I'd love to see those people even try to get up there and do what you do. Any upcoming gigs you want to plug?
Danny J: Absolutely! I am dancing for Kings of the Alibi on 07/08 at Alibi Queens (Ozone Park), Bearmilk on 07/22 at The Deep End, and Twisted Bear on 07/29 at 3 Dollar Bill. I'm also heading back down to Cannonball in Fort Lauderdale this October!
John: Booked and blessed- you love to see it!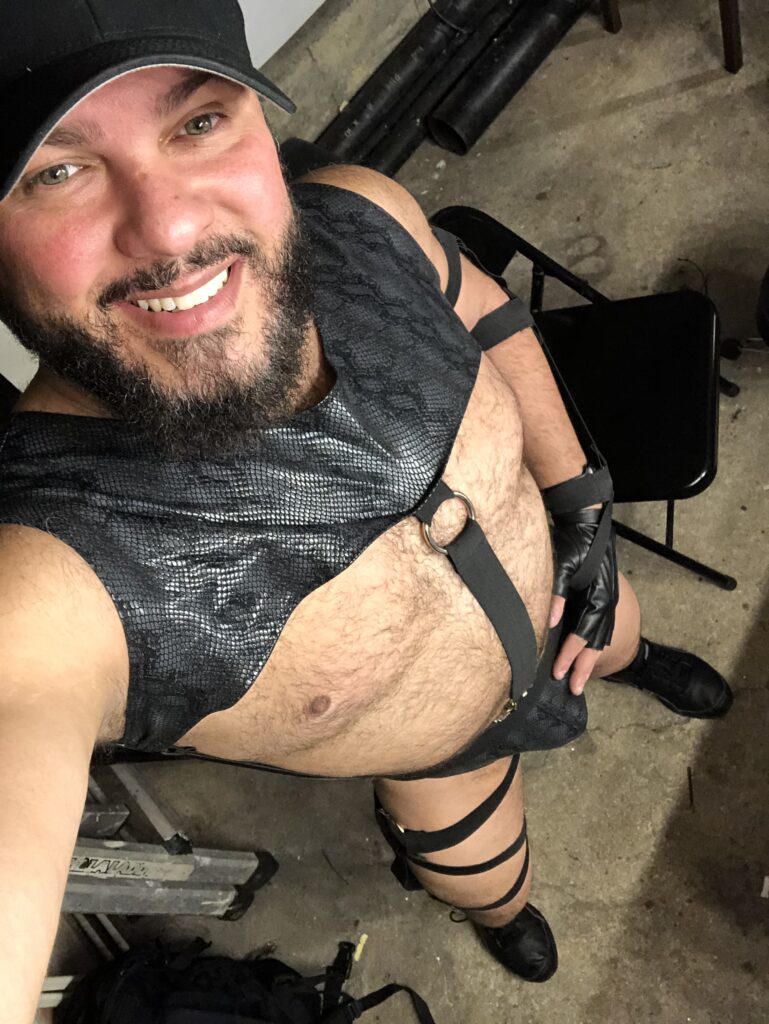 ---
Follow Danny J on Facebook and Instagram.