Get Ready for the Bearadise Bearsgiving Beach Bash!
Bearadise is gearing up for their second annual Bearsgiving Festival. It will be taking place in gorgeous, super gay friendly Puerto Vallarta, Jalisco, Mexico during American Thanksgiving Weekend from November 23rd through 25th.
The weekend's key event will be held on Bearadise Beach for a Roman themed event called Bacchanal. It takes place on Friday, November 24, 2023 from 4pm until midnight, and will feature a scorching hot performance by Rocco Steele and the RR Bears. Partygoers will be treated to an amazing nighttime production with laser lights, sexy gogos and will be able to dance under the moon and stars on this stunning beach. There's no better place for frisky Thanksgiving fun. WOOF!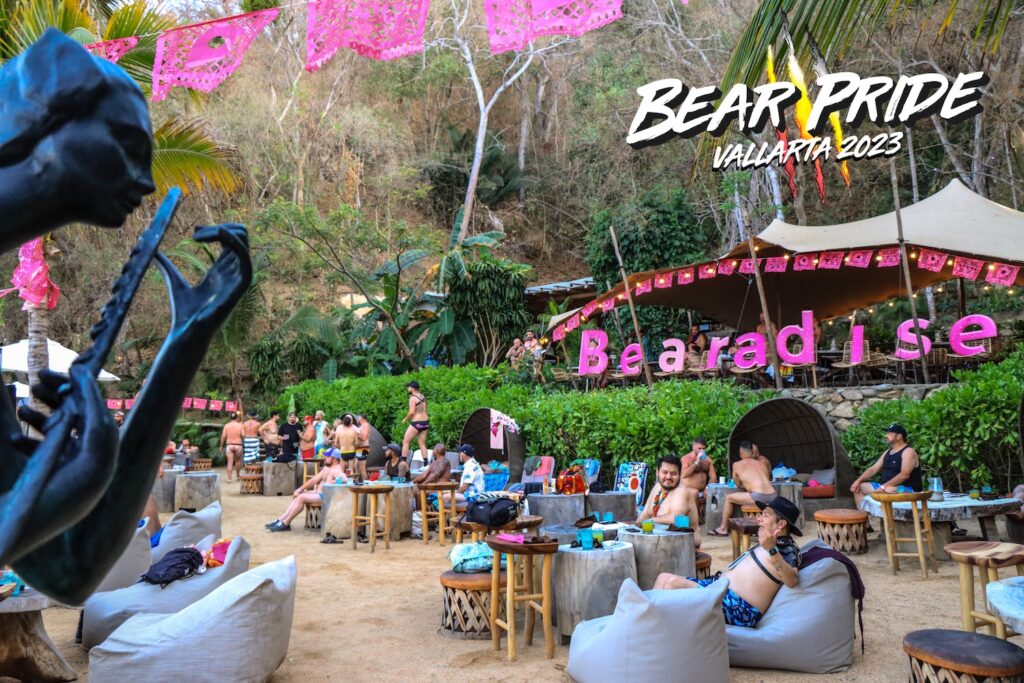 And in case you didn't know, Bacchanalia, which serve as the inspiration for this party, were the private Roman festivals of Bacchus, the Greco-Roman god of wine, freedom, intoxication and ecstasy. Bearadise will have all that covered and more. Like all mystery cults the Bacchanalia were held in strict privacy. Las Caletitas (aka Bearadise Beach) is that secluded and seductive gem, which offers everything from relaxation to sensual, steamy satisfaction. What more can you ask for?!
On Thursday, November 23rd, the event will kick off with "Stuff My Turkey Daddy". This is a private event providing a unique V.I.P. exclusive Meet & Greet with the legendary Rocco Steele. The event will be held in the 'sexy room' at the Anthropology Stripper Bar and limited to 40 lucky attendees. There is a free clothing check provided. So make of that what you will….
The event wraps on Saturday the 25th with La Fiesta Cachonda, a fetish dance party to be held at Studs Bear Bar. Get ready for a furry, fun-filled night with beautiful gogo bears and go on an amazing musical journey with the incredible beats of DJ LIV, for his first time ever performing at Bearadise.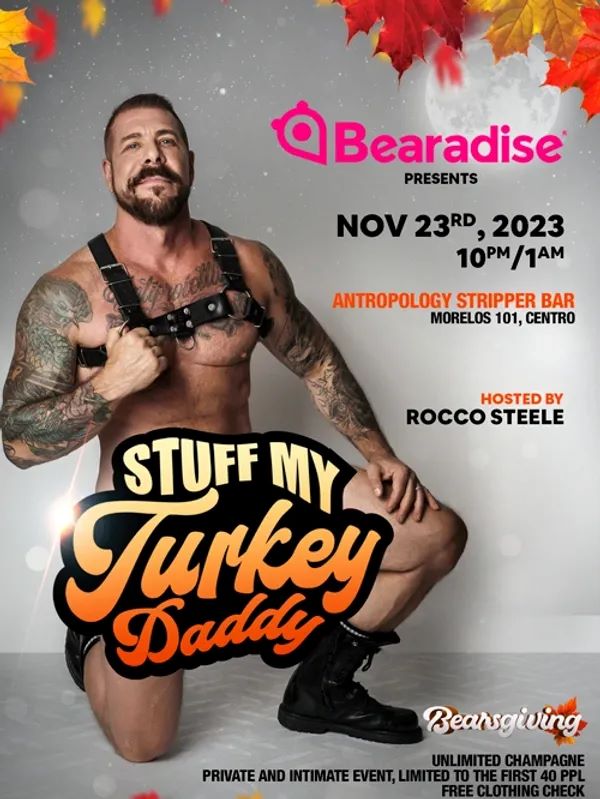 Tickets can be bought for each event individually or as a combo weekend all access pass HERE.