Gavan Knox serves us the perfect alternative Holiday dessert!
Since we last spoke with award-winning alternative dessert maker Gavan Knox of Food Network Canada's Great Chocolate Showdown, he's been up to some great things!
The Food Network Canada's Great Chocolate Showdown alum introduced us to his brand of unique, alternative and hella sweet desserts and confectionary. Now, it's pretty clear that this talented Ireland native has what it takes to satisfy your sweet tooth. Most recently, he has been seen on CTV's The Social, in a segment where he discussed alternative Thanksgiving dessert ideas, and he was a featured speaker at Toronto's Garlic Festival, where he also presented his recipe for Black Garlic and Chocolate Chunk Ice Cream!
It's pretty clear that Gavan Knox has been busy, but we were able to catch up with him for a little chat about what's next and an alternative Holiday recipe… To die for.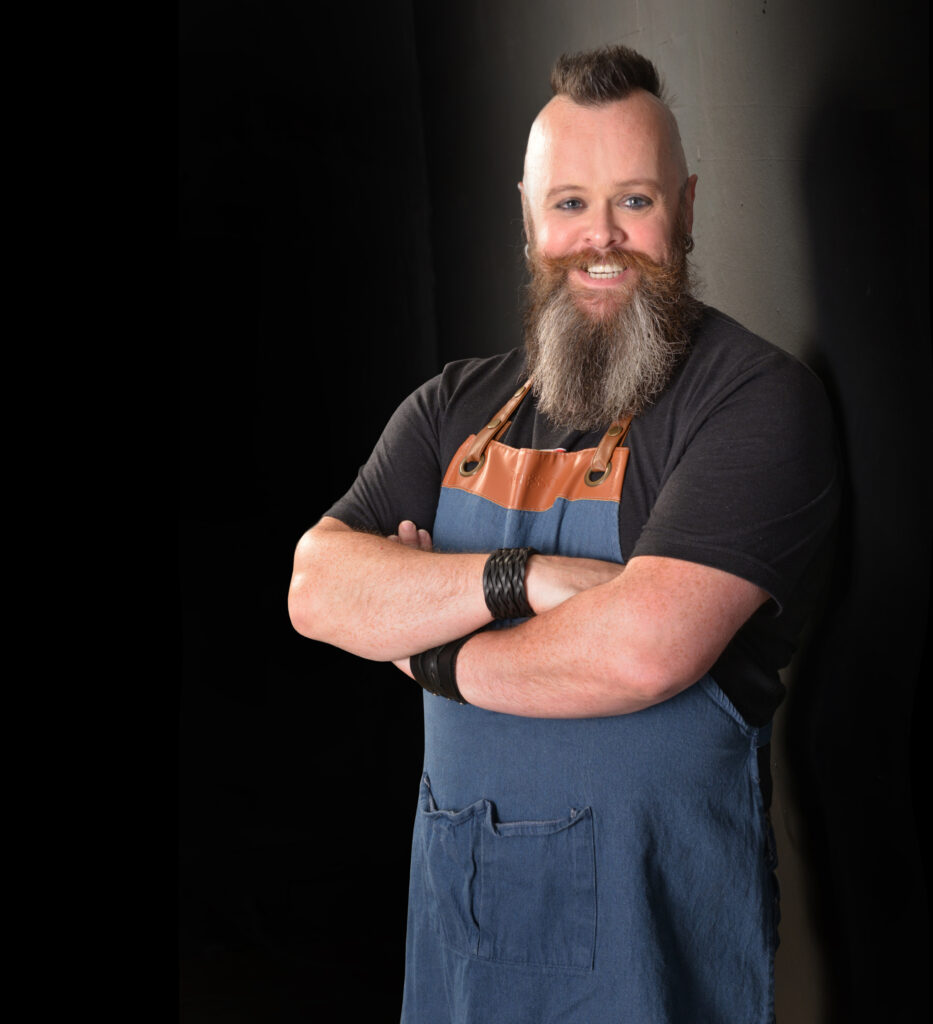 ---
Kyle Jackson: Since your appearance on GCS, you seem to have had lots of new opportunities! Can you tell us what you've been up to?
Gavan Knox: It's certain to say that since Food Network Canada's Great Chocolate Showdown things have been on the up, for which I'm immensely thankful. I been regularly featured as a baking expert on daytime TV shows here on the Canadian TV network CTV. Segments have included talking about alternative Thanksgiving desserts; showcasing savory ice cream flavours (no- that'S not a typo!); winning a Pride special "Bake Off" and as a feature judge on a recent Halloween special episode.
A recent gig also had me demo'ing in person at the Toronto Garlic Festival for the first time since the pandemic. Judging by the audience reaction it's safe to say my Black Garlic Ice cream was a hit. Now I know what you might be thinking- A garlic festival? A Halloween special? Is there a theme here? Maybe…
If readers want to know more about what I've been up to they can check out the media section of my website at crumbsinmybeard.ca/in-the-press/.
KJ: I believe you mentioned before that you were working on a book. Any updates?)
GK: I'm still chipping away at creating my book. As I mentioned before it's absolutely on my bucket list! I've submitted a proposal which is currently under review. As I'm quickly starting to learn the world of publishing, especially recipe books, is by no means an overnight affair. So, keep an eye out for more of me on your bookshelves!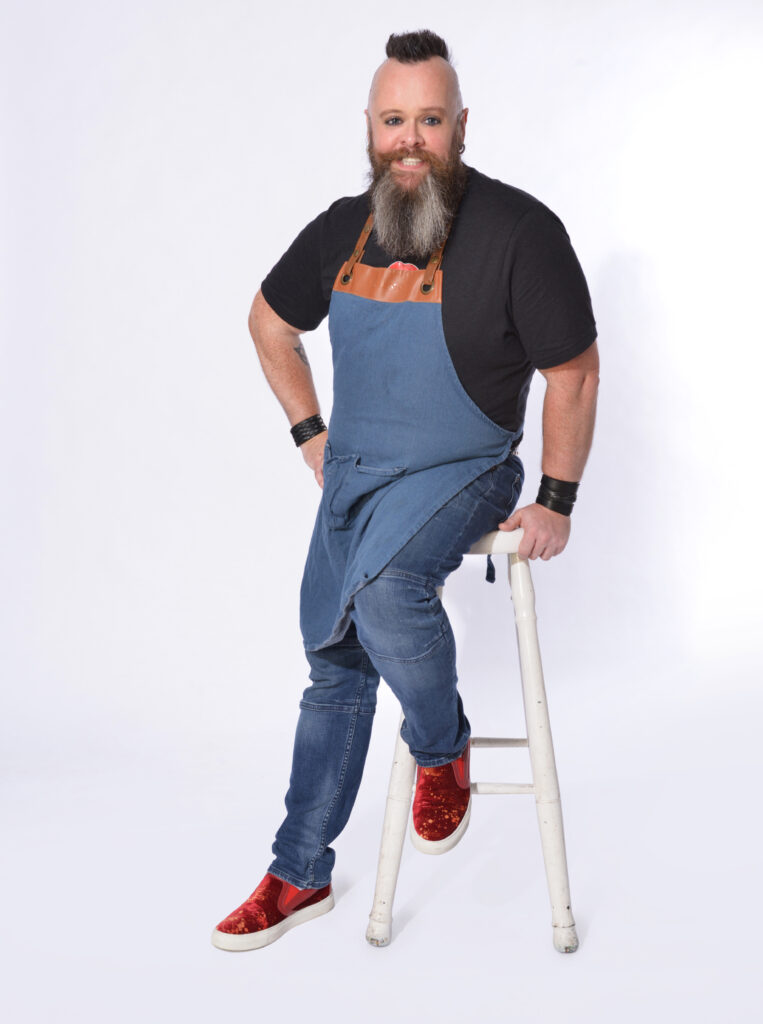 KJ: You now seem to have gained a bit of a reputation as an alternative dessert connoisseur. How do you feel about this?
GK: This exactly what I set out to do and have as my "calling card". I'm all about the unexpected after all! I love the idea that when people hear of me, they'll know they're in for something deliciously different.
One of the things I love is creating a talking point around my love of food and sharing that. I love nothing better than shaking up the norm, tearing up the rulebook in giving people something unexpected and alternative to enjoy. It might be by the flavours I use, or the ingredients, or even the presentation but there's a huge world of delicious food out there to enjoy and it's not always what you've grown used to.
I'm not saying there's anything wrong with traditional foods and baking – these are solid building blocks and techniques that have stood the test of time. What I do believe though is that there's nothing wring with coloring outside the lines and bringing people along for the ride.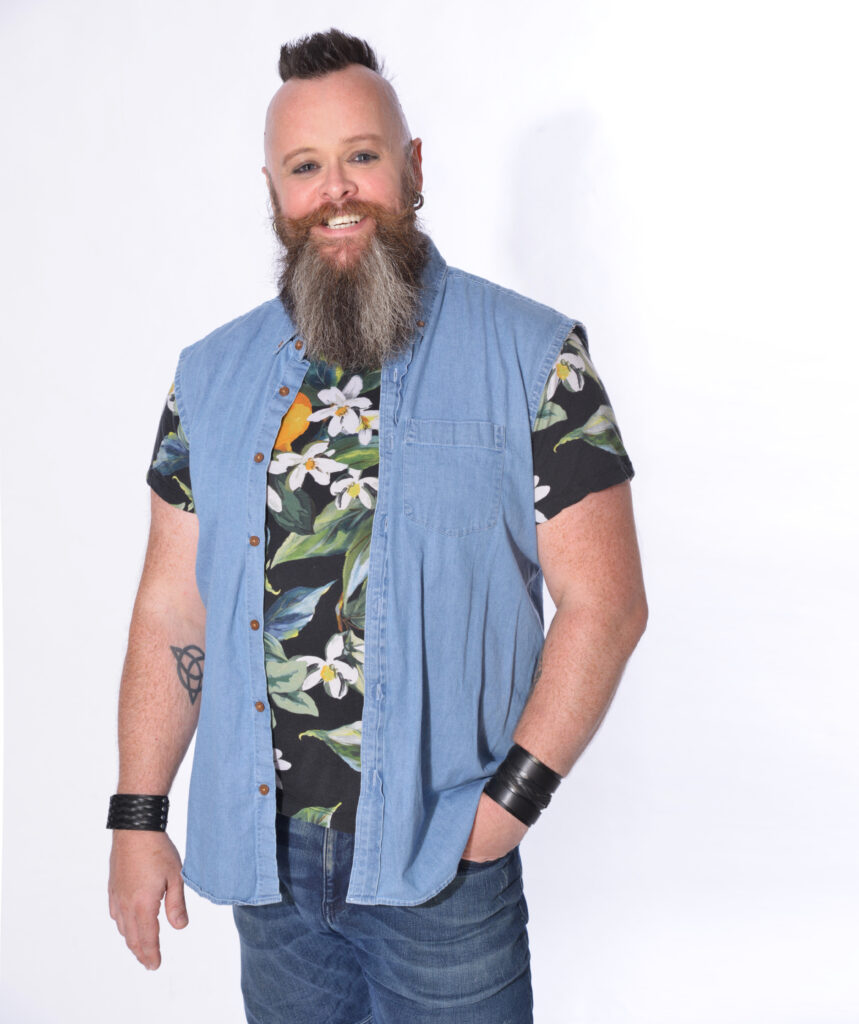 KJ: What are some of your favorite alternative holiday desserts?
GK: I think desserts during the holiday season tend to be rather laborious and take up a lot of time you may not necessarily have, look at making Christmas pudding for example. I do end up making the ubiquitous Christmas cake BUT it's Nigella Lawson recipe for a Chocolate Fruit Cake which is my "Go To". A one-pot preparation recipe, with a wonderful chocolatey flavour and fudgey texture it's always my Holiday Bake list (as much as I dislike dried). But why is this "alternative" you may ask? With prunes as it's main ingredient this absolutely lands outside the box for me!
One of my other favourite alternative holiday desserts is so simple it's ridiculously good. Take some frozen berries from the freezer and place in a bowl. Set aside while you melt some white chocolate and heavy cream together in a pan. Once melted stir in a little rum (for that festive touch!) and pour over your iced berries. Quick, utterly delicious, and pretty refreshing after a Christmas dinner it's a win all the way.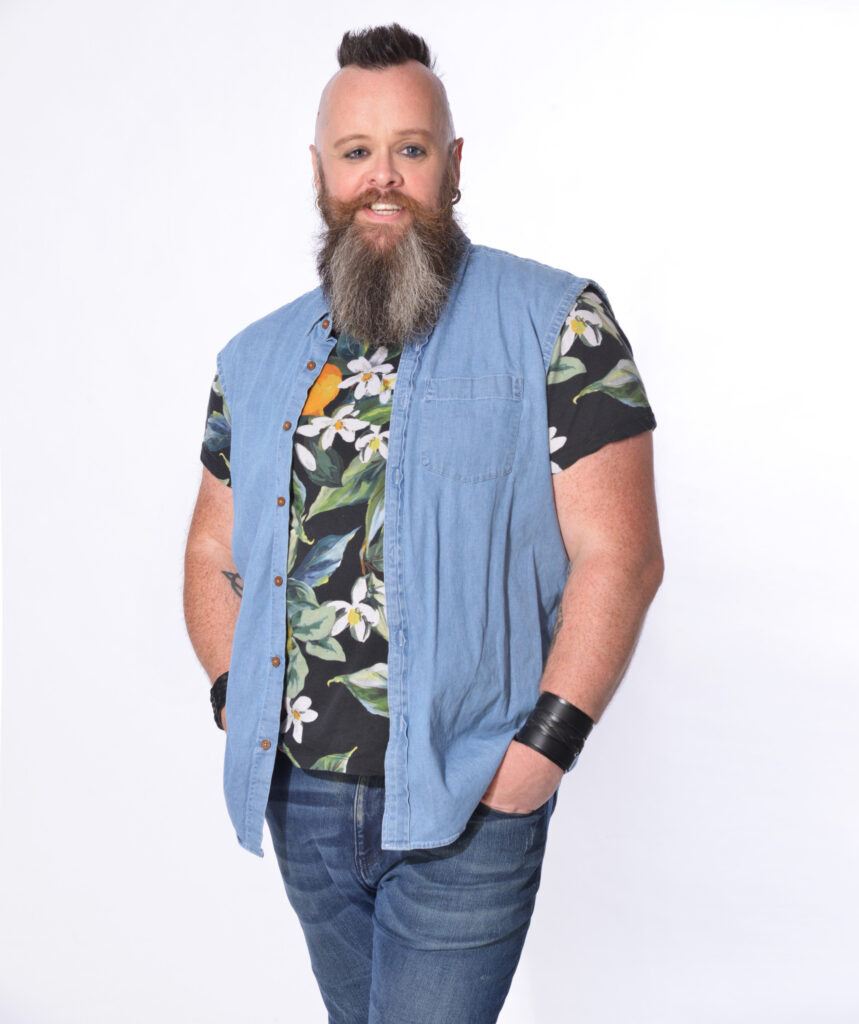 KJ: When you come up with an idea for a dessert, what are the main things you consider?
GK: "Will I like it?" – I'm reluctant to make something for people that I know I won't enjoy myself.
"Will it make people smile?" – Food for me is so much more than "calorific consumption". So much of what I do has roots in the likes of Julia Child, Nigella Lawson, Edna Lewis for example – food should be enjoyed while you make it, and that enjoyment should transfer to when you and other people eat it. Making people smile also comes from giving them that little surprise in what it is- bringing the unexpected as I do!
"Will making it "different" necessarily make it "work"?"- As much as I love putting my spin on things and bringing an unexpected element, I believe this can only be of benefit where it "works". I know I'm sounding very abstract here, but I don't think there's any sense in reshaping a dessert just because you can. Sure, you CAN put pulled pork in ice cream, but does it actually WORK? I don't think so. But by the same token, you CAN put blue cheese in ice cream, and does it WORK? A resounding "yes" from me- you can check out my recipe here.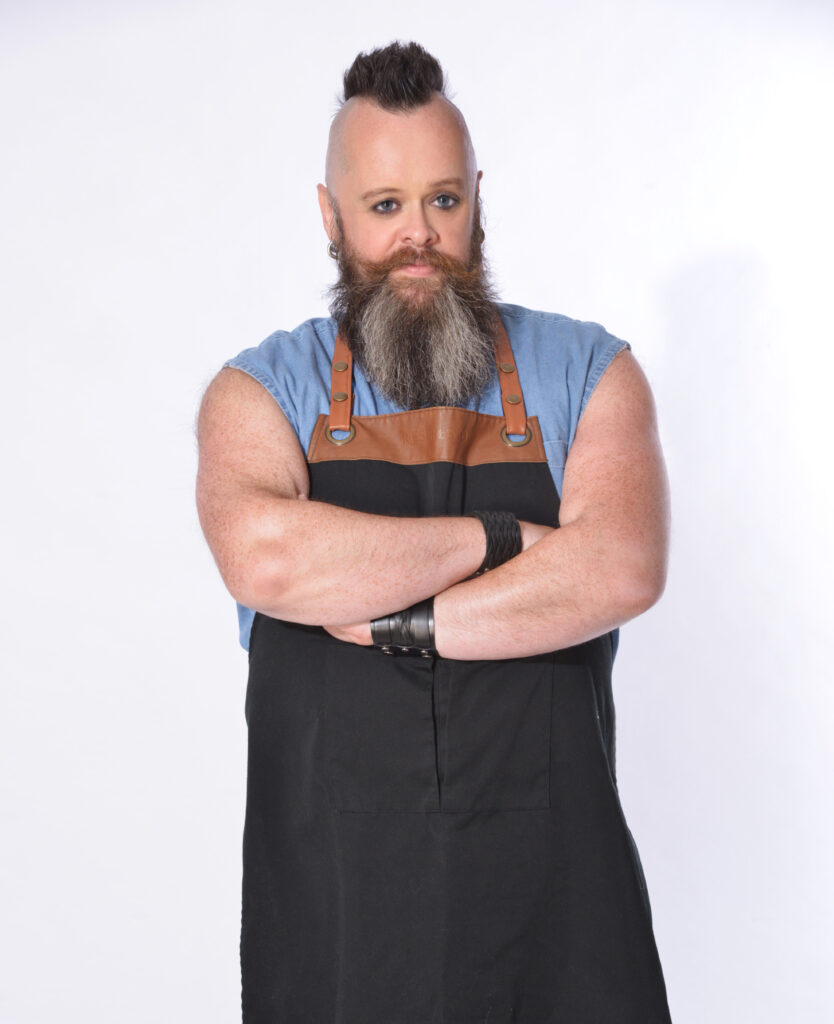 KJ: If you could create an alternative Holiday dessert inspired by an alternative Holiday film, what would it be?
GK: So, one of my favorite holiday films is actually one that combines two of my favorite holidays: Halloween and Christmas… the 2015 visual treat that is Krampus. Starring the incomparable Toni Colette, for me this movie combines aspects of the two Gay High Holy Days to complete perfection- horror, festive spirt and a little bit of humour, and is the perfect transition piece between Halloween and Christmas. Always one of the first movies I watch in the holiday season! It would seem only fitting that with all this talk of alternative desserts I come up a dessert influenced by this movie and so you have the Krampus Cake.
I'm a big fan of sharing desserts so a cake seemed the natural choice here. However, as mentioned already, I'm not a huge fan of dried fruit so my next stop of a chocolate cake seemed the perfect choice. Layers of rich, moist chocolate cake, sandwiched with a decadent whipped chocolate ganache, finished with a delicious chocolate buttercream. I used a darker color palette to reflect the visual aspect of the Krampus character from the movie, with a "fur" ganache trim to mimic the trim of it's robe. The additional of popping candy is not only influenced by the coal that Krampus is said to leave (bet you always wondered where that part of the tale came from?), it also gives a pretty neat experience of the crackling fire which features so prominent in the movie. I hope people enjoy my alternative take on a Christmas cake.
---
Krampus Cake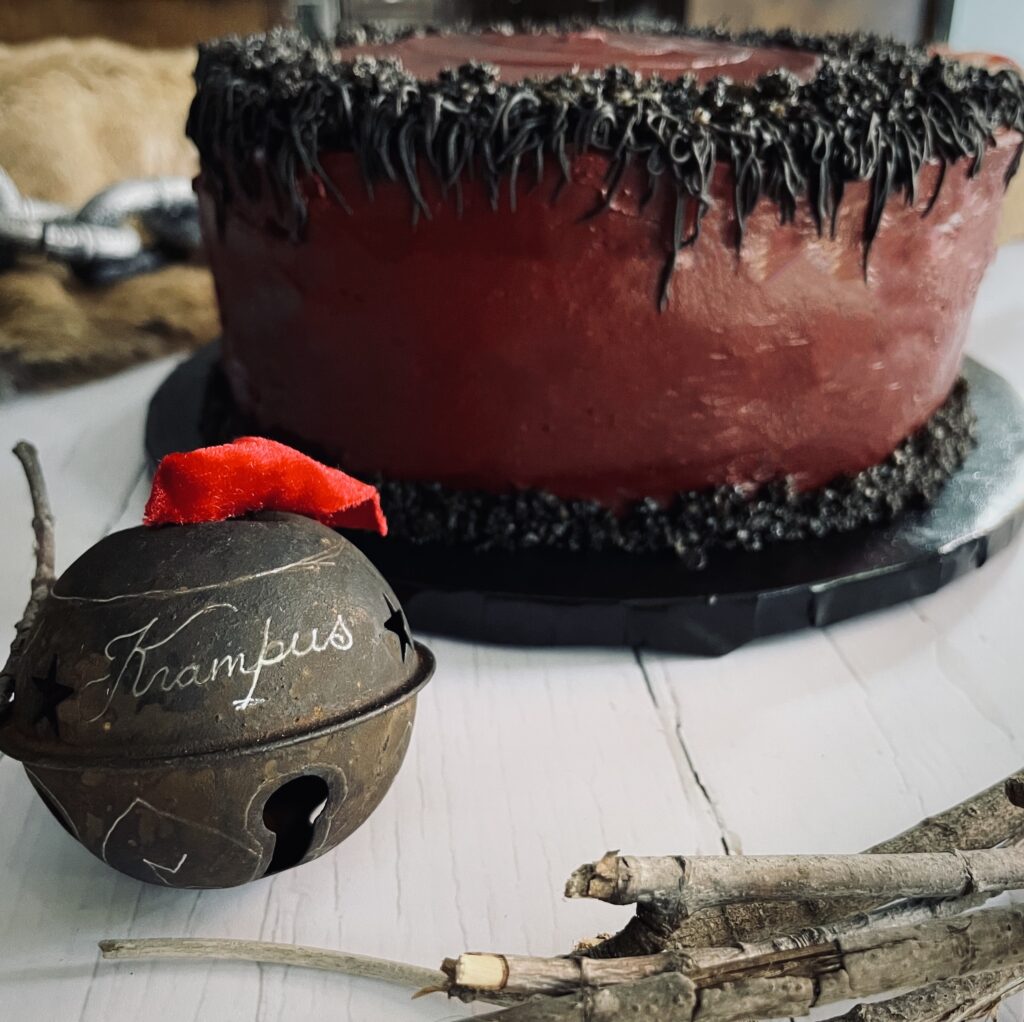 Makes 1 no. 8" layer cake
Ingredients
Midnight Chocolate Cake
2 cups All Purpose Flour
1 ½ cups granulated sugar
½ cup unsweetened cocoa powder
¼ cup black cocoa powder
1 ½ teaspoons baking soda
1 ½ teaspoons espresso powder
¾ teaspoon salt
1 ½ cups water
¾ cup canola oil
1 ½ teaspoons vanilla extract
1 ½ teaspoons white vinegar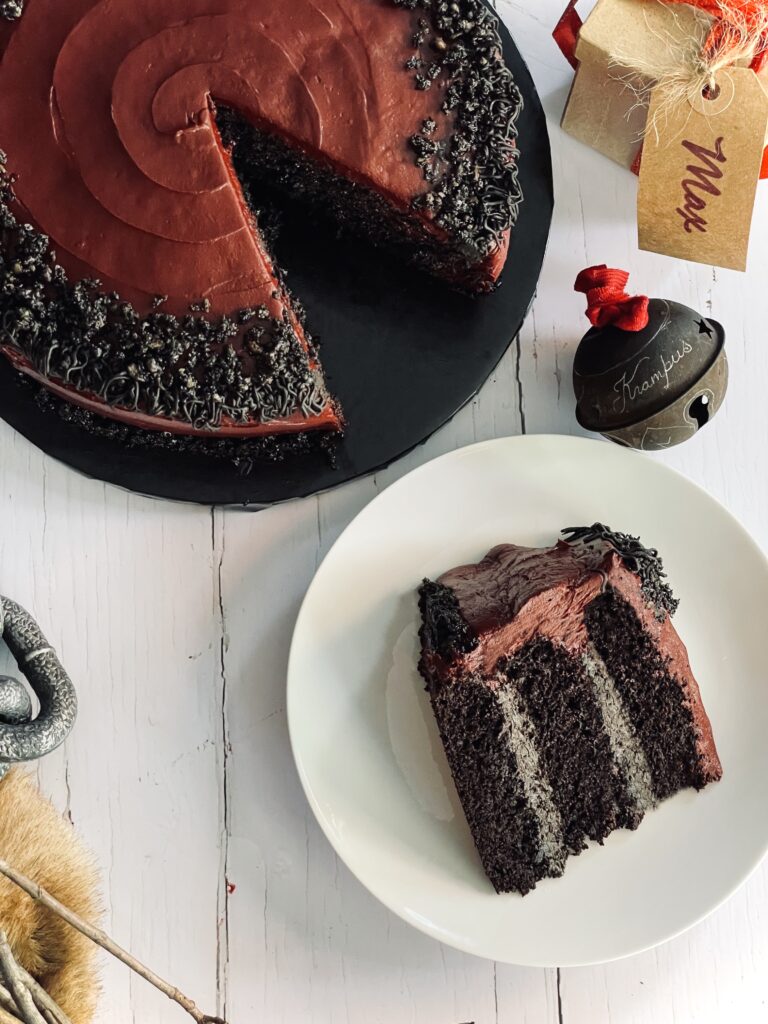 Ganache Filling and Decoration
8oz semi-sweet chocolate, chopped into chunks
1 cup heavy/whipping cream
½ teaspoon black food coloring gel*
Buttercream Frosting
4½ cups powdered sugar
1 cup cocoa powder
12 tablespoons (1½ sticks) unsalted butter, room temperature
½ cup whole milk, room temperature
2 teaspoons red food coloring gel*
1 teaspoon apple cider vinegar
"Coal" Candy
3 tablespoons unflavoured popping candy
½ tablespoon coconut oil
1 tablespoon black cocoa
*Measurement dependant on strength of color. Please note that if using liquid coloring a larger quantity may be required, which in turn may affect the consistency of what you're coloring. Color to personal preference
Method
Midnight Chocolate Cake
Preheat your oven to 350F
Prepare 3 no. 8" diameter baking pans by greasing/spraying and lining with baking parchment
In a large bowl combine all the cake ingredients- the flour, sugar, cocoa powder, black cocoa, espresso powder, baking soda, salt, water, canola oil, vanilla extract, and vinegar
Whisk slowly until fully combined, making sure to scrape the bottom of the bowl to avoid any dry ingredient residue. Continue mixing until fully blended and smooth
Divide and pour into your prepared pans. If needed gently tilt the pans to allow the cake batter to flow into an even layer
Bake in your preheated oven for between 20-25minutesm or until a cake tester, or skewer, comes out clean when inserted into the centre of the cake. Remove the cake from the oven allow to cool in tin for 5 minutes in a rack
After allowing to cool for 5 minutes, remove from the pans and allow the cakes to cool fully before decorating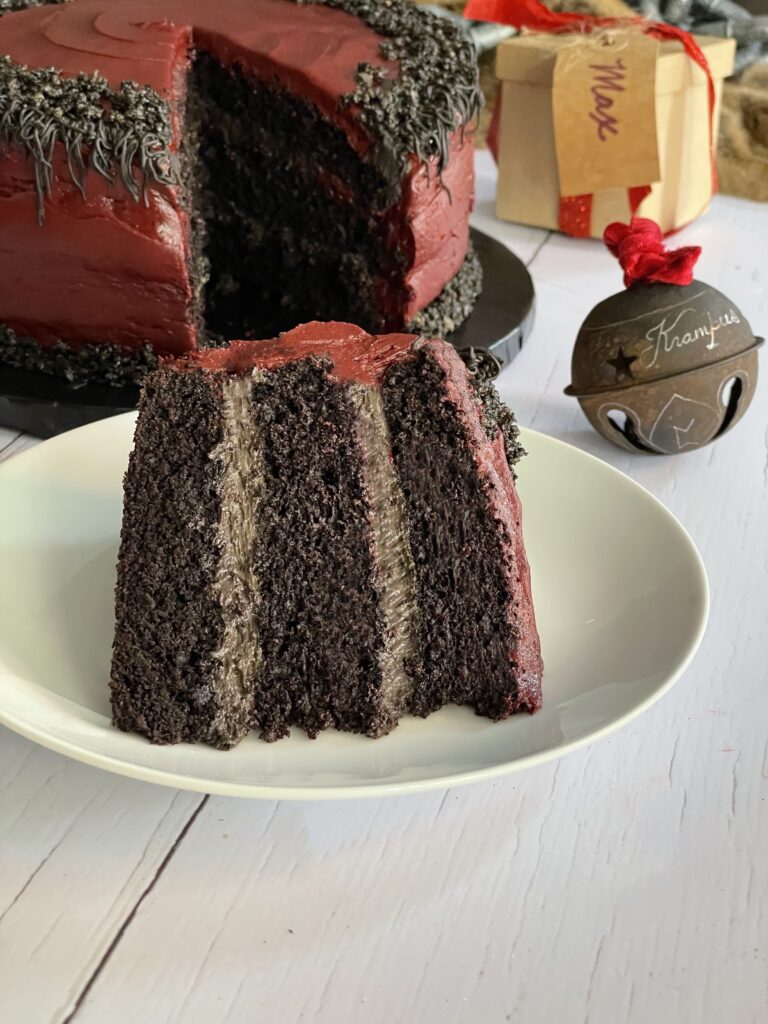 Ganache Filling and Decoration
For the ganache, place the chocolate pieces in a medium heatproof bowl
Heat the heavy cream/ whipping cream, in a small pan over a medium heat until just below boiling (look for small bubbles at the edge of the cream in the pan)
Remove the cream from the heat and gently pour the warmed cream over the chocolate pieces in the bowl. Leave to rest for 5 minutes
After 5 minutes, gently stir the chocolate/ cream mixture with a whisk to emulsify it. It will appear mottled and speckled at first but continue gently stirring until it thickens and is uniform in color
Once fully smooth and uniform in color, set aside and leave to fully cool for 1 hour before dividing the mixture into two separate bowls. After 30 mins, using an electric whisk, beat one of the bowls of mixture to a fluffy, whipped consistency (this will be your filling ganache). Set both aside for about another hour until the they to a spreadable consistency. (The cooling/thickening process can be speeded up by placing the bowls of mixture in your refrigerator)
Buttercream Frosting
In a bowl, sift together the powdered sugar and cocoa powder. Set aside
In the bowl of a stand mixer fitted with a paddle attachment, beat the butter beat on medium speed for 2 minutes. Scrape down the sides and bottom of the bowl
Reduce the speed to low and the add in sugar/cocoa mixture a cup at a time. Combine on low speed until all the sugar/ cocoa mixture has been added
With mixer on low speed, add in milk, red food coloring and vinegar
Increase speed medium and mix for 2 minutes until smooth. After this time, increase the speed to medium/ high and whip for a further 2 minutes
"Coal" Candy
Put the coconut oil into a heat proof bowl and heat in a microwave for 20 seconds until the coconut oil is melted
Add in the popping candy and stir to fully coat it in the melted oil
Add the black cocoa and stir until an even color and it looks like "coal dust"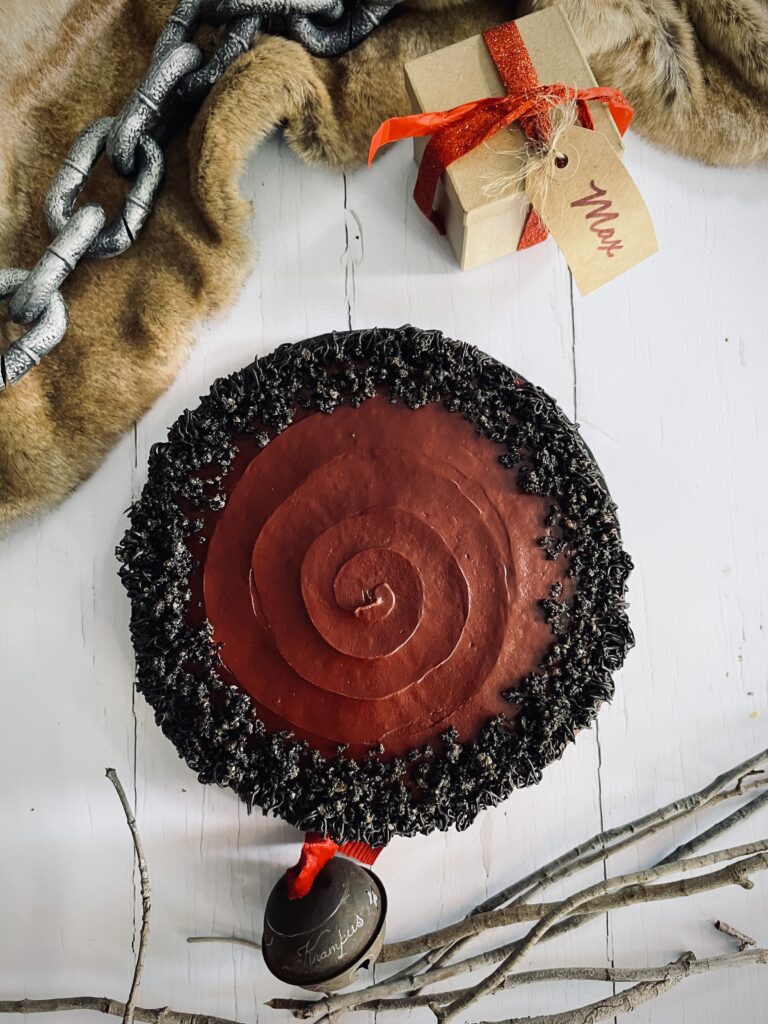 To assemble and decorate
Level off the cake layer to flat
Frost each layer with a ring of frosting. Pipe or spread an even layer of the whipped chocolate ganache inside the ring of buttercream frosting. Stack the next layer on top and repeat the process.
Using the buttercream frosting apply a light crumb coating on the outside of the cake and let the cake chill in the refrigerator for 20 minutes.
Frost the cake the remaining frosting, and chilli again for a further 20 minutes
Use the remaining (unwhipped) ganache to decorate the cake. You can either apply a final top layer by smoothing the ganache on top, or as I've done, using a Wilton #233 tip apply a "fur trim" to the edge.
Decorate with the black "coal candy"
---