Dexter Mayfield and Johnny Sibilly join Out Magazine to serve 'Dating PrEP'
This year, Out Magazine is continuing Dating PrEP 2.0, its viral series on dating in the queer community, and bringing last month's Out Magazine Swimsuit Issue cover star, Dexter Mayfield, and actor Johnny Sibilly into the conversation!
The goal of this series, which first launched last year, is to prepare (or PrEP) the queer community for the dating world by giving them the tools and nurturing the confidence they need to get out there and make it happen. These tools can include advice on grooming, self-confidence and sexual health, which includes taking PrEP – or pre-exposure prophylaxis – a daily treatment that is up to 99% effective in preventing HIV.
In Dating PrEP 2.0, LGBTQ+ figures, such as Mayfield, Queer as Folk actor Johnny Sibilly, RuPaul's Drag Race star Kim Chi, and singer Jake Wesley Rogers offer some helpful tips and insights on how to find love and maintain self-love in these times.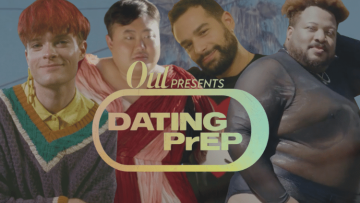 Mayfield, who is currently a judge on Come Dance With Me, is fighting racism and sizism, while also being an advocate for body positivity. Meanwhile, Sibilly discusses the importance of Latinx representation and the realities of interracial relationships, as well as how Pretty Woman informed his courtship rituals.
Also in the series, Kim Chi discusses the difficulties while dating as a famous drag performer, while Jake Wesley Rogers discusses navigating love life while on tour but also stresses why self-love is so important. As he told Out, "loving yourself is really hot."
Watch past episodes from Out's Dating PrEP series at Out.com/DatingPrep and stay tuned for new episodes releasing this month.