Comics Corner – Cheater Code takes gay erotica to a new level
[Content note: this week's column openly discusses sex and erotica. However, all images are non-explicit, and broadly safe for work.]
2020 is over – thankfully – but being a comic book column on a site catering to LGBTQ+ readers and interests, there was no way we could let the year pass without discussing writer S. A. Foxe and artist Daryl 'Daz' Toh's gaming-inspired, sexually explicit, homo-erotic graphic novel Cheat(er) Code.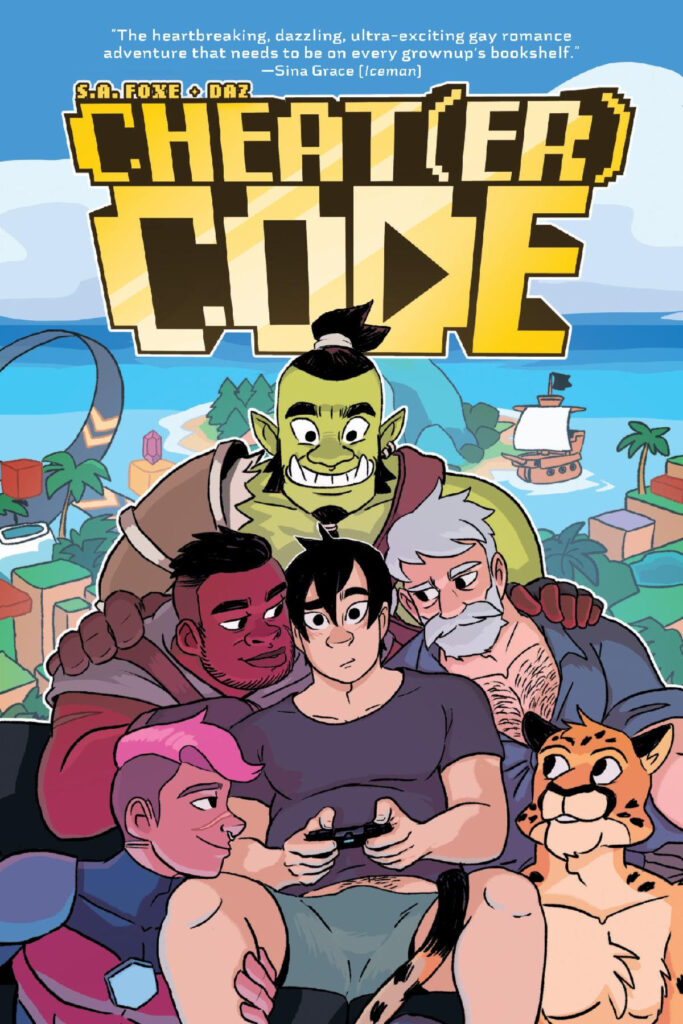 The story – and Cheat(er) Code is a story, not just straight-up porn – centres on Ken, who's unfortunate enough to come home early from work to find his boyfriend of six years, Seth, mid-intercourse with another man. The betrayal is made worse when Seth admits he's been playing around behind Ken's back for a while, and promptly breaks up with him.
With his pride and self-esteem put through the ringer, Ken turns to the last resort of a lonely, heartbroken gay man – Fukr, a familiar-looking dating app with a prevalence of torso pics and a scarcity of people's faces. In a turn of events that will not surprise anyone who's used similar apps, the hollow interactions Ken finds leaves him more depressed than ever, so he turns to the burying his sorrows in a mire of masturbation and video games. However, after climaxing in the midst of a strange storm, right as a bolt of lightning strikes his apartment, Ken finds himself inside the last game he was playing.
Unfortunately for Ken, that game is the survival horror masterpiece 'Fogtown 3', and just like the protagonist of a certain game about quiet knolls, is immediately faced with his own psycho-sexual demons brought to life. Luckily, he's rescued by Frank, a stocky, muscular 'daddy' and protagonist of the game, who leads Ken to safety.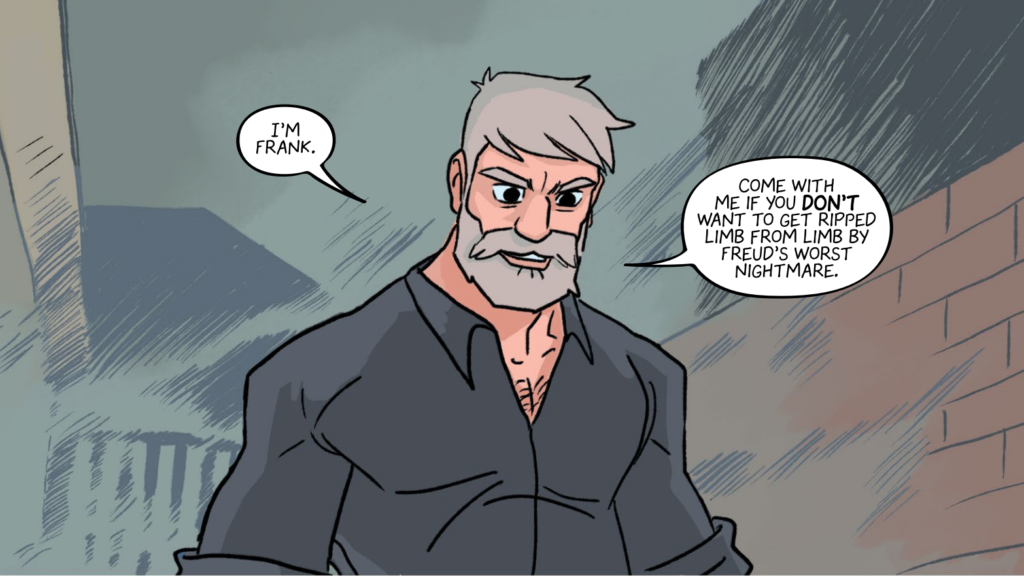 Dear reader, they f**k.
It's the first of many carnal encounters Ken experiences as he travels through a series of video game worlds, trying to find a way home while also evading a strange glitch that seems to be chasing him. Yet rather than an excuse to just show Ken having sex with an assortment of video game ciphers, every hook-up is a chance for him to work through the pain of his break up, his feelings around Seth's betrayal, his own sense of inadequacy, and even his sexual hang-ups. The scenes are not just exciting and erotic, but surprisingly emotionally resonant.
Foxe's script will ring powerfully true for any gaymer who's faced a tough break-up, but also addresses wider issues in gay male culture. Ken, an Asian-American man, encounters first a wall of silence, then fetishisation when he starts using Fukr. The mundane aspects of gay sex are shown, such as douching, while Foxe gives Seth one redeeming feature in having him discuss using PrEP, a daily pill that HIV-negative people can take to prevent contracting the virus. It all feels wonderfully authentic, a rarity in gay narratives.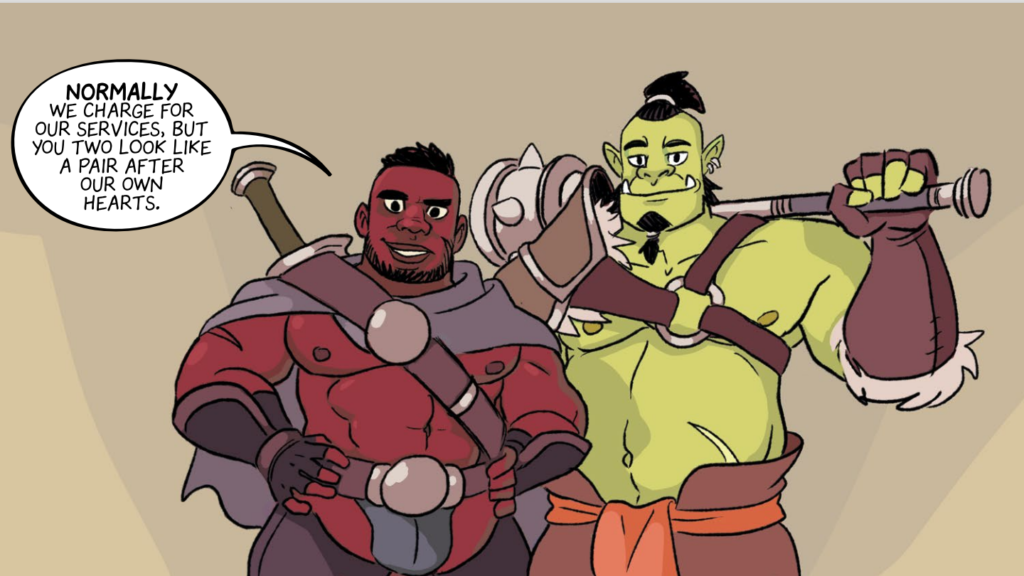 Daz's art is the star though, cartoonishly stylised but still sexy and powerful. By its very nature, Cheat(er) Code is an incredibly graphic graphic novel – the book opens with Seth's altercation, and by page three has him topping his partner on the kitchen table – but the pages brilliantly convey the emotions of the characters. There's no shortage of clever visual humour too, from Ken struggling to take a 'sexy' profile pic to ridiculous sex toys and literally cosmic orgasms.
It's also a delight to see some real diversity in the characters. Ken's partners present a fantastic range of ages, ethnicities, and body types, and their sexual roles often subvert expectation. Through it all, there's a light-hearted playfulness, a reminder that sex should be fun and enjoyable for all partners, or that certain things shouldn't be rushed – advice so good, yet so often unspoken in gay circles, that Cheat(er) Code part-doubles as a gay sex handbook.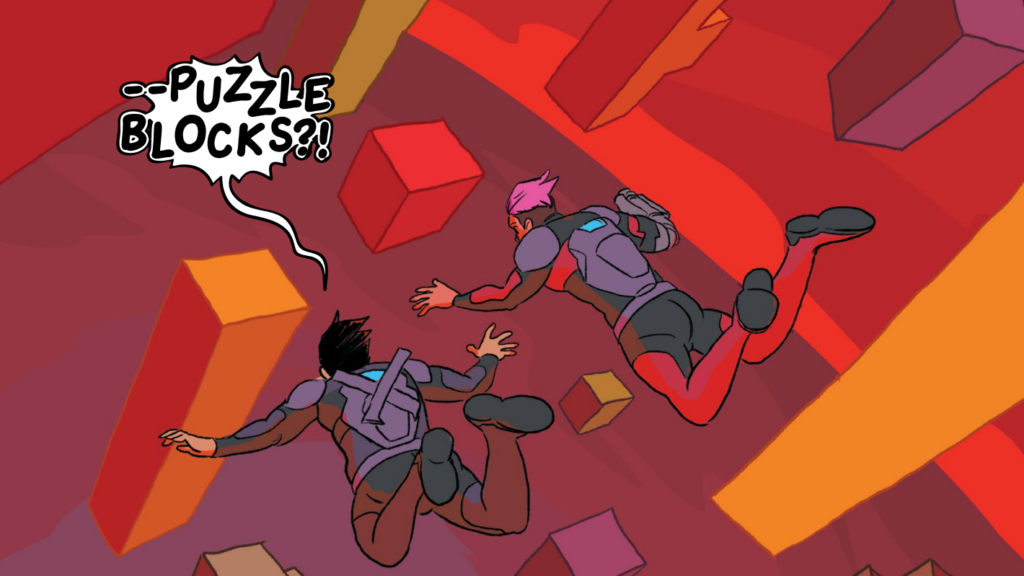 Through it all, it's clear that Cheat(er) Code is the work of creators who really love video games. The parallels of the places Ken visits to real world games are clear, but presented in a way that shows a real passion for the source material. There are no cheap jokes here, and each setting or character – be it Frank, or a super-popular mascot character with a host of spin-off titles to his name, fantasy warriors in a world of war and old scrolls, or even Ken's own idealised self as a user generated avatar from a sci-fi game put to great effect – is carefully chosen to move Ken closer to healing and self-love (in, err, both senses).
Ultimately, Cheat(er) Code will subvert your expectations. Yes, it's horny, and if you're looking for some "alternative material" for personal use, the book will hit the spot on that front. But it's also an emotional, relevant, realistic, and even romantic work of gay fiction that deserves a spot on any gaymer's bookshelf.
Cheat(er) Code is available now, published by Oni Press.