Catching Up with Blake Evan Sherman
As we reported a few months ago, Bear Voyages is BACK! And this time they are taking us on a sojourn through the Greek Islands for a trip of mythological proportions, aided in no small part by Blake Evan Sherman who will be on hand to perform his brand new one man show!
Bears will remember Blake, of course, as one of the stars of the BearCity movies where his character, Melvin made quite the impression on fans the world over. Since then, he has gone on to perform all over the United States and as well as internationally. He made a name for himself as a multi-talented performing artist in New York City and has been seen on both the big and small screen, in cabarets, nightclubs and even on the Broadway stage.
Before he sets sail with Bear Voyages from Athens on August 27th, we made sure to sit down with Blake to both catch up with him and to see what we can expect from his upcoming show.
John Hernandez (JH): Hi Blake! Thanks so much for taking the time to speak with us! You'll be performing your cabaret/ comedy show An Evening with Blake Evan Sherman aboard the Bear Voyages Greek Islands cruise later this summer. What can we expect from the show?

Blake Evan Sherman (BES): I'm very excited about the show and I've had a ton of fun putting it together. Most people in the bear world know me as the character Melvin, aka Uncle Mel, from the BearCity films, but I'm a man of many hats and have more than a few tricks up my sleeves. The show is going to be a personal walk down memory lane experienced through storytelling and song. It is an intimate and humorous look behind the shower curtain, and will be silly, sentimental, funny, flirty and yes, even a little dirty.
JH: Ooh color me intrigued! Will the show feature original music or standards?

BES: While I like to work on original material, this is going to be a show of covers, standards and not so standards. I don't want to give away too much, so I'll just say that I'll be singing a variety of rock, pop, folk, soul and musical theater. I think people will be pleasantly surprised by my eclectic song selections and performance style. I am planning on putting on an unforgettable show and I can't wait.
JH: How would you describe your comedic style? Who are some of your favorite comedians?

BES: While I love a good punchline, I have always been more of a storyteller. I prefer to share the laughable moments of my own personal experiences. I mean jokes are funny but real life is hilarious.
As for the comedians I admire, there are way too many to mention but I would say that at the top of my list would be John Mulaney, Sarah Silverman, Nick Kroll, Tig Notaro, and the incomparable Margaret Cho.
JH: Excellent choices! As you mentioned, most of our readers will remember you as Uncle Mel from the BearCity movies. We were all saddened to hear of Doug Langway's passing. Do you have any memories or anecdotes about him or the making of the films you'd care to share?

BES: Doug's passing was a great loss. He was a good guy who was joyful and full of booming and boisterous laughter. He was more than just a talented director; he was a collaborator and a friend who created the BearCity family that I am very proud to be a part of. I can tell you that years after production and film festivals, we had kept in touch and he would reach out to me from time to time about a job that he heard about or a part that he thought I would be good for. It meant a lot that he supported my career and thought of me even after all these years. It's just the kind of guy he was. We had spoken just a few weeks before he died. I actually reached out to him about this upcoming cruise. I wanted to share my news and asked him for some official BearCity stuff to use for promotion. He congratulated me and said that he was more than happy to help. Our conversation ended with him asking me if I'd be interested in being in BearCity 4 and, of course, I said yes. That was the last time we spoke and looking back I am really glad we had those moments together. It was a shock to lose him so suddenly, not just for me and those closest to him, but for the entire bear community as a whole. He touched many lives and left an indelible mark on the world. I wouldn't be doing this interview if it weren't for the opportunity he gave me and for that I will be forever grateful.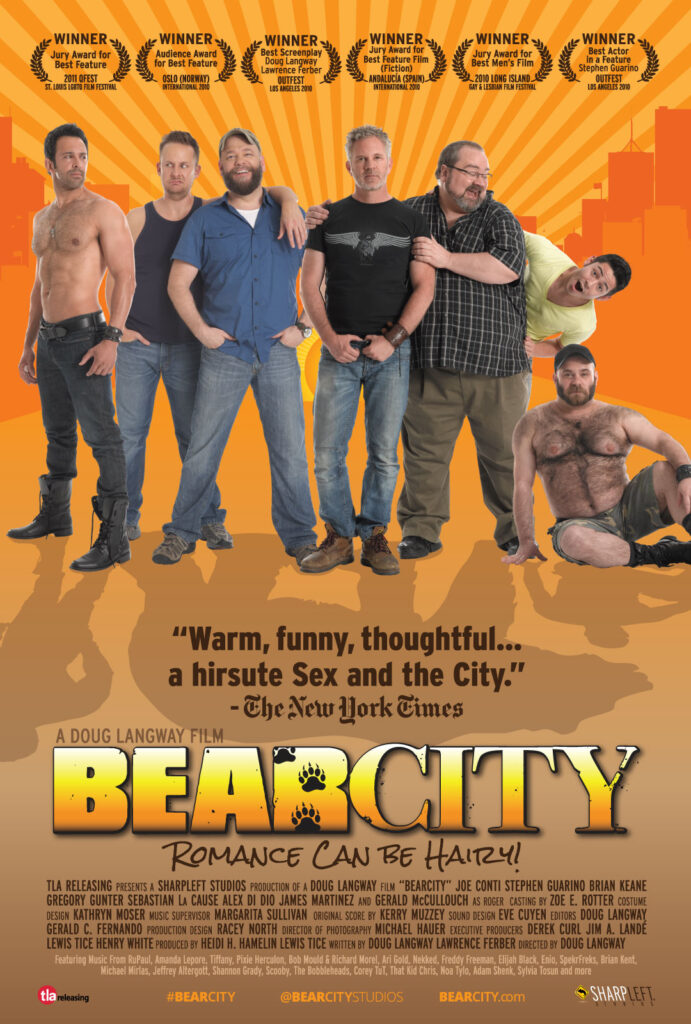 JH: Besides Uncle Mel, what have been some of your favorite roles or gigs you've had throughout your career?
BES: I've done many types of performances over the years, but one that immediately comes to mind is working Off-Broadway on The Donkey Show. It was a unique, immersive Studio 54 inspired production of Shakespeare's A Midsummer Night's Dream. I can remember wearing platform shoes, a white polyester leisure suit and a loud 70's disco shirt that was fashionably unbuttoned all the way down to my fuzzy navel. I was the dancing janitor in the music video for Cascada's hit song "Every Time We Touch" and I played the jolliest bear daddy of them all, Santa, on the legendary stage of New York's Beacon Theater. I've enjoyed playing a lot of roles but one of the biggest highlights of my young career would have to be touring the country playing my childhood cuddle buddy and one of the most iconic bears of all time, Winnie the Pooh. It is pretty hard to top that.
JH: What is your favorite aspect of bear culture? Do you attend many bear events?

BES: One of my favorite things about bear culture would have to be the sense of community. When I was first introduced to the culture, I felt immediately accepted and fully embraced by everyone I met. I was happy to find myself among a bunch of like-minded men who were body positive and celebrated masculinity in all of its furry forms and sexy sizes. I have met so many great guys through the community over the years and made a lot of good friends along the way.

I haven't attended as many bear events as I would have liked, but I have been to several over the years. I always like to try and support any local bear events and I've been to numerous dance parties, bar nights and beer blasts and I've attended a Hibernation or two. I've performed a few times at Bear Week and Spooky Bear in Provincetown and loved every fur filled minute of it. I haven't always had the opportunity to go to events in the past, but I'm definitely planning on changing that and participating more in the near future. Right now, the bear event I am the most excited to attend is this amazing Greek Island Cruise with the boys at Bear Voyages. I am excited to debut this brand-new bear-centric and bawdy show and who knows, maybe I will have the opportunity to bring it to other bear events across the US and around the world. That would be really cool.
JH: Can you tell us a favorite fan interaction you've had over the years?

BES: I've had many amazing interactions over the years and not too long ago, I came across a fan who told me that BearCity had changed his life. He grew up in a small town without a real LGBTQ community. He was an adorable little cub and told me that he'd been struggling with his identity and had a hard time finding community. He said that he hadn't seen himself or the kind of guys he was attracted to represented in the world around him. He said it made him feel alone and, at times, a little lost. He told me how he got his hands on a copy of BearCity and said it was like a whole new world suddenly opened up for him. He finally saw himself in the people on the screen and said that it made him feel excited and hopeful about the future. He told me that my now infamous shower scene was his favorite moment in the movie and then offered me a few flattering words that made me blush on both sets of cheeks! (Laughs) I was glad to hear that I played a small part in helping this young man find himself and his new community.
JH: Have you ever been to the Greek Isles? Besides doing your show what are you most looking forward to?

BES: I've traveled abroad many times in my life, but I have never been to the Greece or any of the Greek islands before. I'm looking forward to sailing on Virgin Voyages' brand-new boat and enjoying all of its amazing amenities. It'll be exhilarating to experience the blue waters of the Mediterranean, walk on the beaches and feel the white sands between my toes. I'm very excited to see the sights and explore the culture and I can't wait to dig into all of the delicious, authentic Greek cuisine. I'm also looking forward to all the beautiful Greek men I am sure to encounter on this journey as well as meeting my traveling companions on the ship and making some great new friends. It's going to be a truly amazing adventure and I am excited to share the experience with everyone.
JH: In addition to the cruise are there any other projects you'd like to discuss?

BES: At the moment, my focus is on preparing for the upcoming cruise, but I have a few upcoming projects in the works and I'm eager to create new shows and events to take on the road. It would also be fun to work on projects with some other burly buds. There are so many talented bears in our community and I'm always looking for new interesting opportunities and cool people to collaborate with. If there is anyone out there that wants to create some art or put on a show, feel free to reach out and let me know!
JH: Sounds amazing Blake. Have a blast on the cruise and best of luck with the show!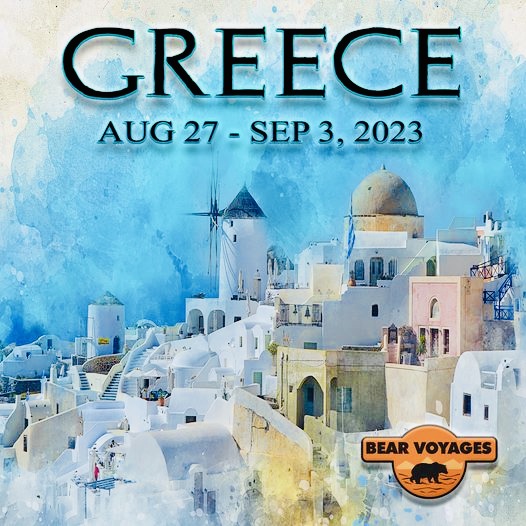 To stay up to date with Blake Evan Sherman be sure to follow him on Facebook and Instagram.
To find out more about the Greek Islands Cruise from Bear Voyages and to book your ticket, click HERE.