Cannonball Bash 2023: A Celebration of Body Positivity, Diversity and Community
Cannonball Bash took place at the Westin Fort Lauderdale from October 25th through November 1st with the main events scheduled from Thursday through Sunday of that weekend. Over 1500 registered attendees took part in this diverse and ever-growing event and I was lucky enough to be one of them.
Upon check in it became obvious that the event had completely taken over the host hotel property with signage, flags and Cannonball insignia everywhere. Even the room keys and cardboard envelope holders bore the Cannonball logo and mascot which is a cool and unique touch I've not seen at a bear run before.
Sign in for the event at the registration was a breeze with a warm and friendly team of volunteers eager to welcome you to the party. The Cannonball welcome bag was also one of the most generous I've ever seen. Every participant received a duffle bag, blinged out cup for use at the pool parties that weekend, sunglasses, a waterproof phone protector, a stuffed teddy bear, an oversized and colorful pool towel, a hat, a teddy bear key chain and a beautiful fold out full color schedule made from really good card stock. I was impressed, to say the least.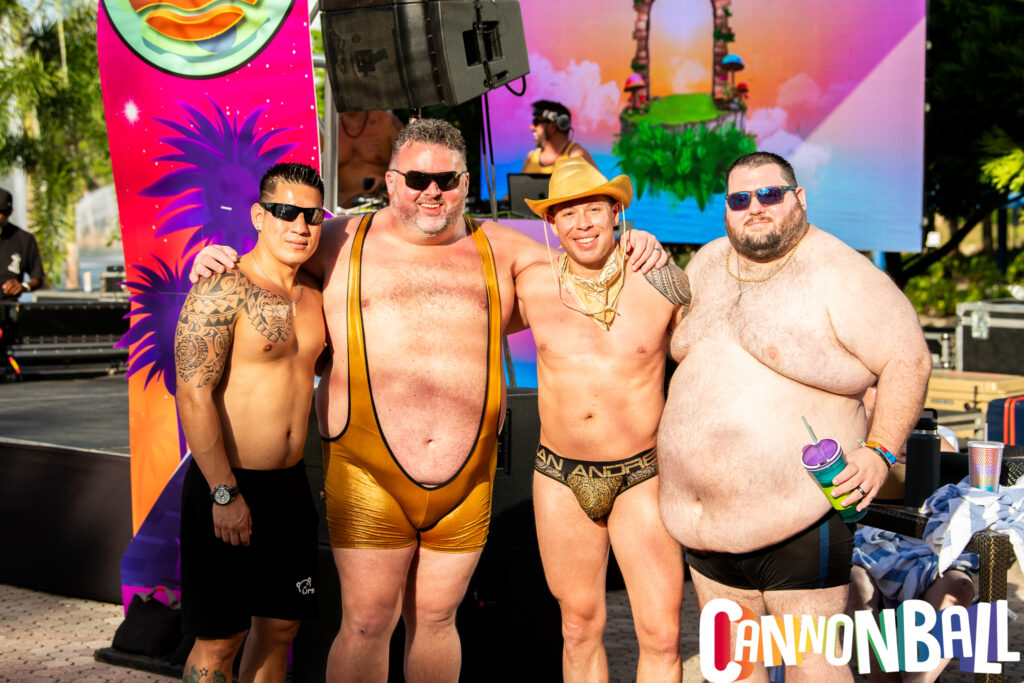 This year's theme was Arabian Nights / "A WHole New World" and so a lot of the events took their cue from that prompt like the Aladdin Welcome party, the Magic Carpet Lounge hospitality suite, the Vendor's Bazaar Marketplace and the Sultan's Dungeon (which was the enormous XXX play space that featured a big boy sling), among other things. There were add on excursions you could buy tickets to like the trip to the local 'spa', the Flying Carpet Airboat tour and the Jungle Queen Riverboat Cruise There were also add on meals like the Shawarma Dinner, the BBQ Mezze & Bingo Luncheon and the Mediterranean Banquet and show (which featured Drag Race's Tammie Brown). There were board games, travel seminars, karaoke and a bevy of other activities to keep everyone occupied on site. However for those that wanted to explore the local nightlife, shuttles were also provided to go to and from the bars in Wilton Manors and to the popular, gay, and nude Haulover Beach on Sunday.
All of that aside, the main attraction, of course, was the pool parties. Unseasonal windy weather did not stop Cannonballers from getting into their skimpiest swimsuits and hitting the pool for fun in the sun and an excellent lineup of DJ's and gogo dancers (including Danny J and Kxng Jayy who we've featured in our gogo bear spotlight column). Throughout the weekend there was a foam pool party, a pizza party movie night, the Costume Concert Jam featuring Zee Machine & Nakia and the super fun Cannonball chub/chaser/ bear contest expertly hosted by Shelita Bonet Hoyle.
There were smiling faces everywhere and a wonderful, ethnically diverse crowd that encompassed all age ranges and body types. Cannonball is known for being a very chub friendly event but there were also lots of bears, cubs and admirers in attendance as well; a fact that is further highlighted in their choice of 'The Bear Kingdom' as next year's theme. So, if you've been on the fence about it, take the plunge next year! You will most assuredly be welcome and like with all bear events, you'll get out of it what you put into it.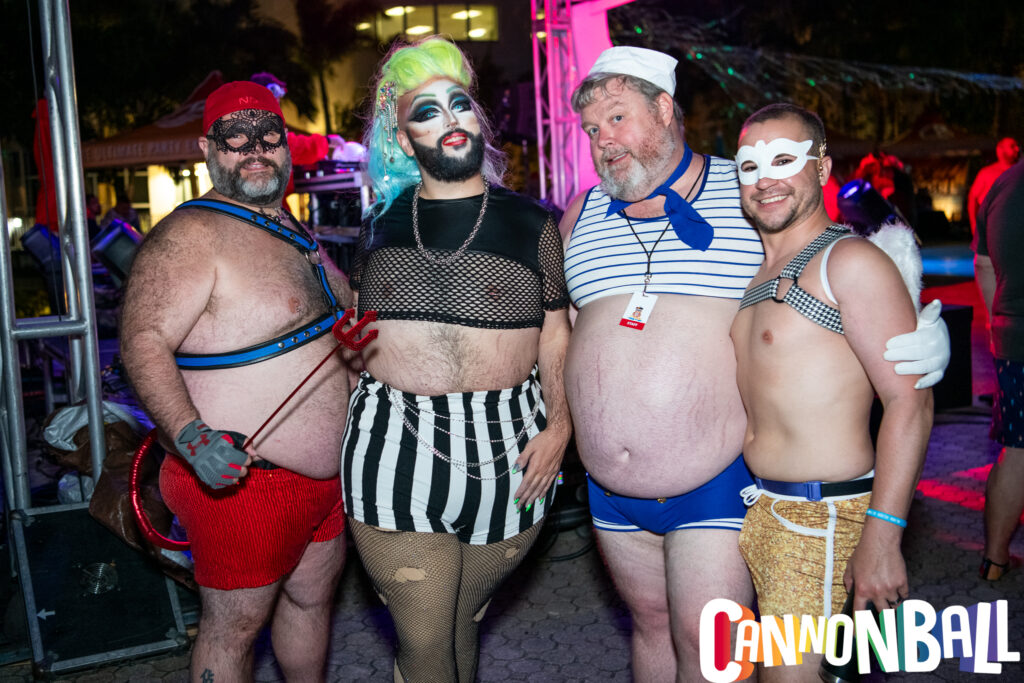 The dates for Cannonball 2024 are October 30th through November 4th. Registration is coming soon.
To keep up with the latest Cannonball news be sure to check out their website and follow them on Facebook and Instagram.
**All photos were taken by Keans LLamera (keansllamera.com) and provided courtesy of Cannonball.