Gogo Bear Spotlight: Kxng Jayy
Party bears in the New York City and DC areas are likely to have seen Kxng Jayy flourishing on the gogo scene over the last two years which is why they have been chosen to be our next gogo bear spotlight performer!
Kxng Jayy is the stage persona of army veteran and rugby player Jamel Jones who tells me they are comfortable being referred to by both names in day-to-day life since Jamel, an Arabic name, can be hard to hear and difficult to pronounce for those that meet him in a club setting. The name Jamel also means handsome or beautiful in Arabic so Jamel quips that even if you just call him pretty, you'd be getting the name right! I mean, where's the lie, am I right bears? WOOF!
We sit down with the beautiful Kxng Jayy to get to know them a bit better. Check out our conversation below.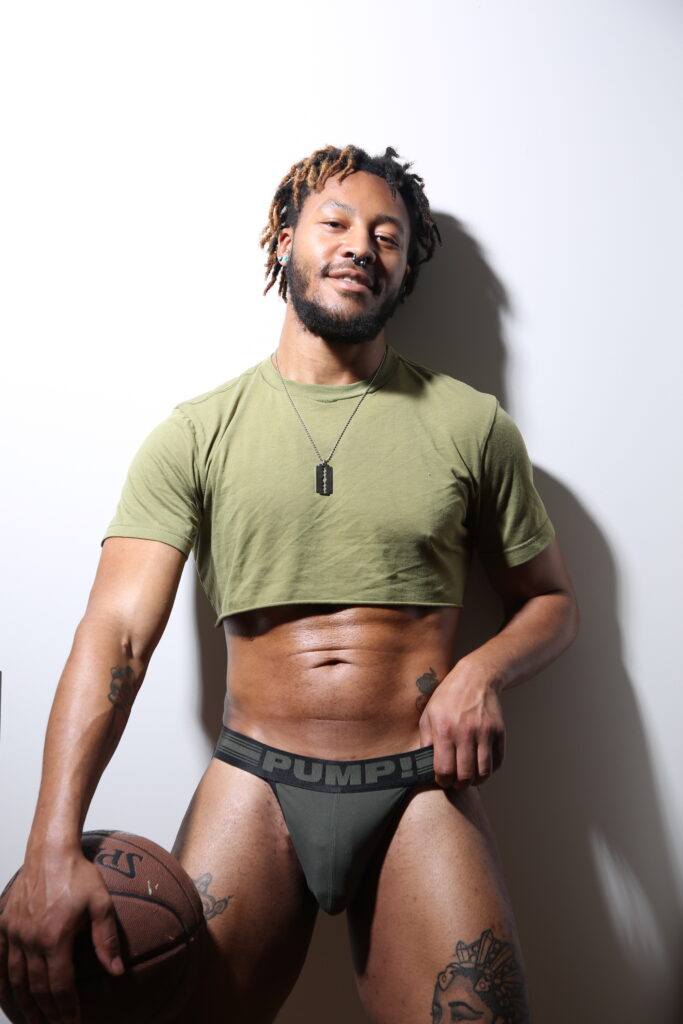 ---
BWM: When did you start gogo dancing and what got you into it?
Kxng Jayy: I started GoGo dancing back in August of 2021. What actually got me into it was being introduced to the drag scene when I moved to DC almost 5 years ago. It's where I first got to see queer performance spaces that anyone could be part of. Regardless of look, background, social status, etc, anybody who wanted to try it out and had enough courage to get on that stage was then inducted; even if briefly, into the community of nightlife entertainers. Ultimately, I wanted to be part of that in some way, and that's where I found dancing. Where I feel I really started to find my niche and establish who "Kxng Jayy" the performer is, has been in this last year of dancing at the BearMilk party in Brooklyn.
BWM: What is your dancing style? Do you have a signature move? Favorite music?
Kxng Jayy: I would say my dance style is very high-energy, very body-involved movements and tricks, very sensual in a way. I love to engage with the crowd and encourage people to let loose a bit more than before they stepped in the venue. Every time I hit the stage, I try to switch up my dance sets so it doesn't get repetitive, but you can expect lots of twerking, body rolls, and grinding on folks. I love too many genres to nail down a favorite, but I get especially pumped dancing to Reggaeton, Bachata, Afrobeats, Soca, Dancehall, and Hip-Hop/Rap.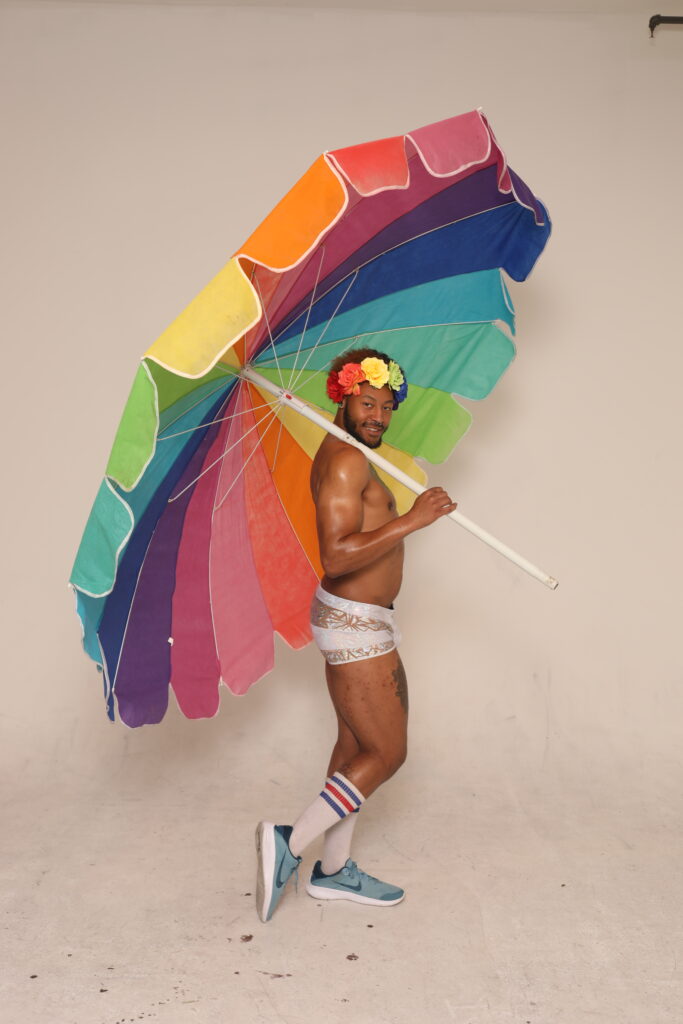 ---
BWM: Do you have a gogo persona? If so what is it? What look do you go for?
Kxng Jayy: As it's been described to me, the persona I give off when I'm at a gig is I'll "fulfill every desire and be your wildest fantasy". I can't possibly get to everyone in the venue in a single night, but I try to interact with as many people as I can and give them all their own show. I try to switch up my look often; buying pieces that I can cycle through multiple outfit combos, but my overall style is more streetwear, fetish gear, and whatever I think looks cute on me.
BWM: Can you tell us a memorable event from one of your gigs?
Kxng Jayy: One really fun memory I have is from the night I danced at the Heft Party, a Black/POC body-inclusive event hosted in Manhattan at the Parkside Lounge, and got to MC for a few minutes alongside my friend DJ Beargazer. It was a really cool experience getting to hype up the crowd and try my hand at a different part of the party-making that night.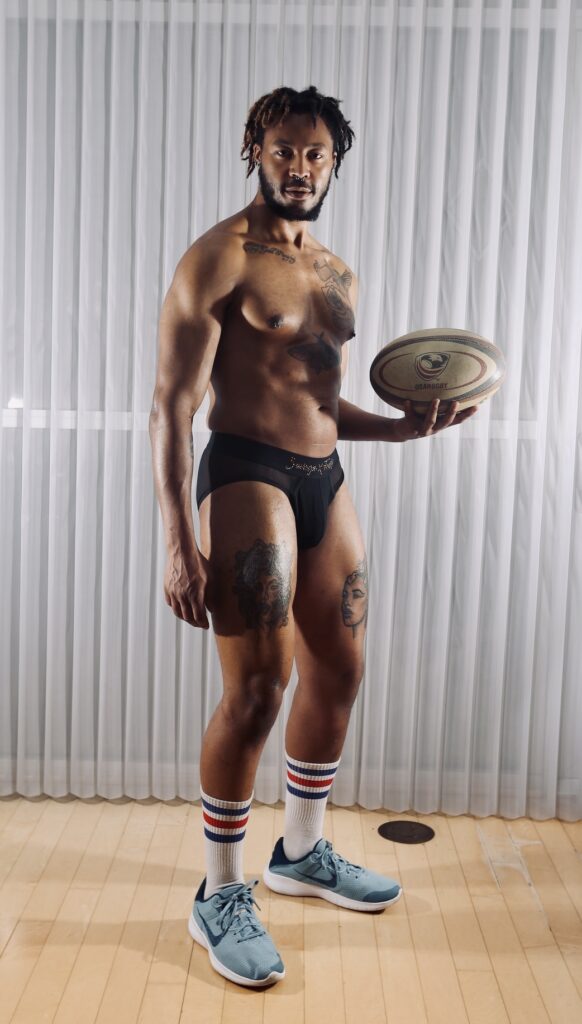 ---
BWM: Do you identify with the bear community? Where/ how did you find it?
Kxng Jayy: I've identified with the bear community since I was in high school; surfing the internet and discovering Tumblr, BiggerCity, and the like. I was a 5'8", 230 lb kid, still in the closet at the time, and it was my first-time seeing people that look like me and bigger be celebrated and desired for their bodies. Even into adulthood, whether I had the body of a 5'10", 280 lb cub with a belly or a 6'0", 190 lb rugby player, I've been continuously able to feel like I'm part of a community.
BWM: Why do you dance specifically at bear parties and events?
Kxng Jayy: I actually don't dance exclusively at bear events and parties. I also do live shows of nude modeling for different queer art events, pole dance at a strip club, etc. I always remember where home is; in that the community that's supported me since day 1 will always be a priority, but I want to grow as much as I can in this industry and doing that requires branching out and seeing what other spaces I can find myself in.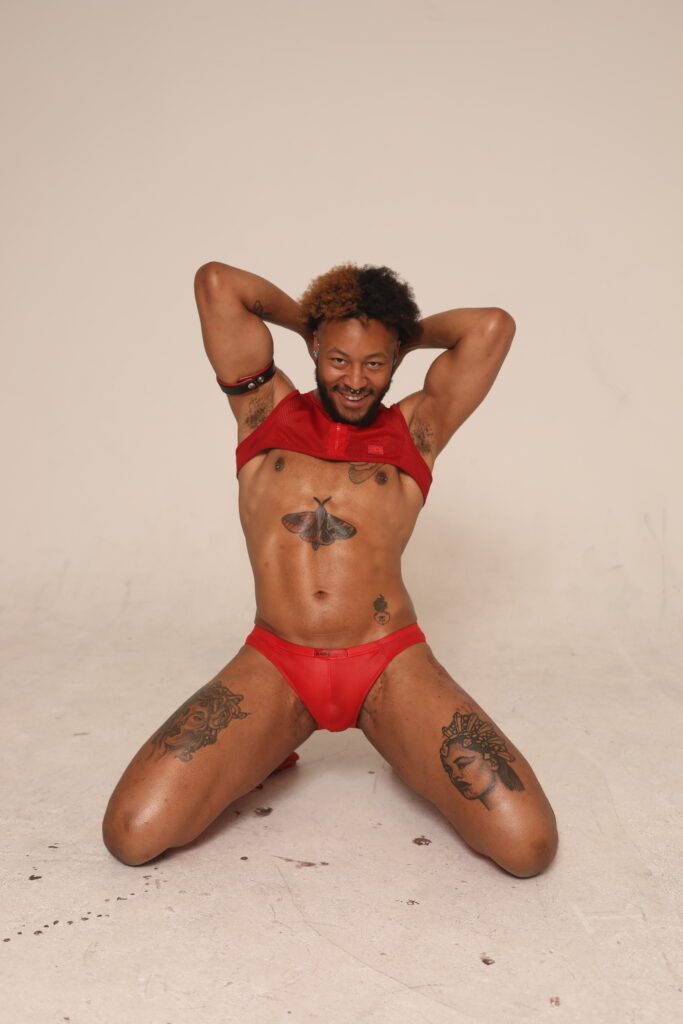 ---
BWM: Any upcoming gigs you want to plug or anything you want to mention that we haven't covered?
Kxng Jayy: For the month of October, you can catch me in Brooklyn, NY the weekend of 10/21 dancing at BearMilk, nominated by Bear World Magazine for Best Bear Club Night, hosted at The Deep End. BearMilk is a BIPOC centric, all-inclusive fetish and underwear party that promotes a body positive environment for everyone regardless of gender, orientation, shape, or race that hosts two monthly parties; with one event on the second to last Saturday of each month in Brooklyn, and the other on the first Wednesday of each month in Manhattan; titled Heavy Cream. Both of these parties are put on by bar owner and staple in the NY bear scene, JEM NYC.
The following weekend, 10/28 I'm scheduled to be down in Fort Lauderdale, FL dancing for the Cannonball 2023 event hosted at the Westin. Cannonball is an annual bear/chub/chaser event that falls the last weekend of October, put on by Sheldon Steven. It's an inclusive pool and dance party that hosts a number of queer vendors, merchants, and performing artists for a weekend of fun in the Florida sun. Catch me dancing poolside both Friday and Saturday 1PM – 5PM at their respective parties; 80s Kaftan and Sahara Gold.
BWM: Where can we find you on social media?
Kxng Jayy: I don't have a huge online presence as of now, so the only public social I can really be found on is my Instagram @kxng_jayy97, and an NSFW page on "X" aka Twitter; but I'll let y'all do a little digging to find that one!
---