BearWatch: Bobo Goodman the Visual Artist
Bobo Goodman (He/Him) is a visual artist based out of Columbus, Ohio. After one look over his work, you will find a wide variety of body positive content involving superheroes, romantic relationships, everyday bears and cubs and pups, and even some fetish content. Bobo's personality shines bright in his work through the colorful details he adds to each creation. The passion is evident in each piece of art he works on, whether it's a comic strip or a headshot of one of his friends.
"Who I am isn't all that special. I'm just a guy who is really lucky to have people in my life that have made me a better human being, have taught me how to love, and support my art. That's enough for me." – Bobo
I really admire his creativity and drive to create, and I adore his personality beyond the art too, making the art even more meaningful. Anyone who meets or chats with Bobo can agree, he's a total sweetie with a big heart for everyone. His inclusivity and body positivity in his art translates well beyond what he creates, proving that his passion for body positive content isn't just some cash grab or for attention. We deserve more representation in all forms of media, and Bobo is here to give you just that.
Check out some of his work below: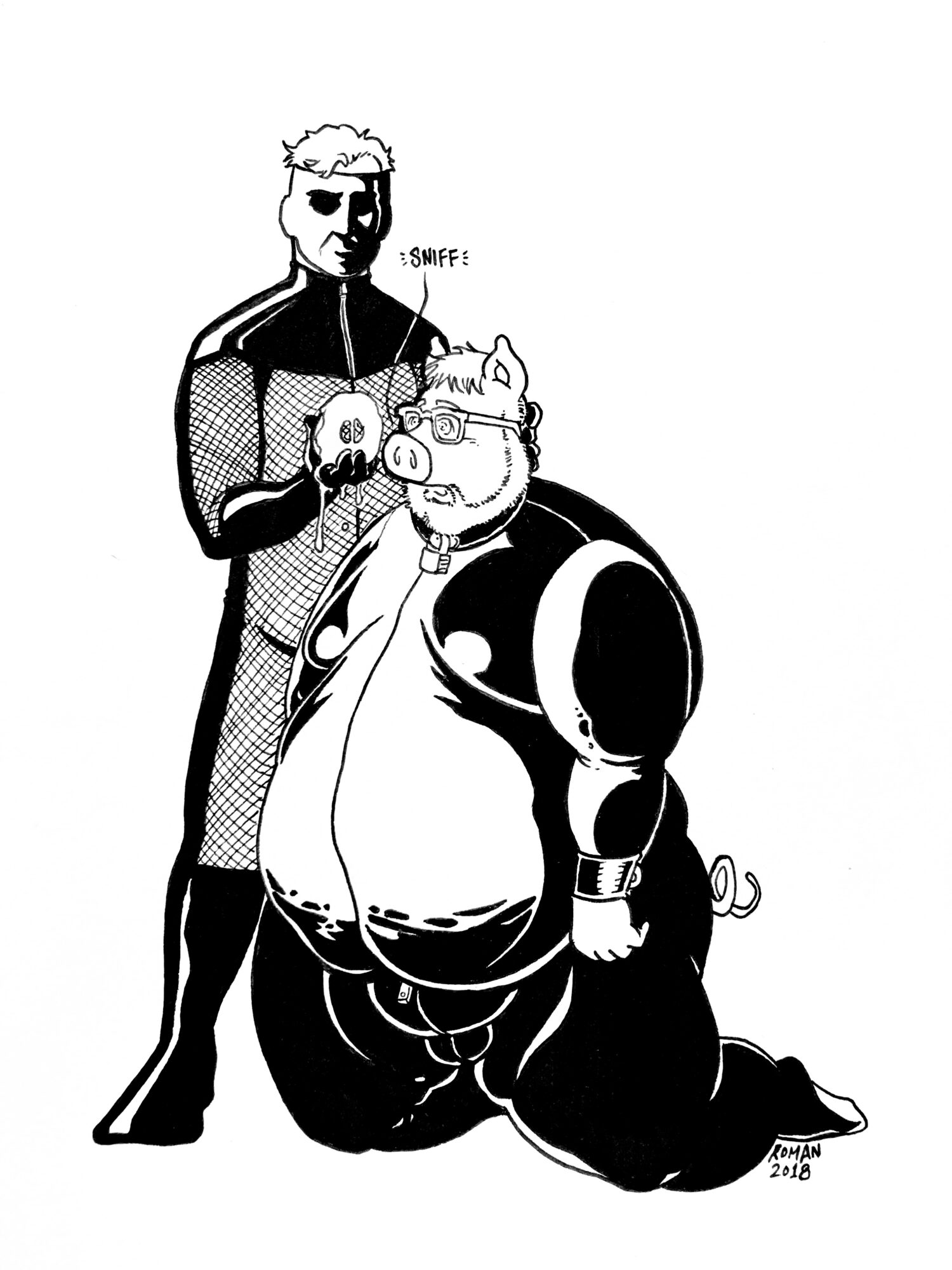 I also had the privilege of interviewing Bobo, check it out:
Bryce Quartz: How did you get started in visual arts?
Bobo Goodman: I began when I was a kid, around 11. I wanted to copy my older brother, whom I had wanted to get closer to, and he had used tracing paper to trace this Red Sonja comic cover. He used some markers to color it and I remember I was completely amazed. I wanted to be like my brother so I thought drawing would get me attention.
It didn't, of course, but drawing gave me something I desperately needed: an outlet for my creativity, imagination, horniness and budding chubby appreciator!
BQ: What are some of your main inspirations behind your artistic style?
BG: My art is a mixture of influences, from 90's creators like Todd McFarlane and Rob Liefeld, to independent creators like Dave Cooper, my artistic idol, Robert Crumb and Daniel Clowes. About the time I got into indie comics and read them with a voracious appetite, I also read some manga like Ranma 1/2, Battle Angel Alita and Lycanthrope Leo, which helped influence how I interpreted speed and movement in comics, along with having a sense of humor.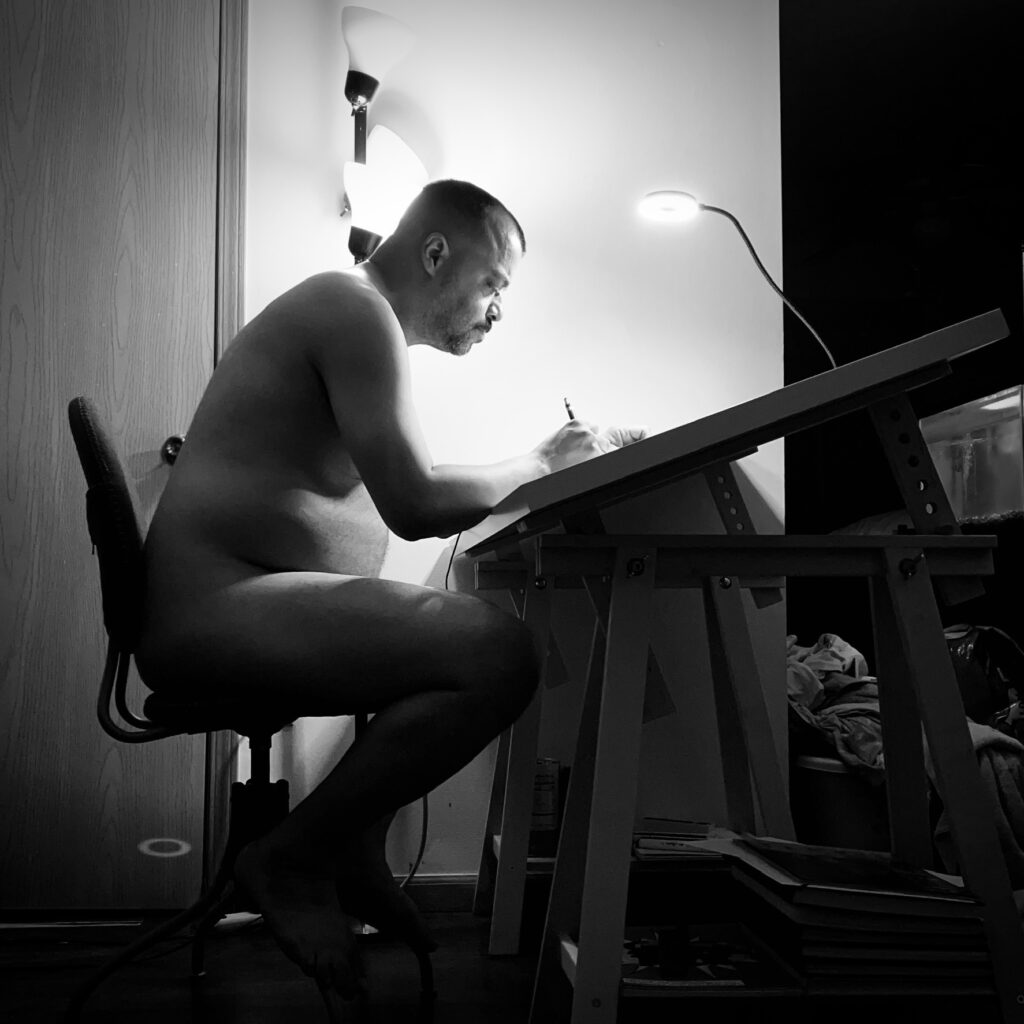 BQ: Is creating cathartic for you at times?
BG: Yeah. Most of my webcomics are about me and my life. How i deal with things. The pain of having my own mental issues, trauma and troubled issues was always something throughout my stuff from Kid Zero the A.D.D. Hero to Love & Zombies. People have enjoyed my stuff a bunch, even if it can be chaotic and weird, because it has relatable stuff that they can understand.
BQ: If you could speak to your younger self, what motivating advice would you give him?
BG: Kid, stop taking yourself so seriously. Stop trying to be things you aren't. You draw cute shit. Embrace it. There's nothing wrong with it. Be proud of the smut you draw. People need smut in their lives, and you draw damn good. Work on your backgrounds… and stop being so scared to try things. Failing isn't the worst thing in the world.
BQ: What are some of your favorite pieces that you have drawn since you began?
BG: Gosh… okay, there's my big comic tribute piece that had Marvel and DC characters, my New Mutants one page love letter to the super team that helped me growing up, my gainer comics with Bobo and Rami, my Love & Zombies comic was pretty awesome…honestly, it changes a lot.
BQ: How can we support your work currently?
BG: Follow my twitter, @bobogoodman1975 where I post all my arts. I'm trying to do more regular work and am also working towards making some t-shirts for big bears and cubs and such using my artwork. My dream is to make a zine or something with a bunch of other Bear/chub artists or an anthology or something. Anyway… thanks for listening to me ramble. Lol.
BQ: Thank you for taking the time to answer those questions for us, Bobo!
Be sure to follow him on Twitter and be on the lookout for his work!
Instagram Twitter