Bear World Magazine's Digital Bear Weekend returns for round two!
Mark your calendars, because Bear World Magazine's Digital Bear Weekend is back for a second round July 24-26th, and it promises to be even more awesome than the first!
Over 8,000 bears came together in May for the very first Digital Bear Weekend, and now the July edition is ready to welcome even more.
Across the weekend, here at Bear World Magazine, we're giving you short films, cooking demos and even some BEARlesque! We've also got workshops, another Bear City watchalong and a new Saturday evening show — The Bear World House Party, live on Twitch!
The Bear World House Party features a stellar line up of LGBTQ performers who have come together to create a three hour extravaganza live in your living room! Hosted by Big Dipper and finishing with a DJ set from Mateo Segade, this epic show will be broadcast live on Twitch which is available on smart TVs and streaming devices so you can watch it from the comfort of your sofa!
Viewers of the show are encouraged to pay $10 into the pot, with 50% being split between all the performers and 50% being split between two amazing charities, Colours of Youth in the UK and For The Gworls in the US.
Colours Youth Network in the UK which supports young Black and people of colour who are lesbian, gay, bisexual, trans, queer, intersex to explore and celebrate who they are through meaningful connections to other young people and a team of experienced youth workers.
For the Gworls is a US based fund that puts money directly in the hands of black trans folks who need money for healthcare, travel, gender affirming surgeries, rent and other life expenses.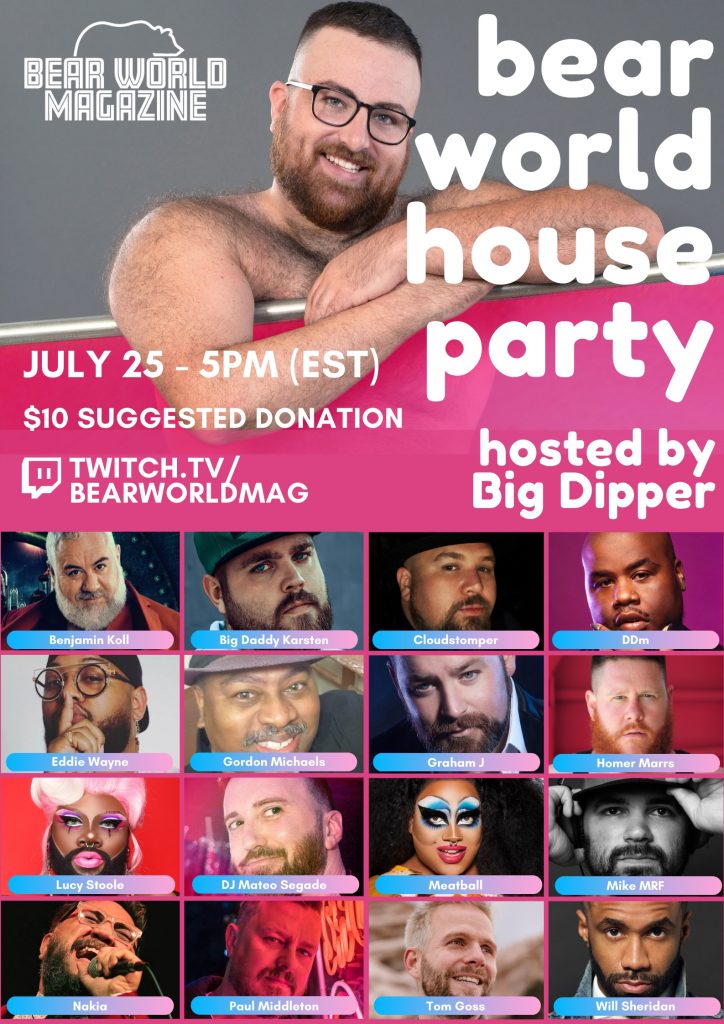 Friday sees the return of the Beers & Bears launch party, hosted by Shane Tate, featuring some very hot go-go bears! Tune into bearworldmag.com/digitalbearjuly to watch Shane's DJ set.
Saturday kicks off with some tasty culinary inspiration for the weekend with Chef Jonathan Bardzik leading a cooking demo at 11.30am, and reigning World Cub 2019 Christopher Gonzalez has a Bear Yoga workshop being held at noon.
At 3pm watch some hilarious content from the awesome web series Skeleton Crew here on Bear World Magazine! Then, at 4pm, catch Matt Knife on Bear World Magazine with some sexy Bearlesque to get you warmed up and ready for the Bear World House Party, which starts at 5pm over on Twitch.
Sunday starts at 2pm with a screening of the amazing short horror film 'Innocent Boy', followed by Master Joshua leading a workshop on consent and negotiations.
Then, at 4pm, the Bears from BearCity are back back back again with a watchalong of BearCity 2! Yes, gather your friends and watch the free stream on YouTube, where you'll be joined in the chat by the cast and creatives from the hilarious sequel!
Alongside the videos, there will be a range of fun things to read on the Digital Bear Weekend website, and a selection of bear products to buy in our virtual bear market.
Robin Gray, Editor of Bear World Magazine, said: "We were so humbled with how many people showed up to our first Digital Bear Weekend in May. Seeing that many people turn out online was so exciting and inspiring. We have listened to the feedback we received and have worked to condense the weekend into more focussed chunks of time to make it accessible to our global audience without losing the quality we achieved. We have also super charged the weekend with the addition of our Bear World House Party which promises to be a three-hour powerhouse of a show and I am so excited for you all to see that!"
Digital Bear Weekend is sponsored once again by W | Bear and BearCity. A big, beary thank you to them for helping to make this weekend happen!
To keep up with the latest news about the Digital Bear Weekend, keep following the news on Bear World Magazine and across Instagram, Twitter and Facebook.