2023 Hyundai Santa Fe: The Road-Trip Car for Bears!
Climb inside, boys, and enjoy all that the 2023 Hyundai Santa Fe has to offer, namely space for you to be all the man that you are.
When it comes to Bears, having room to breathe and undo your pants (so you can breathe) is essential. And there's no need to go all cramped and pinched when traveling across town or cross-county in the 2023 Santa Fe. Let it rip, fellas. And enjoy the ride.
U.S News and World Report has named the 2023 Santa Fe a winner of its Best 2-Row SUV for the Money. (The Hyundai Palisade, its larger twin brother which I reviewed in January, was also named a winner.) Kelley Blue Book, or KBB, felt it was a big winner as well. 
Prices start at $28,750 US, and while you won't win any races with this car, you certainly won't lose your mind over the drive either. The interior materials, which have been updated this year, are of a nice quality, nothing to make you feel like you are going to work hard or work out.  You can go all bougie if you like, as leather, faux leather, faux suede, and ambient lighting are available on upper trims.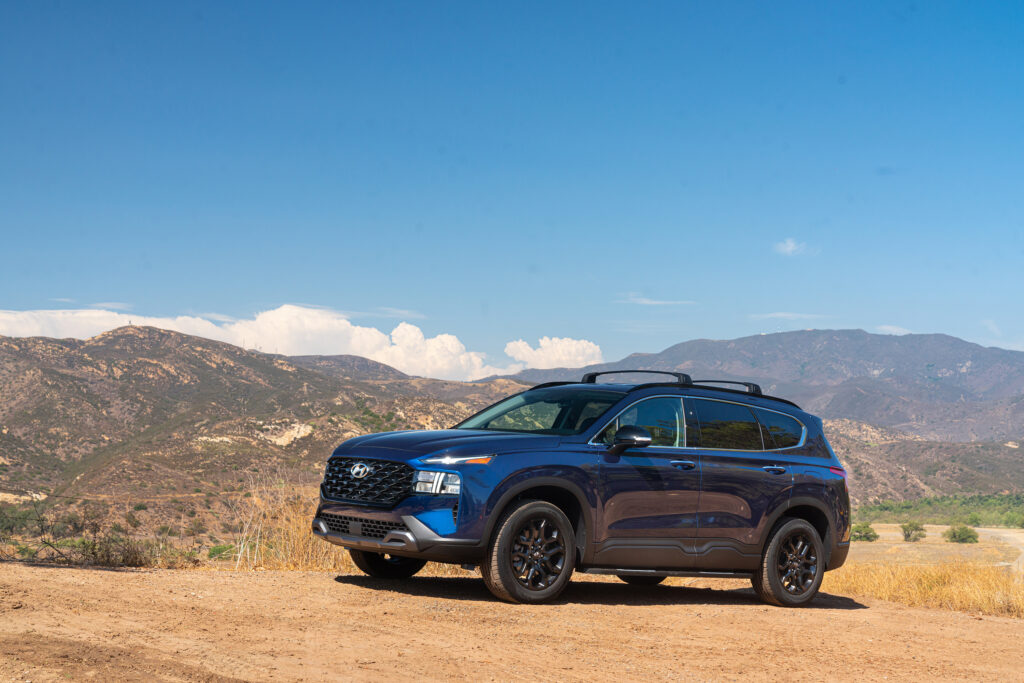 The Santa Fe is looking less utilitarian these days. The grille is new (as seen here on the midrange XRT trim), and it seems like its stance is wider, but I could be projecting. You will definitely feel protected in the Santa Fe; it is a bit like a tank at times, but I see that as a good thing.
Cargo room is just over 36 cubic feet with the rear seats up and just over 71 cubic feet when the rear seats are down. That's plenty of room for snacks. And moving….
And for those of you with children, lots of full-time BBFFs (Best Bear Friends Forever), parents or even dogs the size of humans who think they are human…. The 2023 Santa Fe should work well for you. Just know that you should keep it pretty and clean, because just like Bears, the Santa Fe is happier when its shiny and clean.
I tested the top-tier Calligraphy 2.5T trim.  Talk about bougie. In addition to leather and ambient lighting, you get All-Wheel Drive, 20-inch wheels, power folding mirrors (great for when you are trying to navigate tight spaces – at slow speeds) and some exterior touches that truly make the Santa Fe pop. And there are plenty of other nice touches, like the Automated Parking System, for those of you who are terrible at parallel parking (like I am).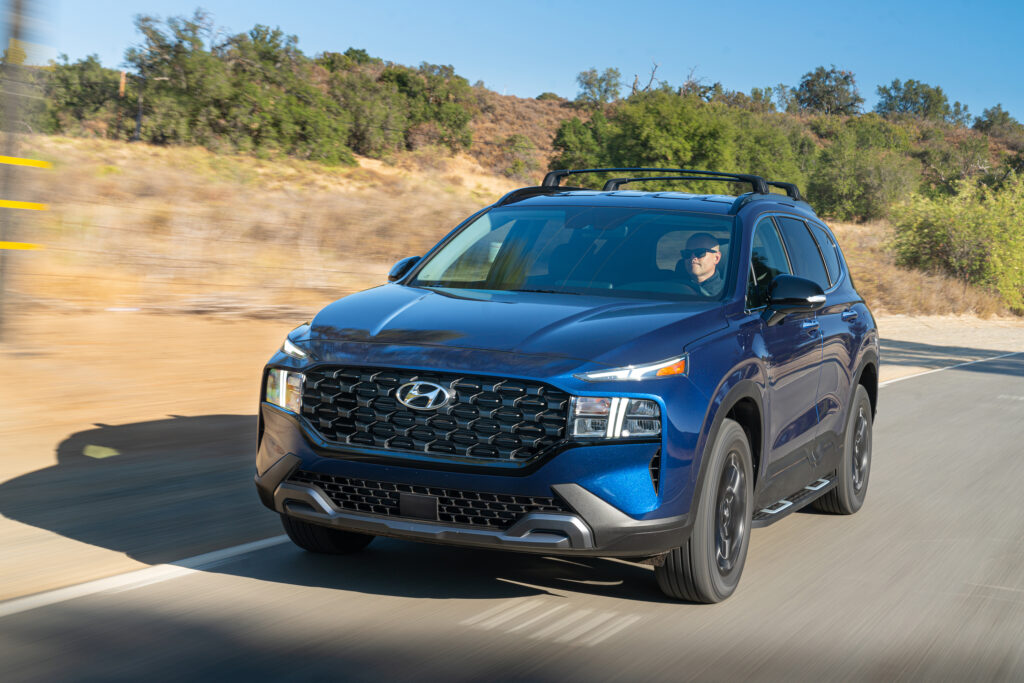 For comparison, you may want to checkout the Hyundai Tucson, the Santa Fe's baby brother. The Tucson is a compact SUV, but in many ways has similar cargo space and front passenger space as the Santa Fe. It's a little less expensive and the mileage is better, but for us big boys, those rear seats on compact cars can get crowded. Pus, you can get an optional turbo with your Santa Fe.
I always like a car where I can sit in it and breathe….and relax, and well, yes, expand as necessary.
Hey, if you can't expand in your own private vehicle, where can you expand (safely)?