Zachary Quinto stars in Boys on Film: Dangerous to Know
The Boys on Film series from Peccadillo Pictures has a reputation for showcasing top notch queer cinema that illuminates the gay experience from fresh and exciting perspectives.
Boys on Film 23: Dangerous to Know continues that fine tradition with a collection of ten short films from around the world, where the dangerous allure of a risky attraction yields emotional results – proving that the age-old adage of taking the plunge is as relevant – and sexy – as ever before.
The Boys on Film series takes on a different theme with each volume. Last year's 'Love to Love You' collection explored many different kinds of love – unrequited love, love at first sight, forbidden love, you get the picture. This year's theme of 'Dangerous to Know', taps into that primal attraction we feel towards others, whether or not it's the right thing to do or act on. Oh, and did we mention it features one of our favorite scruffy heartthrobs, Zachary Quinto, as the lead in the sexy thriller Chaperone? Well, now you know.
Here is a brief rundown of all the films in the collection and be sure to check out the trailer below!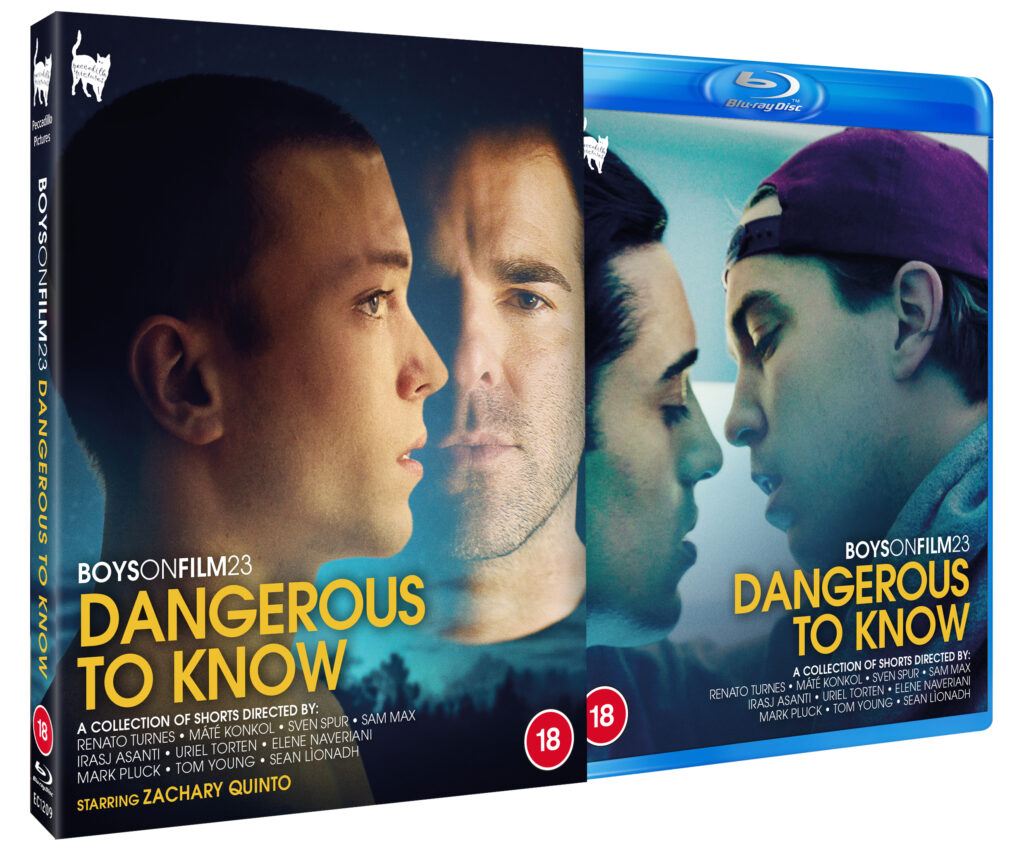 MY UNCLE'S FRIEND (Brazil, 9 mins) Dir. Renato Turnes
As a man reflects on his childhood through old recordings from his father's camcorder, he fondly remembers one person in particular.
BUDAPEST CLOSED CITY (Hungary, 13 mins) Dir. Máté Konkol
Hungarian teenager Péter takes his British friend, Adam, on a personal but political tour around his hometown of Budapest.
EDEN (Belgium, 17 mins) Dir. Sven Spur
A restless young man in search of a connection roams the pulsating gay hotspots of a metropolis brimming with shadows and bodies.
CHAPERONE (USA, 16 mins) Dir. Sam Max
An unnamed figure picks up a young man in his car. Driving to a secluded house, the details of their arrangement become frighteningly apparent. Starring Zachary Quinto.
BREAK ME (Norway, 15 mins) Dir. Israsj Asanti
A young Muslim cage fighter must choose between his head and his heart after his father discovers the truth about him.
BY HIS WILL (Israel, 16 mins) Dir. Uriel Torten
Young teen Elisha, dealing with his attraction to men, is torn between two worlds: the religious, from which he comes, and the secular.
RED ANTS BITE (Georgia, 23 mins) Dir. Elene Naveriani
Two men navigate the city of Tbilisi after a long night out. As day breaks, the true colours of their ambiguous relationship begin to show.
HORNBEAM (UK, 17 mins) Dir. Mark Pluck
Under cover of darkness, two strangers form an intimate bond over a shared secret. But how well do they really know each other?
JIM (UK, 15 mins) Dir. Tom Young
London, 1982. Father Jim Fitzsimmons waits nervously in the dark across the street from a line of rent boys. Among them, Simon stands out.
TOO ROUGH (UK, 15 mins) Dir. Sean Lìonadh
After a night of intoxication, Nick wakes up next to his boyfriend Charlie and must conceal him from his dysfunctional family.
Boys on Film 23: Dangerous to Know will debut on Blu-Ray, DVD and On Demand on PeccadilloPOD.com, and most UK VOD platforms including BFI Player, Amazon Prime, Apple TV, Google Play and Amazon USA.