Who's That Bear?… David Harbour
With the 2016 release of Netflix's 80's themed Sci-Fi thriller Stranger Things, actor David Harbour, who has been in the acting business for over 20 years, became a household name. However, it was with the release of the second season of the hit show, and the noticeable weight gain of his character, Jim Hopper, that viewers' attention shifted a little bit more toward his now famous "dad bod". In fact, Harbour has been seen as one of the main influences behind the "resurgence of the dad bod".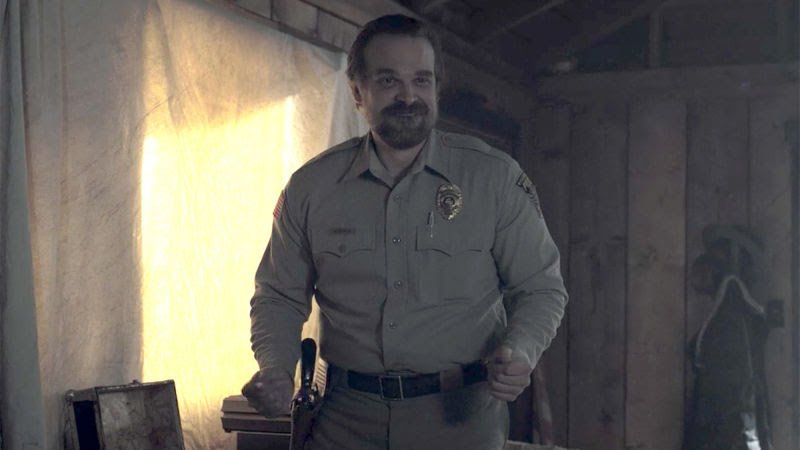 Recent studies have shown that the dad bod is now considered more attractive than muscular bodies, and over 65% of the people surveyed say that they would rather have a guy with a belly than rock hard abs. The most hilarious thing about the dad bod now being considered a new trend is that, as far as the gay bear community is concerned, chunkier bodies have always been en vogue.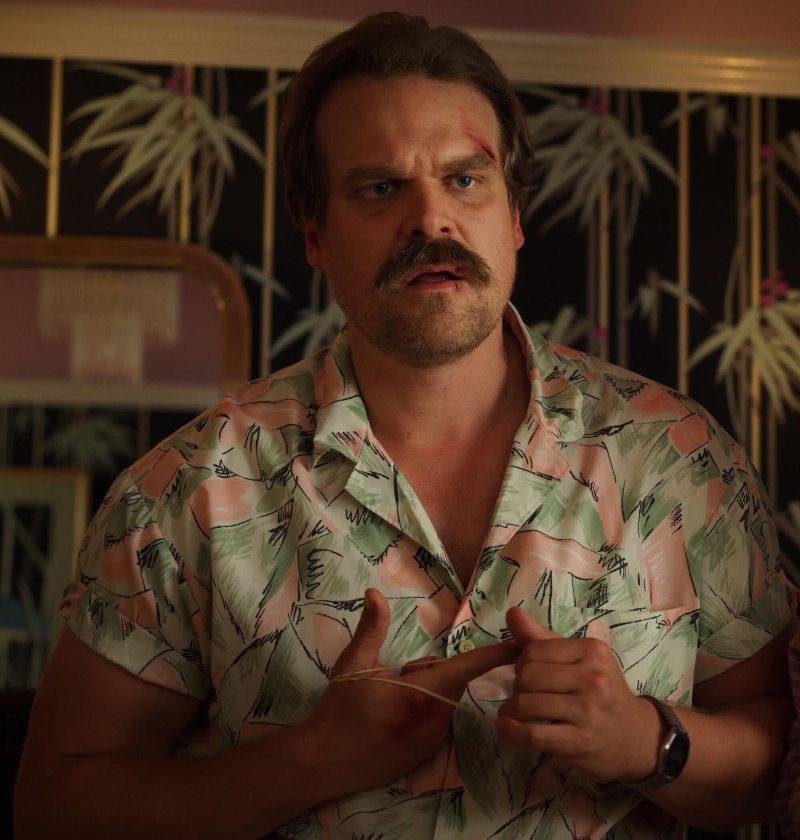 In Stranger Things, David Harbour plays Police Chief Jim Hopper – a tough guy with a soft heart, who ends up becoming an adoptive father to Eleven – the mysterious girl with extraordinary abilities. During the shooting of season 2, Harbour snapped a cheeky butt selfie, while giving a wink and wearing his form-fitting sheriff costume, and then uploaded it to social media. Yes it was a thirst trap, and yes we loved it. The internet and the hearts of many bears around the world has never been the same again.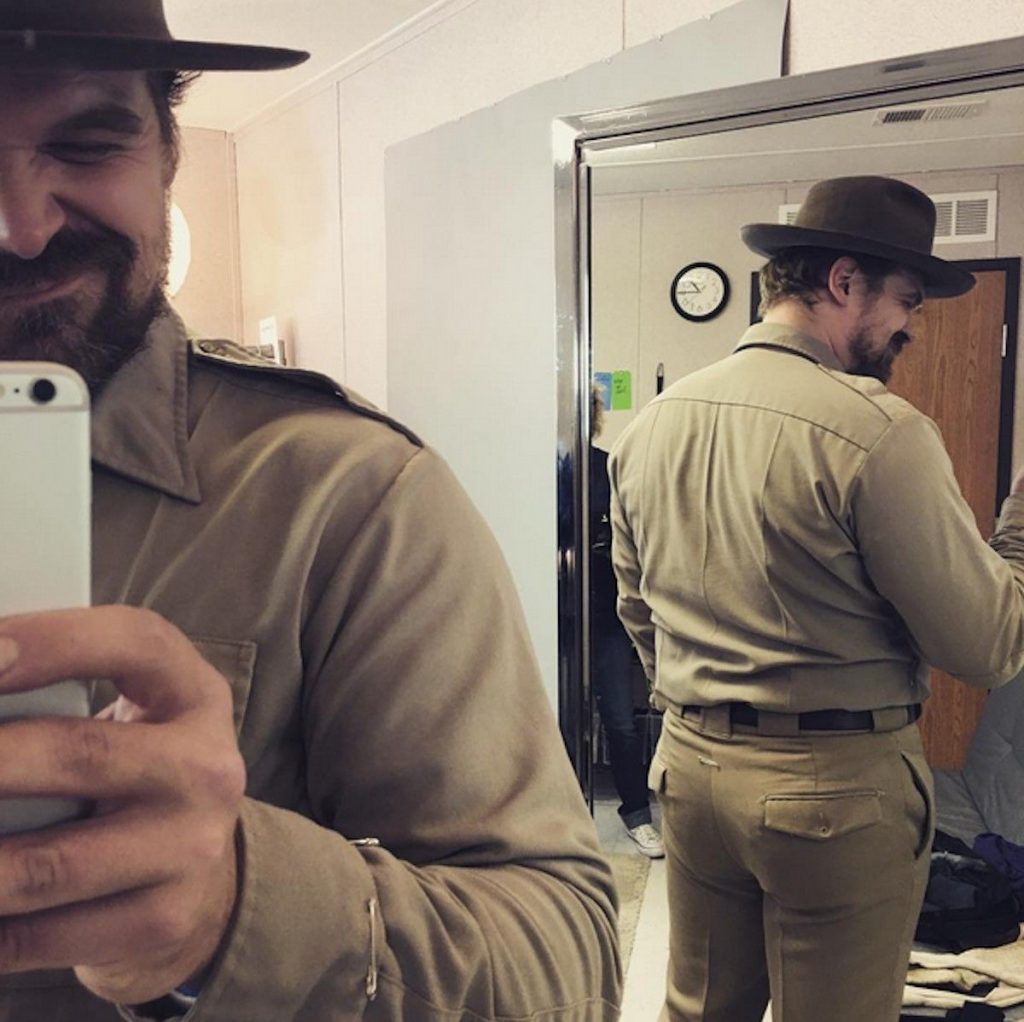 When it was announced that Harbour would begin filming the 2019 reboot of Hellboy in the title role, there was a collective sadness that washed over his many thirsters and Stranger Things fans. Obviously Harbour would have to lose weight and gain muscle to play the superhero demon, but no one wanted him to lose his belly or his chunky buns. However, in a December 2017 interview with Variety, Harbour announced that he was done filming Hellboy, and promised that the dad bod would indeed be back. "I've already started the donut training. Six donuts a day! We'll get there folks".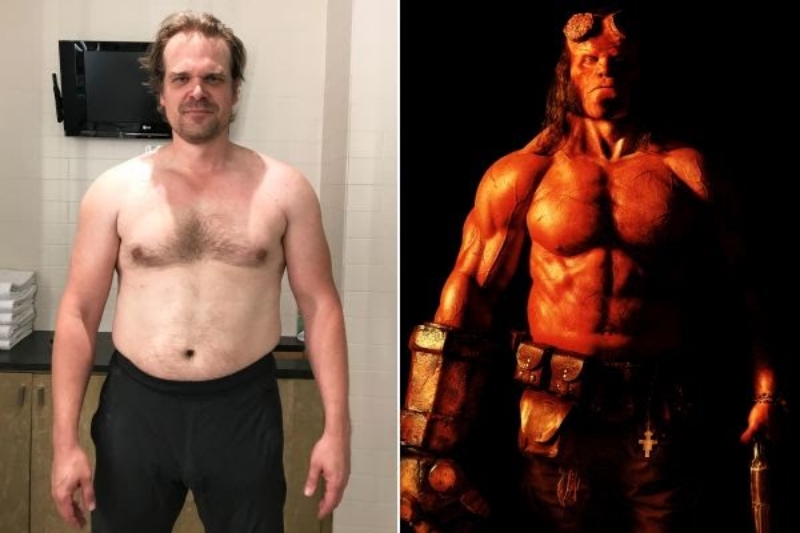 And if season 3 of Stranger Things proved anything to us, it was that donuts definitely do a body good. Not only did Hopper Bear come back, but he came back even chunkier than he was before, and there seemed to be several "coming out of the shower in a towel" scenes added in for our viewing pleasure. And if that wasn't enough, he also came back rocking a 1980's Tom Selleck/Magnum, P.I. inspired mustache. Bears around the world took to social media to express their adulation. Some wept tears of joy. Others fainted. There was also a meme created featuring a picture of a shirtless Harbour next to a woman with a waterfall that appeared to be gushing from between her legs. The thirst was obviously real.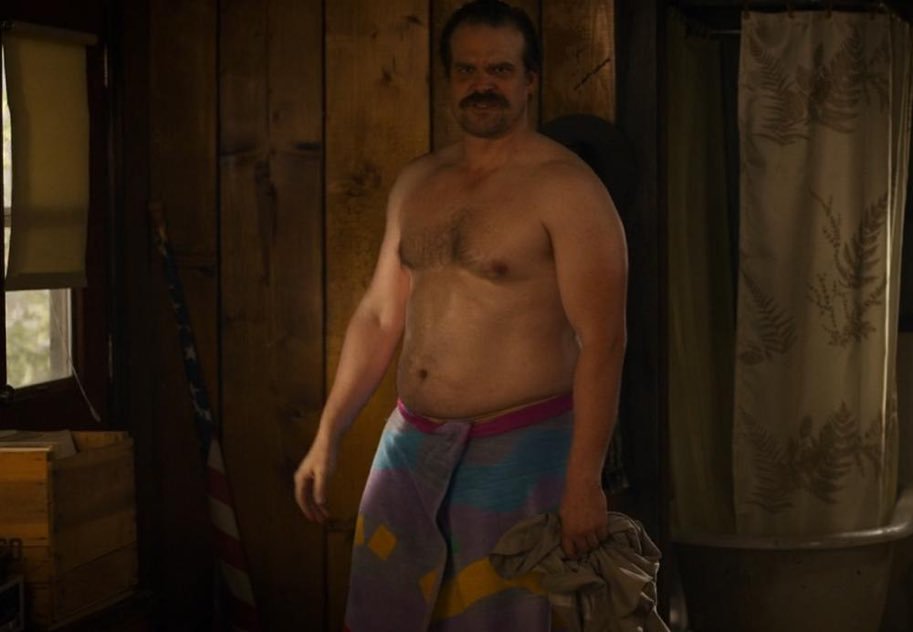 Harbour is very aware of the attention his body has received, thus very well involved in the large body movement. He has been interviewed by various publications where he has made it publicly known that he loves his chubby bear bod, and he thinks it's time for more big guys and big girls to play the hero. "I love the idea of real bodies on television. And I love the idea of making real people beautiful and loved", Harbour says, in a November 2018 interview with People.
"I want people to feel good in their bodies. Like, I'm sick of twigs on both ends of the spectrum, men and women. I'm totally tired of twigs. I want people to love their bodies. Look, I don't want you to be unhealthy. I want you to take care of yourself, take care of your heart. We don't want you to be obese. But these impossible standards that Hollywood sets — I don't find those people sexy anymore." 
Although it helps that Harbour is a total hunk of a bear, it shouldn't go without saying that he seems like a very friendly guy and a total advocate for social and political justice. In a fiery and compassionate Screen Actors Guild Award acceptance speech delivered on behalf of the cast as they accepted their award for Best Ensemble in A Drama Series, Harbour proclaims, "Now, as we act in the continuing narrative of Stranger Things, we 1983 Mid-westerners will repel bullies. We will shelter freaks and outcasts, those who have no home. We will get past the lies. We will hunt monsters. And when we are lost amidst the hypocrisy and the casual violence of certain individuals and institutions, we will, as per Chief Jim Hopper, 'punch some people in the face' when they seek to destroy the weak, the disenfranchised, and the marginalized. And we will do it all with soul, with heart, and with joy. We thank you for this responsibility."
Chief Hopper, we salute you!