What's Better for the Traveling Bear: TSA Precheck or Clear?
With the travel industry booming and bear runs returning to full capacity, there are going to be a lot of bears flying the friendly skies in the coming months. Now, we all know flying can be difficult for bears for many reasons, but today we are going to focus on what can reduce our wait times at airport security. And for US travelers there are two main options for that: TSA Precheck and Clear. Let's take a look at the differences.
If you're a frequent flyer in the United States, you've probably heard other travelers talking about both the TSA PreCheck membership program and the Clear membership program. If you haven't heard about them, you've definitely noticed the two fast-track airport security lines if you've been to the airport lately.
So, what's the difference between TSA PreCheck and Clear, and which one should you get? The main difference is that TSA PreCheck speeds up the physical screening process, while Clear expedites the document and identity screening process. The other big difference is that PreCheck is backed by the government and Clear is owned by a private company. 
However, when choosing which program to sign up for (if not both), many people will consider that TSA PreCheck membership only costs $85 for five years, while Clear membership costs $189 a year. This doesn't mean that PreCheck is automatically the best option, however. There are pros and cons to each program. 

Benefits of TSA PreCheck and Clear
TSA PreCheck is a Trusted Traveler Program administered by the U.S. Department of Homeland Security's Transportation Security Administration (TSA). It's available at over 200 domestic airports and 81 airlines. With TSA PreCheck, you'll be able to move through the security line swiftly without the hassle of taking off your shoes, belt, or light jacket. You also don't have to remove laptops and TSA-approved liquids and gels from your carry-on.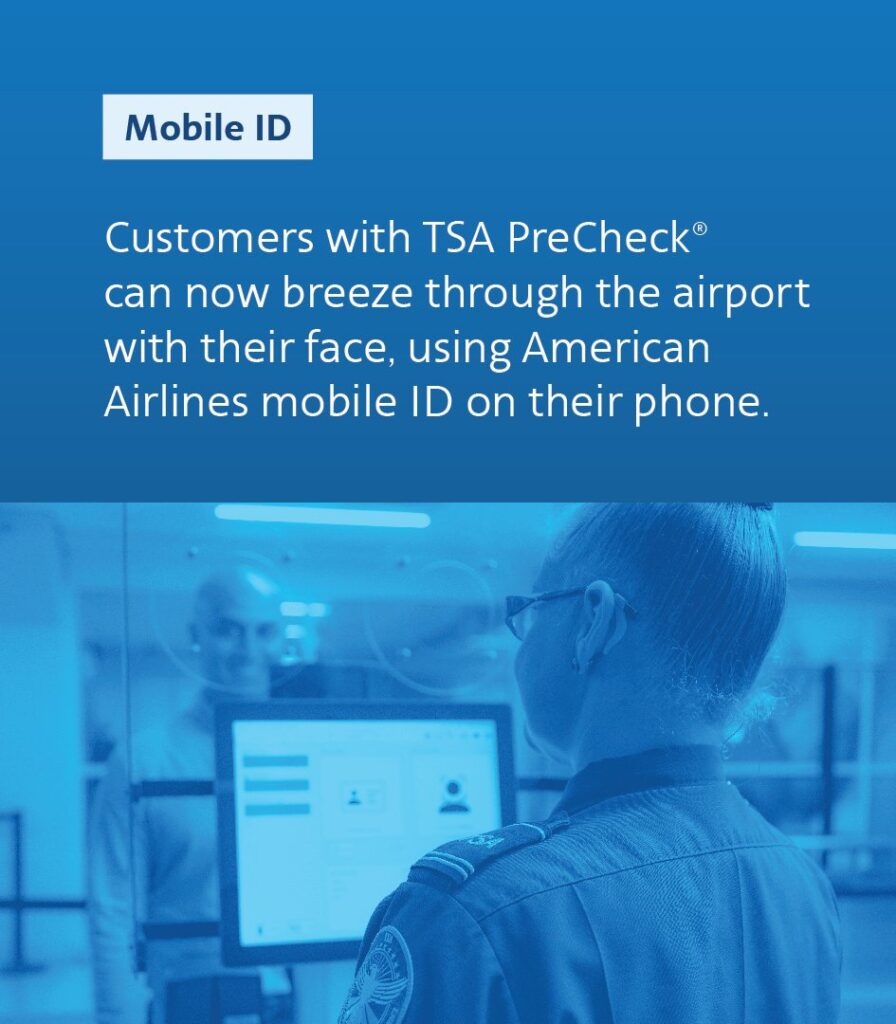 Whereas, Clear is a registered traveler program that allows its members to quickly verify their identities at touchless, biometric security kiosks. A private company that has been Safety Act certified by the Department of Homeland Security, Clear has kiosks available at over 50 airports, stadiums, and arenas across the U.S.
Clear passengers can use the Clear fast lane to speed up the first half of the airport security process instead of waiting in line for a TSA representative to check their boarding pass and photo ID. After you've verified your identity, a Clear employee will take you to complete the physical/luggage scanning process. Afterward, if you also have TSA PreCheck, you'll be taken to the PreCheck line. If not, you'll use the regular TSA Security check line. 
Along with your Clear membership, you also get two free plans through the Clear app – a Sports and Events pass that helps shorten the time it takes to enter sports venues and a Health Pass that allows you to automatically share both your COVID-19 vaccination status and any other recent test results with an airport or venue.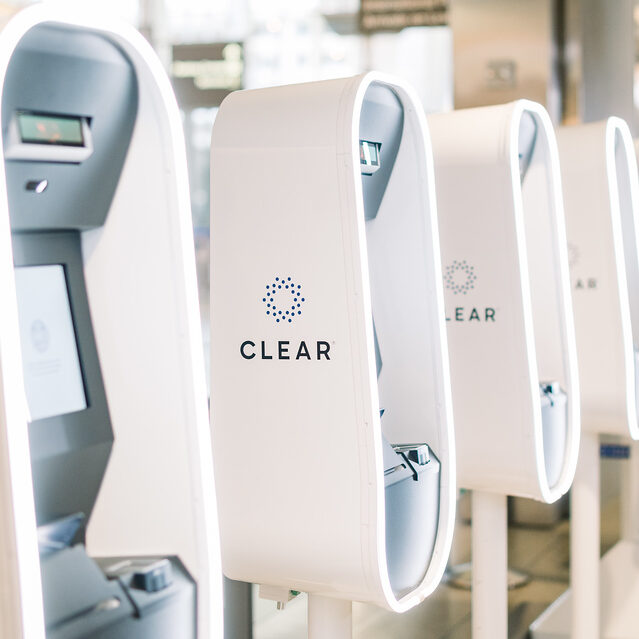 Application Process and Cost
TSA PreCheck
Since it's government-owned, the ability to apply for TSA PreCheck is available to all U.S. citizens and permanent U.S. residents. The online application is really short, taking only about 5 minutes to complete. After you've completed the online application, you then schedule an appointment at a TSA PreCheck enrollment center where you'll receive a background check and go through a fingerprinting process. If all goes well, you'll receive a Known Traveler Number (KTN) that you can enter whenever you book a flight.
As mentioned before, the cost is $85 for five years, with online renewals only costing $70. Also, if you're a member of any travel-related credit cards or loyalty programs, they may offer credits for TSA PreCheck application costs.

Clear
If you are a U.S. citizen or legal permanent resident over the age of 18, then you are eligible to apply for Clear online. The Clear application process is actually very similar to the TSA PreCheck application process. The biggest difference is that you will not need to make an appointment before visiting a Clear location. You will need to bring a photo ID that matches the name on the application, and, of course, be prepared for them to scan your biometric information.
Clear costs $189 per year, or $15.75 per month, so it's more expensive than TSA PreCheck. Clear credits are also much less commonly seen at many airports, while TSA PreCheck and Global Entry credits are seen more often, making TSA PreCheck credits less of a hassle. One added benefit of applying for Clear, however, is that members of Delta SkyMiles and United MileagePlus are eligible for discounted or free Clear memberships. Also, American Express card owners are given credits to help cover the cost of a Clear application and membership.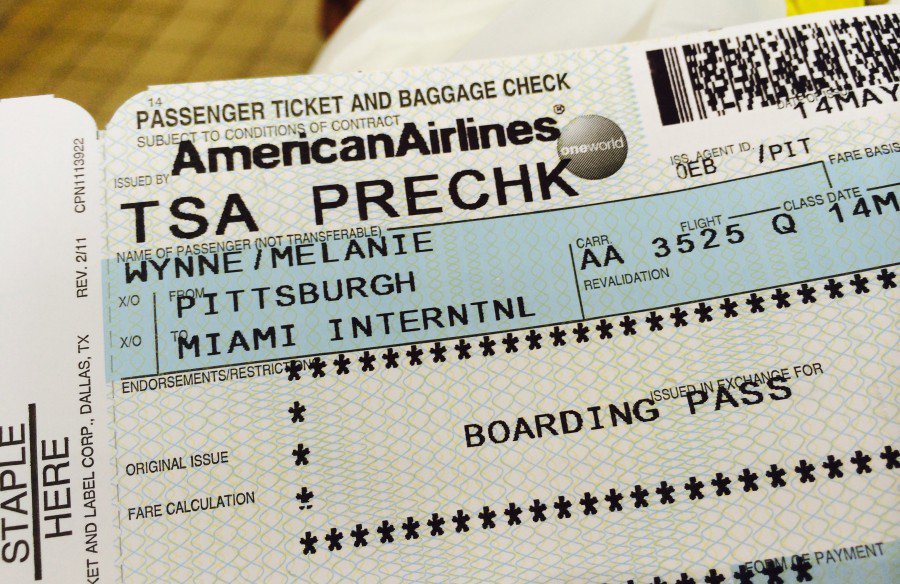 Choosing One or Both?
Many assume having a TSA PreCheck is more financially beneficial than having a Clear membership because it is less expensive and membership lasts longer. Plus, TSA PreCheck is available at more airport locations, it's more commonly seen at airports, and many travel credit cards offer a statement credit that covers the cost of a TSA PreCheck application.
However, the ability to use Clear's free Health Pass to quickly share your COVID-19 vaccination and test statuses with airports, sports arenas, and concert venues is a huge advantage of having a Clear membership. If you plan to travel or attend certain events in the future, adding the Clear Health Pass to your phone could definitely save a lot of hassle.
Some other advantages of choosing Clear over TSA PreCheck include the fact that, while not all airlines allow you to use your TSA PreCheck membership to get through security, a Clear membership works no matter what airline you fly. Also, TSA PreCheck doesn't stop you from being randomly selected for traditional airport screening, at which point you will not be able to use the TSA PreCheck security line. However, Clear passengers will always have access to the dedicated Clear lane at security.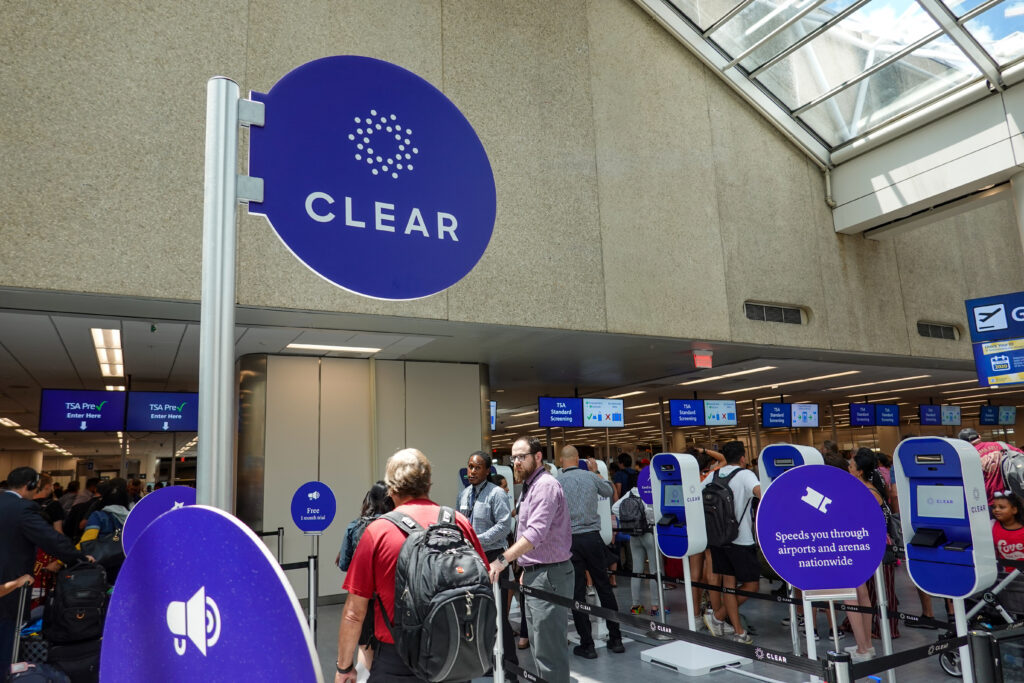 There are many advantages to having both, and many benefits that one offers that the other doesn't. So, here's a crazy thought: Why not consider both, if you can afford them? The bottom line is that the biggest advantage is this: Both programs work together to make it easier to get through airport security. You can use Clear to speed up your travel document screening process, then use TSA PreCheck to shorten your time in the security screening line, keep your laptop and liquids in your bag, and walk through security with your shoes on.
If you can only afford one, TSA PreCheck might be your better option. It's less expensive and currently available at more locations than Clear. However, if you're a frequent traveler who also attends lots of sporting events, concerts, etc., then consider that Clear provides access to quick security lines at stadiums and arenas as well as airports, and it will never put you through the hassle of being randomly selected for a security screening.
This article originally appeared on our sister site Vacationer.