Try Jonathan Bardzik's Sirloin, Asparagus Portobellos with Béarnaise at your cookout!
Having a cookout this summer? Well since we're all Bears, my guess is YES, you will be. In that case, how about you try this very tasty and unique sirloin steak recipe from one of our favorite chefs, Jonathan Bardzik?!
---
It's sad but true. Men left on their own, without the aid of a woman, are doomed to a life of helpless bachelorhood. Socks go un-darned, baseboards un-dusted and, worst of all, the kitchen unused. Just watch any man in a frozen dinner ad, and you'll witness some sad sack in a flannel shirt rescued from starvation by a reheatable foil pan of food. Something with a brown sauce.
With the exception of my brother, who reheats frozen dinners just to spite me, the reality is that I see more and more men discovering the joys of their kitchen. Heck, I see more women discovering the joys of their kitchen. Unfettered from expectations that they will put three solids a day on the table, people are finding cooking liberating, a creative outlet with a great sense of accomplishment. I've got to believe that mothers everywhere bite their lips and offer encouragement, hoping that laundry might be the next household joy frontier.
Recently, feeling particularly manly, I busted out a bunch of asparagus. No delicate sauces, runny poached eggs or sharp, hand-whisked vinaigrettes for me, I was making a stick-to your-ribs, hearty meal. With sautéed steak tips putting the red in my meat.
I wanted something earthy to ground the rich beef and sweet, crisp veggies. Eying portobellos I wondered if they would be too meaty, too bold, for the early spring asparagus. The pairing, it turned out, was perfectly balanced. A delicate sauce – Béarnaise – with the fresh taste of tarragon, pulled the plate together. It was hearty enough for a hungry man. And will make his Mom proud too.
*Apologies to my brother for throwing him under the bus for a cheap laugh.
---
Sirloin, Asparagus Portobellos with Béarnaise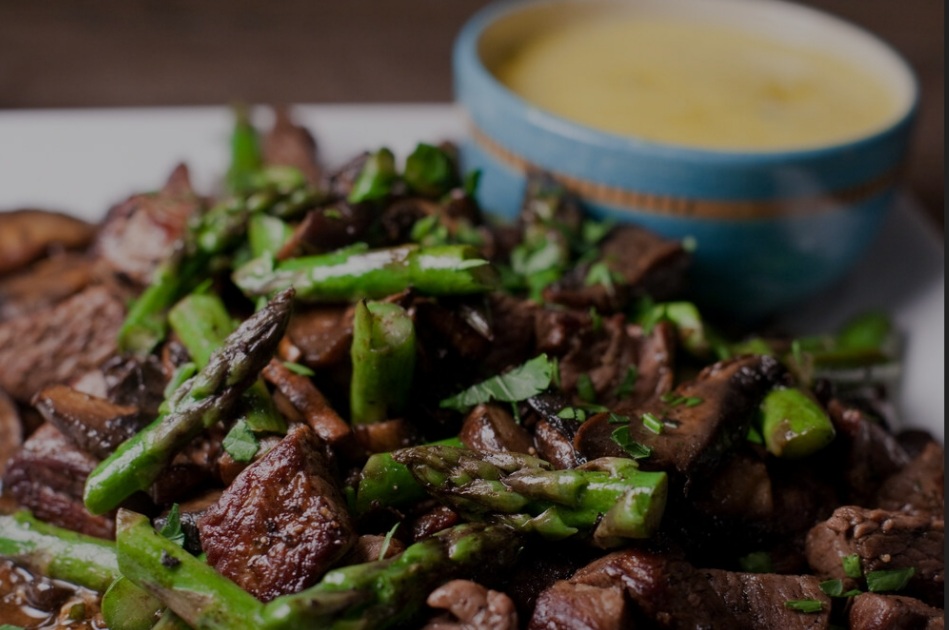 Serves 6 – 8
Rich, caramelized sirloin steak and earthy Portobello mushrooms are the perfect foil for crisp, sweet, spring asparagus. A rich yet light-tasting Béarnaise sauce flavored with tarragon would be perfect over any of these ingredients and is particularly magical over all three!
Ingredients:
4 tbs olive oil
1 lb asparagus cut in 2" pieces
2 lb top sirloin cut in 1½" cubes
2 portobello mushroom caps, cut in 1/2″ slices
2 cloves garlic, minced
1/4 cup cognac
1/2 cup chicken or vegetable stock
1 tbs Sherry vinegar*
1 tbs cold butter
2 tbs parsley
1 recipe Béarnaise sauce, kept warm over low heat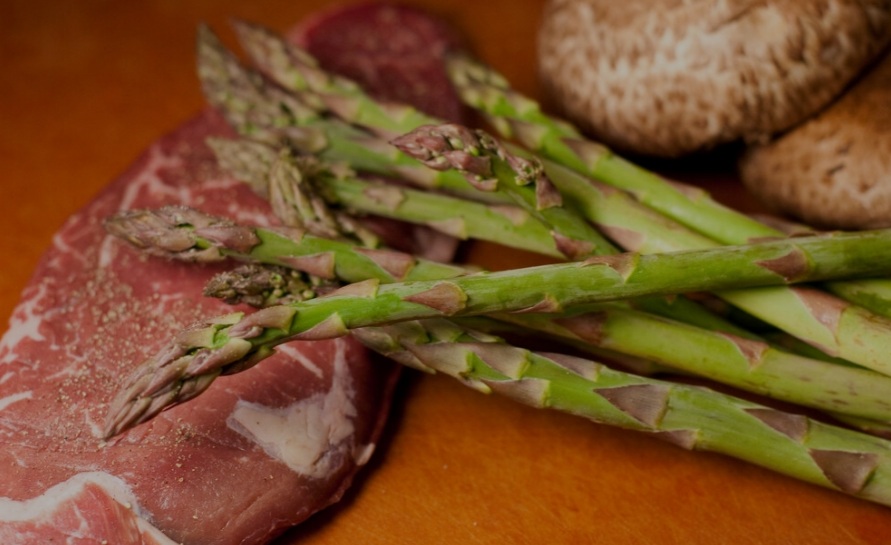 Directions:
Cook asparagus: Warm 1 tbs oil in a 12" skillet over med-high heat. Add asparagus and cook 2 minutes. Remove from pan.
Cook sirloin: Return skillet to heat with 1 tbs olive oil. Season sirloin with salt and pepper and add to pan in a single layer, browning on all sides. Cook about 4-5 minutes. Remove from pan and reserve with asparagus.
Cook mushrooms: Return skillet to heat with remaining 2 tbs oil. Add sliced mushrooms, cooking until browned. If brown bits on bottom of pan begin to darken, reduce heat to medium. Add garlic and cook 1 minute longer. Remove and add to sirloin and asparagus.
Make pan sauce and serve: Return pan to med-high heat, add cognac and deglaze, scraping up brown bits. Add stock and cook until reduced to 1/4 cup. Remove from heat and whisk in cold butter. Season to taste with salt, pepper and vinegar. Toss sauce with asparagus, sirloin and mushrooms. Serve mixture topped with fresh parsley and Béarnaise.
Béarnaise Sauce
Makes about 1½ cups sauce
Think Hollandaise with vinegar and white wine instead of lemon and the signature light, fresh taste of tarragon. This will work well anywhere Hollandaise does from Eggs Benedict to saucing a steak off the grill or to dress up crisp-tender steamed broccoli.
Ingredients:
1/4 cup white wine
1/4 cup Champagne or Sherry vinegar
1 bay leaf
4 tbs chopped, fresh tarragon
3 egg yolks
2 tbs cold butter
1/2 cup melted butter
White pepper
Directions:
Combine wine, vinegar, bay leaf and 2 tbs tarragon in 2 quart saucepan. Boil, reducing liquid to about 2 tbs. Strain out solids and cool.
Cool saucepan back to room temperature and add 3 egg yolks. Whisk until thick, about 1 minute. Add vinegar/wine reduction and whisk 30 seconds longer.
Add 1 tbs cold butter to pan and set over low heat. Cook, whisking constantly, until mixture thickens and streaks appear on bottom of pan. If the eggs begin to scramble, remove from heat and whisk vigorously.
Remove thickened mixture from heat, add 1 tbs cold butter, and whisk for 30 seconds to slow cooking. Add melted butter a few drops at a time, whisking constantly. After you've slowly added 2 tablespoons of butter, whisk in the remaining butter in a slow, thin stream.
Season sauce to taste with fresh tarragon, salt, pepper and additional vinegar as needed.
TIP: Serve immediately or you keep warm over very low heat. Extra Béarnaise sauce can be reheated in a double boiler.
TIP: If your sauce "breaks," with the butter and egg yolks separating, there are two solutions: you can either whisk in hot water 1 tbs at a time until it comes back together, or place an egg yolk in a large bowl. Whisk it for 30 seconds then begin slowly drizzling in your sauce. The day is saved!
---
For all the recipes in the show head to www.jonathanbardzik.com/jonathanskitchen. For Jonathan's book, which inspired the show, you can get that at Amazon here.
Catch Jonathan's Kitchen on demand at Revry.tv.  The show is produced by Parrlime Productions & Tarnów Entertainment and directed by Jonathan Bardzik.