Tom Goss releases video to "Put That Ass in Christmas"
As promised in our interview earlier this month, Tom Goss has finally released the highly anticipated video footage to "Put That Ass in Christmas" from his holiday EP Big Fat Gay Ass Christmas.
The video features Big Daddy Karsten serving up his verse as a scantily clad Santa with a bevy of other big & beautiful men shaking their booties to the beat. Keith Lawrence also delivers a verse in the song, although he is not present in the video. Tom Goss, of course, is in the video shirtless and making out with some of the boys doing the Lord's work by putting their asses into Christmas and our faces.
Tom Goss usually isn't a fan of Christmas music, but that hasn't stopped him from recording his first holiday album Big Fat Gay Ass Christmas. With songs like "Santa Slay," "Put that Ass in Christmass," "Sassy Santa," and "Ho Ho Homo," it's not a traditional holiday album. "I want people to laugh and smile, then strip down to their undies and dance," he says. "That's the Christmas I'm most looking forward to this year!"
Joining Tom on the EP are some of the biggest names in gay hip hop, rock-and-roll and country music: Benjamin Koll, Big Daddy Karsten, Keith Lawrence, de ROCHE and more!
"They are all a part of my queer family," Tom explains. "We may sing in different music genres but we are the same in that we live our lives joyfully, exuberantly, and as authentically as possible!"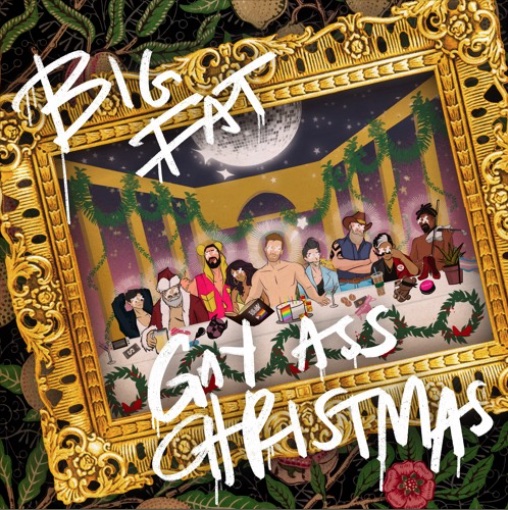 At first glance, the songs on Big Fat Gay Ass Christmas appear tongue-in-cheek, but those who look deeper will recognize a serious side to the record. "I have spent a lot of my life censoring myself," Tom laments. "Censoring what I say, what I write, how I dress, what my music sounds like, and so much more. It's been a constant state of second-guessing, carefully carving out a life that is unoffensive, in hopes that everyone will love me. But that's not real. With my first holiday EP, I wanted to make something that was big, fun, unapologetic, body positive, and queer as f**k."
Big Fat Gay Ass Christmas begins with "Santa Slay," a dance/ballroom track that Tom wrote with Jaake Castro about a Santa who is big, confident, queer and in touch with his feminine side. "This Santa is not only delivering toys, he is throwing it down in bed," Tom explains. Ned Douglas mixed and mastered the record. Drag queen Roxy Wood is the lead vocalist, Tom sings the chorus, Ryan Satyr provides background vocals and Drake Jensen serves the sexy deep-voiced Santa.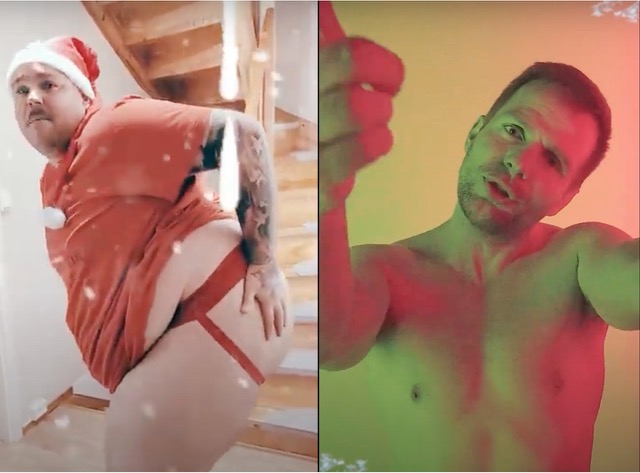 The second track on the EP is "Put that Ass in Christmass," a song about celebrating Christmas with a booty shake. Big Daddy Karsten raps the first verse and Keith Lawrence raps on verse two. "I've been a fan of both guys for years," Tom reflects. "I just love how aggressively big and queer Karsten is. As soon as I wrote the song, I knew I wanted him on it. As for Keith, we were casually texting and I asked "hey, do you rap?" I sent him the track and he immediately called me, excited. Like me, Keith loves a big boy, so it was wonderful to get giddy about ways we could paint men of size in a positive light."
Tom Goss wrote "Sassy Santa," the third track on Big Fat Gay Ass Christmas, with hopes of getting Benjamin Koll on the EP. "I have a huge crush on Benjamin," Tom confesses. "I love the joy and positivity he brings to the bear community."
Knowing Benjamin's affinity for funk and dance runs, Tom worked both sounds into the song's rough mix that he sent to Benjamin with fingers crossed. To his delight, Benjamin agreed to perform on the record! He added instrumentation, vocals, mixing, and mastering, turning "Sassy Santa" into a slamming retro dance/funk track that Tom loves.
Big Fat Gay Ass Christmas concludes with "Ho Ho Homo," a beautiful track Tom recorded with his frequent collaborator, de ROCHE. He credits de ROCHE with bringing the song to life with vocals that sound like a group of carolers on the doorstep. "De ROCHE and I have been making music together for over a decade. I want her to be a part of everything I do until the end of time."
The album's cover art is by Joseph Fortuno. "Joseph created something so much edgier, cuter, gayer, and more visually stunning than I ever could have imagined," Tom raves. "It's the perfect wrapping for this big, fat, gay ass gift of an EP."
Tom Goss was raised in Kenosha, Wisconsin, a small city on Lake Michigan, between Chicago and Milwaukee. Much of his youth was spent focused on his studies and on wrestling. He didn't feel much in the way of sexual and emotional desires growing up. In fact, he didn't go on his first date until he was 22, while in seminary, training to be a Catholic priest.
That was when Tom realized he did have an appetite for sex, only it wasn't towards women or even the men that society deemed as handsome. His attraction was toward plus-sized men, known as "bears" in the gay community. Many of his biggest pop hits today are odes to the large, furry men he loves.
Stream Tom Goss's Big Fat Gay Ass Christmas on Apple Music, Spotify and all major digital platforms.
Visit tomgossmusic.com for more info, and follow Tom on Facebook, Twitter, and Instagram.