The Ultimate Beard Care Gift Guide for Bears
Beard care and grooming have come a long way, and for our beloved bear community, it has become a sophisticated and multifaceted world of personal hygiene and self-care. In a market bursting with a wide range of products catering to various grooming needs, it is crucial to discover the perfect solutions tailored to your unique requirements. From shaving creams specially formulated to condition your skin and soften facial hair growth, ensuring a precise, nick-free shave, to beard oils that not only moisturize but also promote lush and healthy beard growth, the possibilities are endless. Whether you are in pursuit of a smooth and irritation-free shaving experience, aiming to maintain a well-groomed, proud beard, or looking for the perfect gift this holiday season, this comprehensive array of grooming products provides an extensive selection for every squirrel friend out there.
Come along with us on a shopping spree through the fun (and burly) world of beard care and grooming, where each product is meticulously crafted to boost your confidence and help you proudly put your best face forward. Because every bear deserves to feel and look their absolute best, showcasing their unique facial style with pride.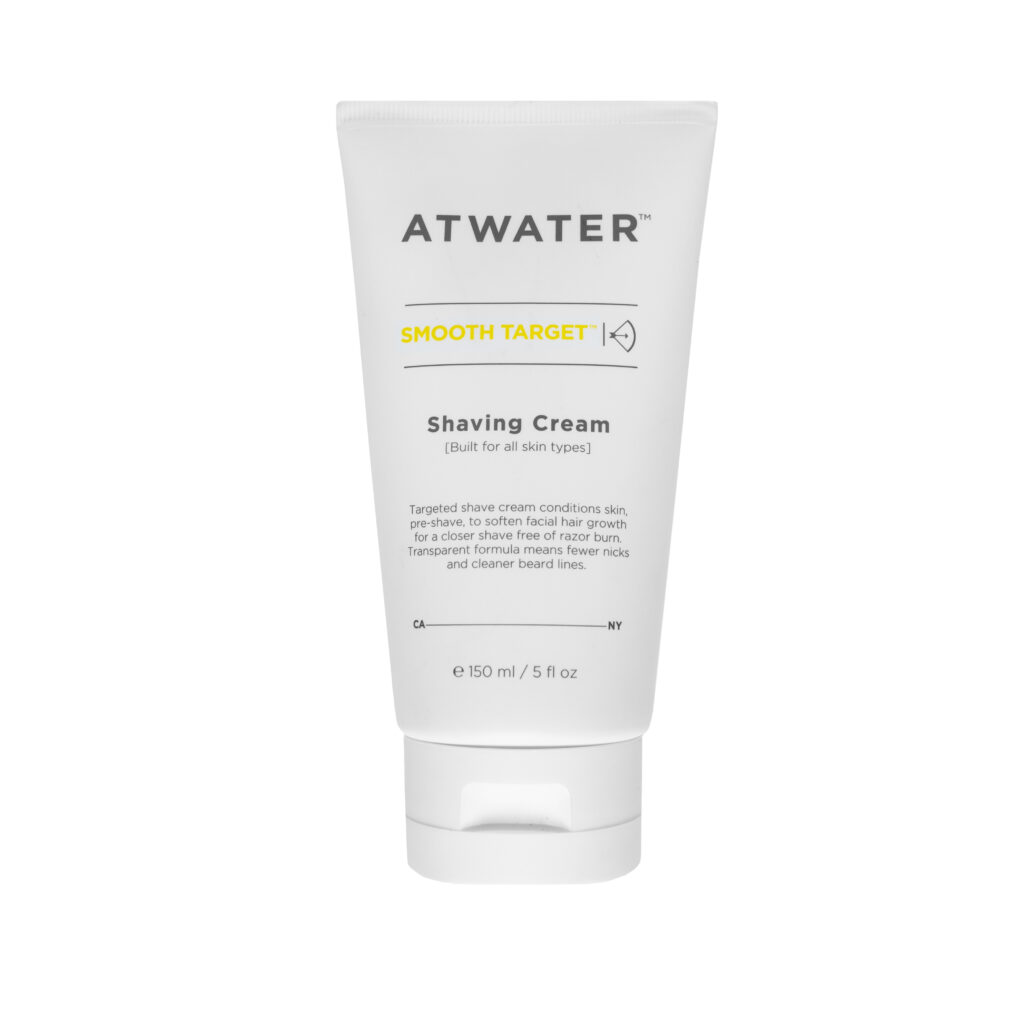 Atwater
Smooth Target Shaving Cream
$18
Since their launch, in 2022, we have been obsessed with Atwater, the skincare line created by industry veteran Chris Salgardo. Atwater is dedicated to giving men a modern alternative to his grooming regimen with clean, high-performance products that work. When you are getting ready to shave, lather your handsome face with Atwater's Smooth Target Shaving Cream. Rosa Gallica, Bisabolol, and Frescolat® X-cool work together to allow a closer shave free of razor burn. This product is built for all Skin Types, including Sensitive Skin. If you are looking for a gentle bar soap to wash your face and beard, Atwater's Heavy Armor Facial Cleansing Bar ($18) is a great choice even for those with sensitive skin.
For more information, visit ATWATER here.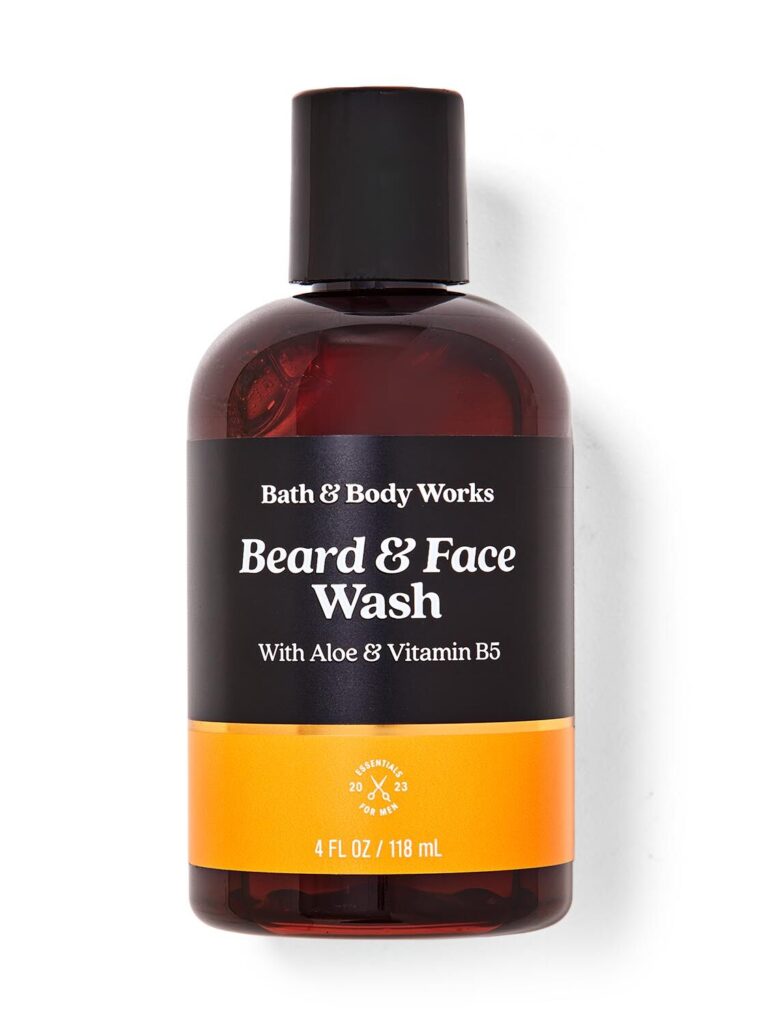 Bath & Body Works
Beard & Face Wash
$13.95
Bath & Body Works is always fun to pop into if you are looking for hand sanitizer, a candle, or some hand soap, but did you know they recently expanded their line to include The Men's Shop? We are obsessed with their Beard & Face Wash, which features Aloe and Vitamin B5. It has a light foam with subtle hints of lavender and sage which smells so wonderful when applying. The wash is formulated for all facial hair types including those with some scruff. Betsy Schumacher, Chief Merchandising Officer at Bath & Body Works notes, "we created the Men's Shop as a way to give the growing male customer base their very own destination within our brand to create and customize a product experience to complement their lifestyle." If you are ready to shave, check out their Beard & Scruff Cream with Shea Butter ($14.95), which will nourish and soothe both the face and beard.
For more information, visit Bath & Body Works here.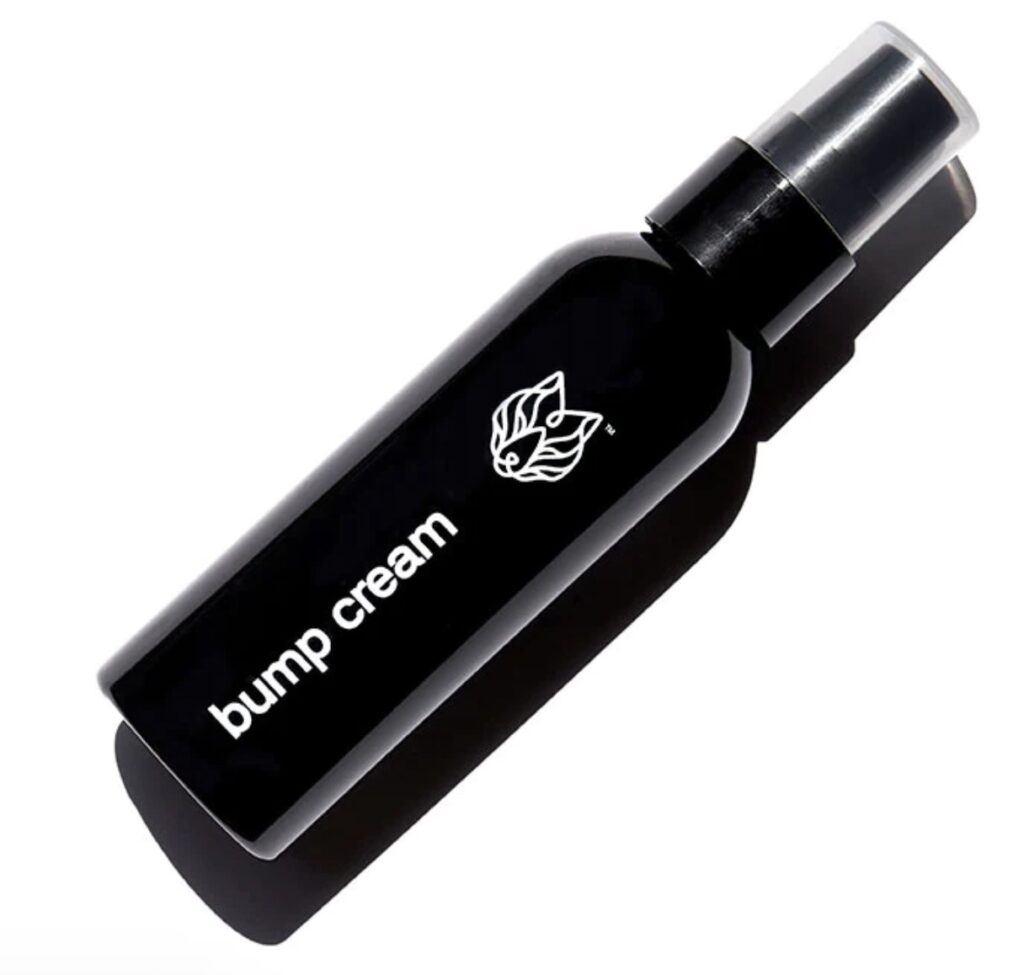 Black Wolf Nation
Soothing Razor Bump After Shave
$19
You may be a bear or an otter, but think you would call yourself a "Black Wolf Guy?" After you try Black Wolf Nation's Soothing Razor Bump Shave you just might be! This simple formula for better skin was created specifically for a guy's chemistry. The product will help to reduce those pesky breakouts, unclog and shrink pores (who doesn't want that?). Cucumber and salicylic acid work together to eliminate invasive bacteria that cause razor bumps. Black Wolf Nation was started by two brothers in 2018 and their aim is to provide a high quality, affordable skincare line specifically formulated for the daily needs and concerns of men. Their goal is to get "every guy in the world to stop using 5-in-1 body wash, and to start taking their grooming seriously." We are here for it.
For more information, visit Black Wolf Nation here.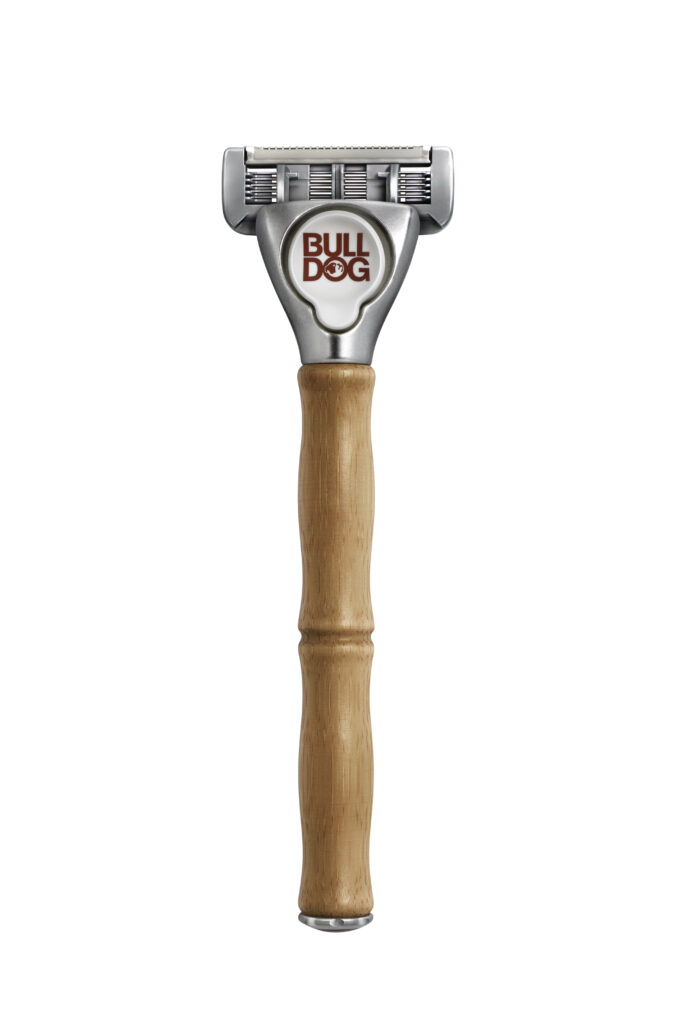 Bulldog
Original Bamboo Razor + 4 Refills
$14.99
Who doesn't love a Bulldog? We have been in love with Bulldog's products since this excellent British company entered the scene back in 2005. Bulldog products put men's skincare at their focus, designed to make us look and feel our best. The company has options for regular, sensitive, oily, and dry skin with a variety of options for each of these unique needs. Their Original Bamboo Razor is truly everything you have wanted in a razor. It comes with four refill cartridges that have 5 tempered steel blades, a lubricating strip with aloe, a precision trimmer, pivoting design and a fierce commitment to sustainability. The natural bamboo handle is easy to hold and allows for a steady (and sustainable) shave. The holidays might still seem a way off but keep Bulldog in mind for stocking stuffers as they always offer a variety of fun sets to consider tucking under the tree.
For more information, visit Bulldog here.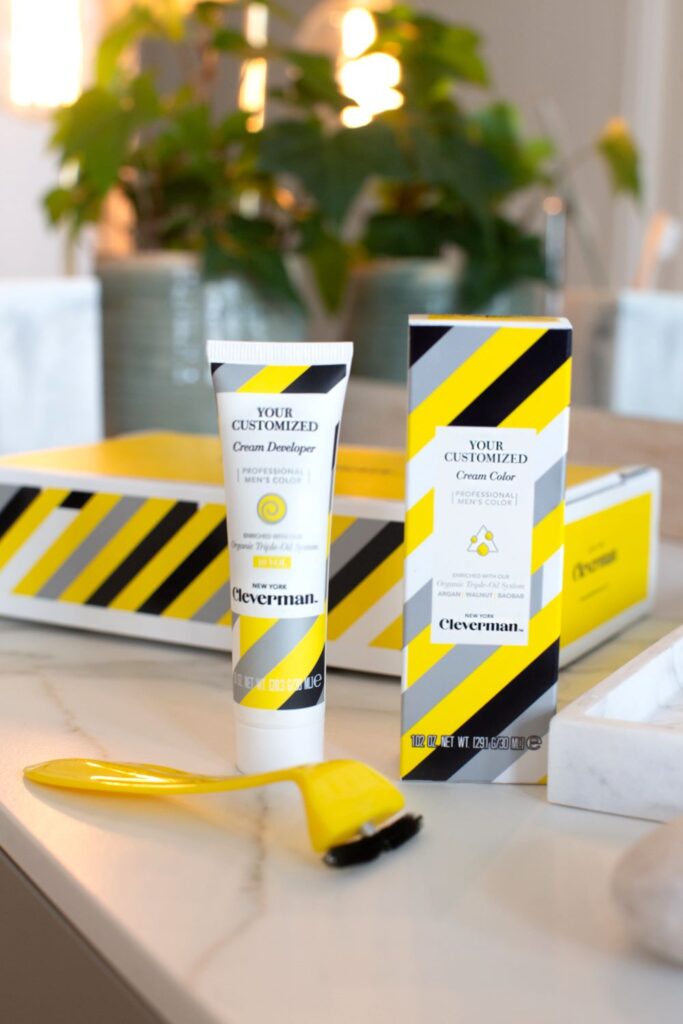 Cleverman
$24.95
Need a change? Cleverman's DIY Men's Hair and Beard Kit is something worth checking out this fall. Cleverman focuses on customization and the well-being of the customer, ensuring they achieve natural-looking results that align with their unique style. The brand offers the most customized beard dye for men, considering men's diverse and personal needs. Choose your option by considering how much coverage you like, how long your beard is, and if you have Caucasian, African, or Asian hair. Whether one prefers full coverage or a salt-and-pepper style, Cleverman's mission is to assist every man in looking and feeling his best. The company is dedicated to empowering men to discover their unique looks through the use of high-quality products and tools. Cleverman provides out-of-the-box, personalized grooming solutions, beginning with hair color and care tailored to individual preferences. Their formulas are clean, vegan, and enriched with nourishing oils such as argan, baobab, and walnut oil.
For more information visit Cleverman here.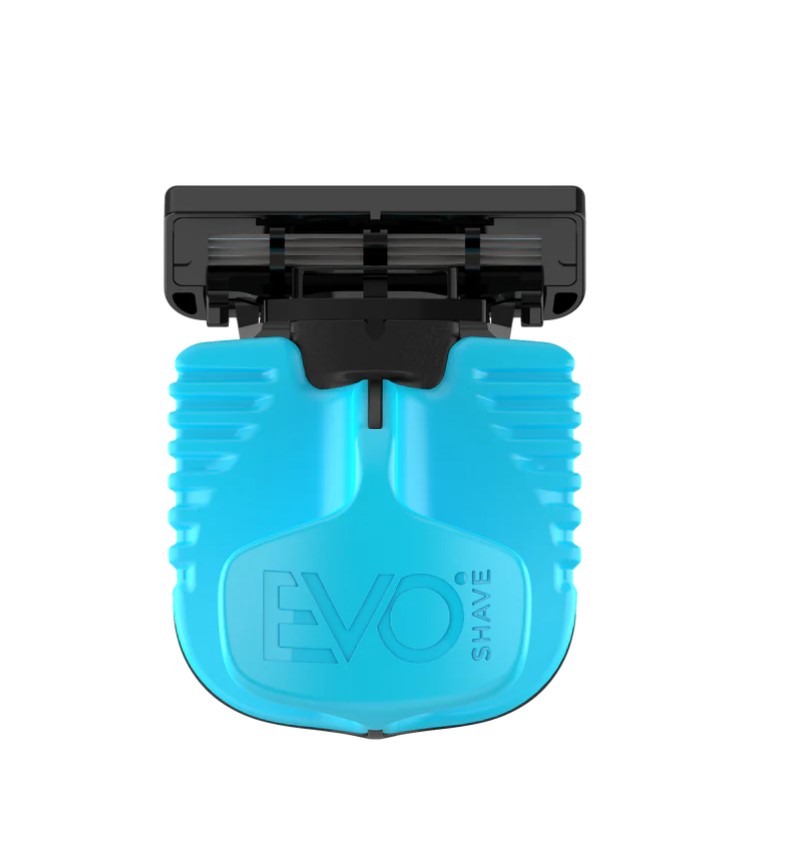 EvoShave
The OG series
$15
Looking for a more sustainable shaving option? Ditch your regular razor and opt for EvoShave's hip new ergonomic razor. EvoShave is a unisex, fingertip shaving system engineered for everyone. You read that right, EvoShave offers full fingertip control, which means you shave by touch. This razor, which comes in Aqua Pink, Carbon Black, or Powder Pink, has a flexible cartridge with a lubricating strip with five blades and it is designed to be kept and not discarded by replacing the cartridge when needed. EvoShave was inspired by the need to achieve a more controlled shave. How often will you need to replace cartridges? It depends on the user. EvoShave recommends every two weeks, depending on how frequently you are shaving. Has EvoShave set up the easiest shave for you? There is only one way to tell!
For more information visit EvoShave here.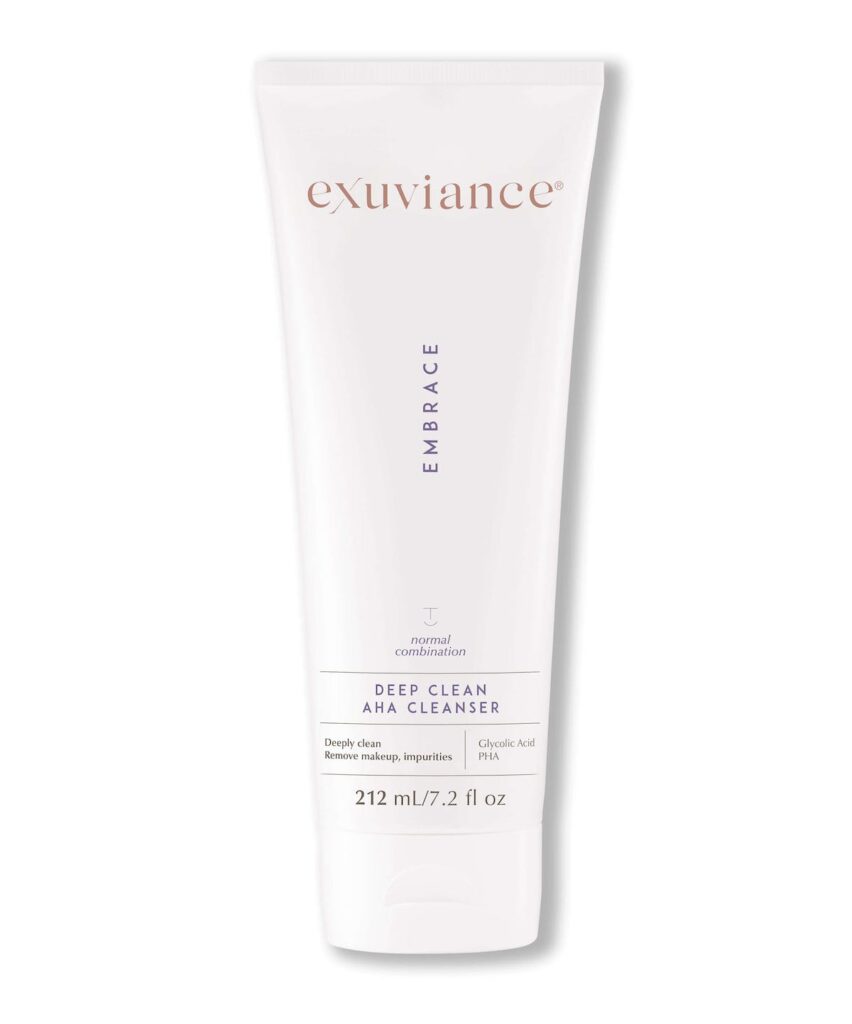 Exuviance
Deep Clean AHA Cleanser
$32.50
It is important to wash and cleanse properly before jumping into your clean shave. Revitalize your skincare routine with the Exuviance Deep Clean AHA Cleanser ($12), a foaming cleansing gel that tackles makeup, surface oils, and impurities effectively. Powered by Alpha and Polyhydroxy Acids (AHA/PHA), including Glycolic Acid and Gluconolactone, it promotes a clarified skin texture and natural pH balance, leaving you feeling refreshed. This soap-free, non-drying formula is dermatologist and allergy tested. Exuviance's mission is to transform your daily skincare into a self-care ritual, addressing age-related concerns like fine lines, wrinkles, post-acne marks, skin sagging, and sun damage-induced dark spots. Their lineup also features Gentle Daily Exfoliating Pads ($45) and the Clarifying & Renewing Serum ($53.50) to elevate your skincare game.
For more information visit Exuviance here.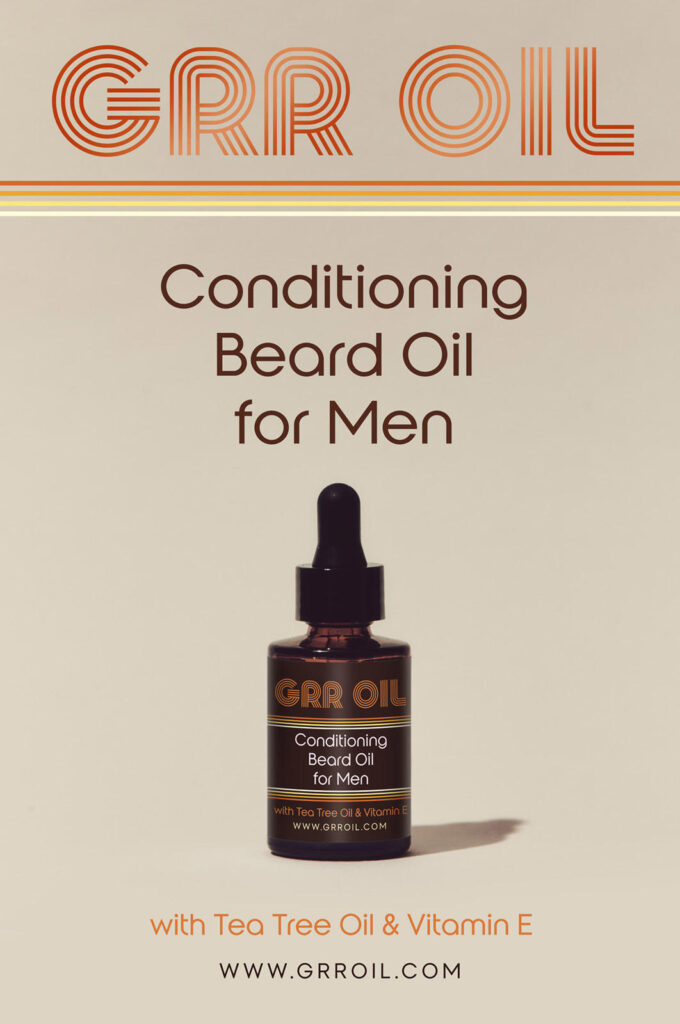 GRR Oil
$36
GRR Oil, born from the creative mind of Venezuelan artist David Foote, the founder of the award-winning Marianella skincare brand, is more than just another men's grooming line. It is a blend of artistry and skincare expertise that transcends luxury. This revolutionary beard oil is not just about efficiency and a captivating aroma; it is about infusing your skincare routine with the essence of the late 70's and 80's queer culture, an ode to underground male fantasy. GRR Oil elevates your grooming experience with its unique fragrance and a meticulously chosen blend of organic ingredients, including tea tree oil, vitamin E, squalene, hibiscus oil, rosemary oil, and peppermint oil. Foote recently connected with Bear World and shared, "I created GRR OIL honestly because many friends had complained about beard dandruff. It was then that I realized the dandruff on my shirt was from my beard, not my head. So, initially, it was born out of the need to solve a problem. As I began working on the formula, I found it incredibly refreshing to create a product line with a male perspective and, more importantly, a gay bear-centric one. After so many years of approaching skincare and self-care from a female-centric point of view, I must admit that this has been the most enjoyable experience I've had in a long time in terms of marketing, branding, and the sheer act of creating something fresh for a new audience. I didn't realize how much my soul needed to connect with my community in this manner. It's been a very rewarding process and the best part is it's just the start." Foote added, "Our focus has consistently been on clean, beneficial facial care products that deliver noticeable results. In the realm of men's skincare, I believe we often overlook genuine facial care. This venture emerged from the necessity to develop beard products with a gay-centric appeal that truly benefits the skin. GRR OIL is crafted from pure, organic beneficial oils and vitamins that are gentle on the skin and won't lead to breakouts. It not only softens, promotes growth, and moisturizes the beard but also enhances its thickness. Additionally, it aids in regrowing facial hair, eliminating beard dandruff, and enhancing the skin's radiance and elasticity. All of this is accompanied by a subtle musky scent that exudes an irresistible charm!"
For more information visit GRR Oil here.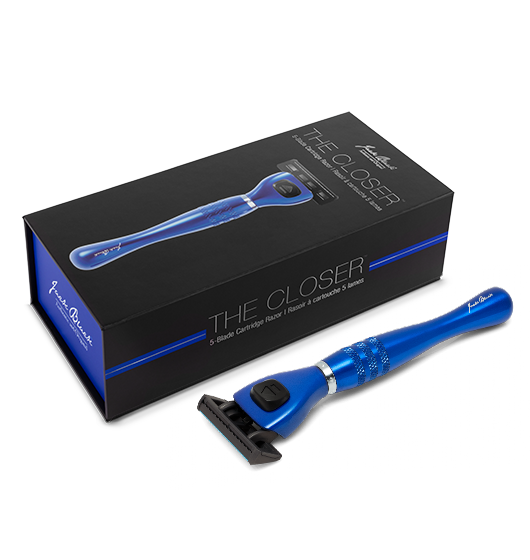 Jack Black
The Closer® 5-Blade Cartridge Razor
$52
Beard Wash
$19
The Closer Razor is not just a razor; it is a shaving experience like no other. This product offers ergonomic 5-blade cartridge razor, a precision trimmer, and some seriously stylish inset pad grip and diamond-etched knurling for top-notch control and handling. What is the secret sauce, you ask? The Closer Razor comes with a strong handle and two 5-blade cartridges straight from Solingen, Germany. Solingen is known as "City of Blades," and these blades mean business. They have a precision trimmer, a pivoting head for those tricky angles, and they are diamond-coated for unmatched sharpness and durability. Plus, they play nice with sensitive skin and have the dermatologist's stamp of approval. Last but not least, remember that blades are not immortal. Overusing them can lead to nicks, uncomfortable tugs, and rusty blades. Discard after 5-6 uses, especially if you are sporting a beard that is a force to be reckoned with. Now, about that wash? Jack Black's Beard Wash with Aloe & Panthenol is an excellent addition to your overall grooming routine. In the product, Jojoba Protein works with Panthenol (Vitamin B5), Aloe Leaf Juice Powder, Organic Sea Kemp, and Shea Butter to strengthen, hydrate, moisturize, and soothe overall dryness and irritation on the skin beneath the beard. Use a small amount daily to cleanse, condition, and soften your fabulous beard.
For more information visit Jack Black here.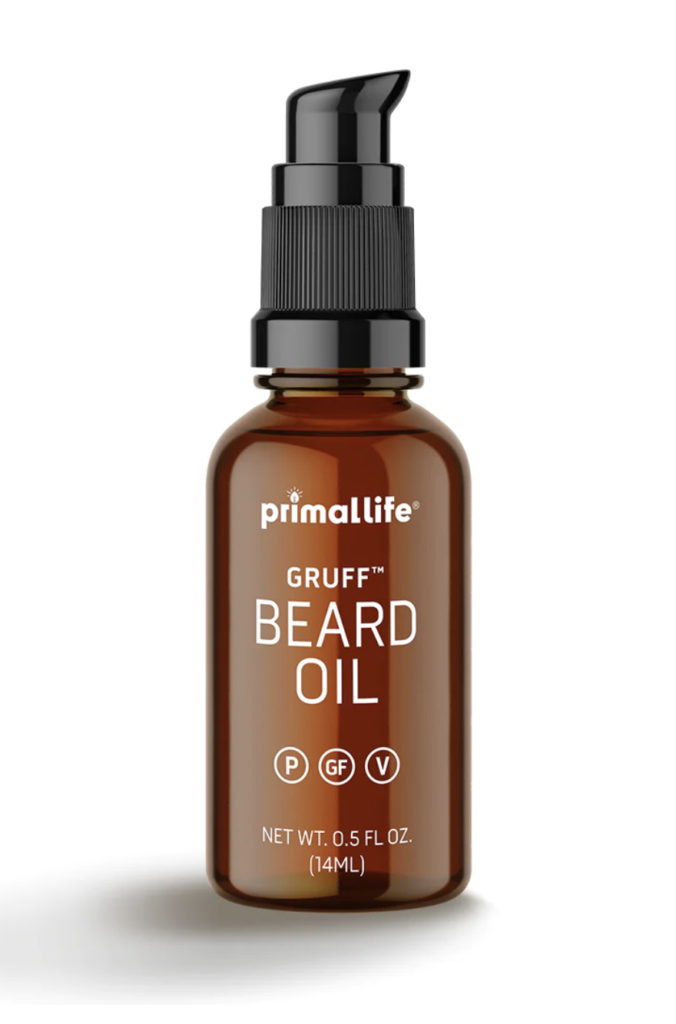 Primal Life Organics
Beard Oil, Gruff
$35
After-Shave Gruff
$37

Primal Life Organics is a pioneering force in the skincare and dental care industry, driven by a commitment to plant-based ingredients, eco-friendly packaging, and sustainable practices. They introduced the concept of "Paleo Skincare" in 2012, catering to individuals who prioritize holistic health and wellness as a means to prevent disease. Recognizing the direct connection between toxins in conventional personal care products and severe health issues, Primal Life Organics offers a range of products designed to address these concerns. Notably, their Beard Oil, Gruff ($35), offers a non-greasy solution to beard care, alleviating issues like itchiness, dryness, acne, irritation, and ingrown hairs with organic botanicals. Meanwhile, their After-Shave Gruff ($37) restores and fortifies the skin's natural protective barrier post-shave, safeguarding against the stripping effects of shaving and ensuring a smooth, healthy, and youthful complexion.

For more information visit Primal Life Organics here.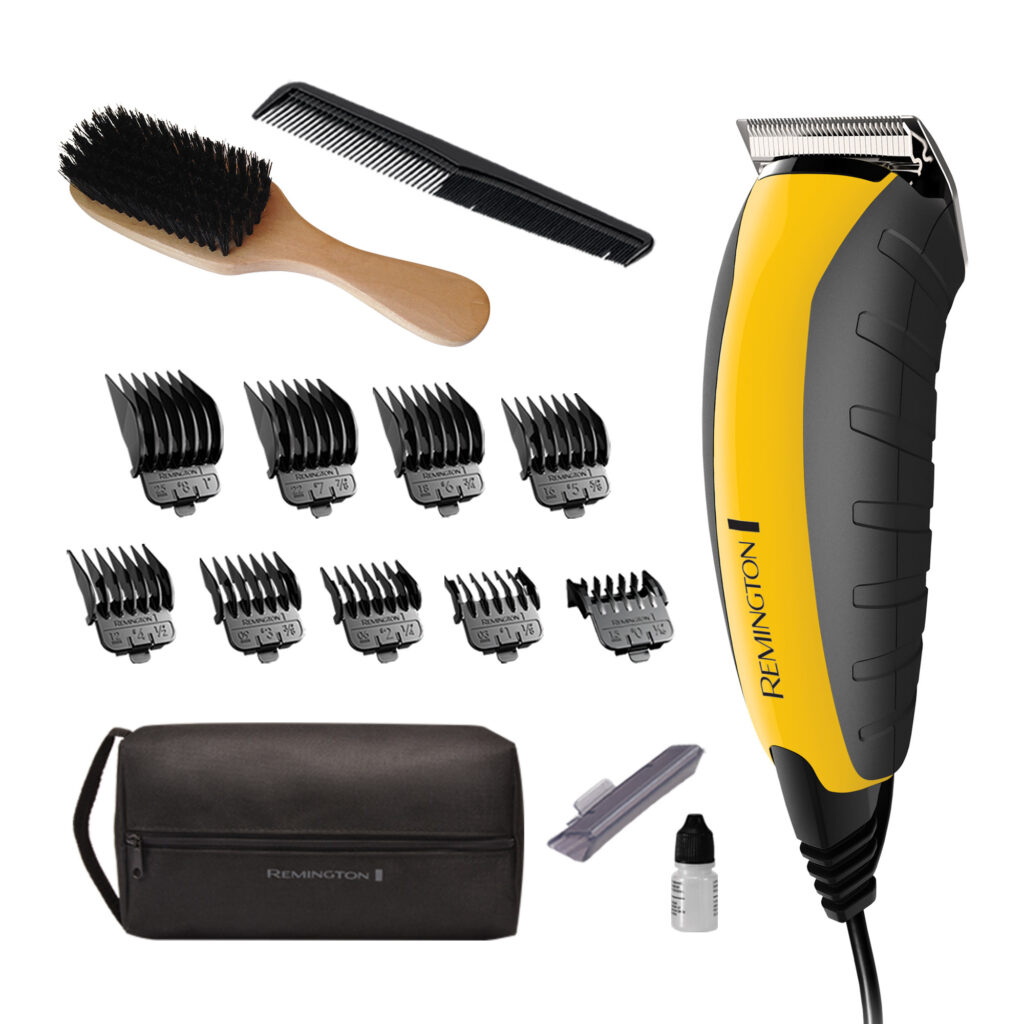 Remington
Virtually Indestructible Haircut & Beard Trimmer
$39.99
Elevate your home grooming experience with the trusted and reliable brand, Remington. "If you can grow it, they can shave it." The Virtually Indestructible Haircut and Beard Trimmer boasts a high-visibility cut-away neck design for precise trimming. With access to fourteen length and style settings, plus a handy foil shaver attachment, achieving ultimate precision is a breeze without leaving home. Built to withstand the test of time, this trimmer features a high-impact polycarbonate casing for protection and houses a super magnet motor that delivers 4X Faster Cutting Performance. The exclusive POWERCUT™ Blade System ensures even, smooth cuts every time. The comprehensive 15-piece kit includes length guide combs, a beard brush, styling comb, blade oil, guards, and a convenient storage pouch to keep it all organized. "Hey Remington, shave this."

For more information visit Remington here.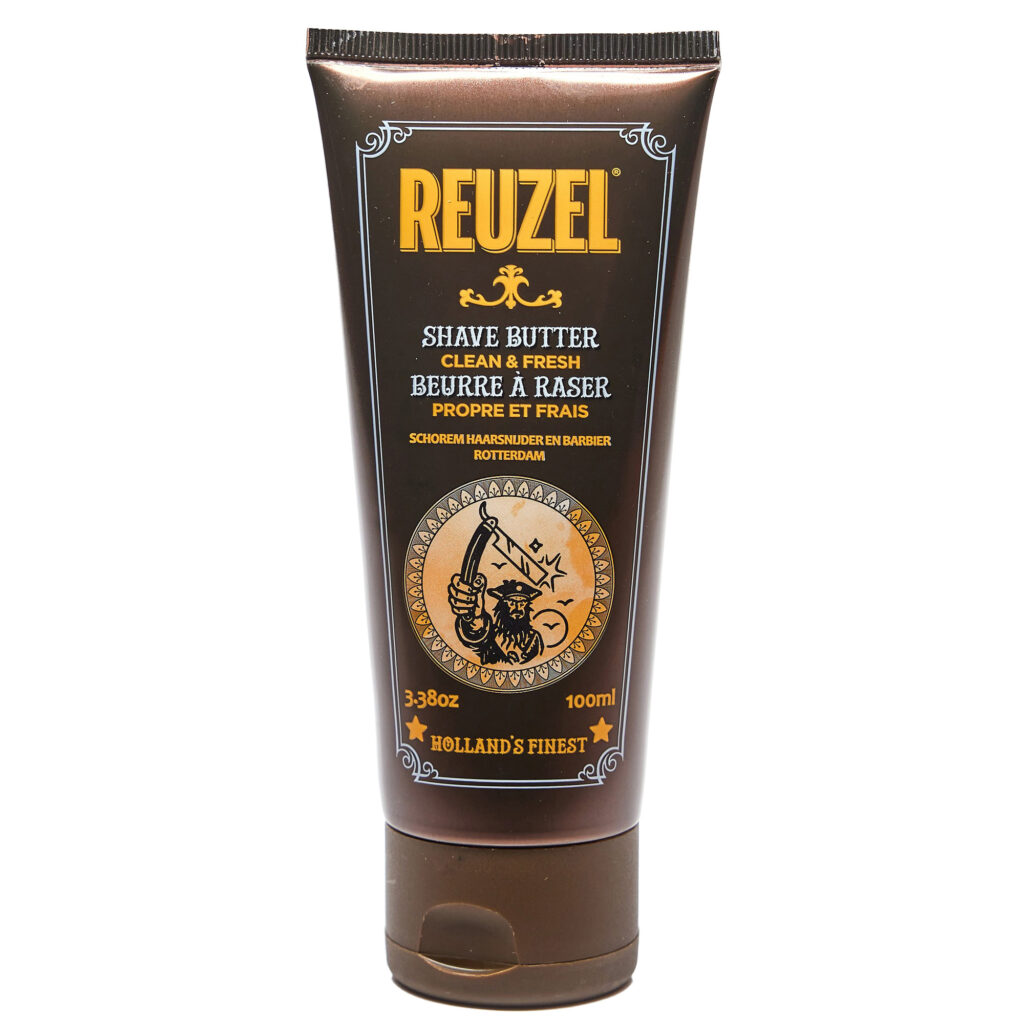 Reuzel
Reuzel Clean & Fresh Shave Butter
$12.95
Reuzel, the brainchild of Leen and Bertus, is not just a barbershop – it is a grooming paradise. Their range of top-notch men's hair products is a must for anyone serious about their hair game. Discover Reuzel's world-famous collection, featuring everything from shiny pomade to hair tonic, shampoo, and conditioner, all designed to help you achieve that radical or classic look you crave. Check out their Clean & Fresh Shave Butter, the secret weapon for a smooth, nick-free shave. This ultra-slick formula softens hair, conditions your skin, and leaves a refreshing scent of orange peel, mint, and eucalyptus. Looking for a balm? Their Beard Balm ($14.95) contains Shea Butter and Argan Oil to instantly make your beard thicker (enough said!). For a burlier scent, check out their Wood & Space Beard Balm. Can I get a woof?
For more information visit Reuzel here.
Urban Skin Rx
Razor Bump + Dark Spot Treatment
$15
Urban Skin Rx, the brainchild of skincare guru Rachel Roff, is on a mission to make achieving gorgeous, smooth skin a blast! Meet their newest star, the Razor Bump + Dark Spot Treatment, your trusty sidekick for tackling post-shave dilemmas like razor bumps, ingrown hairs, and those pesky dark spots. Packed with their secret weapon, the HAIR BUMP RELIEF VITA-B3 COMPLEX™, along with a dynamic duo of 6% Lactic Acid and 5% Glycolic Acid, this treatment is your ticket to exfoliation heaven. Just slap on 1-2 pumps after your daily cleanse or shave, and voilà, say hello to a clearer, smoother complexion. Oh, and do not forget your sunscreen superhero cape to shield against those sun-induced skin woes. Suitable for all skin types, this treatment is as quick-absorbing and refreshing as a peppermint breeze. Get ready to flaunt that bump-free, radiant skin with a side of fun!
For more information visit Urban Skin Rx here.
---