The Terrifyingly Seductive Imagery of Myrkky Photography
**Editor's Note: Those sensitive to bloody and/ or violent imagery may should not continue reading.
Rubén Gerardo Alfaro Moreno is the visionary artist behind Myrkky Photography. Featuring gorgeously bearish men in compromising positions, covered in nothing but blood; we thought a feature on him and his work would be perfect for Spooky Season.
A special effects artist in the film industry specializing in 3D features by trade, Rubén studied effects, prosthetic makeup and 3D animatronics in London's South Bank University after leaving his hometown of Zamora, Mexico. Originally studying medical and electronic engineering at the behest of his father who was a doctor, the budding artist didn't take well to such stuffy and scientific courses and longed to leave his hometown to explore the world at large. It took some convincing but eventually his family gave him their blessing and he's been living and working in the UK ever since.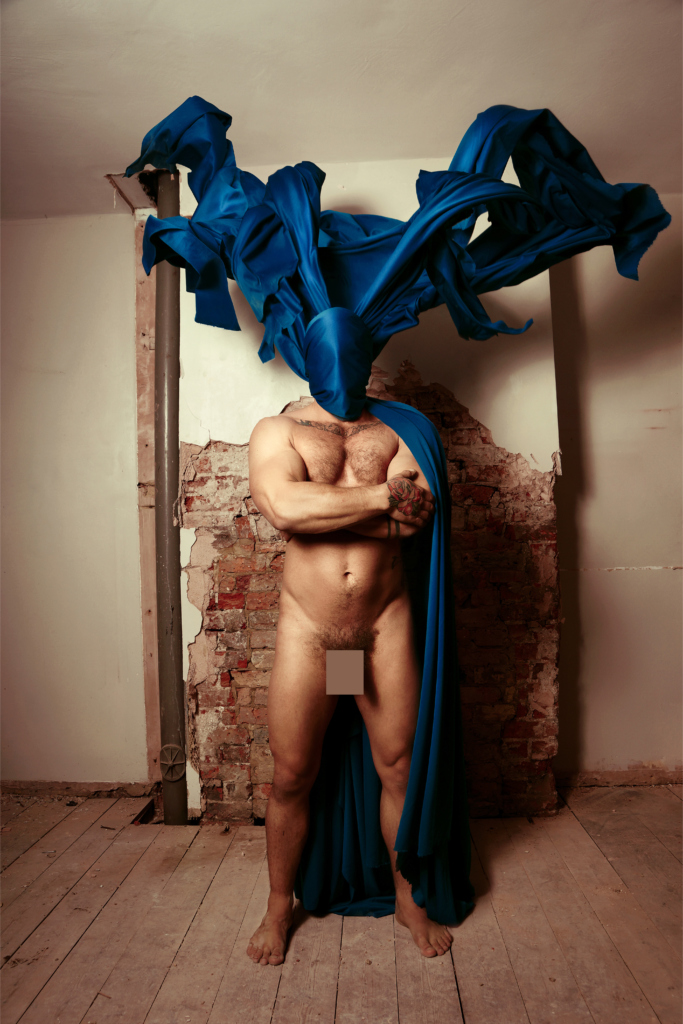 With respect to his photography, Rubén picked the hobby up in 2005 after growing tired of the unpredictable lull he faced between freelance jobs working on films. Photography helped to fill the time. He taught himself the ropes of how to take photos and then how to retouch them using photoshop. After acquiring the necessary skills, and doing some headshot work and model portfolios, Rubén ultimately combined all he learned about photography with what he learned in university and began shooting horror imagery. The end result is the beautiful, disturbing, and sexy imagery you see on display throughout this article (most of which are unreleased images to be published in future books from Rubén) .
He named his studio Myrkky Photography because the first image he shot was of a dead man being injected with a foreign substance, and myrkky (pronounced mer-keh) is the Finnish word for poison. Rubén had long had a fascination with Finnish culture and language after befriending a Finnish man and woman during his time in Mexico, which is what also helped to inspire the name.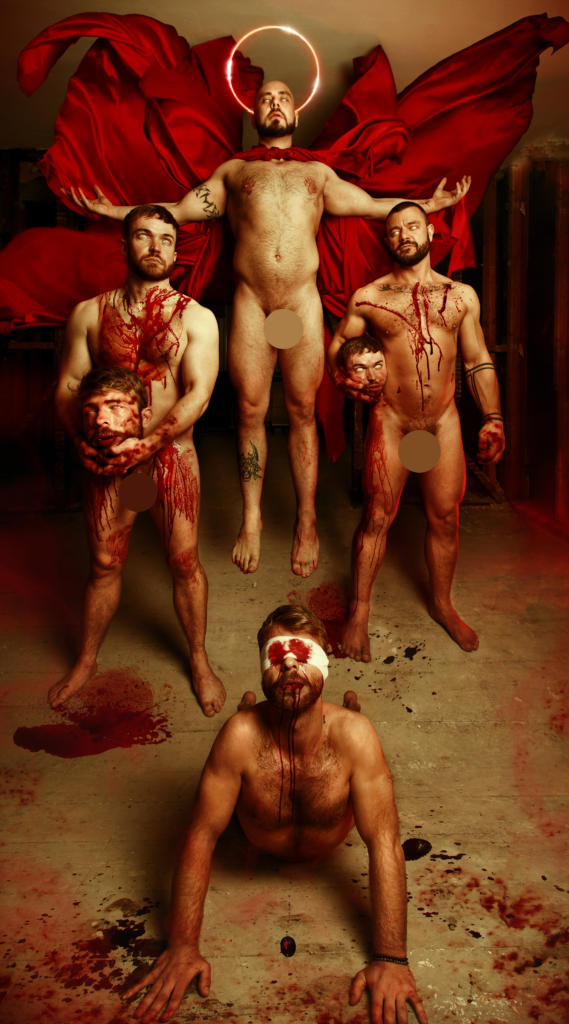 In 2007 he had the first solo exhibition of his work in Zamora, leading to future exhibits in London, Detroit and Brighton; which was soon followed up with invitations to lead workshops on photography and special effects in New York, London and Guadalajara and eventually led to the publication of his first book entitled Red in 2017. Since then, he has gone on to publish Myrkky 1 (2019), Myrrky Facility + The Turning (2020) and Black (2021). He is currently working on publishing 2 Red, a follow up to the 2017 book, Lucha Libre, a collection of erotic shots of men in traditional Mexican wrestling costuming, and Myrkky 2, a more in-depth and extreme collection of horror photography.
Rubén, of course, is a bear lover which is why he photographs the men that he does. But as to why he likes to feature bears in horror scenarios he says:
"I work on a lot of horror films, and I notice how they sexualize women more than men in these types of movies because its appealing for straight men. So I thought, what about us (gay men)?! You typically don't see men covered in blood like that, its usually the women that get to have all the fun! So basically, I decided from there that I'd shoot lots of hot, furry guys in similar scenarios to the women."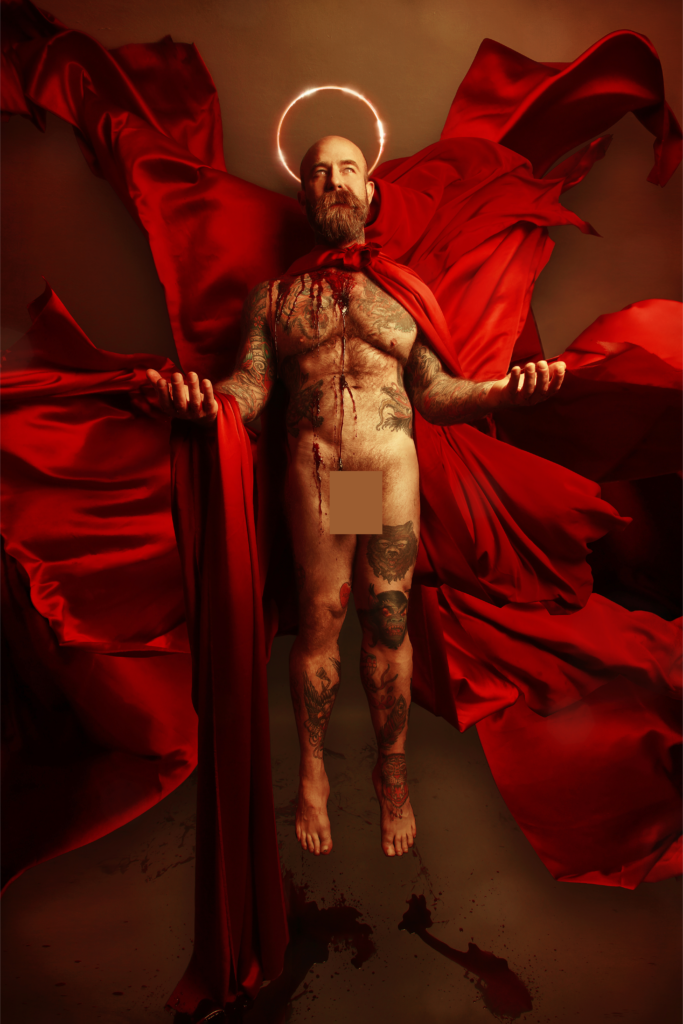 His initial imagery was scantily clad men doused in blood but as his art evolved, the photos have gotten more brazen and sexual in nature, featuring a steady crop of his friends and adult performers who are only too excited to take off their clothes and roll around in blood. Rubén has worked with the likes of Jack Dixon, Kristofer Weston, Gabriel Phoenix and even the Cock Destroyers, to name a few. And of course, because of the sexual and horrific nature of his work, Rubén has to bankroll his artistic endeavors himself without any backing or funding. As such, most of the photography is done in his home to help control costs.
"Most of my work for the last 15 years has been shot in my flat. I put up the three-meter backdrops and then I move everything out of the way and the whole room becomes my studio. I put plastic on the floor so nothing stains. I actually make the blood myself for all the shoots, but even just getting the blood is quite expensive. I think for Black I used 120 liters of blood at 2-3 liters of blood per model! It was quite funny seeing the Amazon guy deliver 15 liters of glycerol at a time to my third floor flat so I could mix my blood concoction!"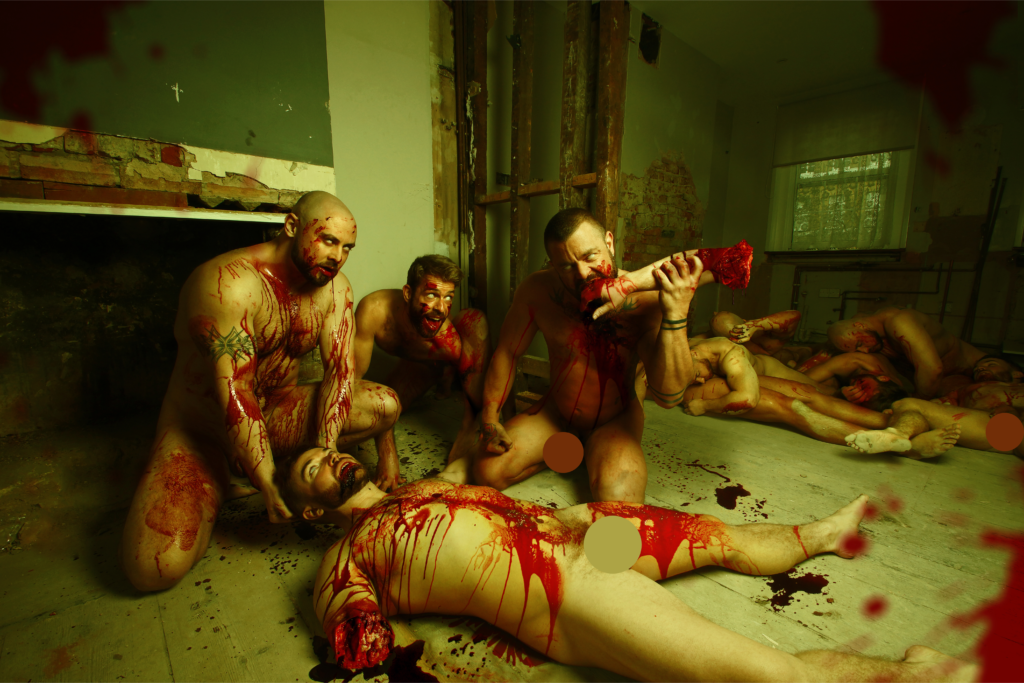 One notable departure from this were the shoots utilized for his book Myrrky Facility + The Turning. During the pandemic Rubén was given the opportunity to utilize the Sweatbox in Soho for his photo shoot, which is owned by a friend of his. Since it wasn't in use at the time, he was given access to it for a covid-safe photoshoot which delivered particularly gorgeous and horrifying results.
Rubén cites Bram Stoker's Dracula (1992) as one of his favorite horror movies and certainly with his penchant for sensuality and blood, you can see how this is so. He also likes The Descent and The Conjuring films which rely heavily on mythos and atmosphere. His 'Myrkky' works are definitely reflective of this, especially some of the newer images he will use in Myrrky 2 which evoke desolate locales combined with godly/ sadistic figures and executioners.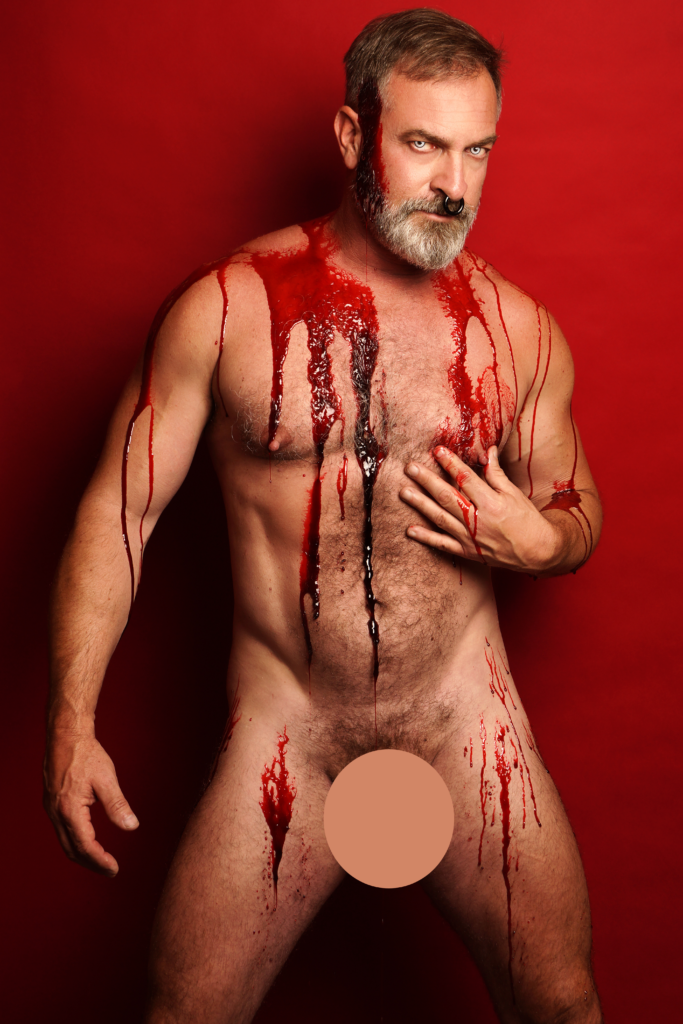 Rubén's next three books should be rolling out throughout the next year or two. The retouching and editing process for his photos is painstaking and sometimes one image can take days to edit. This is especially true for the ones featuring dead men hanging, ethereal creatures floating or men with missing or too many limbs; but it is all worth it for Rubén who gets to release his sexy and terrifying vision upon the world.
To see more of Rubén Gerardo Alfaro Moreno's work or to buy one of his photography books with uncensored imagery be sure to visit his website.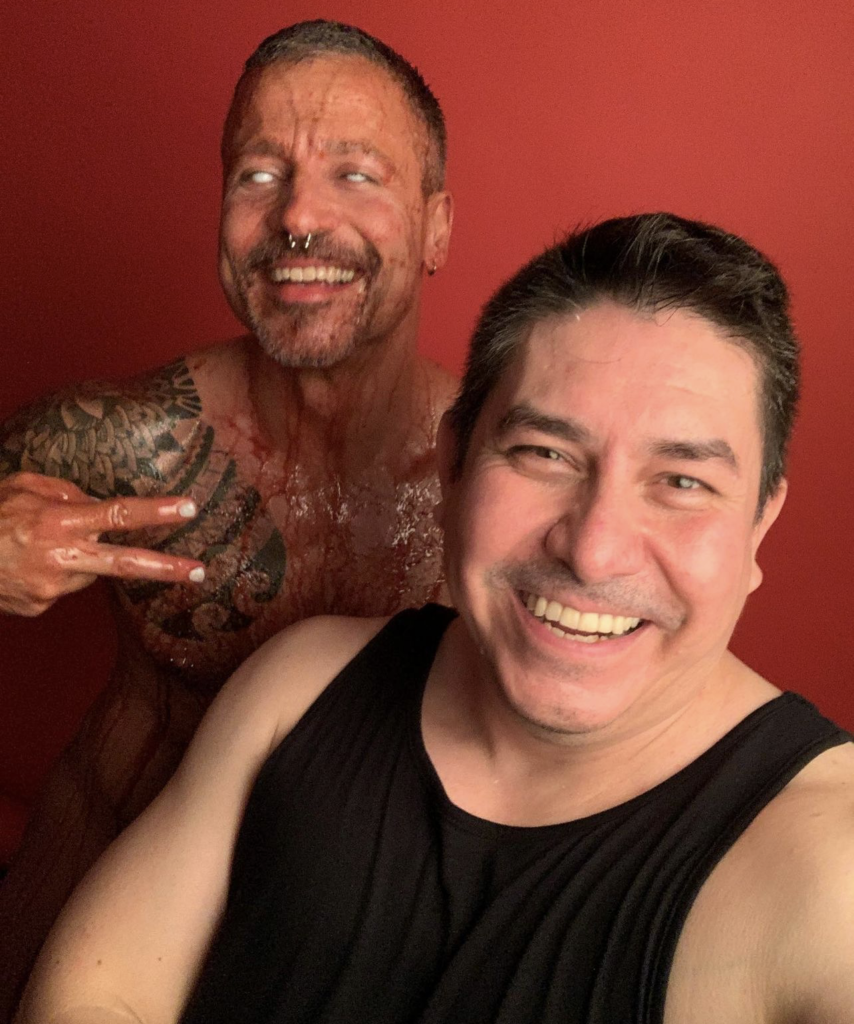 And be sure to follow Myrkky Photography on social media:
Facebook  I   Instagram  l  Twitter