The Queer Indigo: Barry Brandon encourages All Humans to be fierce!
If you're on social media a lot, chances are you've seen the fierceness that is Barry Brandon (He/They/Her/Ze)!
The influencer/model/business entrepreneur has shown us all how to walk, and does it with impeccable style and confidence. Not only does Barry model, but they also encourage some of our favorite queers and bears on social media to do the same. One of our most popular past InstaBears of the week, Beltran, is a human that works with Barry often!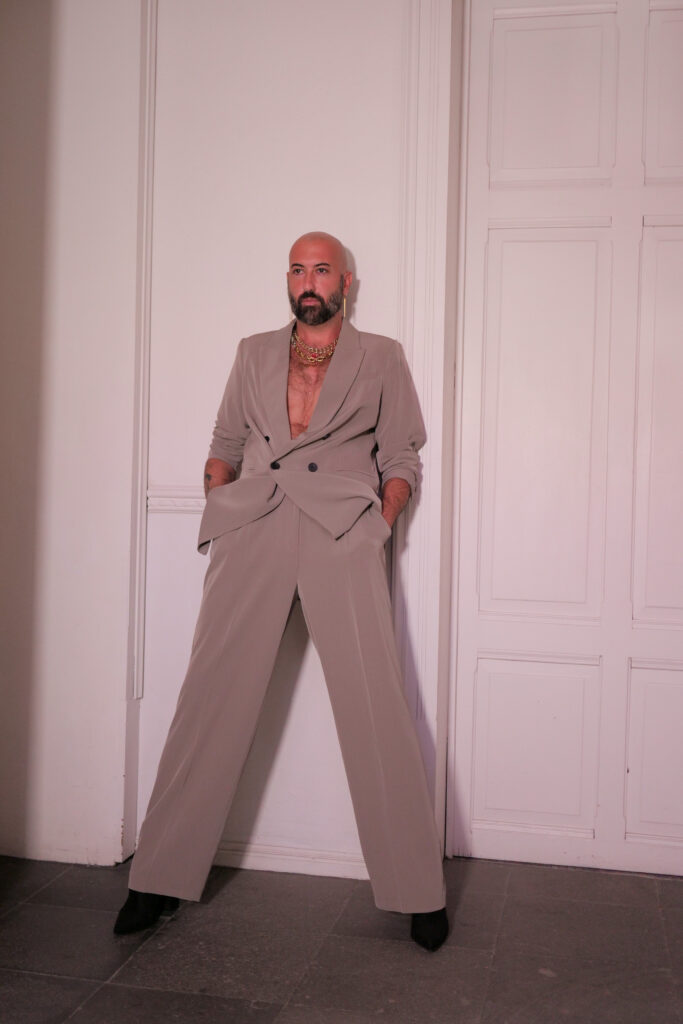 Aside from being fierce and encouraging fierceness across the board, Barry has also worked with some very prominent designers and figures. Most recently, they worked with Jean Paul Gaultier on a campaign for their perfume, Scandal. Check out the amazing videos below!
As you see, there is nothing stopping any of us from follow our dreams and encouraging others to do the same, and Barry Brandon is a true example of that! We recently had a chat with this amazing and talented human to discuss their work and their Queer-owned experiential and digital marketing agency, For All Humans.
Check it out the interview as well as some amazing images from a recent photoshoot in Florence, Italy shot by photographer Rita Foldi, featuring apparel by Kojak Studio!
---
Kyle Jackson: Can you tell us a bit about your background and what led you to start dressing and walking so fiercely and slaying us on social media?  
Barry Brandon: Grazie for asking! As a South Floridian born to a big Sicilian + Italian family ferocity was never optional and thankfully is so fundamental to my way of operating that the beginning is impossible to determine. The lewks, however, developed with seasons; in clarifying my personal taste, combining international influence and incorporating the talents of dear friends in fashion as well as artists in the community. I always view my clothing as a form of expression so often times pending where I am going and the kind of space I am occupying, I will select to present that day in a way that is perhaps disruptive, not with an intent to make a bold statement but more so to command respect for those around for being in the skin I am in and standing firm in my freedom to be.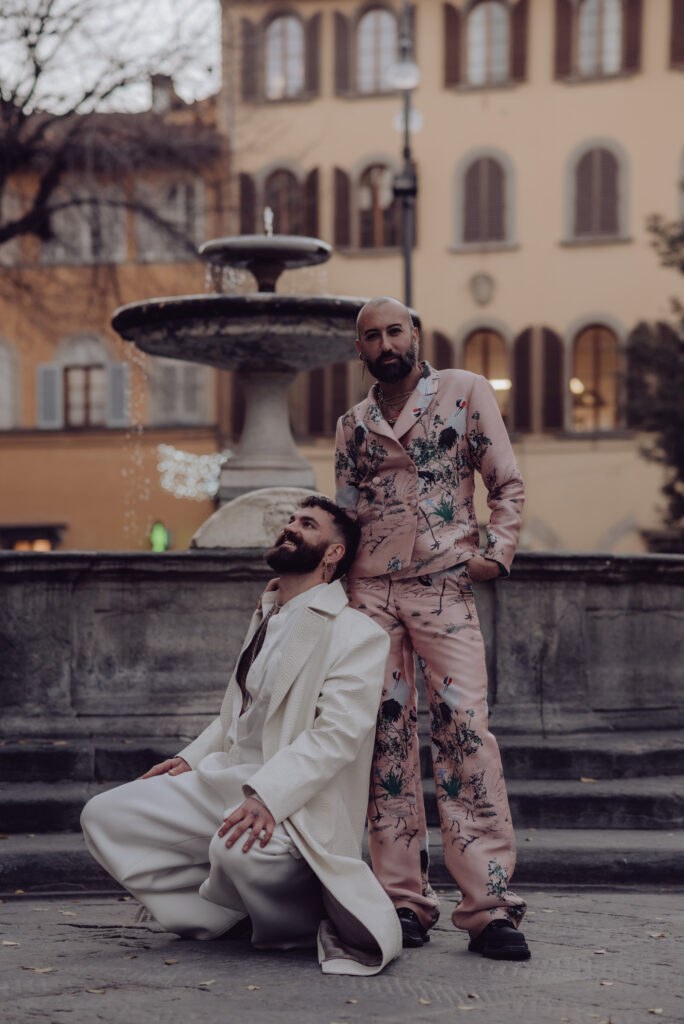 KJ: You talk a bit about your heart surgeries (eight times!). How did having your experiences affect you, and did it contribute in any way to the growth of your style and the creation of For All Humans?
BB: I believe the way a person lives is different when life is not a guarantee. From birth into adulthood, certainty was never part of my life and that led to my making the most of time and never living by anyone else's script. A gift of that uncertainty is also for one to live each day with uncompromising authenticity and to show up as exactly who I am. My agency, For All Humans, is the home I created to bring the spotlight beyond my own journey.
KJ: Can you tell us more about your agency, For All Humans, and its mission?
BB: For All Humans is our queer-owned agency that is simply what our name implies. For All Humans unrepentantly celebrates the grand array of identities spanning gender, race, size, age, and ethnicity. The agency is a queer-owned and operated space producing creative, amplifying stories across 3 continents and centering fellow individuals living fearless truths from varied walks of life across the globe.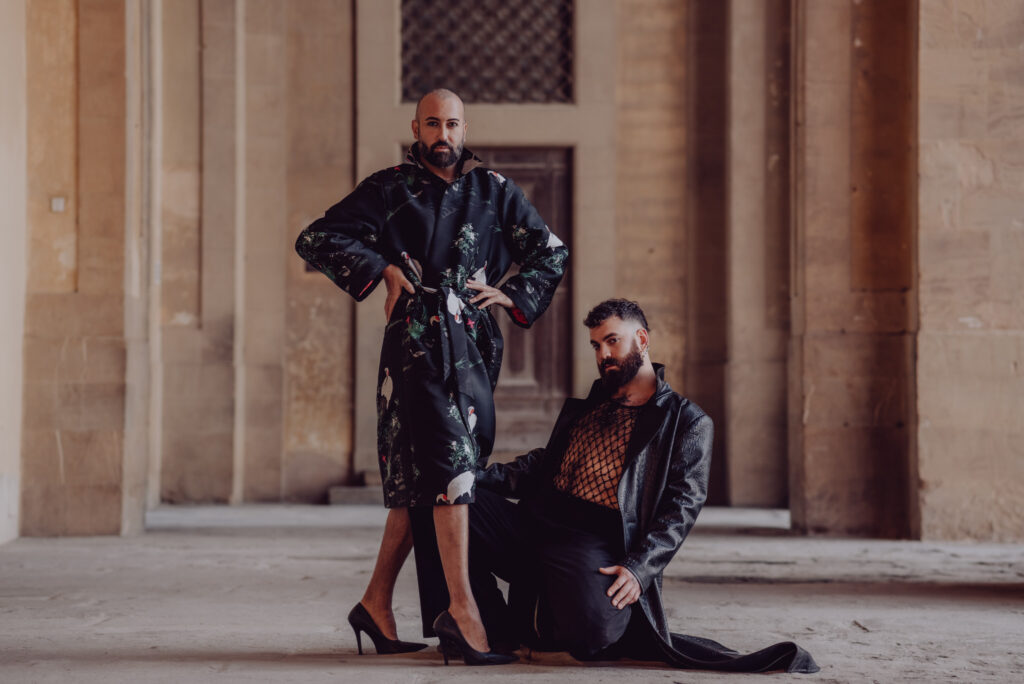 KJ: You have walked with some really cool celebrities, most recently drag queen and actress Peppermint. How do these connections come about? What are some of your favorite moments or memories from working with other celebs?
BB: Thankful to have been a friend and promoter of many talents prior to big televised roles and maintain great relationships that led to further introductions. The collaborations have felt wonderfully organic. Usually there's a message here or there noting when we're both in the same city. We then talk about availability, talk about the lewks and come take it from there. I view collaborations as a way of unifying differentiating voices from the community in a way of showing alignment and respect for voices that are all activating in different ways. Collaborations send messages that reinforce our human connection.
KJ: You are such a great role model for genderqueer, gender nonconforming and nonbinary folks. Is it your mission to empower EMBY people and anyone who doesn't feel locked into any particular gender expression?
BB: In being my truest self, there has never been a tidy gendered place in which to be labeled. I aspire for all humans to feel freedom in their own skin and defy the limits of convention. The labels I honor are designer ones, not the ones projected on me by a society against my will. I believe in the power of just being, which is more than enough.
KJ: You are very fierce and very bearded, as well. As you know, we love a nice beard here at Bear World. What advice can you give our wonderful bearded, hairy nonbinary, gender nonconforming and genderqueer Bears who may not feel "beary" or "masculine" enough in some spaces where toxic masculinity runs rampant?
BB: A beard was always face mascara, and being masc can be how people mask parts of themselves they prefer not to understand. Stay unbothered, darling. Your best audience will embrace you without boring feedback that's based in their own self-hate.
KJ: Where do you get those fierce threads of yours, and who are some of your favorite designers?
BB: I try hard to reach out to queer owned designers to see if they wish to collaborate. The goal is to place eyes on their beautiful work, to help shine a light on queer-owned businesses that hopefully results in sales. I am beginning to be reached out to by larger known brands that send me pieces in which I wear for content. Favorite brands: Alexander McQueen + Schiaparelli. I also love a Gautier, Versace and Valentino moments. Queer-owned brands, we love a UY Studio.
KJ: What can we expect to see next for you? 
BB: World domination, of course. And spending more time walking even catwalks for ever more innovative fashion.
---