The Philippines Prepare to Name a New Mr. Bear Fahrenheit
Mabuhay to all the beautiful bears competing for Mr. Bear Fahrenheit in the Philippines!
The Grand Finale to the ongoing pageant, the only pageant in the Philippines dedicated to gay and bisexual bears and chubs, will take place on April 30th at the Apollo Club in Parañaque , Philippines.
Nineteen contestants from all over the Philippines have been vying for the title of Mr. Bear Fahrenheit where online voting has already been taking place. Videos from each of the men competing have been posted to the Mr. Bear Fahrenheit event page in which they explain who they are, where they come from, why they want to win the title and what they intend to do with it. Fans and supporters are then submitting virtual stars to their favorites. Organizers will continue counting stars until April 30th at 6PM Manila time, just in time for the grand finale. The contestant that receives the most stars will automatically advance to the semi-final Q&A round and receive the title of Mr. Bear Personality.
Just this weekend, on April 23rd, the boys competed in the Talent & Kink Wear portion of the competition at F Club in Quezon City. The final portions of the competition, including the Q&A round and the naming of Mr. Bear Fahrenheit 2023 will all take place at the Apollo Club next weekend. Here's another look at the gorgeous men competing: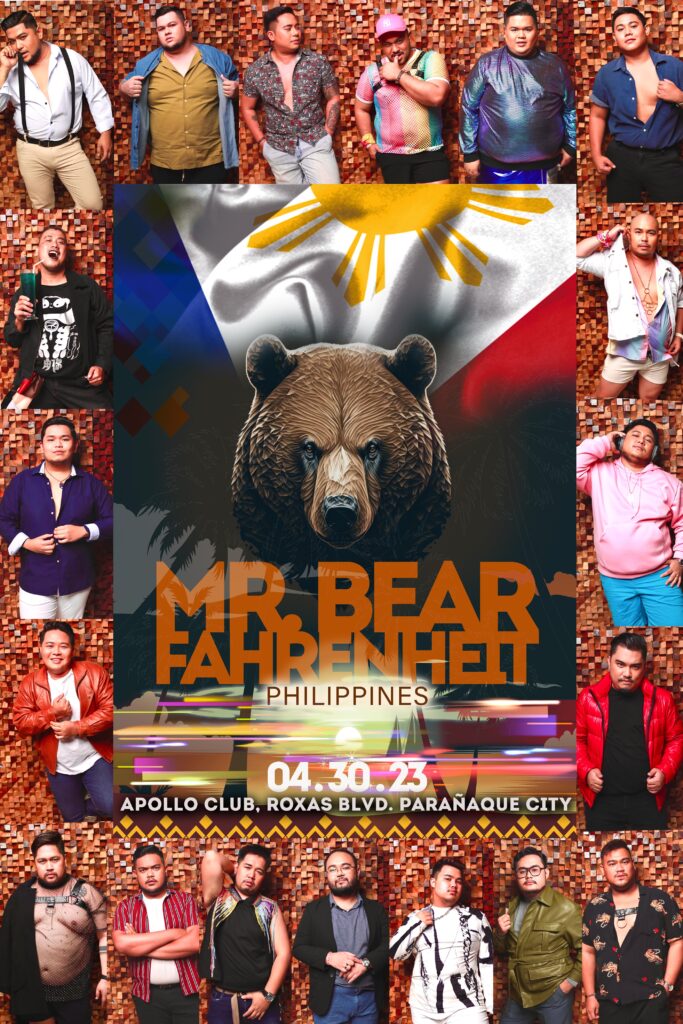 After the naming of Mr. Bear Fahrenheit, attendees are invited to stay for the afterparty that will feature appearances from Hao Kumakichi and TANTAN. DJ J Mateo will be spinning, Princess Pasquin will be hosting and there will be a special performance from Captivating Katkat. All this excitement for only ₱1,200 ($22) at the door. It's sure to be an unforgettable night!
For more information be sure to check out the Mr. Bear Fahrenheit Facebook Page.