The Northeast Ursamen bring the Bears 'Out of Hibernation' in Provincetown!
March is the month that the Bears are coming Out of Hibernation in Provincetown!
Organized by the Northeast Ursamen, the Provincetown Business Guild, and the Crown & Anchor, Out of Hibernation is a celebration of the coming spring for the Bear community and their friends featuring parties, contests, games, and more, including Tough Drag Bingo and the Bears and Boxers Party.
"Out of Hibernation is a great opportunity to experience a Bear-centric getaway in Provincetown that is less crowded, more affordable, and more intimate," said Stephan Hengst, executive director of the Provincetown Business Guild. "We love July's Bear Week celebration, but also know that it is not for everyone and encourage Bears, Cubs, Otters, Wolves, and their friends to enjoy Provincetown during Out of Hibernation."
Check out the schedule of events for Out of Hibernation Weekend below! Tickets links will be available soon, and will be sold at the door.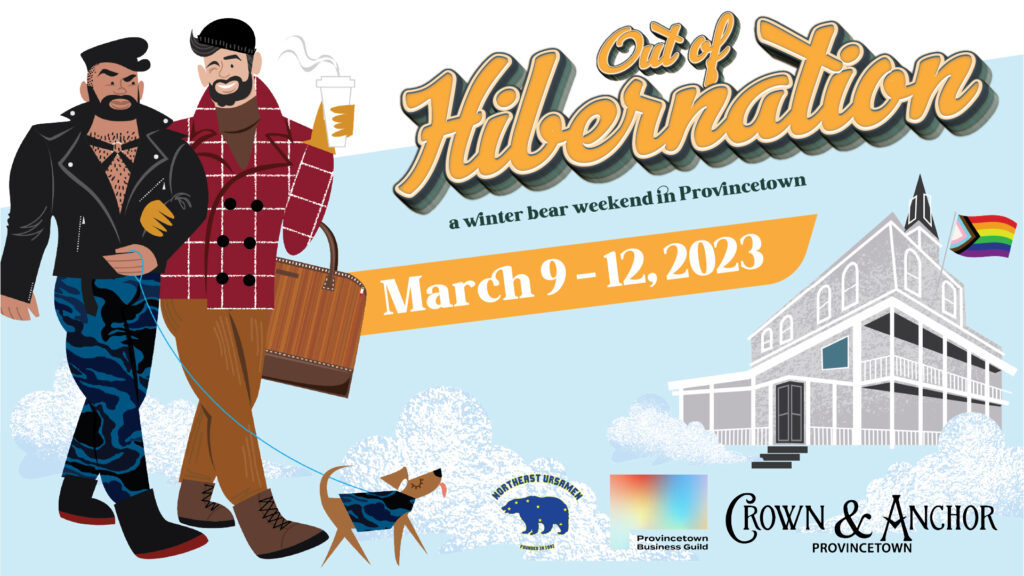 ---
Thursday, March 9th:
8pm : A night at the Water's Edge Cinema for those looking to do something when you come to town earlier! ONLY $5!
"Bear Cocaine" will be the movie we will be offering for your viewing pleasure!
Get your Tickets Here: Provincetown Film Cinema
Friday, March 10th:
9am-11am: Bear Yoga at Outermost Yoga
1:30pm-3:30pm: Bear Body Positivity/Acceptance Workshop
5pm-7pm: Meet & Greet at the Crown & Anchor Restaurant. Refreshments Served and free entry. We want to meet our guests of the weekend so please join us!
9pm: Gear Night at the Vault! – No Entry Fee.
9pm: Come dance and sing the night away at the Wave Bar! – No Entry Fee.
Saturday, March 11th:
9am-11am: Bear Yoga at Outermost Yoga.
3pm-5pm: Bear Body Positivity/Acceptance Workshop
2pm-4pm: Drag Bingo hosted by some of our favorite local and out of town queens! Doors open at 1:30pm.
$25 pre-sale and at the door to play.
$2 for each additional pack of cards (You can purchase in person).
9pm-1am: Boots and Boxers Party in the Paramount Room at the Crown & Anchor. Come show off your sexiest underwear!
$15 pre-sale and $20 at the door. Clothing Check available.
Sunday, March 12th:
11am-2pm: Drag Brunch with local and out of town queens! $25 plus the cost of your brunch. We will begin at 11am.
Additional seating will be added based on ticket sales.
---
COVID-19 Information:
It is the policy of some venues in Provincetown to require proof of vaccination before entry. The provided link details which businesses have requirements: Click Here
---
About Northeast Ursamen
The Northeast Ursamen is a social group for bears, cubs, admirers and allies that started in the fall of 1992. The group is here to promote social and recreational activities for its members, as well as charitable fundraising in the community.
Follow the Northeast Ursamen on Facebook and Instagram.