The Iconic BEAR Magazine Makes Triumphant Return!
The iconic BEAR Magazine made a surprising and triumphant return last night and we've got all the exclusive details!
Many bears of a certain age fondly remember and were influenced by the world-famous BEAR magazine kickstarted by Richard Bulger and his partner Chris Nelson in San Francisco in 1987. And while the magazine did not create bear culture, it certainly helped popularize it with erotic photos, stories and classified ads, all centered around bears.
From its humble beginnings as a photocopied flyer BEAR eventually became a big glossy magazine with worldwide distribution until 2002 when its publisher Brush Creek Media was forced to close its doors by the IRS. Ownership was left up to the judicial system and in 2008 the magazine resurfaced with a new publisher and a new look. In the 2010's BEAR went digital before stopping publication completely, that is, until last night!
That's right boys, BEAR made a surprise return yesterday evening, debuting during Shine Bright with Bryce Quartz on Growlr Live. The magazine made its triumphant return with none other than Only Fans super-creator Seattle Dad as its first cover man. The magazine will now be exclusively digital and will feature a new monthly cover bear along with daily editorial updates that will feature articles about sex, health, kink, culture and yes, porn.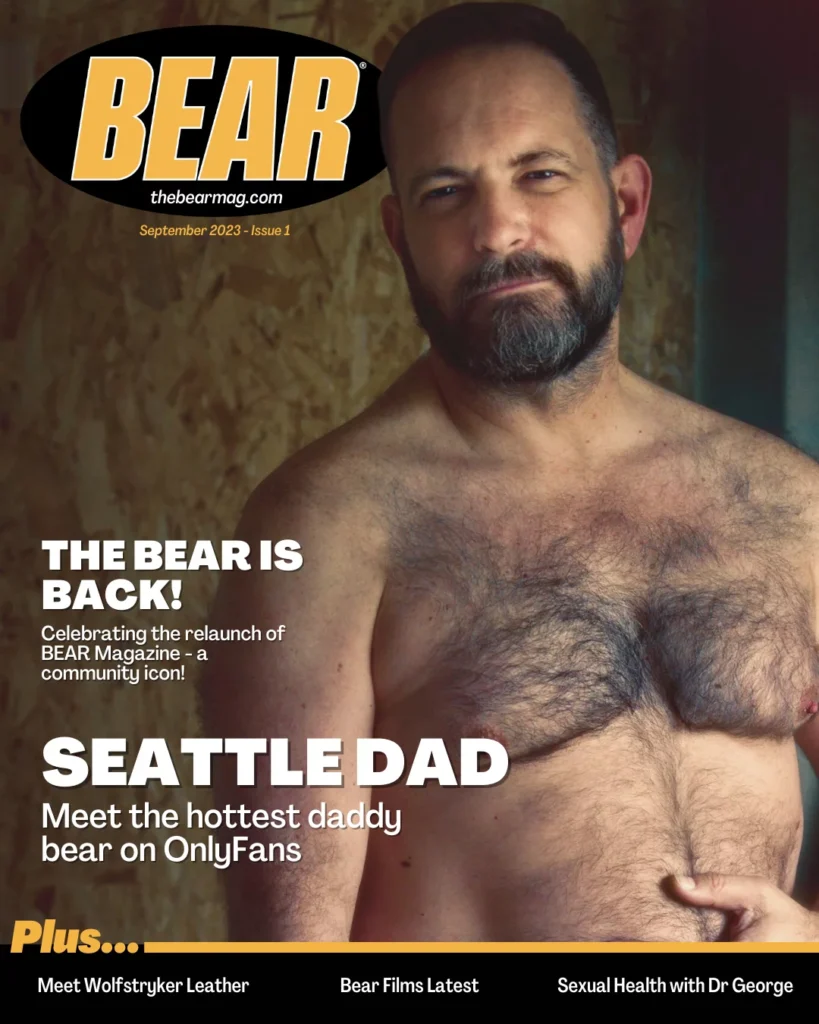 BEAR magazine will once again be the go-to place for gorgeous nudes of the hottest bears, along with exclusive peeks at XXX bear content from major porn players, amateur studios and adult content creators. When asked about the new direction of the magazine, BEAR's editor in chief, David Goodman said:
"My intention is to honor the past and look to the future of what a XXX bear magazine/site can be in the 21st Century. I'm excited to explore how it will entertain and uplift the global bear community in a sex positive way, as well as giving a platform to bear performers and icons we all love to support."
It is an exciting new chapter for this iconic brand, one that Bear World Magazine is proud to be a part of. We will be sharing some content with BEAR going forward and will also be featuring some of their sexy men in the more 'SFW' format you're accustomed to from us at BWM.
BEAR IS BACK fellas! Tell your friends!
Check out the brand new BEAR magazine HERE and be sure to follow their Facebook, Instagram and Twitter.