Keith James Nickolaus-Johnson, better known as Keith James, is a self-described "bear loving, geeky, artist/author" living in Glen Lake, Minnesota with his husband and dog.
One look at his artwork will confirm for viewers both his passion for and amazing talent at capturing the bear image in its purest and most joyful forms, not to mention his other awe-inspiring work on superhero and sci-fi characters.
We sat down with the this talented bear, artist and painter to learn more about him and his beautiful work which he has generously shared with us below.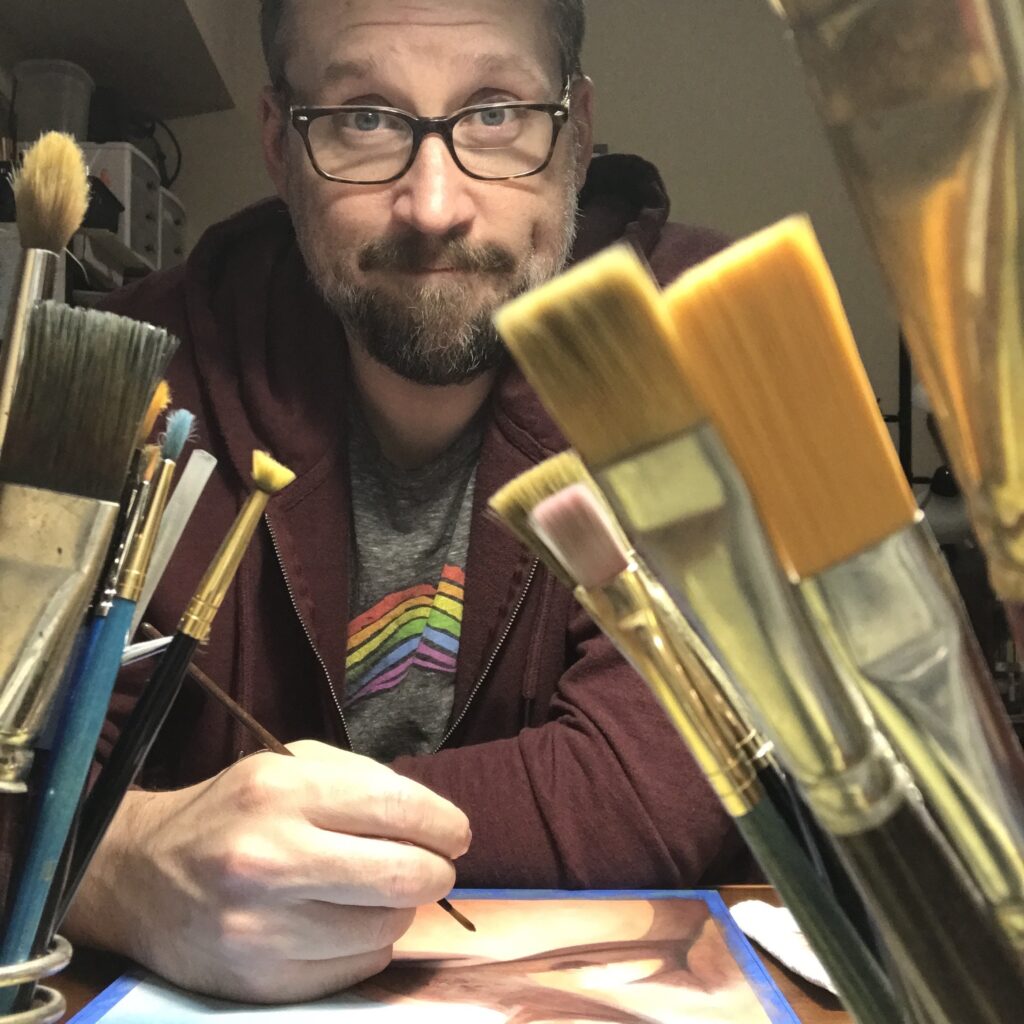 BWM: What is it about bears that makes you want to incorporate them into your art?
Keith James: I'm just a "visual person" who enjoys looking at the things I find pleasing to look at, and sometimes that pours over into my art. I like it so much; I want to paint it and bears easily fall into that category.
I've always loved animals; I even did a number of projects in art school featuring them. I only bring that up because, in a weird way, what I like about the animal so much, can be applied to what I like about the men I find attractive: that big and imposing "don't f**k with me" presence, which can be equally adorable and sensitive.
BWM: What initially drew you into the bear community? And what keeps you there?
Keith James: For me, my fondness for the bear community is closely tied to my realization that I was gay. Having been raised in a conservative religious household, I was in serious denial about being gay. Compound that with the fact that when I looked at what the culture told me was an attractive man—svelte and smooth with washboard abs (which didn't do anything for me) it was easy to convince myself I was just going through a phase or something. Then, in my late twenties, around the same time I was awakening to the fact that being gay didn't mean everything I was raised to believe it meant, I developed a crush on this guy, though I didn't realize it was a crush because, well, ya know – denial. He was a truck driver with a big belly and a full beard. When it finally hit me that I was crushing on him, it caused so many things to mentally fall into place. I went to the internet and typed in words that could describe the truck driver and found a term that summarized it all so well…"bear". 
The more I learned about the origins of the bear community, the more it drew me in. I admired the way these men—who found themselves as outsiders in the general gay community just because they didn't have a stereotypical gay physique—created their own community. The fact that the physique that they did have was exactly what I was discovering I found attractive… the more endearing the group became to me. And I loved how the bears seemed all the more welcoming, because they knew the sting of rejection.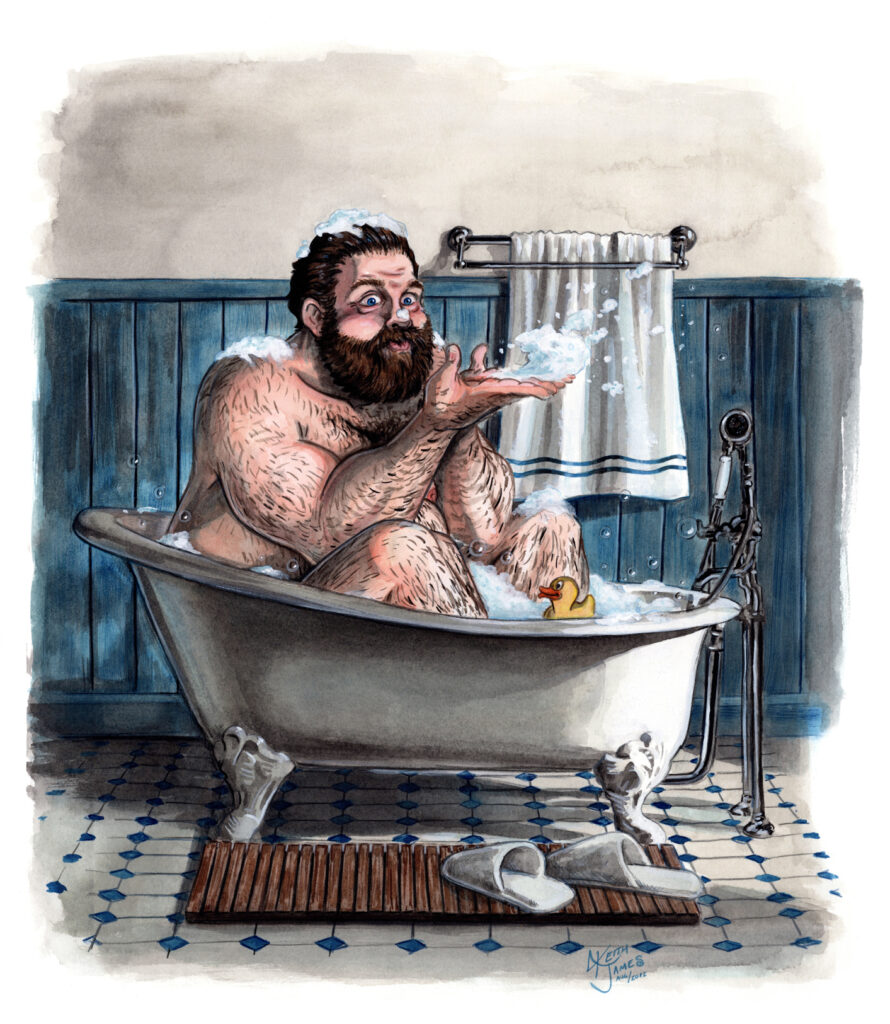 BWM: When did you start creating art? How did you learn?
Keith James: Oh my goodness, I've been doing art my entire life. My oldest memories pretty much all involve drawing. It helps that I had a talent for it, but more so, I had a passion—so I was always doing it, which gave me the practice to get better. Consequently, there was never any question that I wanted to spend my life making art, and to my parents' credit, they recognized that in me and encouraged it. I attended the Columbus College of Art and Design where I earned a BFA in illustration. Although attending college didn't do much for my art career, I am a far better artist for having gone, which I like to think that is actually the proper outcome of it—not just earning a diploma, but actually improving myself.
BWM: Who are some of your artistic inspirations?
Keith James: A few of the artists whose work will both inspire me and make me question why I even try doing it myself are Norman Rockwell, Scott Gustafson, Paul Kidby, Drew Struzan, Alex Ross, Stuart Immonen, Joe Madureira, Carlos Pacheco, Mike Wieringo, Glen Keane, Seizoh Ebisubashi (aka: Ebith), and Pontaro.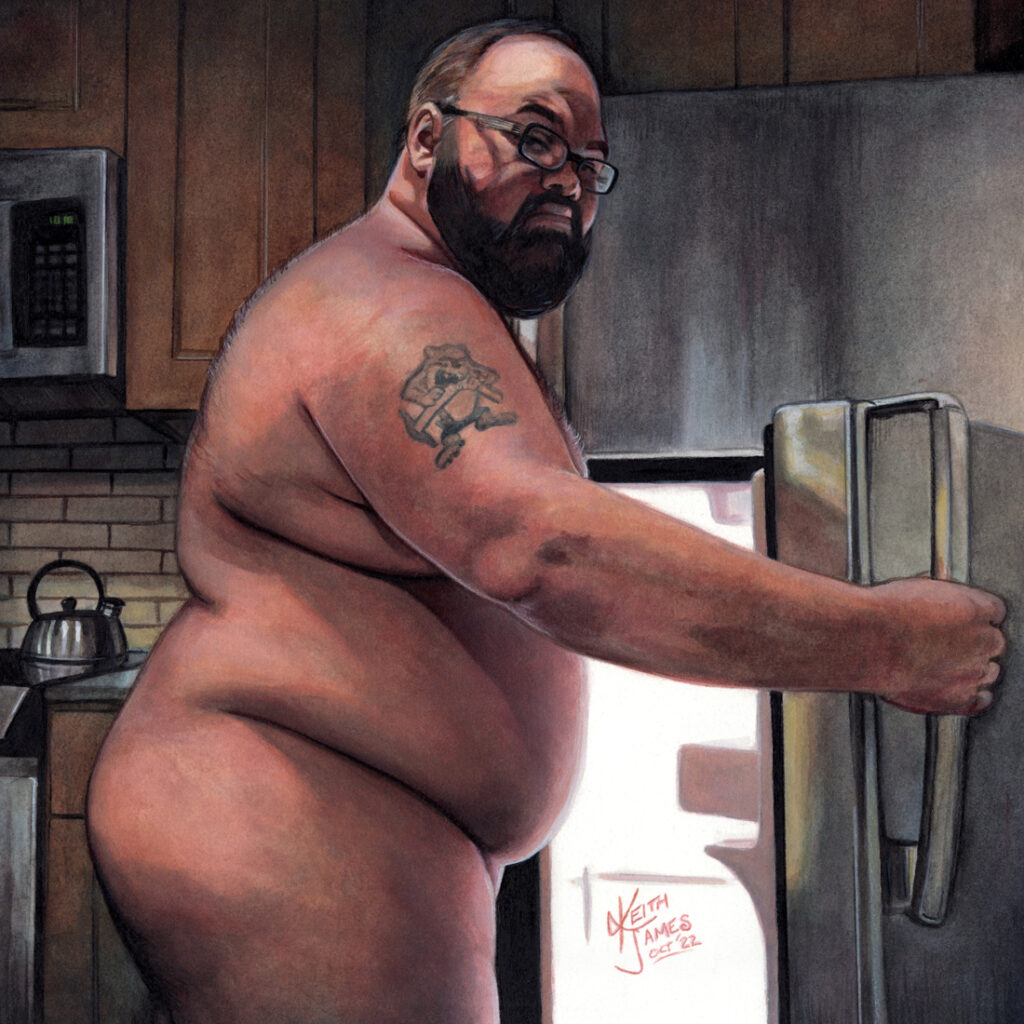 BWM: Where can we see/ purchase your work?  
Keith James: www.thegeekcanpaint.com is my main website. I took on the moniker "TheGeekCanPaint" because for a long time my career goals were focused on making art of the geeky subjects that I love—comic book superheroes, cartoons/anime, Star Wars, Buffy the Vampire Slayer, and plenty of other (mostly geeky) things. The bear art was just something I did on the side for fun. But in recent history, I've flipped that.
So now my site only has my bear art, and you can purchase prints of it all, and even shirts and mugs of some of it. There's also more info about me and a way to contact me if you'd like to hire me to do a commission. There's a mailing list you can sign up for there that I haven't utilized much yet – but I'm working on.
 I also have a DeviantArt account: deviantart.com/thegeekcanpaint. You can find all my bear art there, but I mainly have this account as a place to post all the other non-bear/geeky-themed work I've done or may do for fun.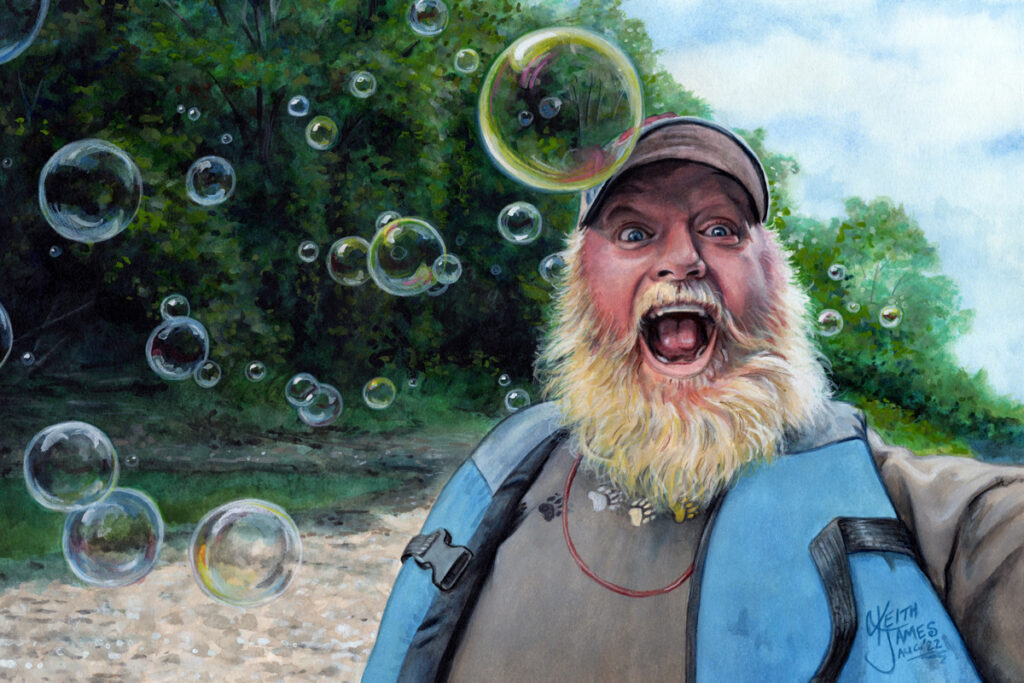 BWM: What is up next for you?
Keith James: Right now, I'm focusing my time on two bear-themed projects:
The Bear Portraits
It's a simple project in description at first. Basically, I'm doing paintings of guys that I think are cute. I know all the subjects in some fashion. Some I've had the fortune of meeting in person, while others are simply friends via social media. Whatever the case, I've spoken with all of them in order to get their permission to paint their likenesses and then use them in my business ventures. Each painting is based on a reference photo from either their social media or an image they've shared with me. Prints of the individual paintings can be purchased via my website at any time—they get posted as I complete them.
My plan is to do 100 of these paintings. When they are complete, I'd like to assemble them into an art book. At the moment there are 39 portraits completed, with the 40th already started. When I reach 50, I'll begin the process of farming out the project to publishers or at least seek an art rep to do that for me. And if the series/book proves to be successful enough, I'm fond of doing a second series which would become a second book, and then a third series/book and so on.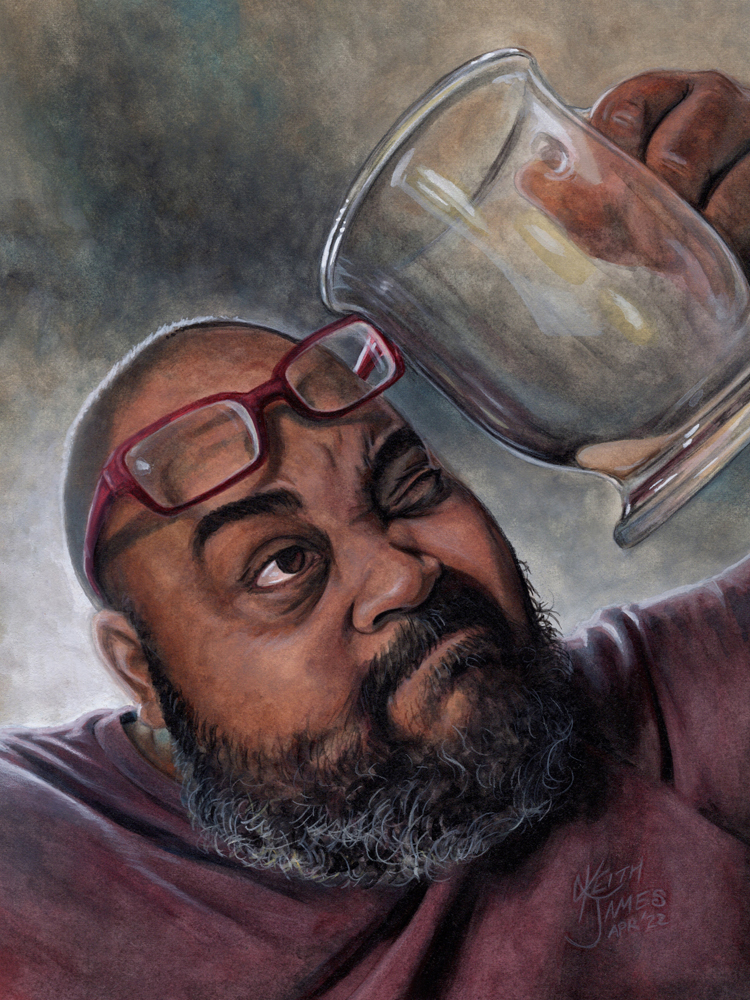 The gAy, Bear, Cs
A few years ago, I had an idea of doing a painting that looked like it was out of an old-fashioned alphabet book simply called "B is for Bear". But it felt, somehow… like, wrong to skip "A is for…"—I'm weird that way. It almost caused me to walk away from the whole thing, but when the title, "The gAy, Bear, Cs" came to me… well, it felt too inspired to walk away from, and I decided to go all in and make a series out of it. Now I'm going to do an illustration for each letter of the alphabet.
What I like best about this project is, while the Bear Portraits show off my technical painting skills, this one allows me to stretch my creative and illustration muscles a bit more. Each illustration is not just based on a photo; I get to design, then draw out, and paint each one. Not to mention I wear my writer's cap to come up with the poem for each letter.
Like the Bear Portraits, I post each illustration once it's completed, and prints can be purchased of them. But also like the portraits, I'm also going to see if I can have the series put together into a book for publication once it's complete.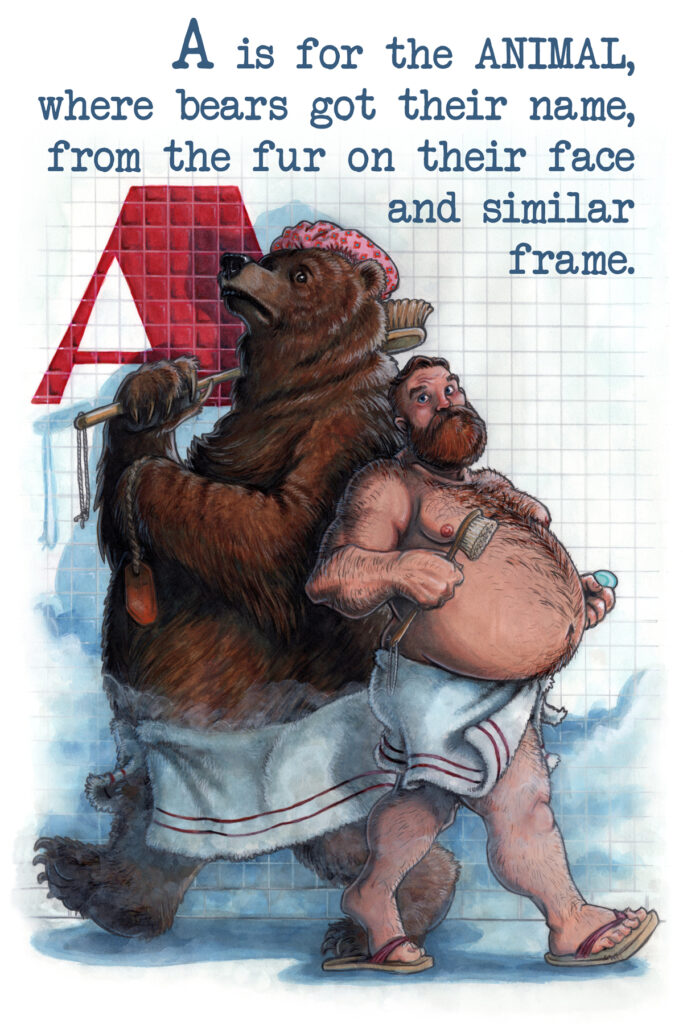 For more information and to purchase some of Keith James' art be sure to visit The Geek Can Paint and his DeviantArt page.
Be sure to also follow him on Facebook and Instagram.