The Aloha Bears Prepare to Launch Lei-A-Bear Weekend!
Aloha, Bears! They've had a name change, but Lei-A-Bear Weekend (We LOVE it) is still so much fun in the Hawaiian sun!
Lei-A-Bear Weekend (renamed because it is now on Memorial Day Weekend instead of Labor Day Weekend) will become the new annual 5-day event hosted by The Aloha Bears. The event will happen from Thursday, May 25th – Monday, May 29th.
Bears and their admirers from all over the world will visit the beautiful island of Hawaii. The event will feature a full schedule of parties, entertainment and activities only available in Honolulu and O'ahu. And there will also be plenty of free time to play well with others (wink).
---
Events
Here are some of the amazing events lined up for the weekend. You can purchase tickets for individual events that may interest you, and everyone is welcome to the FREE events.
Thursday, May 25th – Meet and Greet
Location: Bacchus Waikiki, 408 Lewers Street, Honolulu
Time: 7:00pm – 10:00pm
Kick-off the Lei-A-Bear Weekend at Bacchus Waikiki! Grab your swag bag and get socially lubricated (i.e. drink!) as you mix and mingle with your new friends.
FREE EVENT
---
Friday, May 26th – BILF – Gear Night/Fetish Party
It's Aloha Friday! Today is your opportunity to experience what Hawai'i has to offer before the weekend events begin. Book a tour at Pearl Harbor, or take a ride out to the North Shore. On your way there, stop and visit one of the many food trucks offering some of the best ono (delicious) food on O'ahu like garlic shrimp, kalua pig, and poke.
Location: Tapas Waikiki, 407 Seaside Ave, Honolulu
Time: 9:00pm – 1:00am
Join them at Tapas for BILF (Bears I'd Like to Fondle…) – Gear/Fetish Party. Show them your favorite jock, undies, harness or fetish gear for a night in the Bear Cave. Feed the bears, they won't bite (unless you want them to).
FREE EVENT
---
Saturday, May 27th – Bears on the Beach: Excursion to Secret Island

Location: Tapas Waikiki, 407 Seaside Ave., Honolulu
Time: 9:00am – 3:00pm
Check in 9:00am – 10:00am @ Tapas Waikiki

Bus departs 10:00am from Tapas Waikiki to Secret Island and arrives around 11:0am
Bus departs 3:15pm from Secret Island to Tapas Waikiki and arrives around 4:00pm
Sack lunch provided! BYO drinks/small coolers (no glass) CLICK HERE TO PURCHASE TICKETS
---
Sunday, May 28th- Bear Boat/Booze Cruise
Location: Bacchus Waikiki, 408 Lewers St., Honolulu
Time: 11:30am – 4:00pm
Check-in at 11:30am at Bacchus

The Bear Boat/Booze Cruise is famous all around the globe! Leave 12:30pm from Bacchus and walk to Waikiki beach departure behind Duke's 90 minute catamaran cruise departs at 1:00pm with open bar. After the cruise, join them back at Bacchus for lunch (included in ticket price) and a few more drinks and fun!!
CLICK HERE TO PURCHASE TICKETS
---
Bearaoke Night
Location: In Between, 2155 Lauula St # B, Honolulu
Time: 7:00pm – 10:00pm
Every day is karaoke at In Between and when the bears are in the house it's Bearaoke. This isn't an official Lei-a-Bear event, but if you didn't join them on the Bear Boat, then come sing your heart out or serenade the bear you met this weekend.
---
Monday, May 29th (Memorial Day) – Bear-B-Que Potluck
Location: Fort Derussy Beach Park, 2055 Kalia Rd, Honolulu
Time: 12:00pm – 4:00pm
The event concludes with a potluck picnic at Fort Derussy beach park. Come exchange a few bear hugs and jump in the ocean one last time together! Your new Bear friends will be on the grass area leading to the beach, so look for the tents with the big bear flag! Food and refreshments will be provided but please feel free to bring anything special.
FREE EVENT
---
Hotels
Lei-A-Bear Weekend room group rates are available at two hotels for Lei-A-Bear Weekend.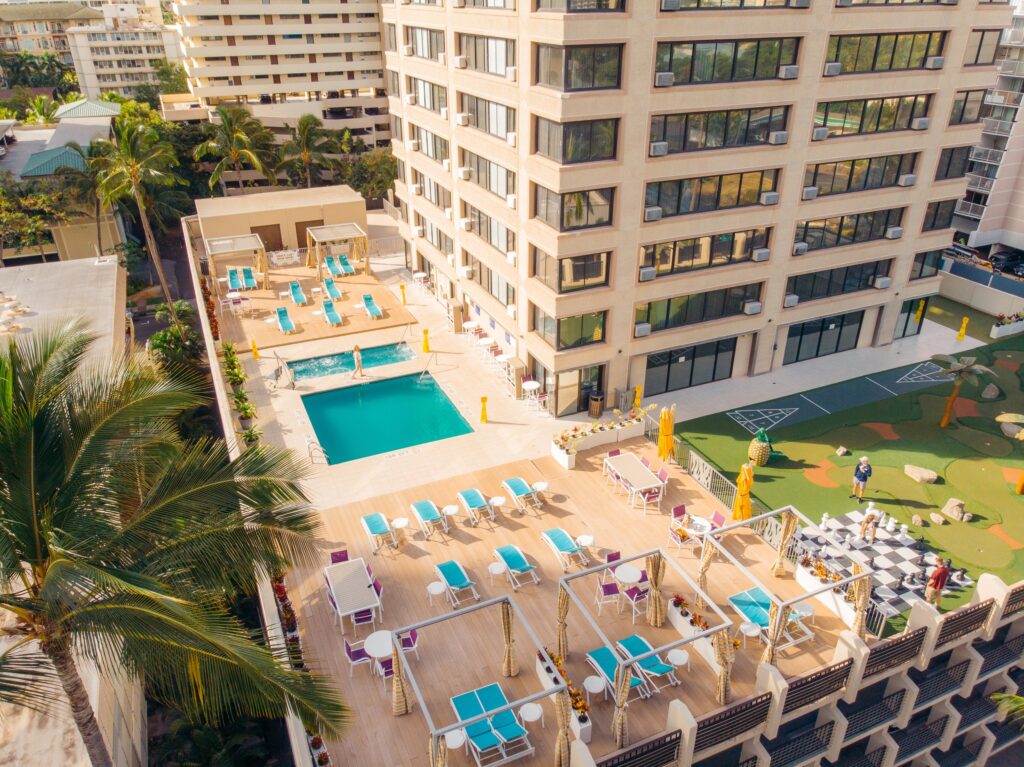 The Holiday Inn Express Waikiki, an IHG hotel, is conveniently located in Waikiki and is walking distance to Bacchus, In Between, and Tapa's.
The special discounted group rate for Waikiki View (single/double occupancy) is only $169 per night during the dates of May 21-28, 2023. Be sure to inquire about any additional charges, request bedding, and the cancellation policy before making your reservation.
Some additional amenities include:
Complimentary Daily Breakfast Buffet
Complimentary Wi-Fi Access
Recreational 5th Floor Skydeck, with family-friendly games
Swimming Pool & Jet Spa, Fitness Center and Kids Game Room
Poolside Private Cabanas and Snack Cart
Activity Desk and Concierge Desk by Blue Hawaiian: Activity and Concierge Information
Discounted shuttle transportation by Speedi Shuttle: Shuttle Information at Holiday Inn Express
Call the Reservation Department at 808-748-7103 or 808-748-7104 and mention the group name – ALOHA BEARS or click BOOK NOW. Do not change the Rate Preference as it defaults to the group code: ALB. The special discounted rate is available until April 21, 2023.
---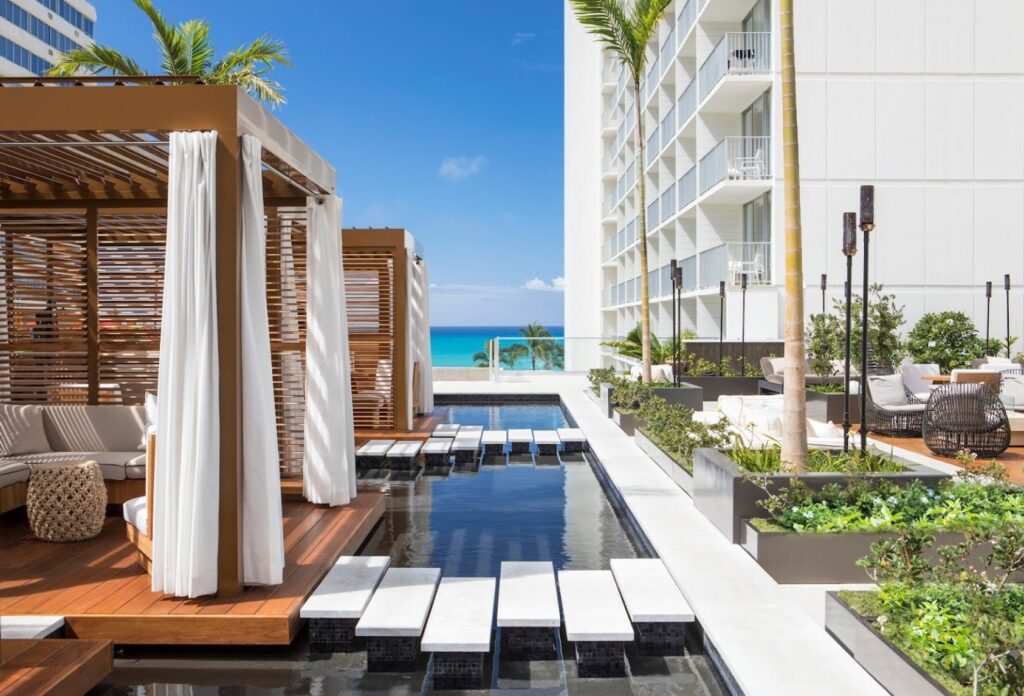 The 'Alohilani Resort, located in the heart of Waikiki, is proud to offer 20% off the "best available rate" during the dates of May 21-31, 2023. A discounted resort charge of $25 (normally $48) + 17.962% tax per room/per night will be charged (in addition to the quoted group rate).
Be sure to inquire about any additional charges before booking your reservation as well as the cancellation policy. Use the following link when making your reservation – BOOK NOW!
---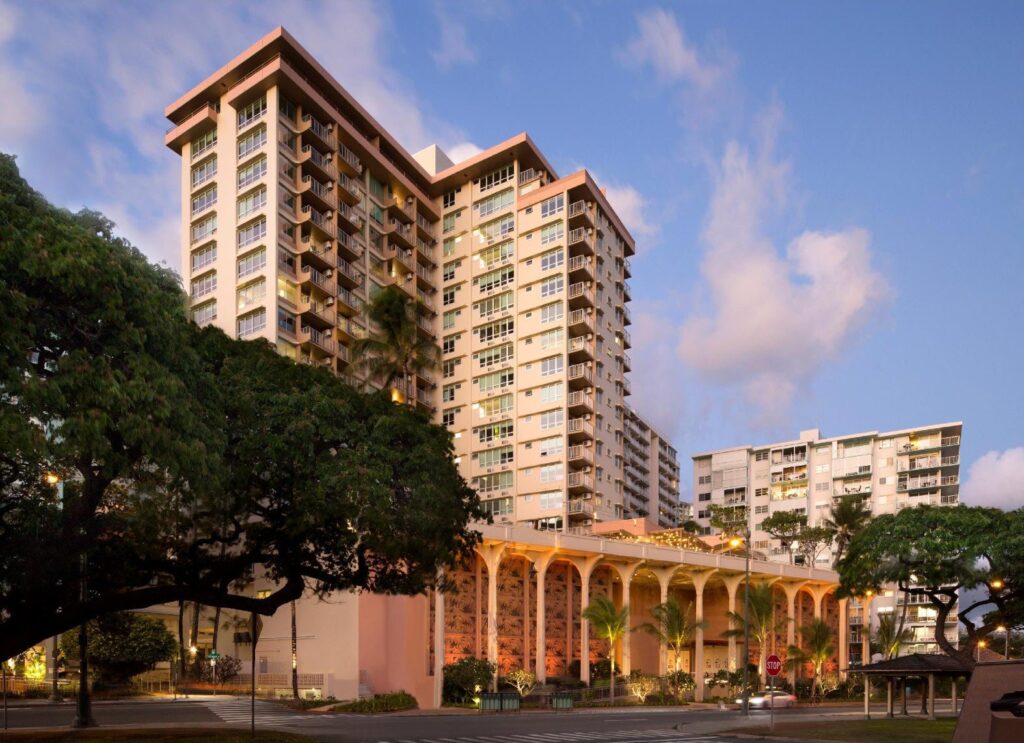 The Queen Kapiolani is located in Waikiki, across from Kapiolani Park. While they are not offering a group rate, this is an alternative option and conveniently located to the beach, bars, and dining.