Thanksgiving Bear Events in LA: Carve, Crawl and CLAW
Spending America's most grateful (or grating) holiday in the City of Angels? There is a lot more to do than uncomfortably avoid talking politics with your relatives. Before, during and after you slice into that traditional bird, here are some top activities to celebrate with your chosen family on Thanksgiving Day and weekend:
Pre-Turkey Day Beer Bust at Eagle LA
Start the long weekend off right on Wednesday night with cheap brew, hot bears and bangin' beats from DJ Aaron Tilford at Silver Lake's premiere watering hole. Get a good dose of camaraderie, comfort and maybe a kiss to relax you the night before the big day. And on Thursday, should your family dinner get too tense or awkward, the bar opens at 6pm for all your decompression needs.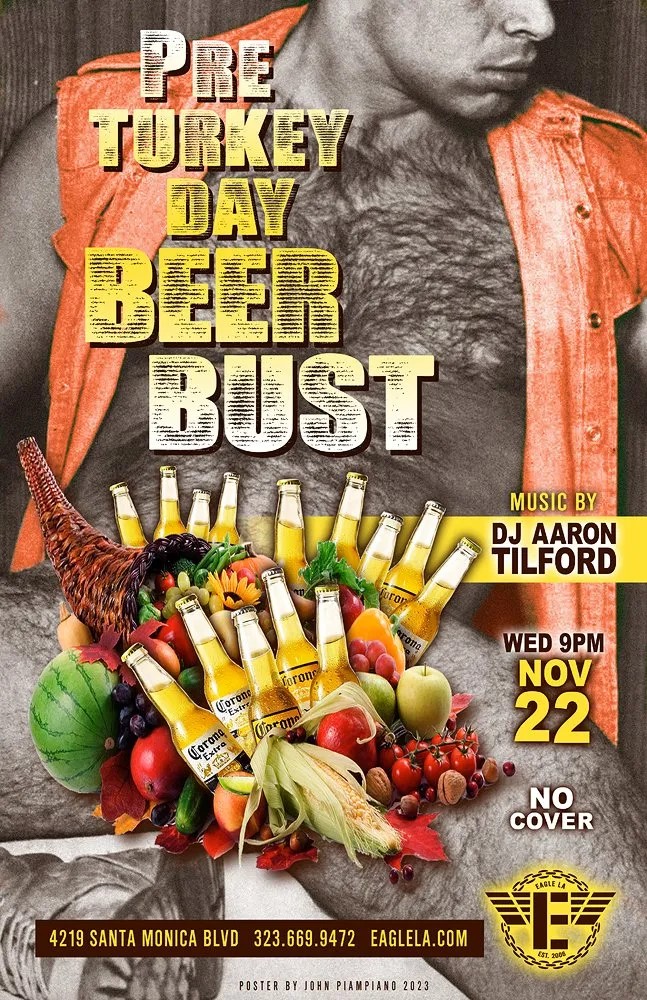 CLAW presents LA Leather Getaway
The premiere annual leather weekend held at the historic and cinematic Westin Bonaventure Hotel promises to deliver all the kink, leather and fetish goods this weekend, beyond just its sprawling vendor mart. Thousands of kinksters from all over the world will be in town for demonstrations, speed dating, play parties, a new Kinky Kabaret, and lots of good food. On Thanksgiving Day there is a Chosen Family Thanksgiving Dinner — with all the turkey, stuffing and trimmings you could want — available as an add-on purchase for event registrants.
Feed Me, Daddy at Bullet Bar
In the true spirit of the holiday, Bullet Bar is serving up a complimentary traditional Thanksgiving dinner on Thursday to its regular crowd of bears, leatherfolk and NoHo neighborhoodies. The bar opens at 5 with supper carved at 6 and there is no cover.
Bear Happy Hour Pub Crawl
The newcomer party talk of the town isn't taking a day off for the holiday. Rather, it's seizing the opportunity to deliver a double helping of fun. The action begins at 5pm at Akbar for the regular happy hour of mingling, conversation and belly rubs. Then sometime after 9pm, join the group for an impromptu Bear Parade (and quick food refuel) down Sunset Blvd to their final destination, Eagle LA.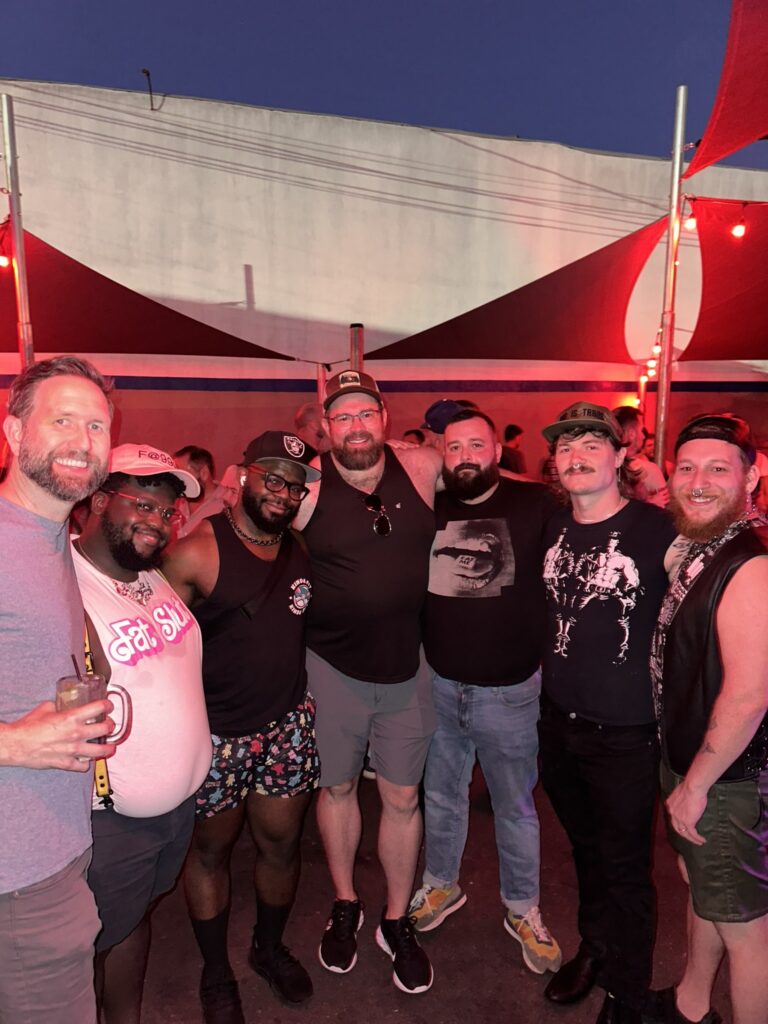 If you really want to blow off steam after Thanksgiving dinner, downtown's best gay bar has you covered. Hosted by Joshua Flores and Jeremy Lucido, the Thanksgiving night VPL party invites you to strip down to your jockstrap and dance your stress away. (And they'll reward you for doing so with drink specials for those in their jock or underwear.) DJ Omar Di Jou keeps the dance floor filled, sexy go-go boys keep the energy up, and giveaways from Cellblock13 and JustFor.Fans keep things unpredictable and fun. The bar opens at 8pm, there is no cover and all are welcome.
Bears LA Mac & Cheese Cook-off at Eagle LA
Finish your big food weekend right with the 5th annual Mac & Cheese Cook-off on Sunday, Nov. 26th, at Eagle LA. As their poster says, "Come show off your comfort food cooking skills! Bring your Nana's favorite recipe, your bougie best concoction, your Southern delicacy, your childhood memory, or just come sample the best macaroni and cheese dishes in the county." Five dollars gets you a tasting buy-in and lets you be the judge. Proceeds go to Bear LA and Bears LA Charities. If you're interested in being a chef, contact Carlos at mrlaleatherbear2023@gmail.com.