Texas Bear Round-Up and BearDance raise $147K for Charity!
Our friends over at Texas Bear Round-Up (TBRU) and BearDance have always done exemplary work benefitting the Dallas community at large and yesterday's exciting announcement from the Dallas Bears (the group behind TBRU) is just further proof of that.
In total the two organizations donated a total of $147,000 to local charities with the Cathedral of Hope Benevolence and Outreach Ministries receiving $71,000; the Greg Dollgener Memorial AIDS Fund (GDMAF) receiving $35,500; the Coalition for Aging LGBT receiving $35,500 and $5000 for the AIDS Services of Dallas generated from the Dallas Bears' annual Teddy Bear Auction.
Talk about partying with purpose!! Our congratulations and thanks to the good folks over at the Dallas Bears and BearDance for all the good work they do! Be sure to keep an eye on both organizations' websites for additional details and a forthcoming write up In the Dallas Voice.
Check out our coverage of TBRU 27 from earlier this year below!
---
TBRU 27 is officially in the books, and what a time it was! Check out our event and photo recap below.
Texas Bear Round-Up 27: 7 Deadly Sins, which took place from March 16th-20th at the Hyatt Regency Dallas, was the biggest Round-Up yet! Hosted and organized by the Dallas Bears, the event featured an incredible schedule of events and activities. Bears from all over the world gathered in the Lone Star state to celebrate bears, brotherhood and the hirsute of happiness! (See what I did there?!)
This was my second time attending TBRU and like the first time, I was amazed by everyone's friendliness and gladdened by the diversity of the attendees. Inclusion is something clearly valued at this event and I'm happy to see it. All types of bodies were proudly on display and of course the bears were gorgeous to behold.
There were activities for everyone and every interest including traditional favorites like the BearDance on Friday Night at S4. This year's theme was Angels & Demons and the boys came out in droves to dance to the beats of Thunderpuss and watch RuPaul's Drag Race star Gottmik perform. Saturday night we had the beloved TBRU Family Dinner which was followed up by the Mr. TBRU Contest and Underwear Auction for Charity. Bold and beautiful contestants competed as either an Admirer, Cub or Bear, with the overall winner being proclaimed Mr. TBRU.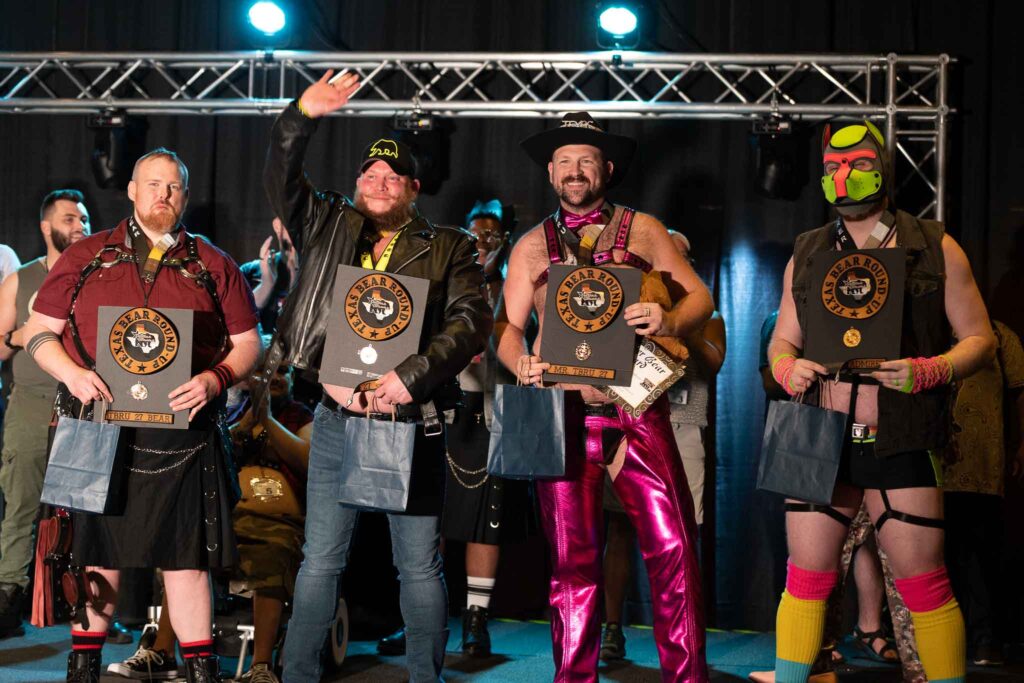 The event also featured the legendary TBRU Hospitality Suite, which is an enormous, converted ballroom where the music was pumping, and pass holders were treated to drinks and snacks until late into the night. And of course, there was the closing BBQ lunch on Sunday at The Round-Up Saloon followed by 'Church' at The Hidden Door.
For those looking for non-bar or sober activities there were events like Guy Branum's stand up show and the Vendor Market, which has to be the biggest I've ever seen at a bear run. There had to be over 50 vendors in attendance, selling everything from harnesses and sex toys to soap and fine art. I dropped a bundle, but I got some amazing stuff!
***Scenes from the TBRU Vendor Market. Photos Courtesy of James Davenport, Dallas Bears***
Besides that, there was also Bear Yoga, a Gaming Room, classes on Bear Roping, Naughty Bear Bingo, a Pet Play House, Classes on Pup Play, a Texas Food Tour, a Spa Excursion, a trip to the water park, special receptions for Black, Latino & Asian bears (and their friends), socials for deaf bears (with ASL interpreters also on hand at key events) and so much more.
James Davenport, TBRU 27 Producer and Social Events Director for the Dallas Bears, said: "This year was one of our most highly attended events to date with over 1900 guys in attendance! On behalf of the membership of the Dallas Bears and all of our local volunteers, thank you all for making Texas Bear Round-Up 27: 7 Deadly Sins a success! Join us next March for TBRU 28: The Roaring 20's!"
TBRU, besides being a classic bear run, is meant to be fun for a cause. The event, in conjunction with the Dallas Bears and BearDance have donated over $1 million to the local LGBTQ+ community in Texas.
***Scenes from the TBRU 27: 7 Deadly Sins. Photos Courtesy of James Davenport, Dallas Bears***
Texas Bear Round-Up 28: The Roaring 20's will be held March 21st through 24th.
Stay up to date with TBRU news on their official website & on Instagram, Twitter and Facebook (where you can see even more photos from the event!)