Tantra4GayMen to host Diploma in Tantra training program in California
Tantra4GayMen, led by owners and head teachers Jason and Ingo, is a UK based Tantra school dedicated to the personal, sexual and spiritual development of gay and bisexual men. From April 18 – 24, 2020, Tantra4GayMen will host Ecstasy & Orgasm – the first module of its three-module Diploma in Tantra program. This module will be held at the Joshua Tree Retreat Center in Joshua Tree Mountain, California.

The cost for the first module consists of a $1,599 Tuition Fee, plus one of two tuition/meal plan options. The tuition/meal plan options include $795 Twin Ensuite/meal option, or the $750 Quad or Triple/meal option.

Tantra4GayMen specializes in Neo-Tantra, which is described as a synthesis of old and new practices of spiritual development. Tantra, in its original meaning, is a Buddhist pathway toward increased consciousness and awareness of your true inner being. In Neo-Tantra, modernized versions of these methods are combined with elements of humanistic psychology, sex therapy, bodywork, and new-age practices. Neo-Tantra's objective is total freedom from one's own ego and self-debilitating thought processes, as well as anything else that gets in the way of one's inner happiness and peace.

The Tantra4GayMen Diploma in Tantra consists of three, 7-day modules – Ecstasy & Orgasm, Healing & Surrender, and The Divinity of Bliss. Each module explores the Diploma's core topics – Sex, Spirit, Personality, Love, and Ecstasy – from unique and very different perspectives. Students may choose to enjoy these modules individually, or they may choose to complete all modules as a complete Tantra training program.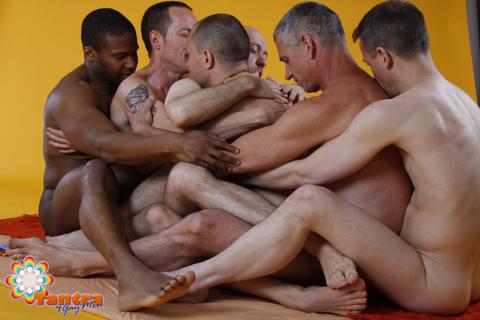 Upon completion of all three modules, students will be awarded the Tantra Diploma Certificate, which opens up many more opportunities for deeper exploration with Tantra4GayMen, as well as deeper exploration of one's personal and professional life.
The Diploma Week will be held at the Joshua Tree Retreat Center, a peaceful desert getaway in Joshua Tree National Park, California. Joshua Tree Retreat Center offers beautiful accommodation, a gorgeous training room and an outside pool, all set in a place of outstanding natural beauty.
The center is located approximately 45 minutes from Palm Springs International Airport, approximately 2 hours from Ontario Airport, and 2 1/2 hours from Los Angeles International Airport and John Wayne International Airport. Train, bus, shuttle and taxi services can be taken from the airports to the center.
All attendees will enjoy the gourmet delights of the very talented Chef Todd, who will be preparing wholesome, healthy vegetarian meals throughout the 7-day long module. Special diets are catered for, and all meals and snacks are provided.
To learn more about Tantra4GayMen or to register for the Diploma in Tantra program, please visit www.tantra4gaymen.com/diploma-usa-west-book-now.