Star Wars Celebration 2023: A Look Everything Coming to us from a Galaxy Far, Far Away
In addition to hot, curvy, and furry men, bears also seem to have a penchant for sci-fi. Just think about it, how many Trekkies do you know? And while the Star Trek fanbase is considerable, I'd argue that the Star Wars fans might just give them a run for their money in terms of devotion and memorabilia collections. That's why when we heard about this year's Star Wars Celebration, we knew we had to being you the latest and greatest coming from a galaxy far, far away, as reported by our sister publication Gayming.
On Friday, April 7, fans waited excitedly as Lucasfilm showed off what is coming next for the iconic sci-fi franchise during Star Wars Celebration 2023. Unfortunately, the showcase wasn't streamed for the public, but luckily, we've got the details on everything that was announced during this event.
Everything announced during Star Wars Celebration 2023
Three new movies are in the works
One of the first announcements made during the event was that three new, live-action movies within this universe are in development. These will be directed by three separate creatives: James Mangold, Dave Filoni & Sharmeen Obaid-Chinoy. Mangold's project, who previously directed Logan, will focus on the "dawn of the Jedi," while Filoni's will focus on the New Republic era. In perhaps the most exciting and/or controversial news, Obaid-Chinoy's film will see Daisy Ridley return as Rey after the events of The Rise of Skywalker to build a new Jedi Order.
Release window and trailer for Star Wars: Ahsoka
During Star Wars Celebration 2023, fans also got both a release window and new trailer for Star Wars: Ahsoka, the live-action series that will follow Anakin's former padawan after the events of the Clone Wars animated series. The show will arrive on Disney+ sometime in August 2023, and stars Rosario Dawson. Live-action versions of characters from Star Wars: Rebels — Hera Syndulla (Mary Elizabeth Winstead), Sabine Wren (Natasha Liu Bordizzo), and Chopper — also made appearances in the new trailer.
The Mandalorian teaser hints at Admiral Thrawn
A teaser for the upcoming seventh episode of the current season of The Mandalorian was shown during Star Wars Celebration 2023. In it, Moff Gideon (Giancarlo Esposito) discussing the whereabouts of Admiral Thrawn — a notable character from Star Wars: Rebels — with Captain Pallaeon:
"Grand Admiral Thrawn is missing," Moff Gideon says.
"With respect, our one hope for success relies upon the secrecy of his return," Pallaeon replies.
"I never hear a word of Thrawn. You've spoken of his imminent return. Perhaps it's time that we look to new leadership."
Andor Season 2 scheduled for 2024
Series creator Tony Gilroy confirmed that the team behind Andor, starring the absolutely woofable Diego Luna, is aiming to have the show's second season premiere on Disney+ sometime in 2024, though he didn't reveal an official release date.
"We started shooting in November," Gilroy said. "We're about halfway through. We're going to shoot through August. We're on the exact schedule. Finish in August, spend another year on post. I suppose we'll come out the following August."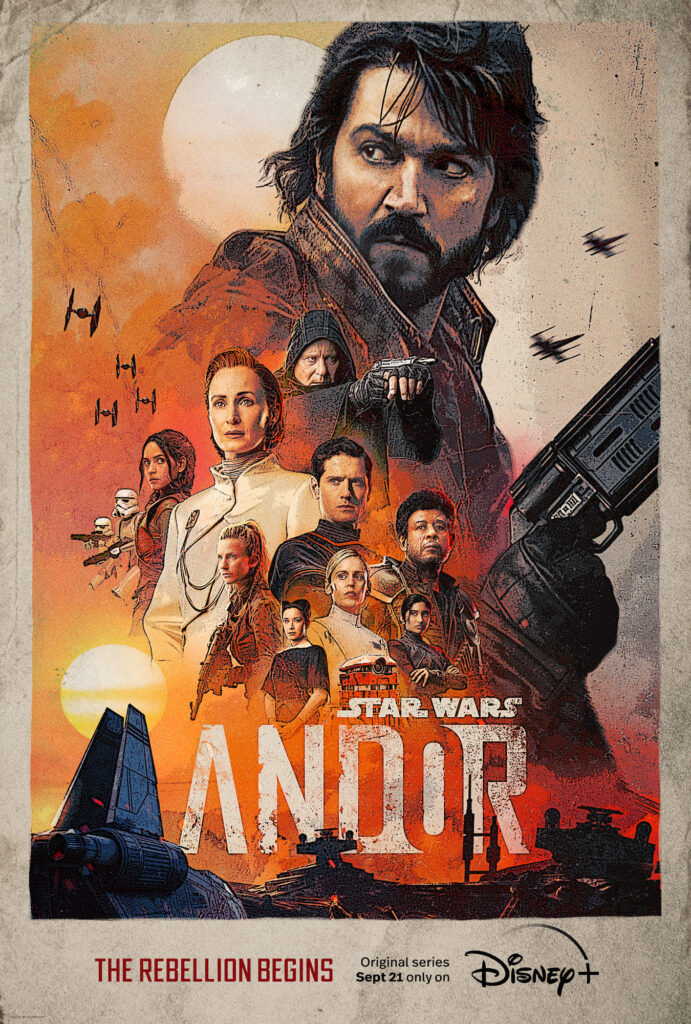 Star Wars: Acolyte details and release window
Described as "Frozen meets Kill Bill," Star Wars: Acolyte is an upcoming live-action series set toward the end of the High Republic era (close to the beginning of the prequel films) coming to Disney+ in the near future. An exact date wasn't given, but the show is slated to release sometime in 2024.
Star Wars: Skeleton Crew trailer
There isn't an official release date yet for upcoming Disney+ series, Star Wars: Skeleton Crew, but a new trailer was shown off during Star Wars Celebration 2023. Jude Law will star, while on Watts, David Lowery, The Daniels, Jake Schreier, Bryce Dallas Howard, and Lee Isaac Chung are some of the episode directors. The show is inspired by The Goonies, and follows a younger cast of characters.