See the first new, official Bros trailer
Following the enthusiastic response to the NSFW trailer, Universal has finally released the first official and SFW trailer to Bros.
Written by and starring Billy Eichner, Bros tells the story of how independent and self-reliant professional Bobby meets and falls in love with Aaron, a seemingly 'bro-type' gay man. The new trailer shows the pair's first meeting at a club where they bond over exchanged quips, as the gays do. The trailer also hints that the movie will tackle some serious issues like body image and bisexual erasure, but in a humorous way.
The movie is already breaking ground due to the fact that it's the first gay rom-com backed by a major studio, written by and featuring an all queer cast. If current buzz is any indicator, the movie is on track to be a hit and hopefully the first of many mainstream queer films to come.
Billy Eichner took to twitter where in a series of tweets he expressed his excitement for the movie by poking fun at the Hollywood system that literally "made 300 movies about dinosaurs before they made one about two gay guys falling in love" and encouraged his followers to "make history" by going to see the film in theaters.
See the new trailer below.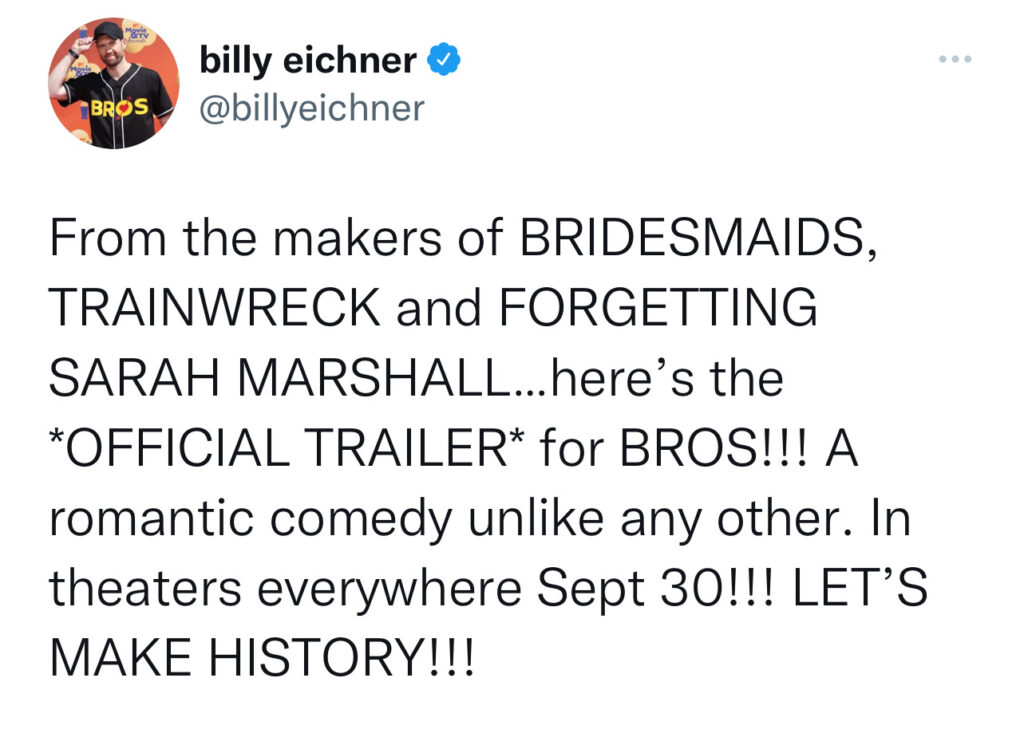 Bros will be released September 30.
This article was originally published on our sister site, Queer Forty.