Season 2 of Shine Bright with Bryce Quartz to Premiere on GROWLr Live
GROWLr really was onto something when they launched the Live feature of the app during the pandemic. What started as a way to foster human connection during a time of abject isolation has flourished into a brand-new way for us to flirt and communicate with bears the world over.
The Live feature has also become a way for us to find entertainment within the bear-niverse. Countless musicians, comedians and storytellers have utilized the Live feature as a way to get their art out there including our friend Bryce Quartz who is about to launch season 2 of his beloved GROWLr Live show "Shine Bright with Bryce Quartz".
We sat down with the rapper, writer and performance artist to get a sneak peek on what's coming up on the show.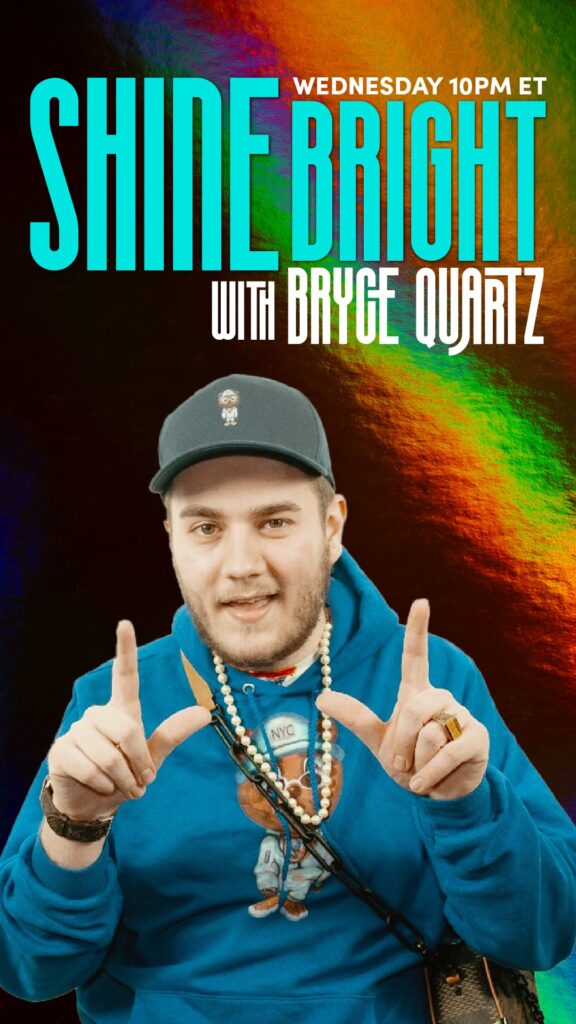 John: Hey there, Bryce! Thanks for taking the time to chat with me. How are you feeling about the launch of Season 2 of your GROWLr Live show "Shine Bright with Bryce Quartz" starting this week?
Bryce: Hey John, thanks for speaking with me today! I'm super excited about this new season. With Season 1 having over 30 episodes last year starring SO many different influential bears, cubs, musicians, comedians, and more from our community, I'm excited for this season where I'll be bringing back some of my guests from last season along with new guests too!
John: That does sound exciting! Can you tell us a little bit more about what your show entails?
Bryce: It's essentially a talk show centered around the people in our community, whether it be musicians, comedians, influencers, visual artists, photographers, event promoters, and so much more. Each week features two special guests where I interview both of them and a Bear World Magazine News segment in the middle where I round up all the essentials from the week right here from the magazine. The show ends with both guests joining me together, giving all of us a chance to bounce off each other to wind down the episode.
John: It sounds like each week is full of surprises and fun! And I especially like the Bear World Mag news segment! (Laughs) Can you tell me a little bit more about some of the guests you've had on the show before, and possibly a hint at what's to come this season?
Bryce: On the first season, I had the privilege of interviewing musicians such as Zee Machine, Big Daddy Karsten, Nakia, and several others just to name a few. I also got to chat with the non-binary bear comedian Poppy J Snacks, Emmy Winner Jeffrey Marx known for his work on hit shows like HBO's "We're Here" and "Love on the Spectrum," as well as the reality TV star and musician Roulette Delgato known for his role on "Bobby, I Love You Purrr" on the Zeus Network. This season, I'll be bringing back some of these guests and some new ones too! You never know who you might expect to see on Shine Bright.
John: All people we know and love here at BWM. When does this new season launch, and can you tell us who your first two guests are?
Bryce: It launches this Wednesday, August 2nd at 10PM EST, and will be every Wednesday at 10PM EST thereafter! My first two guests will be Nakia from The Voice Season 1, and YOU, the Editor in Chief here at Bear World Magazine and star of Stan The Mechanic! I look forward to speaking with you live on GROWLr for the launch of this new season, you're always such a pleasure to talk with. I can't wait!
John: Whaaaat???? Meeeee???? HAHA! Just kidding! I can't wait! It's always a good time. Wishing you the best of luck on season 2 Bryce and I will see you and Nakia on Wednesday the 2nd!