Sam Morrison's 'Sugar Daddy' gets Off-Broadway encore!
Our hilarious friend, comedian Sam Morrison, is bringing his acclaimed solo show Sugar Daddy BACK!
The show, which premiered Off Broadway earlier this year, will play an encore engagement at the SoHo Playhouse, (15 Vandam Street), it was announced today. Sugar Daddy, which was recently declared "The best show in NYC" by The Daily Beast, will return for a 5-week run beginning Friday, March 3 and playing a limited schedule through Saturday, April 1, 2023. Directed by Ryan Cunningham and produced by SoHo Playhouse and co-produced by Ali Fischbein, Sugar Daddy began performances on January 11 at the SoHo Playhouse, where it plays through Friday, February 17 before returning next month.
Grappling with the death of his partner from COVID-19 in 2021, Morrison transforms his grief into humor. Masterfully toeing the line between comedy and tragedy, he takes the audience on a journey of love, loss, diabetes, seagull attacks, and a few extraordinary coincidences.
After meeting his partner Jonathan at the infamous "Bear Week" in Provincetown, the two fell in love quarantining together at his grandmother's house before Jonathan's tragic passing. Soon after, Sam found a coping mechanism in an unexpected place: comedy. Sugar Daddy is a revolutionary hour of comedy that follows in the footsteps of stand-up solo artists, but expands on what comedy can be – a brutally honest and truly hilarious exploration of tragedy and triumph. Ultimately, this is an uplifting hour that is a testament to the resilience of the human spirit and our ability to find light in darkness.
Tickets for Sugar Daddy (starting at $40.00) and more information can be found here. March 3 – 18, 2023, the show will play Fridays at 9 pm and Saturdays at 5 pm and 9 pm. From March 23 – April 1, the show will play Thursdays – Saturdays at 7 pm.
Check out our January cover interview with Sam below!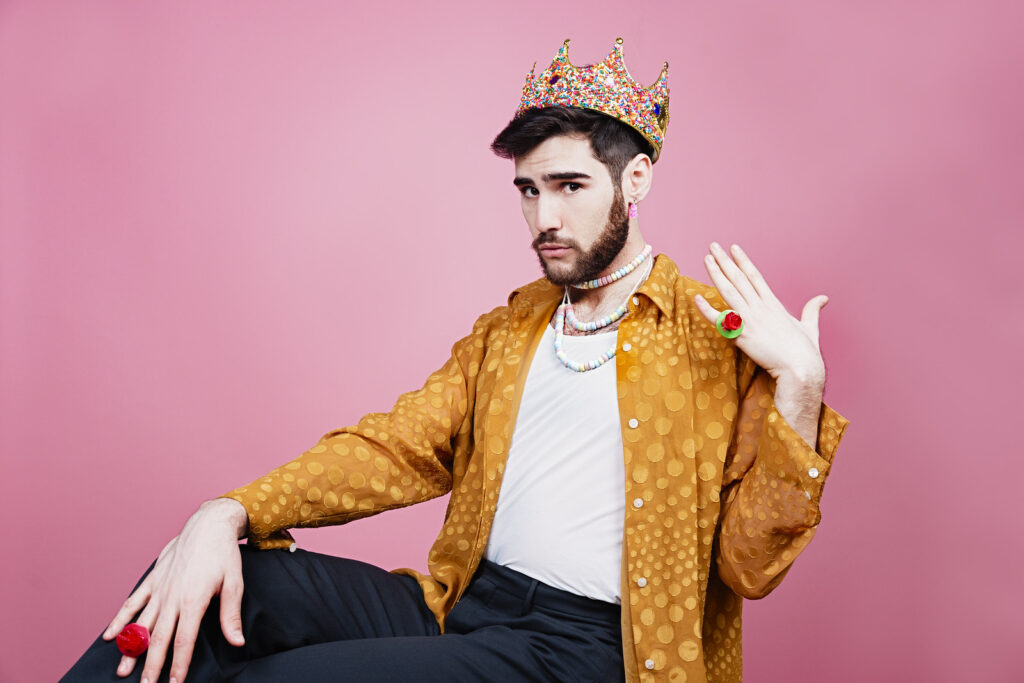 Richard Jones: Sam great to see you again I'm excited to see you bring your new show to New York, you are not from New York though how did you end up here?
Sam Morrison: Yes, I am from Florida, but my mom grew up in Rockland County NY, And I would go up there most summers, staying in my grandmother's house,
which had hardly changed since the 20's and we would sometimes do little day trips to the city. So I had a little bit of an introduction to the city as a kid. And then when I was in high school, my parents got divorced and my mom moved back up to New York City pretty much as I was going to Cornell. So, I went to New York at the same time my mom did and that's why I ended up in New York. Then in between the semesters, over the summer, I did two internships in New York City. The first one was at a small nonprofit theater, Performance Space 122. Actually, I wouldn't call them small. They're quite profitable. It's tiny little theater company, that does really, really amazing work. And then I interned at the Travel Channel.
RJ: How did you get your start in comedy?
SM: Well while I was coming to the city and interning, I started doing some open mics. And I was just so enamored with them. I think that first summer I
did a couple open mics. And then that second summer, I did a bunch, maybe 15 to 20. And I remember meeting other comedians, that were professionals and I just
thought they were the coolest people in the world, people who got booked and paid to do comedy.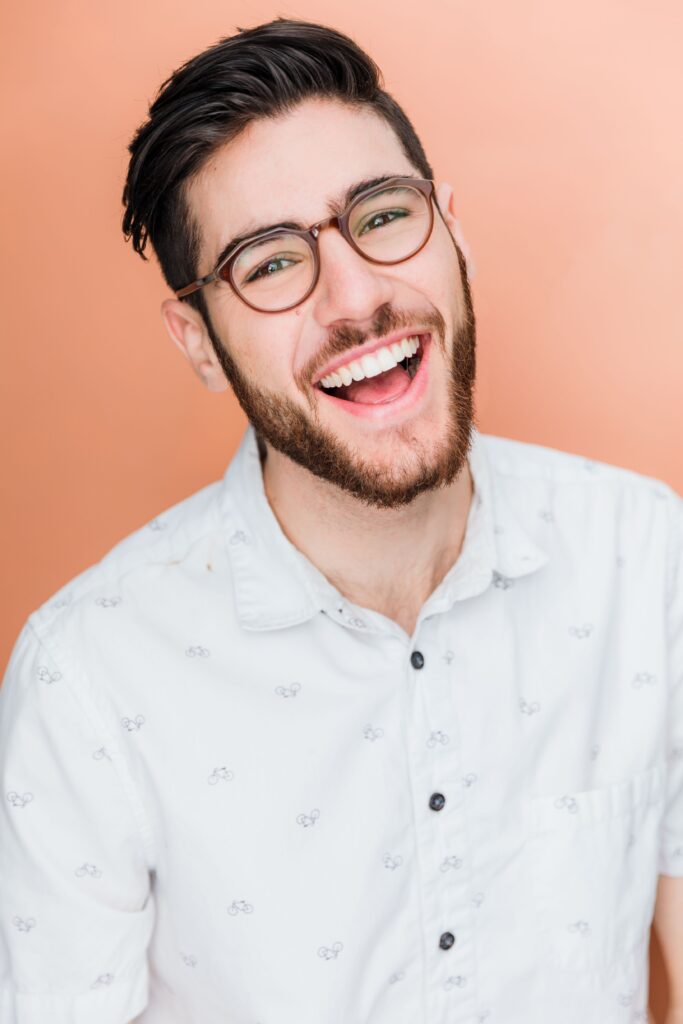 RJ: How old were you then?
SM: Between Freshman and sophomore year of college, so I must have been 19. I was so scared to do it. The first time I did it. I was putting it off all summer and then I finally did it. And it kind of gave me the bug. I wanted to do it again. The first time I ever did stand up, was in Ithaca at an open mic. And that was that was just the first time. I did speech and debate in high school, and something called Duo Interpretation. I was always a class clown, and I was never the funniest kid, but I always tried the hardest.
RJ: Did you come from a family of comedians or was comedy a part of your family upbringing?
SM: Now I would say my dad has a pretty good sense of humor. He's pretty silly. My mother, no comment! I feel like I took after my brother's sense of humor. He was, I feel, funnier than I was growing up. All my friends thought he was super funny, and he has this sort of teasing sense of humor that I sort of turned into my own in this kind of bitchy way. So, I took after that. And I got the bug to perform from speech and debate. And I always wanted to do theater and try it, but it was never available at my high school. So, I got to college, and I started doing theater and I was really quite scared and always intrigued by stand up. Eventually I just pulled the trigger, and I did it.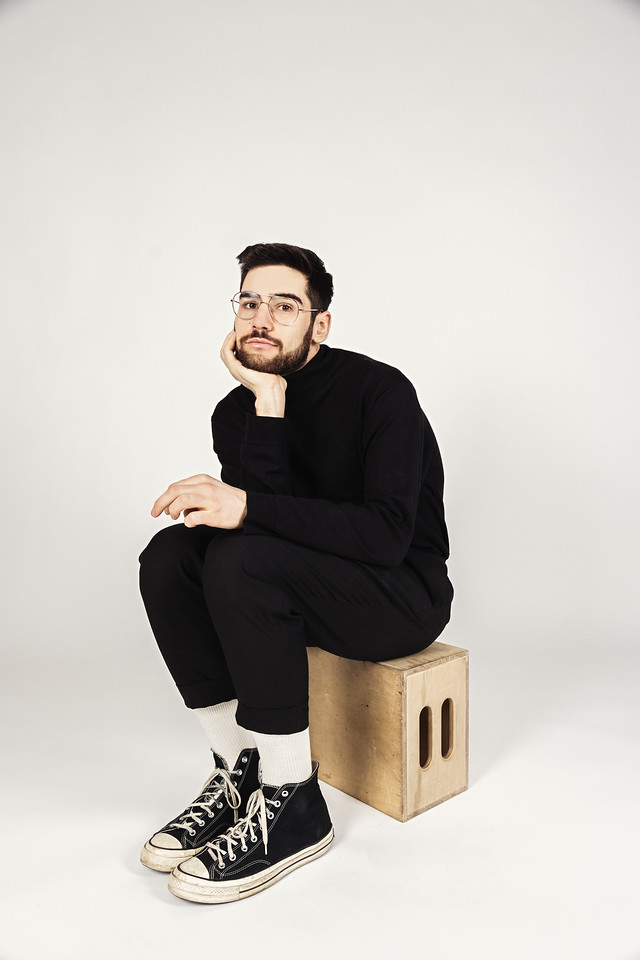 RJ: Do you remember who those cool comedians are, who you met when you started out?
SM: I think for the most part, no. I think there were so many comedians and a lot quit. But there are two names that stick out, Osama Sadiqi and Luke Modern. And they are both now my friends, and they're both very successful. I think those are the ones that I remember seeing in the open mics circuit and being like, oh, those are real comedians that are getting booked, not even getting paid, just getting booked.
RJ: Who makes, YOU laugh?
SM: So of the famous comedians, John Mulaney & Taylor Tomlinson make me laugh out loud. And I really like improv so I like Middleditch and Schwartz, but also my peers who make me laugh out loud. Are Ashley Gavin & Dylan Adler.
RJ: Now I saw one of your earlier shows, and a lot of your material is about you being into bigger older guys. Has anybody been shocked that somebody that looks like you could be attracted to somebody that's an older Daddy Bear?
SM: Yeah, nobody fucking believes me. I do these jokes, and everyone is shocked. I have written several jokes about people coming up to me and being like, "is it real?" It's really real! And then they're like, oh, oh wow. And then I show them a picture of my boyfriend, or a guy that I'm interested in and they're like, oh wow, it's real. There're multiple stages of acceptance. Even among my friends. People are wild about me being into gray hair and big belly, it usually doesn't go outside of that. And of course, in the Bear world, everyone's like yeah, no doubt, me too. But for my twinky comedian friends, they all really struggled to accept it. Some of the first jokes that I ever told were about being into older guys and have been some of the most consistent jokes throughout my career. They have worked in comedy clubs, and all kinds of rooms, and have actually helped me get to the stand-up NBC Finals which then got me my agents. But overall, they are doing really well, and it is quite challenging to audiences and it doesn't work as well in really straight club rooms. but I'mkeeping at it and I really like doing them because it pisses me off how obsessed our culture is with skinny people, and it's also just not true to my experience. As I've been doing these jokes, people have been coming up to me and been like, yeah, me too. And it's like, bigger people are sexy, and they always have been, and they always will be. And our society just has so much shame around it that we don't realize it.
RJ: Now your new show "Sugar Daddy", has a lot of material about your late partner Jonathan who died only a couple of years, ago. I wonder at what point you go from grief and sadness and then to kind of accept that that's maybe a life experience that you can,as a comedian, turn into material.
SM: Well, I feel like anything with grief is not a linear, seeing the comedy in things, was something that I used as it was happening to process and survive. I mean however you want to say it, there was humor happening, even in the darkest moments. And I would say them to my best friend and shortly thereafter, my grief counselor and I would laugh about so much. There is so much funny about all this. It's just so dark and uncomfortable. There's so much that people don't understand about it. There's so much irony and so much discomfort in how people react to you and what they say to you and how they treat you and how you see the world and how isolated you feel. It's just one of those places that's really right for comedy. There's a lot of misunderstanding and irony in pain, discomfort, unspoken things. Anything that is sacred in society is bound to be dug into by comedians too. The comedy was happening the whole time. I wasn't able to talk about it on stage at first, I think the first time I did that was five or six months after he passed. And then I didn't do it for a while after that. It took me a long time to figure out how to do it. It's incredibly difficult to do it on stage. I think one of the biggest problems that I had is I really wanted to talk about it because I was thinking about it so much and I knew there was humor and it also felt really ingenuine to talk about other things, to just keep talking about how annoying cops are right when I'm going through my grief. So I wanted to make it work and I think I the problem I ran into in the beginning was I was so clearly still processing it and the audience has to really, really trust you that you're not just talented and in control and able to make this funny, but also that you're OK and nothing bad is gonna happen and that we're in this together and we're processing something together. And they really aren't comfortable and laughing and with you until that's happening. So, it did take a lot of time for myself to feel comfortable on stage talking about this and also to figure out how to frame it for the audience to feel comfort in me talking about it. And I also think I'm the humor in it. I mean, it's not just like a survival tactic, but it is inherently funny. I mean, it's tragic. That's why it's funny. Something I talk about in the show is l think they are, if not one and the same, they're so similar. Shakespeare's said the difference between the tragedy and the comedy, it's just that the one ends in a funeral and the other ends in a wedding, that's really different, but which is such a tenuous difference. It's just a lot of times it's just how you frame the story and how it ends. Bear Week is a huge part of this show, Provincetown makes a huge part of this show. I'd say the first third of the show lives in Bear Weekend, Provincetown and I find a lot of comedy in being attracted to Bears and the Bear community. Obviously mostly making fun of how ugly skinny people are. The comedy comes from the fact that it's societies pressure about how beauty is so entrenched. And then when I start talking that I am attracted to the exact opposite of what I am supposed to be that's where the comedy comes from, their assumptions and expectations. So I feel very comfortable making fun of that ideal of beauty, even though I recognize that I'm skinny!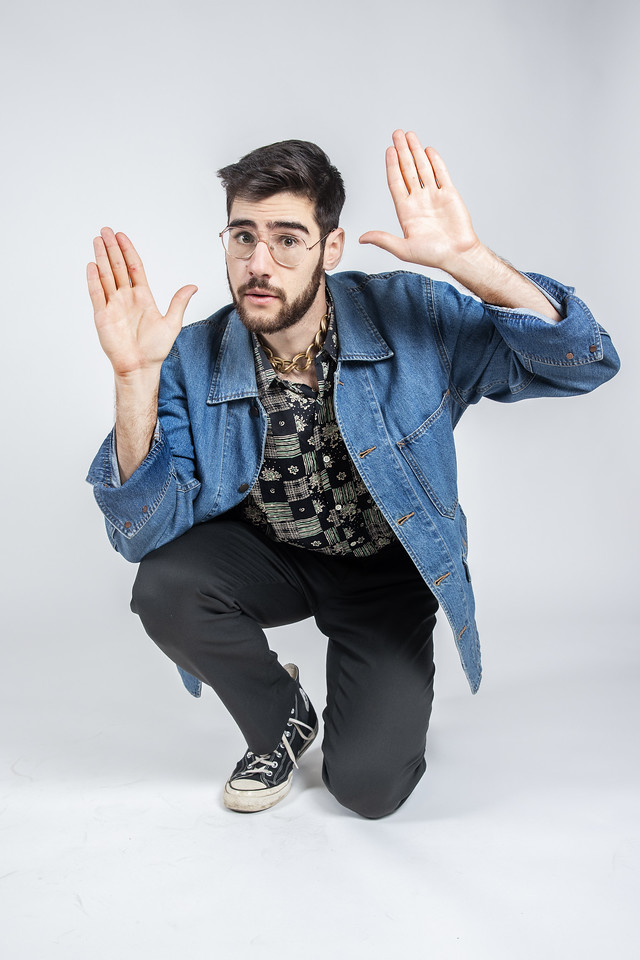 RJ: What are your future comedy goals? You have this great show coming up. Is it even in your head to think about what comes next?
SM: It's a tough one to answer. I mean the holistic goal is to have creative freedom to create art authentically, without the pressures of capitalism. Wow, that's the first time I ever said that out loud. That's pretty good. In the more immediate, I'd love to sell this show to a streamer. I'll just say I have a TV show loosely based off of this solo show that I'm working on with a friend that I'd like to sell as well. These are two things in the immediate. I hope the run goes well and it's well reviewed and that it gets an extension. I'd love to just continue to build my audience. I love doing solo shows and I hope to continue doing them. I love acting and I am auditioning a lot. I want to act more. I would love to be in a narrative writing room for a TV show. I'm a next project kind of person. And, of course, shooting for the moon, this is something that I truly dreamed about when I started comedy, it was one of those dream goals that I like wrote down, you know? I wanna be on The Tonight Show and I want a solo show off Broadway. And rarely do those things come true. I mean, careers in the arts are very unexpected and unpredictable. S o I am really trying as much as possible to be present, to acknowledge my own hard work and all the people that helped me get here. I should be grateful for all the people that helped me get here. Be grateful to the universe. There's a good amount of luck too. I'm so excited to just keep doing this show. I love connecting with other people around this show and I feel really close to Jonathan when I do it. It's very much alive and has new life so powerfully and I am just so grateful for that.
RJ: Thanks Sam for giving us some time to get to know you and good luck with the show. Tickets for Sugar Daddy (starting at $35.00) and more information can be found here. The show plays Wednesdays through Saturdays at 7 pm beginning Wednesday, January 11th through Friday, February 17th (with no show January 14). The running time is 65 minutes, no intermission.
For more about Sam, head to his site here www.samuelmorrison.com
BIOS
SAM MORRISON is an anxious gay diabetic Jew who finds humor in the sad, awkward, and shameful. Hailing from Sarasota, FL, he now resides in NYC where he is a staple of the Brooklyn comedy scene. He recently made his late-night television debut on "Late Night with Seth Meyers." He was a 2019 Stand Up NBC Finalist, wrote for the 1st season of Bravo's "Blind Date," performed on The Drew Barrymore Show, and was a guest on "Watch What Happens Live" and "Tamron Hall." His 1st solo show Hello, Daddy! won acclaim at the 2019 Edinburgh Fringe Festival. He is represented by APA in North America and MPW internationally. For college touring, he is represented by Degy Entertainment.
RYAN CUNNINGHAM she/her (Director) is a queer writer/director and Emmy and Peabody award-winning producer. She's EP/Director on the docuseries Expecting Amy (HBO Max) about Amy Schumer's pregnancy, and the standup specials Ilana Glazer: The Planet Is Burning (Amazon), and Club Cumming Presents A Queer Comedy Extravaganza! (Showtime), hosted by Alan Cumming. Producing credits include Broad City, Search Party, Inside Amy Schumer and Ziwe. Ryan recently launched the development company Running Woman with the goal of telling stories that haven't been heard before. She is very passionate about promoting women's issues, LGBTQ+ stories, and neurodiversity in her work. She has also co-owned the NYC-based post house Running Man for the last decade. She lives in Brooklyn with her 11-year-old daughter who is on the autism spectrum and likes to build large art installations in various places around their apartment. Ryan is a graduate of Rhode Island School of Design and co-chair of the RISD Fund, as well as working as an adjunct professor for the film department.