Richard meets… Tituss Burgess
Tituss Burgess is quickly emerging as one of the entertainment industry's most versatile and dynamic performers, with his work in television, film and theater, generating both critical and commercial acclaim.
Adding to his diverse talents, Tituss is thrilled to be releasing his first piece of music aimed squarely at the dance music culture and this year's many unstoppable virtual pride celebrations.
I had the pleasure in catching up with Tituss to discuss his varied career and his amazing new single.
Richard Jones: Tituss I am so happy to get to virtually sit down with you, you are a very busy man, and now you have a single out – what made you want to release the song, and why now?
Titus Burgess: I'm always thinking about music— tunes are always on the mind. I had been wanting to do something a little more fun. Something that gets you to get up and dance. We need things like that right now.
RJ: What made you choose animation for the video? I love all the characters, are they based on real people?
TB: Animation offers such a wide variety of opportunities. There is so much that can be done, and you can use anything for inspiration. I had already worked before with the director, Dwight Mathis, and his studio a few times before. Once we realized it wouldn't be safe or easy to complete the video, it just clicked.
RJ: You have played one of the most iconic roles on Broadway, well for me anyway, Nicely Nicely Johnson in Guys & Dolls ? Had you always wanted to play him?
TB: I don't really think in terms of roles I "want" because there are many roles I have desired to play throughout the years that simply aren't given to actors of color. There's this "glass ceiling" for actors of color a lot of the time. Once someone breaks it, it is from then on "allowed" to be cast that way. That has trained me to try to find new ways to tell stories. I want to amplify different perspectives as much as I can. Diversity in art is paramount.
RJ: Miracle Workers was a hilarious show and you were great as God's Brother… was it as fun to film as it was to watch?
TB: Honestly, it feels so long ago now I don't really remember many details. It was a pretty quick shoot in the middle of a longer project. I do remember the actual filming being a lot of fun. It was a great set to be on.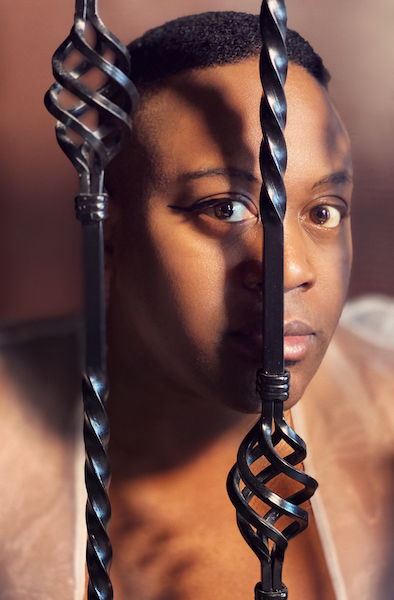 RJ: You are also in the hotly anticipated movie "Respect" about the life and times of the legendary Aretha Franklin. You get to play the "greatest gospel Singer that ever lived" Reverend Dr. James Edward Cleveland, how did that come about and what are your thoughts about the person, the role, and working on this movie?
TB: There are no words to describe the experience. It was a TON of work and I'm so humbled by Liesl Tommy allowing me the opportunity of portraying such an important figure. Anybody who grew up in church where I come from, you know Reverend Dr. Cleveland's music. It was truly a magical experience and I was proud to be around so much Black Excellence. Jennifer Hudson is gonna win another Oscar for her BRILLIANCE!
RJ: As a gay man over 40 (just) what do you feel that those years have given you and do you have any advice for younger queer people that are soon to be older and are fearing what's to come?
TB: I've learned that being true to yourself is one of the most important things you can be. The next is being kind to others. We are all connected so treat others how you'd want others to treat you. Try not to stress. Eat right and exercise— start now!!— and learn how to breathe through the negativity. It's funny all of the things I used to worry about that don't phase me in the least anymore. Pay attention to what's going on in the world, and learn when to disconnect to center yourself in the moment.
RJ: Finally, what is next for you in life? Do you have any new projects coming up that you can share with us?
TB: As you mentioned, Respect is still slated to premiere later this year; and we just started production on season 2 of Central Park on AppleTV+. I also hosted a reality show singing competition which will be out on Netflix in the fall, I believe. Not certain what details have been announced yet, so I can't say more; but it was a joy to work on. Other than that I'm taking things one day at a time and trying to create while also focusing on everything happening in our world right now. There's plenty more to come!
---
Follow Tituss Burgess:
Instagram | Facebook | Twitter | YouTube