Richard meets… Brad Thorson, former KU football player & founder of Kalamos Care
As the first former University of Kansas Football player to come out as gay, Brad Thorson knows a thing or two about having conversations that can be a little scary and difficult. Nevertheless, he has decided to spread awareness about sexual health, encouraging others to conquer their fears and get tested.
Thorson has recently launched a membership service called Kalamos Care, which ships monthly subscriptions of sexual health materials, including STI testing kits, condoms, and lube, to people's homes. Recently, I had a chance to speak with him about Kalamos Care, and his journey from being a former football player, to coming out and launching his own sexual health business.
RJ: Hi Brad thanks for sitting down with us. Can you tell me a little about yourself?

BT: What a simple kick off question! I think I'd describe myself as a pretty lucky person. I'm in my mid-early-thirties, living in a city I love (NYC) with a guy I love, pursuing a cause I'm passionate about, and playing rugby on the side. I grew up in a decently socially conservative family in the Midwest and never really had dreams of any of that happening.

I've been in NYC for almost five years now, but bounced around the country "finding myself". Much of my life and story has been dominated by football. I created a very one dimensional version of myself, solely focused on playing professionally. When those dreams ended with the Cardinals, I didn't have a plan or a clue what to do. Working for entrepreneurs in the Denver area back in 2013 was inspiring and helped me start to embrace the unknown, from coming out to eventually starting Kalamos.

Inclusive/gay rugby in San Franscisco helped me come out, and it made moving to NYC a breeze. I moved in with a Gotham Knight and have had my weekends filled with gay rugby debauchery since then. If I'm not hurting my body on the pitch, I'm probably watching trashy movies or listening to politics podcasts so I can punish a stranger at the bar with esoteric podcast things.

RJ: What made you start Kalamos, and when did you start it?

BT: The founding of Kalamos, named after the queer Romeo of Greek mythology, was really the coda of my internal struggles around sexual wellness. The baggage of 16 years of football and a mid-western upbringing were really hard to break, even though I knew my shackles were self-imposed.

Back when I was still pretty closeted and living in SF, it burned to pee one morning. I'm still ashamed admitting my panic in the moment.

'You get AIDS from having sex with men, I'm having sex with men, this must be AIDS'

Fortunately my uncles from the community were plenty prepared to calm me down and get me into the Castro clinic. It was my first time getting tested – In fact, it was my first time talking to a doctor about sex period.

Everything turned out to be completely treatable, but it was the awakening of a deep interest in ending my own–and our collective–shame in sexuality. Am I there? Hell no, but when I started working on Kalamos in November last year, I finally forced myself to confront sexual wellness head on, every day.

RJ: And what makes Kalamos different than other services similar to yours?

BT: Since that first STI test, I've passionately believed that sexual health is a community problem and deserves a communal solution. Should we be getting tested, treated, and doing what we can to prevent infections, abso-fucking-lutely. But taboo health topics like sex are tied up in so much more than screening.

We're not there, but, in my mind, Kalamos is really about community. It's about showing up for each other, and being damn proud about it. We send out PrEP and safer sex supplies, but what we really need is to start being comfortable talking about sex and sexual health.

Our providers need to do a better job talking to us about sexual health, but the person that can actually make a difference is the one that tests positive for something, gets treated, and swallows the tough pill of telling their partners to get screened. At the end of the day, getting an infection isn't wrong. But if you think you're going to be exposed to a cold and you go around coughing on your co-workers, you're an asshole.

Shipping PrEP pays our bills, but we eventually want the brand to simply mean "I take responsibility for me and my community's sexual health".

RJ: What have you learned along the way?

Ooh, boy. For starters, starting something is always way harder than it looks. Some days absolutely suck and I want to cry about making this my day-to-day. I've learned the only way out is to just keep going forward, because eventually somebody tells me we helped them talk to their doctor about sexual health and get on PrEP and it's all worth it.

What else?

Healthcare is complicated.

Talking about rectal gonorrhea at a coffee shop freaks people out.

People that work in sexual health are super collaborative.

There's so many different types of lubes.

Almost all condoms are cut to the same dimensions and that sucks.

Don't use condoms as business cards, that ends up being weird.

I'm sure there's plenty more, but those stick out.

RJ: What's your goal for the service and the Company?

BT: Maybe I can condense my ramblings above. Kalamos should be the one stop shop for queer sexual health products. I want to see a circuit queen in a Kalamos t-shirt clacking their fan. I want to see a retired bear in Ptown in a Kalamos t-shirt. I want to see a young college student in Kansas in a Kalamos t-shirt.

"I am sexually responsible, and that's fucking cool."

Healthcare should be a right, and even when it is, we'll still have cultural taboos to overcome. Patients shouldn't have to bear that burden, but waiting on med schools is going to take forever. I hope that we build an army of sexual health advocates and evangelists across the country.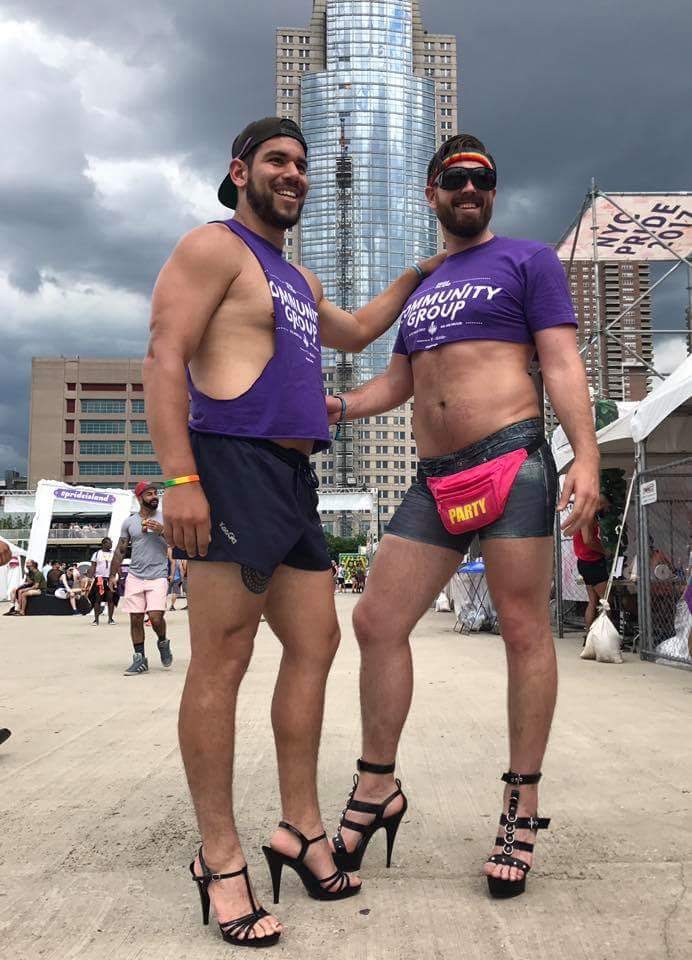 RJ: Is there anything that we all really need to know when considering a service like yours?

BT: PrEP is safe, it's affordable, and it's effective. If you're having sex, it's worth talking to your doctor about it. I don't care whether you pick your prescription up from the local pharmacy or have us ship it to you, not enough of our community is protecting themselves.

Also, experiment with lube! Stats say most of you aren't. There's truly so many different options, and I'm happy to consult.
One little tidbit… If you need lots of lube, try and avoid water-based ones as it can cause your rectal cells to over-absorb water and damage them. 25 year-old me cannot believe I just said those words.

Last, if you don't have affirmative services around you, there are some great telemedical options, but nothing can replace a great local provider, or, even better, a whole community-based organization focused on sexual health. The people that work at them are amazing, so consider getting involved.

Ok, done preaching.

RJ: And… Fast Round! What's your favorite sport?

BT: Rugby!

RJ: What's your favorite food?

BT: Southern Italian pasta

RJ: Who is your favorite singer or band?

BT: I listen to an unhealthy amount of (politics) podcasts, so my music tastes are pretty basic. I just saw Kasey Musgraves last night, so she's hot on my mind, but give me Kesha any day of the week though.

RJ: Where is your favorite Vacation Destination?

BT: Paris. Only place my mind can settle down.

RJ: What's your favorite Bar in NYC?

BT: I think I'm obligated to say Gym Bar, because it's the only place I've been to more than my office or apartment.
To find out more about Kalamos Care, please visit kalamos.care.