Richard meets… Big Dipper
Big Dipper  is an independent artist who has been self-producing provocative queer and empowering music and videos since 2011. He has racked up 3 million views on his YouTube channel and his live show has been performed internationally. He has recently been announced as the headliner of this year's Key West Bear Weekend.
I had the pleasure of sitting down with him to talk music, his collaborations and what we've got to look forward to in Key West!
Richard: Sir, its great to see you! I was checking the first time Bear World Magazine talked to you and it was back in 2012 – and we had you on the cover in 2013, OMG how time flies! What's the biggest changes you have seen with the bear community since then?
Big Dipper: Hmmm I'm not sure. I definitely think there has been growth in visibility for the community. The idea of a "bear" is way more known in the mainstream culture now. Also it seems like a lot of the rules of 'what it means to be a bear' or who is a part of the community have fallen by the wayside…which I think is a great thing.  I've always thought identifying as a "bear" is an awesome thing when it's empowering and affirming for someone's identity, and less so when it's about cliques and exclusion. So it feels like things are definitely moving in the right direction.
I remember seeing Drip Drop for the first time and just loved it, what do you think of your early music?
To be quite honest, I'm kind of embarrassed with some of my early music. I had no idea what I was doing, so I'm hyper critical of my lyrics, how I sound on the recordings, and like my whole image. But that comes with the territory…you grow and evolve as an artist the more you do it. And everything lives forever on the internet somewhere…so there is no escaping your past. You just have to embrace the journey.
Drip Drop was literally the first song I ever wrote, so it's not a horrible place to start my legacy. There are some problematic things about it for sure….but I'm super proud of the video and all of my friends and collaborators who have supported me from the beginning.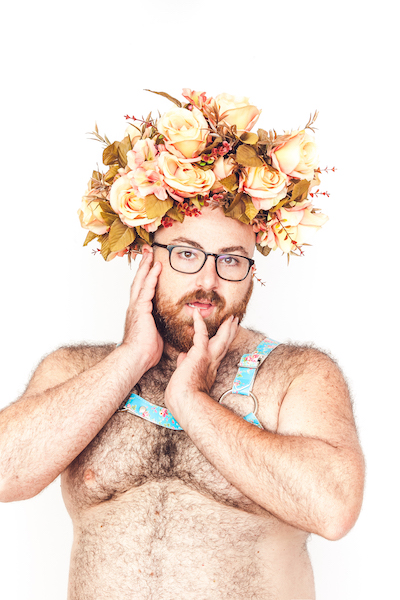 Talking of collaborations, what do you look for in people you collaborate with on music and videos?
I love to work with people who have skills that I don't. Why get in a room with a team of people who can all do the same thing?  I love to learn from my collaborators and see ideas from a new perspective.  But most importantly, I look for dedication and work ethic.  I'm a bit nuts when it comes to long hours, doing things until I think they are perfect, and trying to produce music and videos at the caliber of a mainstream artist on a major record label…but on a shoestring indie budget. So if they can hang in that scenario, then I know they are great to work with. And obviously talented artists with a good personality….smart and funny and good looking!  Wait…maybe I'm just looking for a boyfriend!
When I watch Summertime Realness I love that I can see the amazing Shea Coulee, how did that come about?
I became friends with Shea back in Chicago when she was first doing drag and I was performing and making videos. We clicked pretty quick on our first night hanging out and have gone on to collaborate on a few tracks and a bunch of live shows and some videos. Shea has danced back up for me once or twice out of drag, and we've even played shows together, each doing our own music.  She's actually a feature on my most recent album LATE BLOOMER. We wrote a song together called SNOOZE with her frequent collaborator GESS.  Shea is an incredible artist, a truly hard working and I'm so thrilled for all her success.
What are your latest music projects, what's coming up soon?
I have a new EP coming out sometime this fall. I made the whole thing with my friend and producer SO DROVE.  It has five songs on it and hopefully we are going to put out some music videos for the project as well. Follow me on IG for that official announcement coming soon @bigdipperjelly   
You're headlining Key West Bear Weekend, are you excited? Have you been to Key West before?
Hell yes!! I'm so excited. I've been to Key West once before, but I was like 12 and with my family…so I haven't been with like an adult gay man's perspective. I'm excited to explore and meet people and learn about the LGBTQ+ community down there.  I feel like it's such an iconic destination and I really want to take advantage while I'm there. Maybe ride a scooter or something!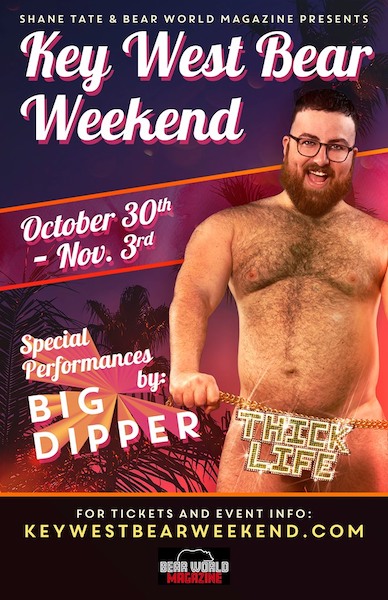 What are you most looking forward to?
Daddy dicks to suck!
What can we expect when we see you in Key West? Do you have any surprises?
Well if I told you about the surprises that wouldn't be any fun!  My live show is a good time. I'll be doing some new music, as well as songs that people know from my music videos. Plus I like to keep things interesting with my costumes….and I'm sure there will be an opportunity for a little audience participation in the form of tipping me in my underwear. I'm a real class act!